Proteins are extensively used in applied and basic biomedical research. However, they are only marginally stable and can be expressed within certain limits which affects its applications and the research. Protein stability is the net balance of forces, which determine whether a protein will be its native folded conformation or a denatured (unfolded or extended) state. Protein stability is an important topic of interest for majority of biotechnology, pharmaceutical, food and adjacent industries. An understanding of protein stability is essential for optimizing the formulation, storage, expression, purification and structure of proteins along with its effective application in the industry. Processes ranging right from large-scale industrial protein production and high throughput screening to the more specific pharmaceutical protein-drug, protein -protein interactions and protein crystallization can be impacted. The importance of protein stability is widely recognized where high stability is of  prioritized in pharmaceutical and biotechnological applications where proteins must carry out its function for long period of time in unfavorable conditions such as increased temperatures and broad pH environment, or in the presence of organic solvents. Protein stability also helps with drug release in the human body, which is crucial for effectiveness and accurate interaction of drug and body as well as reducing potentially harmful effects.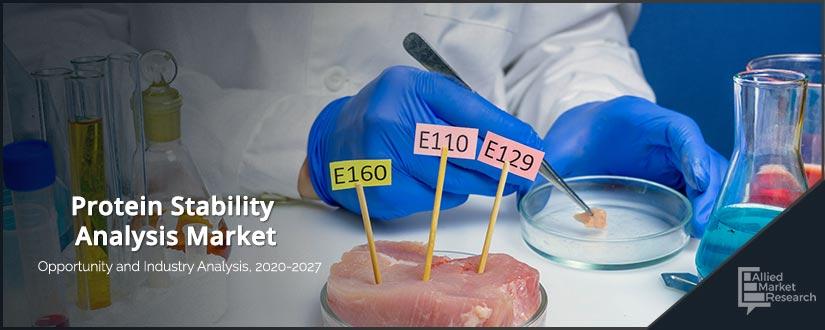 COVID-19 scenario analysis: 
Due to the COVID – 19  outbreak, majority of healthcare, pharmaceutical and biotechnology organizations have concentrated on diagnostics kits, safety wearables (PPE kits, face shields, masks) and treatment therapies and medication against Novel coronavirus
R&D labs are also focusing on finding a breakthrough vaccine against Novel coronavirus where protein studies are in focus
Peptide KRSFIEDLLFNKV occurs in the spike glycoprotein and is responsible for the binding of  SARS coronaviruses to lung cells and its activation of the spike protein by proteolytic cleavage
This understanding related to the peptide KRSFIEDLLFNKV and spike protein plays  anchoring role in learning about the nature of this disease and such data is of utmost importance and conserved and researched to get useful insights during the study of coronaviruses
Top impacting factors: Market Scenario Analysis, Trends, Drivers and Impact Analysis:
Proteins are the building blocks of an organism and Protein stability is crucial as it determines the functionality and active state of the proteins. There are several approaches and techniques to determine the protein stability. It can be determined through chromatography, Spectroscopy, Surface Plasma Resonance (SPR), High-Performance Liquid Chromatography (HPLC), Differential Scanning Calorimeter (DSC). Protein stability analysis is carried out by pharmaceutical & biotechnological organizations for new drug development and research. The rising number of pharmaceutical and biotech organizations in the global Protein Stability analysis Market, especially in the developing economies, increasing spend on healthcare, importance of Protein stability in protein studies related to diseases, in current scenario Novel coronaviruses, the development of new high-throughput techniques and increasing number of Contract Research Organizations (CRO) and Contract Research Manufacturing Organizations (CRMO) are the drivers fueling the growth in the Protein Stability analysis Market. However, the amount of monetary spending and time that goes into these studies and the impact on pharmaceutical and biotech organizations due to ongoing COVID-19 pandemic are the restricting factors for Protein Stability market.
Rising number of pharmaceutical and biotech organizations with innovative drug development:
Protein stability analysis is a crucial step during development of a drug, and plays a lead role stretching right from active pharmaceutical ingredient (API) development up to the product validation. Majority of big names in pharmaceutical industry are upfront in implementing these techniques for evaluation of the quality of the product and enhancing effectiveness and efficacy of the product which is tested in various extreme conditions. 
The pharmaceutical sector is experiencing tremendous growth. The sector has grown exponentially from $ 100 billion in 2017 to $ 1.2 trillion and is expected to reach $ 1.5 trillion by 2023 growing at a CAGR of 4-5%, as the spend on healthcare globally was 10.4% of total GDP in 2016 and this number would go on increasing with 10.5% spent in 2020. Alone India accounts for more than 3000 drugs companies and 10500 manufacturing units while China accounts for 3 to 6 thousand domestic pharmaceutical manufacturers. These stats point towards the immense opportunity for Protein Stability in pharmaceutical industry.
Various innovative advancements in biotech industries is also proving beneficial. NanoTemper Technologies introduced new software packages for advanced protein stability testing in 2016. This new software packages is attributed by one-click assay routines for advanced experiments to its users, which is rapid than the earlier predecessors.
Increasing number of Contract Research Organizations (CRO) and Contract Research Manufacturing Organizations (CRMO):
Outsourcing has been in business since long in the drug development and manufacturing industry as an expansion strategy to increase productivity in drug development, R&D of new products and to cut down the drug development and manufacturing costs. The exponential increase in the number of these contract research service providers has contributed to making protein characterization more efficient and affordable. In order to support the research of pharmaceutical firms, Contract research organizations (CROs) possess expertise in advanced technology processing and instrumentation capabilities through all phases of drug development.
CROs and CRMOs are considered as an analytical solution to resolve the capital and resource challenges faced by emerging, small-sized pharmaceutical organizations that face budget constraints. To support the characterization and development of recombinant peptide and protein therapeutics developed by these firms, they provide a range of optimum testing techniques. In addition, compliance with regulatory guidelines of governing bodies supports the adoption of outsourcing services by pharmaceutical and biotech companies. For instance, CROs like 2bind GmbH and LakePharma, Inc., offering stability analysis solutions accompanied with attributes like quality, accuracy, and robustness within given timely expectations. 
Key benefits of the report:
This study presents the analytical depiction of the global protein stability analysis industry along with the current trends and future estimations to determine the imminent investment pockets.
The report presents information related to key drivers, restraints, and opportunities along with detailed analysis of the global Protein Stability analysis Market share.
The current market is quantitatively analysed from 2020 to 2027 to highlight the global protein stability analysis market growth scenario.
Porter's five forces analysis illustrates the potency of buyers & suppliers in the Protein Stability analysis Market.
The report provides a detailed global Protein Stability analysis Market analysis based on competitive intensity and how the competition will take shape in coming years.
Questions answered in the Protein Stability Analysis Market research report:
Who are the leading market players active in the protein stability analysis market?
What are the current trends that will influence the market in the next few years?
What are the driving factors, restraints, and opportunities in the protein stability analysis market?
What are the projections for the future that will help in taking further strategic steps?
 Protein Stability analysis Market: Global Opportunity Analysis and Industry Forecast, 2020-2027 Report Highlights
Aspects
Details
By Product Type

Assay kits and Reagents
Instruments
Software

By Technique

Differential Scanning Calorimetry (DSC)
Differential Scanning Flourimetry (DSF)
Dynamic Light Scaterring (DLS)
Chromatograghy
Other techniques

By End User

Contract Research Organizations (CROs)
Academic and research organizations
Pharma and biotech companies

By Region

North America (US, Canada, Mexico)
Europe (France, Germany, UK, Italy, Spain, rest of Europe)
Asia-Pacific (Japan, China, India, Australia, South Korea, rest of Asia-Pacific)
LAMEA (Brazil, South Arabia, South Africa, rest of LAMEA)

Key Market Players
Agilent Technologies, Inc., GE Healthcare, Enzo Biochem Inc., Thermo Fisher Scientific Inc., PerkinElmer Inc., NanoTemper, Malvern Panalytical Ltd., HORIBA, Ltd., Unchained Labs, SETARAM Instrumentation.