The global public safety LTEmarket size was valued at $12.00Billion in 2020, and is projected to reach $70.44Billion by 2028, registering a CAGR of 24.9% from 2021to 2028. Public safety mobile broadband network is a specific type of private LTE network dedicated to public safety and first responders such as police departments, fire & safety, and medical services. It is not available to other types of critical communications users, and is government-funded. Examples include FirstNet in the U.S., Emergency Service Network (ESN) in the UK, and SafeNet in South Korea.
In wake of COVID-19, demand of robotics technology has increased among healthcare and manufacturing sector for numerous applications including cleaning, disinfection and supply chain automation during pandemic.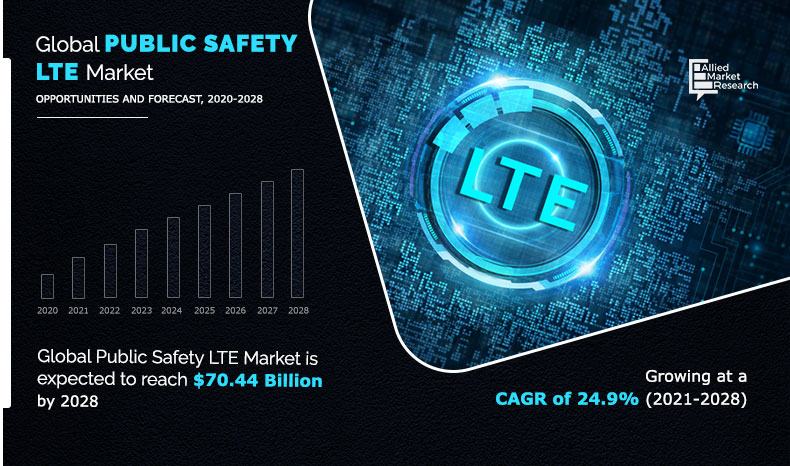 In 2020, by type, the infrastructure segment garnered the major share of the global public safety LTE market, and is expected to maintain its dominance in the upcoming years, owing to the developments such as higher data transfer rates and improved spectral performance. In addition, surge in demand for LTE public safety infrastructure is expected to drive the growth of the market in the coming years. The services segment is estimated to emerge as fastest growing segment. The consulting services associated LTE technologies help in gaining knowledge of technologies, which drives the growth of the market. Moreover, advancements in LTE technologies are providing ample factorspropelling the public safety LTE market opportunity.
Public Safety LTE Market

---
By Type
Hybrid LTE segment is projected as one of the most lucrative segments.
Get more information on this report :
Request Sample Pages
Europe is expected to account for the huge share of the public safety market during this period, due to technological advancements, improved customer experience, and the need for strong security measures in the region.
Europe is immensely focusing on the online social security programs for video surveillance and photo sharing. This is driving the LTE market for public safety in the region.
Companies in Europehave been focusing on making more money in their research, and are developing new operations. In addition to public safety, companies are expanding their portfolio by identifying the deployment of a high-quality national network of critical communications solutions and partnerships. As recently as March 2019, Airbus launched an advanced communications system at the Paks nuclear power plant in Hungarythat includes nationwide network communication systemintegrated radio communication system and plant network maintenance systems. Such plans are expected to be implemented by other countries in the region, including Italy and France, which is driving the growth of the public safety LTE industry.
Public Safety LTE Market

---
By Region
APAC is projected as one of the most significant region.
Get more information on this report :
Request Sample Pages
The report focuses on the growth prospects, restraints, and market analysis. The study provides Porter's five forces analysis of the public safety LTE industry to understand impact of various factors such as bargaining power of suppliers, competitive intensity of competitors, threat of new entrants, threat of substitutes, and bargaining power of buyers on the public safety LTE market trends.
Segment review
The public safety LTE market is segmented into type, infrastructure, services, deployment model , application, and end user. Dependingon type, the market is bifurcated into infrastructure and services. By infrastructure, it is categorized into evolved UMTS terrestrial radio access network (E-UTRAN), evolved packet core (EPC),and end-use devices. As per service, it is fragmented into consulting services, integration services, maintenance services, and other services. As per deployment model, it is segregated into private LTE, commercial LTE, and hybrid LTE. The applications covered in the study include law enforcement & border control, firefighting services, emergency medical services, and disaster management. According to end user, the market is differentiated into public safety agencies, industrial, transport, and utilities.
    
Impact of COVID-19 Pandemic on Public Safety LTE Market:
Post COVID-19, the global public safety LTEmarket sizeis estimated to be$ 14,865 million in 2021, and is projected to reach $ 70,441 million by 2028. 
LTE networks for public safety serve a key role in mission-critical services, and its implementation as a communication standard is likely to increase over time. Public safety LTE marketgrowth will most likely be caused due to the COVID-19 pandemic outbreak, which has increased the need for an efficient and effective communication system from public safety authorities to protect the safety of those impacted by the pandemic.
Public safety LTE devices are being implemented in major cities to help aid local authorities. For instance, Chinese communication equipment manufacturer, Hytera Communications Corporation Limited collaborated with the city of Abu Dhabi and local police forces to help deploy their Hytera Public Warning System in Abu Dhabi's mosques
Top impacting factors
Factors such as increase ininvestments to improve network connectivity and rise in network dependency for crucial public welfare &economical activities drive the market growth of public safety LTE market share. However, higher implementation and maintenance costs and limited spectrum availability restrain the growth of the market. Furthermore, increase in digitalization globally and advancements in the field of LTE network technology are expected to offer remunerative opportunities for the expansion of the public safety LTE market forecast.
Increase ininvestments to improve network connectivity
LTE networks are being adopted in developing nations at a rapid pace, as these nations continue to upgrade their current network infrastructure to increase communication speeds and provide better overall connectivity to their citizens and services. For instance, Swedish telecommunication equipment and services provider, Ericsson reported over $ 750 million dollars of revenue in the year 2020 from the sale of telecom equipment and services in Southeast Asia and Australia. This was a 21% increase from previous year in 2019.
Governments and private companies in developing nations are eager to ramp up the networking infrastructure of the country, and hence are investing more capital in LTE markets (being one of the more prominent and easier to deploy technology). The development of LTE infrastructure in such countries has paved the way for more advancedLTE-based applications to be adopted in the region. For instance, telecommunications giants such as Motorola are offering their LEX L11 Mission Critical LTE device and in-vehicle router-based solutions for law enforcement authorities; these devices rely on LTE networks for communication exchange and help the proper and secure flow of messages that are critical for the safety of the local public.
Higher implementation and maintenance costs
A significant hindrance to the adoption of public safety-LTE solutions and equipment is the higher implementation and maintenance expenses as compared to previous generation communications systems. Furthermore, developing LTE networks for public safety and security applications may require a dedicated frequency band (for security purposes), whichmay increase the costs of adopting and using LTE-based networks in the field of public safety.
Moreover, LTE-based communications modules can be costlier and complex to use when compared to previous handheld radio systems using local radio wave and microwave technologies for the exchange of information between two local parties. These factors further limit the market for the public safety-LTE market in the future.
Key Benefits For Stakeholders: 
The study provides an in-depth study of the public safety LTE market analysis along with current trends and future estimations to elucidate imminent investment pockets.
Information about key drivers, restraints, and opportunities and their impact analysis on the market size is provided in the report.
Porter's five forces analysis illustrates the potency of buyers and suppliers operating in the industry.
The quantitative analysis of Public Safety LTEmarket for the period 2020–2027 is provided to determine the market potential.
Key Market Segments
By Type
By Infrastructure
Evolved UMTS Terrestrial Radio Access Network (E-UTRAN)
Evolved Packet Core (EPC)
End-use Devices
By Service
Consulting Services
Integration Services
Maintenance Services
Other Services
By Deployment Model
Private LTE
Commercial LTE
Hybrid LTE
Others
By Applications
Law Enforcement & Border Control
Firefighting Services
Emergency Medical Services
Disaster Management
By End User
Public Safety Agencies
Industrial
Transport
Utilities
BY REGION
North America
Europe 

UK
Germany
France
Spain
Italy
Russia
Rest of Europe

Asia-Pacific 

China
India
Japan
India
Australia
South Korea
Southeast Asia
Rest of Asia-Pacific

LAMEA

Latin America
Middle East
Africa
Key Market Players: 
GENERAL DYNAMICS
AIRBUS
MOTOROLA SOLUTIONS
NOKIA
HARRIS
HUAWEI
BITTIUM
AT&T
HYTERA
COBHAM WIRELESS
 Public Safety LTE Market Report Highlights
Aspects
Details
By Type
By Infrastructure

Evolved UMTS Terrestrial Radio Access Network (E-UTRAN)
Evolved Packet Core (EPC)
End-use Devices

By Service

Consulting Services
Integration Services
Maintenance Services
Other Services

By Applications

Law Enforcement & Border Control
Firefighting Services
Emergency Medical Services
Disaster Management

By Deployment Model

Private LTE
Commercial LTE
Hybrid LTE
Others

By INDUSTRY VERTICAL

Public Safety Agencies
Industrial
Transport
Utilities

By Region

North America (U.S., Canada, Mexico)
Europe (France, Germany, Italy, Spain, UK, Russia, Rest of Europe)
Asia-Pacific (China, Japan, India, South Korea, Australia, Thailand, Malaysia, Indonesia, Rest of Asia-Pacific)
LAMEA (Brazil, South Africa, Saudi Arabia, UAE, Argentina, Rest of LAMEA)

Key Market Players
HUAWEI TECHNOLOGIES CO., LTD., AT&T INC., L3Harris Technologies, Inc., General Dynamics Corporation, Nokia Corporation, Bittium, Cobham Limited, Motorola Solutions, Inc., Hytera Communications Corporation Limited, Airbus SE