Pyridine Market Overview:
The global pyridine market Size accounted for $530 million in 2017, and is anticipated to generate $783 million in 2025, growing at a CAGR of 4.9% from 2018 to 2025.
Pyridine is a heterocyclic organic compound, which is basic in nature with the chemical formula C5H5N. The structure of pyridine is similar to benzene, wherein one methine group is replaced by a nitrogen atom. The pyridine ring occurs in several different compounds such as vitamins, azines, niacin, and pyridoxine. Increase in demand for pyridine, specifically in pharmaceuticals, and as a denaturant in antifreeze mixtures majorly drives the demand for pyridine globally.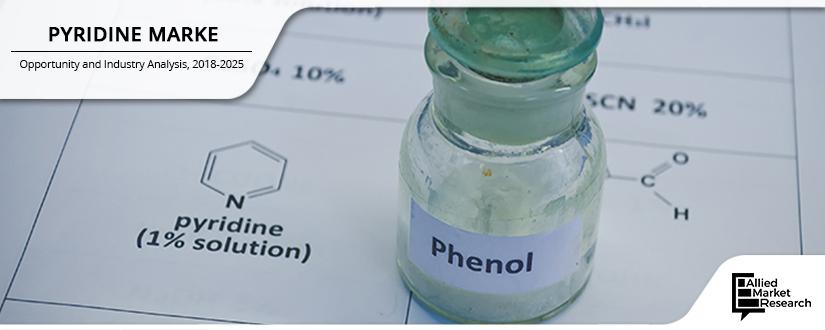 Pyridine derivatives are widely used in the production of agrochemicals and food additives, and in manufacturing various herbicides, pesticides, and insecticides. The key factors that boost the growth of the global pyridine market include increase in pest control activities and surge in awareness about pyridine among farmers.
Furthermore, increase in demand of pyridine as a denaturant is anticipated to drive the market growth. However, stringent government regulations toward the use of pyridine and health hazards associated with pyridine toxicity are anticipated to restrict the growth of the market. Conversely, increase in R&D activities in reducing the toxicity of pyridine due to its beneficial usage in pharmaceuticals, chemicals, agrochemicals, and food & beverages is expected to provide lucrative opportunities in the pyridine industry.
The global pyridine market is segmented based on type, application, and region. On the basis of type, the market is divided into pyridine N-oxide, alpha picoline, beta picoline, gamma picoline, and 2-methyl-5-ethylpyridine. Depending on application, it is classified into agrochemicals, pharmaceuticals, chemicals, foods, and others. Region wise, it is analyzed across North America, Europe, Asia-Pacific, and LAMEA.
The key players analyzed in this report are Jubilant Life Sciences, Resonance Specialties Limited, Lonza Group Ltd., Vertellus Specialties Inc., Red Sun Group, Shangdong Luba Chemical Co. Ltd., Koei Chemical Company Limited, Weifang Sunwin Chemical Company Limited, Mitsubishi Chemical Company, and Bayer AG.
The other players in the value chain (profiles not included in the report) include Novasyn Organics, Resonance Specialties Limited, Labex Corporation, LeeChem India Pvt. Ltd., GFS Chemicals Inc., Seidler Chemical Company, Hudson Chemicals, Prochem Inc., Innova Chemicals and Scientific Solutions, LLC, and others.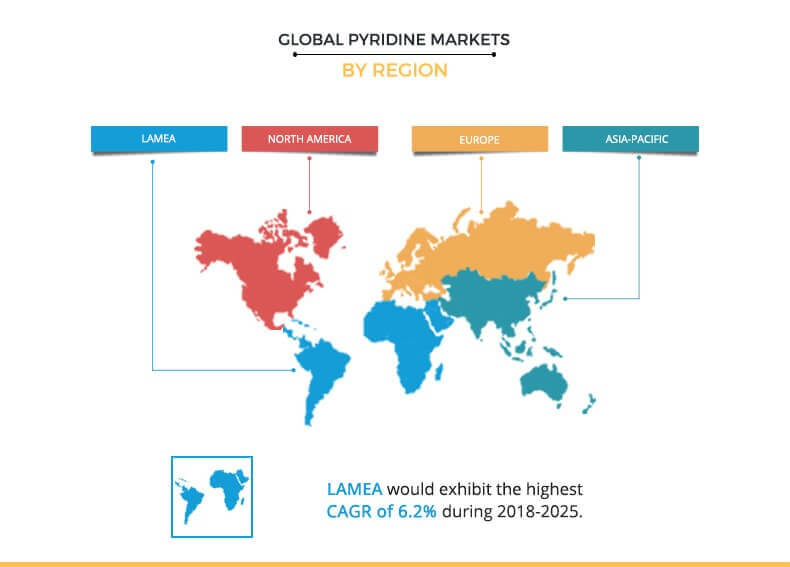 Asia-Pacific holds a dominant position in the global pyridine market, owing to upsurge in demand for niacinamide in the pharmaceutical industry and processed food industries. Moreover, rise in need for agrochemicals has fueled the growth of this market in Asia-Pacific. However, the LAMEA region is expected to witness substantial increase in the demand for pyridine & pyridine derivatives, owing to surge in interest of manufacturers in the region to tap the growing market of agrochemicals and pharmaceuticals.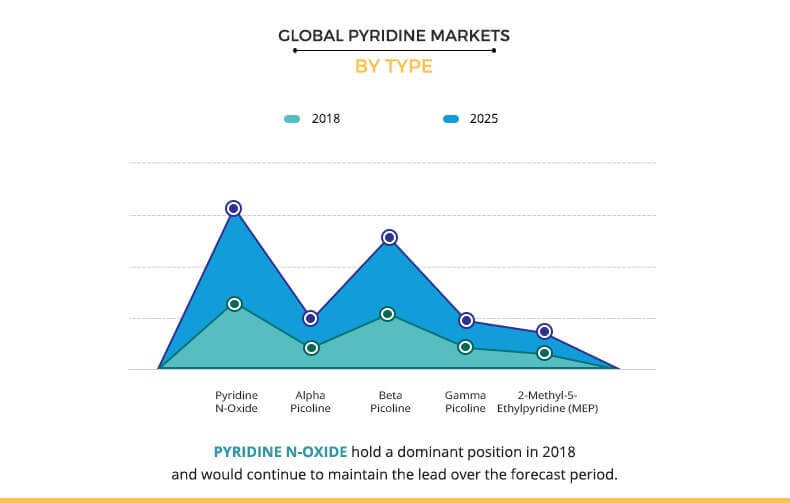 Beta picoline serves as the most lucrative segment in the pyridine market, as it is used extensively in agrochemical to manufacture chlorpyrifos, which is an organophosphate pesticide. Beta-picoline is a colorless organic liquid with a strong odor, a positional isomer of methylpyridine. It is a precursor to pyridine derivatives, and finds applications in the pharmaceuticals and agrochemicals such as chlorpyrifos.
The chemicals segment is estimated to grow at the highest CAGR during the forecast period, owing to the fact that pyridine is a vital raw material in the chemical industry, as it is used as solvent, reagent, and precursor of several chemicals. The major producers of pyridine include Evonik Industries, Rütgers Chemicals, Imperial Chemical Industries, and Koei Chemical.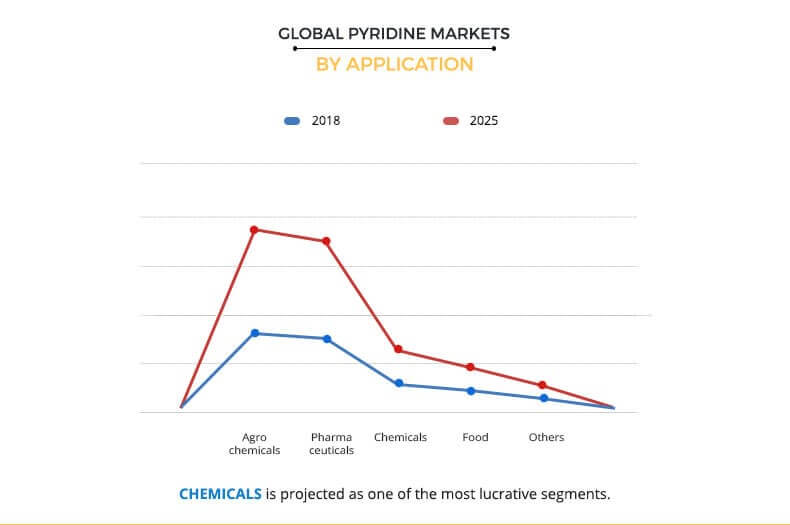 Key Benefits for Pyridine Market:
Porter's five forces analysis helps analyze the potential of buyers & suppliers and their pyridine market share for building strategies. 
It outlines the current trends and future scenario of the pyridine market size from 2017 to 2025 to understand the prevailing opportunities and potential investment pockets.
Major countries in four major regions, namely, North America, Asia-Pacific, Europe, and LAMEA have been mapped according to their individual revenue contribution in the pyridine market analysis at regional and country level.
The key drivers, restraints, and opportunities and their detailed impact analyses are elucidated in the study.
The profiles of key players along with their contribution in pyridine market growth are enlisted in the report.
 Pyridine Market Report Highlights
Aspects
Details
By Type

Pyridine N-Oxide
Alpha Picoline
Beta Picoline
Gamma Picoline
2-Methyl-5-ethylpyridine(MEP)

By Application

Agrochemicals
Pharmaceuticals
Chemicals
Food
Others

By Region

North America (U.S., Canada, Mexico)
Europe (France, Germany, UK, Spain, Italy, Rest of Europe)
Asia-Pacific (India, China, Japan, Korea, Australia, Rest of Asia-Pacific)
LAMEA (Brazil, KSA, South Africa, Rest of LAMEA)

Key Market Players
WEIFANG CHEMICAL COMPANY LIMITED, MITSUBISHI CHEMICAL CORPORATION (MITSUBISHI CHEMICAL HOLDINGS CORPORATION), VERTELLUS SPECIALTIES INC., NOVASYN ORGANICS PVT. LTD, KOEI CHEMICAL CO. LTD., SEIDLER CHEMICAL CO, INC., JUBILANT LIFE SCIENCES LIMITED, LONZA GROUP LTD., RESONANCE SPECIALTIES LIMITED, BAYER AG