Pyrolysis Oil Market Research, 2031
The global pyrolysis oil market was valued at $318.5 million in 2021 and is projected to reach $480.9 million by 2031, growing at a CAGR of 4.3% from 2022 to 2031.
Key Report Highlighters:
The report depicts detailed insights into the pyrolysis oil market trends and new growth opportunities.
The report provides a complete analysis of the market status across key regions and more than 15 countries across the globe in terms of value ($ Million) and volume (Tons).
Detailed analysis of end users like heat & power and automotive is covered in the report.
The report provides competitive dynamics by evaluating business segments, product portfolios, target market revenue, geographical presence, and key strategic developments by prominent manufacturers
The demand for alternate fuel has increased in recent years owing to the depletion of natural resources. Pyrolysis oil provides the best alternative to conventional fuels. In addition, increasing plastic and rubber waste will drive the adoption of pyrolysis oil.
Pyrolysis is one of the possible paths for converting biomass to higher-value products. As a result, this technique can contribute to a biorefinery model and increase the range of products that can be produced from biomass. A liquid material called pyrolysis oil is produced during the pyrolysis process and is then cooled. It is a complex mixture of molecules made up of typically more than 200 distinct chemicals that are the outcome of the depolymerization of goods that have undergone pyrolysis treatment.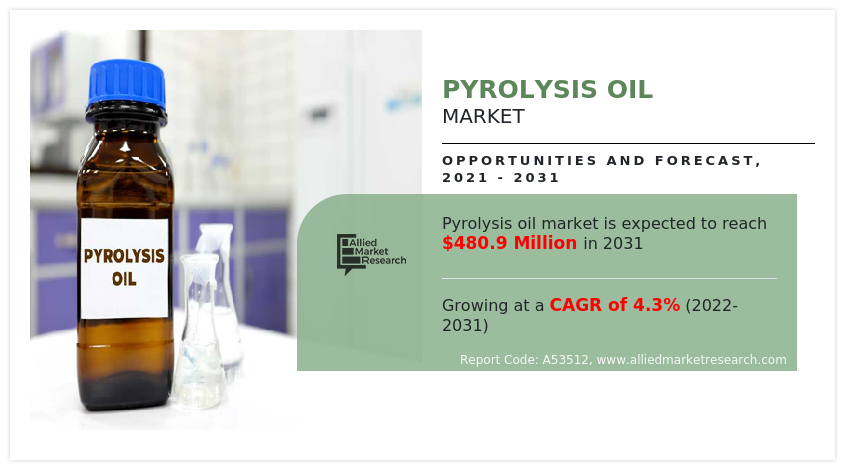 Pyrolysis oil, commonly referred to as bio-crude or bio-oil, is a synthetic fuel being researched as an alternative to petroleum. It is made by heating dehydrated biomass in an oxygen-free reactor to a temperature of roughly 500 °C (900 °F) before cooling it. Pyrolysis oil, a type of tar, typically has oxygen concentrations that are too high to be regarded as pure hydrocarbons. The non-volatility, corrosiveness, immiscibility with fossil fuels, thermal instability, and propensity to polymerize when exposed to air are all caused by the high oxygen content. As a result, it differs significantly from goods made from petroleum. Upgrading is the process of removing oxygen from bio-oil or nitrogen from algal bio-oil.
Pyrolysis is a well-established technique for the decomposition of organic material at elevated temperatures in the absence of oxygen into oil and other constituents. Debris wood, yard waste, agricultural and forestry leftovers, as well as energy crops, can all be used as feedstock in second-generation biofuel applications.
Pyrolysis has many uses and some of them are listed below:
Pyrolysis converts low-energy biomass into high-energy liquid fuels with simple and inexpensive technology by processing a wide variety of feedstocks.

Pyrolysis reduces water pollution, waste going into landfills, and greenhouse gas emissions.

Pyrolysis reduces

reduce the country's dependence on other energy resources by generating energy from domestic resources.
The harmful impacts caused by the use of fossil fuels are becoming well known. Several research and development initiatives are being carried out in emerging regions to discover substitutes for traditional fossil fuels. The energy sector has been growing quickly over the last few years, and stakeholders are searching for sustainable and energy-efficient solutions as a result of growing environmental concerns and the quick depletion of fossil fuel supplies. Pyrolysis oil can be widely used in multipurpose agricultural diesel engines.
The global market for pyrolysis oil is expanding as a result of rising energy costs, stricter fuel emission rules, and rising petroleum product prices in many nations. The demand for pyrolysis oil is projected to increase owing to a rise in the number of infrastructure development projects taking place around the globe.
Global demand for plastic and rubber has increased significantly over the last decade, owing to vast applications of plastics and rubber in numerous sectors. For instance, plastic consumption has been increasing quickly, especially in manufacturing sectors like food and beverage. Around 40% of the world's plastic production was accounted for by the packaging application segment in 2019. Following it was the segments for packaging, architecture & construction, textiles, and consumer goods.
Increased adoption of biofuels:
There is an increase in the understanding of the harmful effects of using fossil fuels among end users. A lot of research and development is being done in emerging nations to find substitutes for conventional fossil fuels. The energy sector has been expanding quickly recently, and stakeholders are looking for sustainable and energy-efficient solutions due to growing environmental concerns and the speedy depletion of fossil fuel resources. The rise in the need for environment-friendly fuel, in turn, surges the growth of the pyrolysis oil market.
Furthermore, the pyrolysis oil industry is projected to expand at a faster rate due to a rise in energy costs and an increase in petroleum product prices in several nations. In addition, fast industrialization and expansion of infrastructure projects on a global scale are projected to boost market value. The surge in worries about energy security in developing nations is also anticipated to support the expansion of the market.
Consistent demand for plastics has increased concerns about the adverse environmental impact due to the continuous accumulation in landfills, as plastic waste does not degrade, or it degrades at a very slow pace. In Europe, approximately 50% of the waste plastic produced is collected, with the remaining 50% being dumped in landfills. Globally, residential and municipal trash has increased as a result of rapid industrialization and globalization. For instance, the amount of municipal garbage produced in the U.S. in 2018 totaled more than 260 million tons, of which more than 50% were disposed of in landfills.
The U.S. Department of Energy claims that by converting plastic rubber and biodegradable waste into ultra-low-sulfur diesel (ULSD) fuel, pyrolysis technology can reduce greenhouse gas (GHG) emissions by up to 14%, water consumption by 58%, and energy consumption by 96% when compared to ULSD from conventional crude oil.
The need to reduce the amount of plastic waste that ends up in landfills and the carbon emissions that go along with it by turning it into value-added products is therefore predicted to drive the global pyrolysis oil market.
Due to government lockdowns and limitations implemented during the COVID-19 pandemic, industrial activity was severely hampered in 2020 and 2021, which constrained the expansion of the pyrolysis oil industry. Due to a lack of raw material supply, restricted working hours/labor strength, and constrained financial resources, the chemical industry, and the heat and power generation sector were immobilized. This put a stop to the use of pyrolysis oil, a sustainable but unconventional fuel that has difficulties with storage and transportation in these industries.
However, since the epidemic was retracted in mid-2021, the industries have been on the road to recovery. The reviving oil and gas, chemical, and power sectors, along with rising downstream demand brought on by the removal of limitations and the expanding sustainability movement, have rekindled market participants' interest in pyrolysis oil.
The pyrolysis oils market is segmented into feedstock, process, fuel, and region. On the basis of feedstock, the market is divided into plastic, rubber, biomass, and others. On the basis of process, it is categorized into fast pyrolysis, slow pyrolysis, and flash pyrolysis. On the basis of end-use, it is classified into heat and power, automotive fuel, and others. Region-wise, the market is studied across North America, Europe, Asia-Pacific, and LAMEA.
The major players operating in the global pyrolysis oils market are Plastic Advanced Recycling Corp., Trident Fuels (Pty) Ltd, Niutech, Quantafuel ASA, Ensyn, Twence, Green Fuel Nordic Oy, Alterra Energy, New Hope Energy, Bioenergy AE Côte-Nord.
Other players operating in the market are Pyro-Oil Nig. Ltd., SetraKlean Industries Inc., BTG Biomass Technology Group, Agile Process Chemicals LLP, and OMV Aktiengesellschaft.
Pyrolysis Oil Market

---
By Process
Fast pyrolysis is projected as the fastest growing segment.
Slow pyrolysis has acquired a 53.8% market share in terms of revenue. Slow pyrolysis is the slow heating of organic material in absence of oxygen. The volatile components of the organic material partially evaporate rather than combust, leaving behind a product (charcoal) that is largely (usually 80%) composed of carbon. The procedure is typically done at temperatures between 400 and 800 °C with a heating rate of less than 10 °C per minute. Larger-particle feedstock is employed in the process, and if the feeding mechanism can handle it, some ways can use huge pieces of wood.
Pyrolysis Oil Market

---
By Feedstock
Plastic segment has accquired major market share and is projected to be fastest growing segment.
The plastic segment has acquired 43.8% of the market share in terms of revenue. The pyrolysis process uses a variety of plastics as feedstock, including polystyrene (PS), polyethylene (PE), polypropylene (PP), and polyethylene terephthalate (PET). Using TA-NZ and AA-NZ catalysts, the catalytic pyrolysis of PS resulted in a greater liquid oil yield (70 and 60%) than that of PP (40 and 54%) and PE (40 and 42%). Around 300 million tons of plastic are produced worldwide annually, according to estimates. Plastic trash is frequently converted into energy using the pyrolysis process, which produces solid, liquid, and gaseous fuels. Pyrolysis is an eco-friendly method to convert plastic waste into pyrolysis oil.  
Pyrolysis Oil Market

---
By End Use
Automotive fuel is projected as the fastest growing segment.
The heat and power segment has acquired a 57.9% market share in terms of revenue. Pyrolysis oils can be burned fairly well in traditional oil furnaces and boilers that have been minimally modified. Some already-in-use oil burners can also burn pyrolysis oils; however, they could need a small adjustment. However, it is necessary to specify oil standards, at the very least for solids and water. Oils should be handled and pumped with extra caution. In order to initiate the combustion, support fuel is required at the burner. It is also advised to support the pyrolysis oil in the event that the oil is of low quality. The UK government has estimated that bioenergy will provide more than 35.0% of the total renewable energy production required to reach the goal of producing 15.0% of primary energy from renewable sources by 2020.
Pyrolysis Oil Market

---
By Region
Asia-Pacific is projected as the fastest growing region.
North America has acquired 38.9% of the market share in terms of revenue. The market growth in the North America region is attributed to the growth of the industrial diesel engines and industrial boilers industry, the use of pyrolysis oil as an alternative to fossil fuel, the use of deviating new products, and government initiatives. Asia-Pacific is projected to be the fastest-growing region. China held a major share of the pyrolysis oil market in Asia-Pacific in 2021. The expansion of the market in the country can be ascribed to continuous urbanization and industrialization.  
The latest key development strategies undertaken by key market players:
A three-year contract was signed by ArcelorMittal Mining Canada and BioÉnergie AE Côte-Nord Canada in May 2022, under which the ArcelorMittal pellet facility will receive 16 million liters of pyrolytic oil annually. A steel and mining firm called ArcelorMittal Mining Canada is one of the top five global producers of iron ore-based goods.
According to a joint announcement by New Hope Energy and TotalEnergies in May 2022, an advanced recycling facility will be built in Texas to turn end-of-life plastic trash into a feedstock that TotalEnergies would partially buy and use to create virgin-quality polymers for food-grade packaging.
A joint venture between Agilyx Inc. and AmSty was established in April 2019 to recycle post-consumer polystyrene materials into new polystyrene products. Agilyx Inc. converts discarded polystyrene products into liquid in this joint venture, while AmSty uses this liquid to create new polystyrene products.
OMV Aktiengesellschaft purchased a 39% share in Borealis AG in October 2020. OMV Aktiengesellschaft is currently the owner of 75% of Borealis AG thanks to this acquisition. The overall acquisition was estimated to be worth $4.68 billion.
Key Benefits For Stakeholders
This report provides a quantitative analysis of the market segments, current trends, estimations, and dynamics of the pyrolysis oil market analysis from 2021 to 2031 to identify the prevailing pyrolysis oil market opportunities.
Market research is offered along with information related to key drivers, restraints, and opportunities.
Porter's five forces analysis highlights the potency of buyers and suppliers to enable stakeholders to make profit-oriented business decisions and strengthen their supplier-buyer network.
An in-depth analysis of the pyrolysis oil market segmentation assists to determine the prevailing market opportunities.
Major countries in each region are mapped according to their revenue contribution to the global market.
Market player positioning facilitates benchmarking and provides a clear understanding of the present position of the market players.
The report includes an analysis of the regional as well as global pyrolysis oil market trends, key players, market segments, application areas, and market growth strategies.
 Pyrolysis Oil Market Report Highlights
Aspects
Details
Market Size By 2031
USD 480.9 million
Growth Rate
CAGR of 4.3%
Forecast period
2021 - 2031
Report Pages
546
Feedstock

Plastic
Rubber
Biomass
Others

End use

Heat and power
Automotive fuel
Others

Process

Fast pyrolysis
Flash pyrolysis
Slow Pyrolysis

By Region

North America (U.S., Canada, Mexico)
Europe (Germany, France, Italy, UK, Spain, Rest of Europe)
Asia-Pacific (China, India, Japan, South Korea, Australia, Rest of Asia-Pacific)
LAMEA (Brazil, South Africa, Saudi Arabia, Rest of LAMEA)

Key Market Players
Bioenergy AE Cote-Nord, New Hope Energy, Green Fuel Nordic Oy, Agilyx, OMV Aktiengesellschaft, Plastic Advanced Recycling Corp., Quantafuel ASA, Alterra Energy, Ensyn, Niutech