QR Codes Payment Market Outlook – 2030 
The global QR codes payment market size was valued at $8.07 billion in 2020, and is projected to reach $35.07 billion by 2030, growing at a CAGR of 16.1% from 2021 to 2030.
In the wake of COVID-19 pandemic, payments via QR codes are gaining increasing traction globally, as it processes immediate payments and allow customers & employees to better keep their distance and avoid handling potentially contaminated bills or cards during the pandemic situation.
A Quick Response (QR) code is a two-dimensional code that is capable of 360-degree (omni-directional) high-speed reading and stores a larger amount of information per unit area. It has a pattern of black squares that are arranged on a square grid with a white background and imaging devices, such as smartphone cameras, that can be used to read these QR codes. While scanning a QR code, the horizontal and vertical patterns of the matrix are decoded by the software on smartphone and are further converted into a string of characters. Depending on the command of those characters, the smartphone opens a browser link, confirms payment information, and verifies geolocation.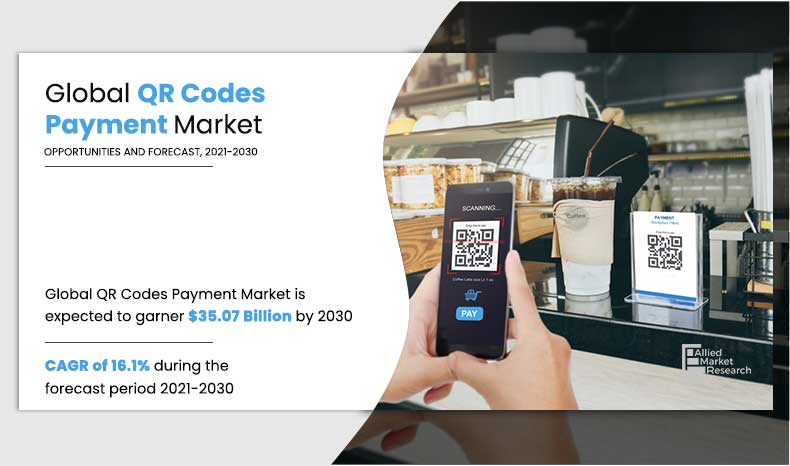 Grocery providers and retailers are gradually launching their QR code payment through which customers can shop by conducting contactless payments and rapid demand for fast & hassle-free transaction services acts as the key driving forces of the QR codes payment market. In addition, massive adoption of QR code payment among merchants and rise in usage of smartphones & surge in faster connectivity have enabled retailers and customers to receive and make QR code payments via their smartphones, which propel the growth of the market. 
However, rising data breaches and security issues in QR codes payments market hamper the growth of the market. On the contrary, developing economies offer significant opportunities for QR codes payment companies to expand their offerings due to factors such as growth in middle-class segment, rapid urbanization, rise in literacy level, and increase in tech-savvy youth generation. Moreover, there is increasing adoption of QR codes payment methods among merchants as it allows their consumers to scan code where the system will automatically detect fraud. Therefore, these developments and initiatives toward digitalized payments sector are anticipated to provide a potential growth opportunity for the QR codes payment market.
The report focuses on growth prospects, restraints, and trends of the QR codes payment market analysis. The study provides Porter's five forces analysis to understand the impact of various factors such as bargaining power of suppliers, competitive intensity of competitors, threat of new entrants, threat of substitutes, and bargaining power of buyers on the QR codes payment market outlook.
QR Codes Payment Market

---
By Offering
Solution segment accounted for the highest market share in 2020
Segment Review
The QR codes payment market is segmented into offering, payment type, transaction channel, end user, and region. Based on offering, the market is divided into asset solution and services. The solution segment is further segmented into static QR code and dynamic QR code. The static QR code segment is bifurcated into merchant-presented mode (MPM) and customer-presented mode (CPM). The services segment is divided into professional services and managed services. Depending on payment type, the market is segregated into push payment and pull payment. On the basis of transaction channel, it is classified into face-to-face and remote. The end users covered in the study include restaurant, retail & e-commerce, e-ticket booking, and others. Region-wise, the market is analyzed across North America, Europe, Asia-Pacific, and LAMEA. 
QR Codes Payment Market

---
By End User
E-ticket booking segment is projected as one of the most lucrative segments.
Competitive Analysis 
The report analyzes the top QR codes payment companies operating in the market such as Alibaba.com, Barclays, Google, LINE Pay Corporation, One97 Communications Limited (Paytm), PayPal, Revolut Ltd, Square, Inc., Tencent, and UnionPay International Co. Ltd. These players have adopted various strategies to increase their market penetration and strengthen their position in the QR codes payment industry.  
QR Codes Payment Market

---
By Region
Asia-Pacific would exhibit the highest CAGR of 18.7% during 2021-2030
COVID-19 Impact Analysis
COVID-19 pandemic has a significant impact on the QR codes payment industry, owing to increase in usage and adoption of online & digitalized payment methods among consumers globally. Moreover, banks and fintech industries are providing their customers with options of QR code payments to speed up their transaction process and enhance digitalized payments in the market. This, in turn, has become one of the major growth factors for the market during the global health crisis.
Top Impacting Factors
Massive Adoption of QR Code Payments Among Merchants 
Several businesses engaging in providing a wide range of goods are increasingly providing QR codes payment market options to their customers. For instance, in China, the merchant generates both the invoice of a particular amount & the QR code and displays the QR code on the screen of the smartphone. In addition, the customer scan to pay the merchant via generated QR code from their mobile wallet application. Furthermore, millennials are the major target customer segments for merchants, as they largely use smartphones for making purchases, which propels the growth of the QR codes payment market. 
Consumers are gradually opting for digitalized payments while purchasing a number of goods & services, such as apparel & accessories, groceries, health & beauty, computer & electronics, and books, owing to ease of making payments. For instance, a study conducted by PayPal in 2020 projected that 57% of consumers prefer merchants' digital payment options while shopping from stores. Therefore, this growing preference among consumers for contactless payments and massive adoptions of PayPal QR code payments channel among merchants drive the market growth.   
Surge in Adoption of QR Codes Payment Services in Emerging Countries
Emerging economies, such as India and China, have high penetration of smartphones along with increasing 3G and 4G connectivity users. In addition, both the countries account for more than one-third of the world's population, thus posing maximum market potential for QR codes payment market. It is anticipated that approximately 90% of the population under the age of 30 years reside in these emerging markets. Growth in middle-class segment, rapid urbanization, rise in literacy level, and increase in tech-savvy youth generation would increase the consumption rate in emerging economies, thus leading to the QR codes payment market growth. 
For instance, according to Scantrust SA, which designs & develops enterprise software, projected that 67% of Singaporeans made mobile payments via QR code in 2018 and are expected to grow exponentially in the coming years. Emerging markets are still not well equipped with financial services, and the geographical reach of financial institution in remote locations is limited. However, over the past few years, the evolvement of technology and innovations has made it financially viable for merchants, banks, & financial institutions to provide QR codes payment market options in emerging markets. Kenya is among the emerging markets, where approximately two-thirds of the adult population either receive or make payment through their mobile phones, thus reflecting the growth of the QR codes payment market in emerging economies.  
Key Benefits for Stakeholders 
The study provides in-depth analysis of the global QR codes payment market share along with current trends and future estimations to illustrate the imminent investment pockets.
Information about key drivers, restrains, and opportunities and their impact analysis on the global QR codes payment market are provided in the report.
Porter's five forces analysis illustrates the potency of buyers and suppliers operating in the market.
An extensive analysis of the key segments of the industry helps to understand the QR codes payment market trends.
The quantitative analysis of the global QR codes payment market forecast from 2021 to 2030 is provided to determine the market potential. 
Key Market Segments
By Offering
Solution

Static QR Code

Merchant-Presented Mode (MPM) 
Customer-Presented Mode (CPM)

Dynamic QR Code

Services

Professional Services
Managed Services
By Payment Type
By Transaction Channel
By End User
Restaurant
Retail & E-Commerce
E-Ticket Booking
Others
By Region
North America
Europe

UK
Germany
France
Italy
Spain
Netherlands
Rest of Europe 

Asia-Pacific 

China
Japan
India
Australia
South Korea
Rest of Asia-Pacific   

LAMEA

Latin America 
Middle East
Africa
Key Market Players
Alibaba.com
Barclays
Google
LINE Pay Corporation
One97 Communications Limited (Paytm)
PayPal
Revolut Ltd 
Square, Inc.
Tencent
UnionPay International Co. Ltd  
 QR Codes Payment Market Report Highlights
Aspects
Details
By Offering

Solution

Static QR Code

Merchant-Presented Mode (MPM)
Customer-Presented Mode (CPM)

Dynamic QR Code

Services

Professional Services
Managed Services

By Payment Type

Push Payment
Pull Payment

By Transaction Channel
By End User

Restaurant
Retail & E-Commerce
E-Ticket Booking
Others

By Region

North America (U.S., Canada, Mexico)
Europe (France, Germany, Italy, Spain, UK, Russia, Rest of Europe)
Asia-Pacific (China, Japan, India, South Korea, Australia, Thailand, Malaysia, Indonesia, Rest of Asia-Pacific)
LAMEA (Brazil, South Africa, Saudi Arabia, UAE, Argentina, Rest of LAMEA)

Key Market Players
One97 Communications Limited (Paytm), Revolut Ltd, Alibaba.com, Square, Inc., PayPal Holdings Inc., UnionPay International Co. Ltd, Google LLC, Tencent, .Barclays, LINE Pay Corporation