The global quartz market was valued at $8.23 billion in 2018 and is projected to reach $13.61 billion by 2026, growing at a CAGR of 6.4% from 2019 to 2026. Quartz is one of the most differed minerals on the Earth, and its abundant colors produce numerous gemstone types. Amethyst and citrine are the most prominent and significant pearl assortments of Quartz. Chalcedony portrays any type of Quartz that is microcrystalline and is available in minimized structure. In addition, chalcedony has several varieties utilized as gemstones, most notably Agate, Carnelian, Tiger's Eye, and Chrysoprase. Pure Quartz, which is otherwise called Rock Crystal is colorless. However, different impurities are added that produce the broad range of color of quartz. 
Quartz is a significant mineral with various uses. Sand, which is made from little Quartz stones, is an essential element for assembling of glass. Quartz rock crystal has numerous electronic uses. It is utilized as oscillators in radios, watches, and weight measures, and in the investigation of optics. Quartz is additionally utilized as a grating for sandblasting, pounding glass, and cutting delicate stones. It is fundamentally used in the Personal Computer business, as the significant silicon semiconductors are produced using quartz. As quartz is increasingly being used in these end-user industries, it is expected to drive the growth of the global market.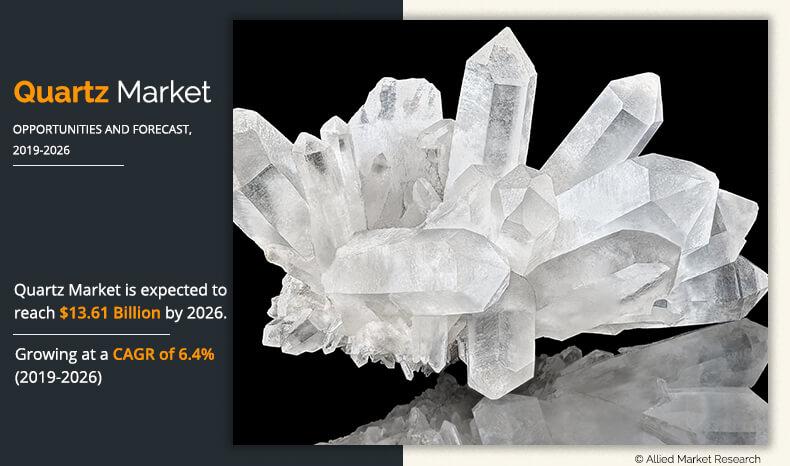 High cost of quartz is restricting the quartz market growth. China is one of the leading producer of quartz and several quartz products are manufactured in China. Tariffs have been added on all quartz materials imported from China. Additionally, the U.S. Commerce Department announced that extra duties will be imposed on quartz attributed to an investigation admitting illegal dumping of imported quartz into the U.S. Due to this factor, the price of quartz is increasing in several countries, which is restricting its usage. This factor is expected to hamper the market growth.
The global quartz market is segmented into product, end-user industry, and region. By product, it is classified into quartz surface and tile, high-purity quartz, quartz glass, quartz crystal, quartz sand, and other. Quartz surface and tile holds the dominant share in the global market. Quartz has become increasingly popular for creating building surfaces. Quartz is used in kitchen countertops to bathroom floors. Furthermore, quartz is also used in place of granite and marble as it offers cost-effective and durable slab. This increasing use of quartz as a surface and tile is expected to drive the growth of global market. High Purity Quartz is projected as the fastest growing segment in the quartz market analysis. 
High Purity Quartz is projected as the fastest growing segment.
By end-user industry, it is divided into electronics and semiconductor, solar, buildings and construction, medical, optics and telecommunication, and other. Building and Construction would exhibit CAGR of 7.9% during 2019-2026. Region-wise, it is analyzed across North America, Europe, Asia-Pacific, and LAMEA. North America holds the dominant share in the global quartz market and Asia-Pacific is expected to grow with the highest CAGR during the forecast period. 
Quartz Market

---
By Application
Building and Construction would exhibit CAGR of 7.9% during 2019-2026.
Presence of key players such as Hanwha L&C, Baoliya, Quarella, Cambria and Samsung Radianz are driving the growth of the market. These players are offering quartz products to electronics and semiconductor, solar, buildings and construction and medical industries. As these industries expand, it is expected that the demand for quartz will increase significantly. This factor is expected to contribute towards the growth of the market.
Major key players operating in the quartz industry include Baba Quartz, QQE, Momentive, Saint-Gobain, Creswick Quartz, Quartz Corporation, High Purity Quartz Pty Ltd., DuPont, and Caeserstone. The market dominance of these companies is characterized by their vast product portfolio of protective clothing, and high investment in R&D activities for quartz, revenue, capital expenditure, employee strength, and geographical presence of companies. 
Asia-Pacific would exhibit CAGR of 7.1% during 2019-2026.
In order to stay competitive, these market players are adopting different strategies such as product launch, partnership, merger, and expansion. The key strategy traced from the analysis of recent developments of the key players is business expansion. This strategy is adopted to enhance product portfolios, expand geographical reach, and increase customer base. In September 2016, Caesarstone announced to open distribution center in Burnsville, MN. The new distribution center is anticipated to support and service Minnesota, Western Wisconsin, Northern Iowa, and Eastern North, and South Dakota.
Key Benefits for Stakeholders:
Porter's five forces analysis helps to analyze the potential of buyers & suppliers and the competitive scenario of the industry for building strategies. 
It outlines the current trends and future scenario of the quartz market size from 2018 to 2026 to understand the prevailing opportunities and potential investment pockets.
Major countries in four major regions, namely, North America, Asia-Pacific, Europe, and LAMEA and their respective quartz market share have been mapped according to their individual revenue contribution in the market analysis at regional and country-level.
The quartz market trends such as drivers, restraints, and opportunities and their detailed impact analyses are elucidated in the study.
The profiles of key players along with their contribution in market growth are enlisted in the report.
The quartz market forecast is studied from 2019 to 2026. 
 Quartz Market Report Highlights
Aspects
Details
By Product

Quartz Surface and Tile
High-purity Quartz
Quartz Glass
Quartz Crystal
Quartz Sand
Other

By End Use Industry

Electronics and Semiconductor
Solar
Buildings and Construction
Medical
Optics and Telecommunication
Other

By Region

North America (U.S., Canada, Mexico)
Europe (Germany, UK, France, Italy, Spain, Rest of Europe)
Asia-Pacific (China, Japan, India, South Korea, Australia, Rest of Asia-Pacific)
Brazil (Brazil, Saudi Arabia, South Africa, Rest of LAMEA)

Key Market Players
Baba Quartz, Quality Quartz Engineering, Momentive, Saint Gobain S.A., Creswick Quartz, Quartz Corporation, HIGH PURITY QUARTZ MATERIALS, DuPont, Thermofisher Scientific, Caesarstone Ltd