Radiation Oncology Market Research, 2030
The global radiation oncology market size was valued at $7.79 billion in 2021, and is projected to reach $15.23 billion by 2030, growing at a CAGR of 7.8% from 2022 to 2030. Radiotherapy is used to treat cancer by radiating the tumour cells and destructing its growth and division procedure the rising incidence and prevalence of cancer, the growing awareness of radiotherapy's therapeutic benefits, and technological developments in the field of radiotherapy are the main factors driving this market's expansion. The use of radiotherapy is also being boosted by significant opportunities presented by emerging economies and rising government spending on cancer treatment. Radiation therapy persists as an important part of treatment with nearly 50% of cancer patients receiving it and with a contribution of 40% of the curative treatment.
The health-care sector was severely damaged by the coronavirus epidemic in 2019. The pandemic has had an impact on the economics of radiation therapy delivery, even though much of the study has concentrated on the direct costs of preventing and treating COVID-19.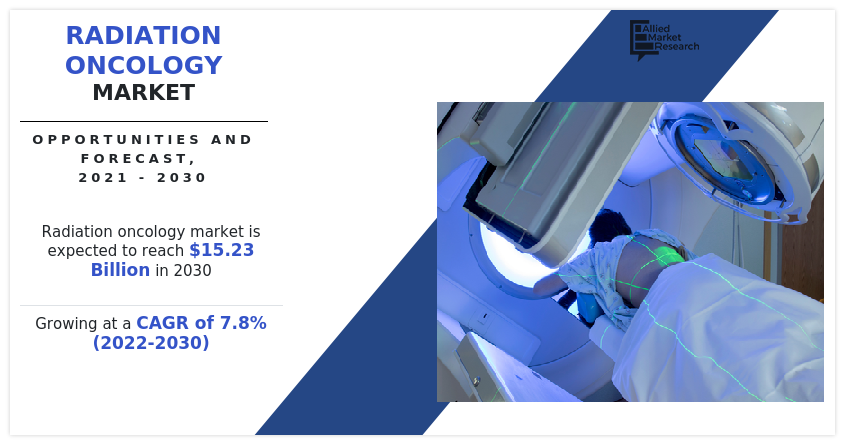 Get more information on this report : Request Sample Pages
Some of the key factors driving the market include the rising incidence of cancer, the rising use of radiotherapy in cancer treatment, and technological developments in radiotherapy equipment. The radiation oncology market is anticipated to be driven by technological developments to increase treatment efficacy and safety. A combination of 4D imaging and radiotherapy, known as 4D radiotherapy, enables real-time tumour tracking and provides precise data on the tumour's size, shape, area, and volume. With the help of this combination, doctors can deliver a conformal dose while compensating for organ, tumour, or patient movement. These factors are anticipated to propel the global radiation oncology market share.
But one of the main things holding back the market for radiation oncology is the scarcity of qualified radiotherapy specialists. For instance, while Bangladesh reports only 0.76 radiation oncologists per 1,000 cancer patients, developed nations typically have 2-3 radiation oncologists for every 1,000 cancer patients. The situation in India is comparable. In addition, physicians in many nations lack exposure to and education in radiation oncology.
It is anticipated that access to high-quality healthcare will improve in several emerging nations, including China, India, Brazil, and Mexico, due to their rapid economic development and rising healthcare spending. This is thought to be a promising sign for the radiation oncology market. The demand for various radiotherapy devices and techniques is increasing as a result of the rising cancer incidence in these nations. Additionally, governments in each of these nations are concentrating on expanding access to high-quality healthcare services for more of their citizens as well as expanding the scope of reimbursement. The expansion of healthcare products (including oncology devices) across these countries is being driven by the quick increase in per-capita healthcare spending and the rising public demand for affordable healthcare services. The aforementioned factors are boosting the radiation oncology market growth.
The key players in the global radiation oncology market are Varian Medical Systems, Inc., Elekta AB, Accuray Incorporated, Mevion Medical Systems, IBA Worldwide, Nordion (Canada) Inc., BD, Isoray Inc., Provision Healthcare, and Panacea Medical Technologies Pvt. Ltd.
The global radiation oncology market is segmented on the basis of type, application and regional analysis. On basis of type, they are further sub-segmented into external beam radiation therapy and internal beam radiation therapy. On basis of application, they are further sub-segmented into prostate cancer, breast cancer, lung cancer, head & neck cancer, colorectal cancer, cervical cancer, gynecological cancer, and others. On basis of region, the market is analyzed across North America, Europe, Asia-Pacific, and LAMEA.
The radiation oncology market is segmented into Type and Application.
Radiation Oncology Market

---
By Type
External beam radiation therapy held the largest market share in 2021
By type, the external beam radiation therapy sub-segment accounted for highest revenue share and expected to generate the highest revenue in the timeframe. High adoption rate of external beam radiation therapy by the healthcare professionals owing to its high accuracy in targeting abnormal cells and reducing pain in advanced cancers. The external beam radiation therapy has better accuracy to target the tumor to destroy the abnormal cells and alleviate pain. The therapy uses a special X-Ray machine called a linear accelerator to deliver high energy rays to tumors. Thus, adoption of the external beam radiation therapy is increasing day by day by the oncologist. This factor is predicted to fuel revenue growth of the market in the review time.
Radiation Oncology Market

---
By Application
Lung cancer is anticipated grow at the fastest CAGR
By application, the breast cancer application sub-segment accounted for the highest market size. Increasing prevalence of breast cancer especially in developed countries as a result of aging, obesity, and radiation exposure is estimated to drive the sub-segment growth in the analysis time. According to the American Cancer Society, a nationwide voluntary health organization, breast cancer is the second leading cause of cancer death in women. The chances that a woman will die from breast cancer is about 1 in 39 (about 2.6%). Breast cancer is increasing due to aging, obesity, and exposure to radiation. Increase in number of cases of breast cancer is rising the demand for radiation therapy. This factor is estimated to increase the demand for radiotherapy, which is estimated to drive the market growth in the review time.
Radiation Oncology Market

---
By Region
Asia-Pacific is anticipated to grow at a fastest CAGR over the forecast period
By region, the North America region has a major share in the radiation oncology market, accounting for over 43.7%, and is expected to maintain its dominance in the coming years. The presence of the most sophisticated and advanced healthcare infrastructure in North America, particularly in the U.S., is driving cancer patients in these locations to adopt radiation oncology procedures. Rising prevalence of breast cancer, particularly in developed countries in the region, as a result of aging, obesity, and radiation exposure, is expected to drive market growth during the forecast period. Furthermore, the U.S. Department of Health and Human Services has recently introduced nine federal programs to encourage cancer prevention and early detection by giving additional funding for better cancer treatment methods, which is expected to drive the market revenue growth in the near future.
Impact of COVID-19 on the Global Radiation Oncology Industry
The Covid-19 pandemic outbreak impacted many industries. Even though healthcare industries were favoured by the pandemic, not every part was positively impacted. Many clinics all across the world were converted to Covid-19 clinics to treat the affected patients.

Covid infected patients were on priority and unavailability of hospitals and surgeons was a major restrain for the radiation oncology market. Patients avoided hospitals in fear of infection.

When compared to the same months in 2019, typical weekly radiotherapy courses dropped by 19.9% in April, 6.2% in May, and 11.6% in June in 2020. However, there has been a rise in the patients taking radiotherapy treatments as the restrictions have been removed and markets have started opening to masses. Patients now no longer hesitate to visit the hospitals and very soon a recovery can be visible in the global radiotherapy market.
Key Benefits For Stakeholders
This report provides a quantitative analysis of the market segments, current trends, estimations, and dynamics of the radiation oncology market analysis from 2021 to 2030 to identify the prevailing radiation oncology market opportunities.
The market research is offered along with information related to key drivers, restraints, and radiation oncology market opportunity over the coming years.
Porter's five forces analysis highlights the potency of buyers and suppliers to enable stakeholders make profit-oriented business decisions and strengthen their supplier-buyer network.
In-depth analysis of the radiation oncology market forecast, segmentation assists to determine the prevailing market opportunities.
Major countries in each region are mapped according to their revenue contribution to the global market.
Market player positioning facilitates benchmarking and provides a clear understanding of the present position of the market players.
The report includes the analysis of the regional as well as global radiation oncology market trends, key players, market segments, application areas, and market growth strategies.
 Key Market Segments
Type

External Beam Radiation Therapy
Internal Beam Radiation Therapy



Application

Prostate Cancer
Breast Cancer
Lung Cancer
Head and Neck Cancer
Colorectal Cancer
Cervical Cancer
Gynecological Cancer
Others



By Region

North America
Europe

Germany
United Kingdom
France
Spain
Italy
Rest of Europe

Asia-Pacific

China
Japan
India
South Korea
Australia
Rest Of Asia Pacific

LAMEA

Brazil
Saudi Arabia
UAE
South Africa
Rest of LAMEA



 Key Market Players
BD
Isoray Inc.
Provision Healthcare
Varian Medical Systems, Inc.
Elekta AB
Accuray Incorporated
Mevion Medical Systems
IBA Worldwide
Nordion (Canada) Inc.
Panacea Medical Technologies Pvt. Ltd