The global radiodermatitis market size was valued at $477.48 million in 2019, and is projected to reach $609.68 million by 2027, registering a CAGR of 4.1% from 2020 to 2027.
Radiodermatitis, also known as radiation dermatitis, is a condition caused by radiation therapy used for cancer treatment. Radiodermatitis occurs in approximately 95% of patients receiving radiation therapy, especially patients with breast cancer, head & neck cancer, skin cancer, lung cancer, or sarcoma. Cumulative daily doses of radiation to the treatment field or target site on the body inhibits normal skin repopulation and fades skin integrity at and around the radiation field. Radiodermatitis may be acute or chronic and includes localized erythema, skin peeling (desquamation), hair loss (epilation), fibrosis, necrosis, and other related conditions. Acute radiodermatitis have been classified into four levels; grade 1 (mild erythema), grade 2 (dry desquamation), grade 3 (severe moist desquamation), and grade 4 (life threatening and chronic). Radiodermatitis is generally treated with topical agents such as corticosteroids; hydrophilic creams, topical antibiotics; oral medications like oral corticosteroids, oral analgesics, anti-inflammatory agents, and antibiotics; and dressings.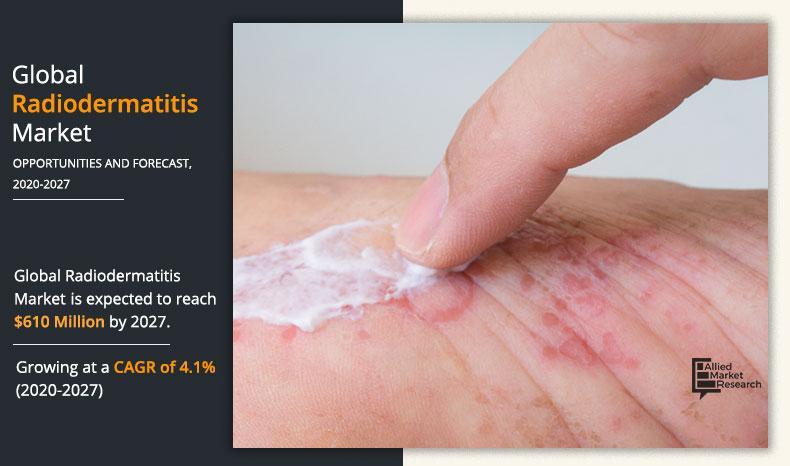 The COVID-19 pandemic has disrupted each aspect of healthcare provision including cancer care. The radiodermatitis market has moderate impact from the present corona virus pandemic. In fact, during the pandemic, patients with cancer represent a high-risk group as they require hospital visits for their radiation therapy doses, which is one of the few treatment modalities available for cancer treatment. During the COVID-19 pandemic, leading cancer institutions reported that radiotherapy has proved to be most appropriate and safe treatment option. Whereas, radiation dermatitis is a common side effect of radiotherapy, which can damage skin cells as it fights cancer cells. Hence, demand for radiodermatitis products is anticipated to increase simultaneously, which further boosts growth of the market. At certain point, the radiodermatitis market is expected to register a decline during the forecast period, owing to various manufacturers in radiodermatitis facing issues in supply of their products.
Growth of the global radiodermatitis market is majorly driven by increase in prevalence of cancer and rise in adoption of radiotherapy for treatment globally. In addition, increase in geriatric population further fuels growth of the radiodermatitis market. However, high cost associated with radiodermatitis treatment is anticipated to restrict growth of the market. On the contrary, increase in demand for reduction of side effects associated with radiation therapy is expected to offer lucrative opportunities for the market expansion during the forecast period.
The global radiodermatitis market is segmented into product, distribution channel, and region. On the basis of product, it is fragmented into topical, oral drugs, and dressings. The topical products segment is further divided into corticosteroids, hydrophilic creams, topical antibiotics, and others. The dressings segment is divided into hydrogel and hydrocolloid dressings, no sting barrier film, honey impregnated gauze, silicone coated, and others. By distribution channel, the market categorized into hospital pharmacy, retail pharmacy, and online pharmacy. Region wise, it is analyzed across North America, Europe, Asia-Pacific, and LAMEA.
Product segment review
By product, the topical segment accounted for the largest radiodermatitis market share in 2019, and is expected to maintain its dominance during the forecast period, owing to easier application, cost-effectiveness, and its bioavailability. However, the dressing segment is projected to grow with the highest CAGR from 2020 to 2027, owing to presence of a wide range of dressing products in the market and rise in demand for modern wound care options. These products include hydrogel & hydrocolloid, foam-based, silicone-coated, and silver-leaf dressings. Owing to advantages associated with it, hydrogel & hydrocolloid dressings are commonly used in treatment of radiation burns.
Radiodermatitis Market

---
By Product
Topical segment holds the dominant position in 2019 and would continue to maintain the lead over the forecast period.
Distribution channel segment review
On the basis of distribution channel, the retail pharmacy segment was the largest revenue generating segment in the market in 2019, owing to availability of affordable product options, locality stores, and availability of generic form of drugs, which are cost effective and relatively cheaper than branded drugs. However, the online pharmacy segment is anticipated to be the highest growing segment with the highest CAGR from 2020 to 2027, owing to increase in convenience for patients, as it provides home delivery of products. In addition, patients can get discounts on radiodermatitis products via online pharmacies, which further boosts growth of the market.
Radiodermatitis Market

---
By Distribution Channel
Online Pharmacy segment is projected as one of the most lucrative segments.
Region segment review
Asia-Pacific is estimated to dominate the market throughout the analysis period, owing to rise in disposable income, increase in expenditure on healthcare, rise in prevalence of cancer patients, and growth in adoption of advanced healthcare products. However, North America is expected to register highest CAGR during the forecast period, owing to inclusion of radiodermatitis products in reimbursement healthcare policy, rise in number of cancer patients, surge in demand for radiation therapy, and high expenditure in the healthcare sector.
Radiodermatitis Market

---
By Region
North America would exhibit the highest CAGR of 5.1% during 2020-2027.
Some of the key players operating in the radiodermatitis market include 3M Company, Bausch Health Companies Inc, Bayer Ag, BMG Pharma SPA, Convatec Group Plc, Glaxosmithkline Plc, Helsinn Healthcare SA, Molnlycke Health Care, Mylan N.V., Smith & Nephew Plc, and Stratpharma Ag.
Key Benefits For Stakeholders
This report provides a detailed quantitative analysis of the current radiodermatitis market trends and future estimations from 2020 to 2027, which assists in identifying prevailing radiodermatitis market opportunities. 
An in-depth analysis of various regions is likely to provide a detailed understanding of the current trends to the stakeholders to formulate region-specific plans.
Comprehensive analysis of factors that drive and restrain growth of the radiodermatitis market are provided.
Key regulatory guidelines for the radiodermatitis market are critically dealt according to region.
A deep dive analysis of various regions provides insights that would allow companies to strategically plan their business moves.
 Radiodermatitis Market Report Highlights
Aspects
Details
By Product

Topical

Corticosteroids
Hydrophilic Creams
Topical Antibiotics
Others

Oral Drugs
Dressings

Hydrogel and Hydrocolloid Dressings
No Sting Barrier Film
Honey Impregnated Gauze
Silicone Coated
Others

By Distribution Channel

Hospital Pharmacy
Retail Pharmacy
Online Pharmacy

By Region

North America (U.S., Canada, Mexico)
Europe (Germany, France, UK, Italy, Spain, Rest of Europe)
Asia-Pacific (Japan, China, India, Australia, South Korea, Rest of Asia-Pacific)
LAMEA (Brazil, Saudi Arabia, South Africa, Rest of LAMEA)

Key Market Players
THE 3M COMPANY, BAYER AG., BAUSCH HEALTH COMPANIES INC., BMG PHARMA S.P.A., CONVATEC GROUP PLC., GLAXOSMITHKLINE PLC, HELSINN HEALTHCARE SA, MOLNLYCKE HEALTH CARE AB, MYLAN N.V., STRATPHARMA AG, SMITH & NEPHEW PLC