Radiofrequency Ablation Devices Market Overview: 
Global Radiofrequency Ablation Devices Market was valued at $1,729 million in 2015, and is expected to reach $3,785 million by 2022, supported by a CAGR of 11.8% during the forecast period 2016-2022. Radiofrequency ablation (RFA) is a minimally invasive procedure, appropriate for patients with cardiac diseases (such as atrial fibrillation (AF), atrial flutter, cardiac arrhythmias), cancer and pain management. It has become a method of choice because of its high efficacy, ease of use, and safety. RFA is being increasingly used for the treatment of many diseases. such as cancer and cardiac arrhythmia.
The market growth is favored by the increase in prevalence of cardiovascular diseases, such as, atrial fibrillation, incidence of patients' suffering from cancer and pain, and increase in demand for minimally-invasive procedures. The use of ultrasound ablation technology in RFAD is also augmenting the popularity of these devices. However, the market is limited by the high treatment cost, low awareness about the procedure, and availability of other treatments. It is estimated that the impact of drivers is expected to be higher than the restraints. Moreover, lucrative growth opportunities, such as expansion in emerging markets, untapped market in the developing regions, and technological advancements in RFA.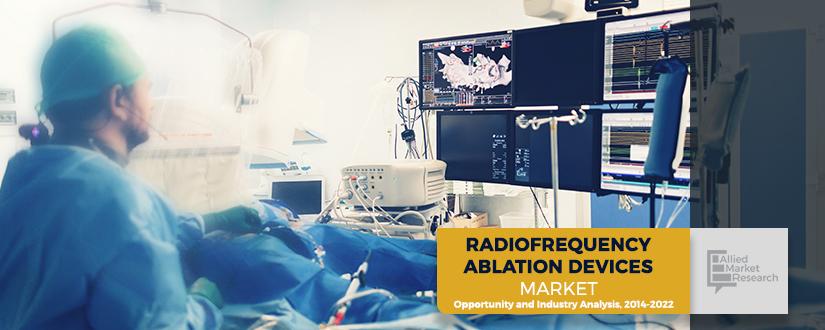 The report includes revenue generated from the sales of ablation devices that use radiofrequency energy for the process of ablation. Sales from the ablation devices that use other energy sources are not included in this report. The report does not include revenue generated from the service provided by doctors, nurses & consultancy, and hospital stay charges during the ablation treatment.
The report analyzes the radiofrequency ablation (RFA) devices market based on three categories: application, product type, and geography. Based on application, it is segmented into cardiology, oncology, and pain management. Based on product type, it is divided into devices and disposables. Based on geography, the market is analyzed as North America, Europe, Asia-Pacific, and LAMEA.
Based on application, the RFA devices market can be categorized into cardiology, oncology and pain management. There are two types of ablation catheters viz. conventional and irrigated-tip RFA catheters that can be used for the cardiology segment. The oncology segment is further segmented into spinal metastases, breast, colorectal, lung, prostate, liver, and kidney cancer. The pain management segment is further divided into neck, shoulder, upper back, lower back, knee pain, and other pain syndromes.
Based on product type, the RFA devices market can be segmented into devices and disposables. The device segment consists of RF generator, which is the main component of the RFA device. It generates electric current in the range of radiofrequency waves, and this current is transmitted through the insulated needle to deactivate the nerve and block the pain signal. The generator is connected to the needle electrodes and grounding pads by insulated wires. It uses an unmodified sinusoid that ranges in the frequency of 500 kHz to 6 GHz. The disposables used during radiofrequency ablation procedure include RF cannula, RF needles, RF single-use catheters, RF single-use probes, RF single-use electrodes, RF probes, and RF electrodes. 
Geographically, it is analyzed across North America (U.S., Canada, and Mexico); Europe (Germany, France, U.K., Italy, Spain, Russia, and Others); Asia-Pacific (Japan, China, India, Australia, South Korea, Taiwan, and Others); and LAMEA (Brazil, Turkey, Venezuela, Saudi Arabia, Republic of South Africa, and Others).
The radiofrequency ablation devices industry is growing due to the rise in incidence of cardiac diseases, such as atrial fibrillation (AF), atrial flutter, cardiac arrhythmias, and others. Hence, different mid-to-large size companies have augmented R&D investments in this market. In addition, smaller companies have shifted their focus on increased R&D activities in the RFAD market, resulting in large number of product developments (approvals & launches), and in turn contributing to the market growth.
Acquisition was another key strategy adopted by larger companies to acquire smaller and emerging companies, owing to the presence of large number of small- to mid-sized companies manufacturing RF devices. This is evident from the strategic acquisition of Cosman Medical, Inc., a mass manufacturer of radiofrequency ablation systems, by Boston Scientific Corporation in July 2016. The Cosman Medical team and products will become a part of the Boston Scientific Neuromodulation business, which offers a wide range of spinal cord stimulator (SCS) systems to treat patients with chronic pain, and deep brain stimulation systems to treat Parkinson's disease, dystonia, and essential tremor.
The Venezuelan radiofrequency ablation devices industry is estimated to reach $3.3 million by 2022 growing at a CAGR of 11.4% over the next seven years. 
RADIOFREQUENCY ABLATION DEVICES MARKET KEY BENEFITS 
The global radiofrequency ablation devices market report provides an extensive analysis of the current market trends and future estimations through 20142022.

The market scenario is comprehensively analyzed with respect to the application and product type.

Comprehensive analysis of all geographic regions is provided to determine the prevailing opportunities.

Recent developments and key manufacturers are listed to understand the competitive market scenario.

In-depth analysis based on geography provides an understanding of the regional market, which assists in strategic business planning.
 Radiofrequency Ablation Devices Market Report Highlights
Aspects
Details
By APPLICATION

Cardiology

Irrigated-tip RF ablation catheters
Conventional RF ablation catheters

Oncology

Breast cancer
Colorectal cancer
Lung cancer
Prostate cancer
Liver cancer
Kidney cancer
Spinal metastases
Other cancers

Pain management

Neck pain
Shoulder pain
Upper back pain
Lower back pain
Knee pain
Other pain syndromes

By Product Type
By GEOGRAPHY

North America
Europe

Germany
France
UK
Italy
Spain
Russia
Rest of Europe

Asia-Pacific

Japan
China
Australia
India
South Korea
Taiwan
Rest of Asia-Pacific

LAMEA

Brazil
Turkey
Venezuela
Saudi Arabia
Republic of South Africa
Rest of LAMEA

Key Market Players
Stryker Corporation, St. Jude Medical, Inc., AngioDynamics, Inc., Hologic, Inc., Halyard Health, Inc., Medtronic PLC, Johnson and Johnson, Boston Scientific Corporation, C. R. Bard, Inc., AtriCure, Inc.
Baylis Medical, Arthrex, Inc., inomed Medizintechnik GmbH, Sutter Medizintechnik GmbH, Bramsys Indstria e Comrcio Ltda, ENDO-FLEX GmbH, Epimed International, sfm medical devices GmbH