Radiotherapy Market Research, 2031
The global radiotherapy market size was valued at $6.5 billion in 2021, and is projected to reach $11.9 billion by 2031, growing at a CAGR of 6.3% from 2022 to 2031.
Radiotherapy, commonly known as radiation therapy, is used for cancer patients to cure cancer by destroying the cancer cells and reducing the size of tumors. X-rays, gamma rays, and charged particles are commonly used radiotherapy markets during radiotherapy.
The COVID-19 outbreak is anticipated to have a negative impact on the growth of the radiotherapy market. Lockdown were imposed to control the spread of COVID-19. Many hospitals were converted into COVID-19 centers. Hence, cancer patients faced difficulty to get their radiotherapy on time. Furthermore, entire healthcare sector focus shift towards COVID-19. Thus, COVID-19 has had a negative impact on radiotherapy market.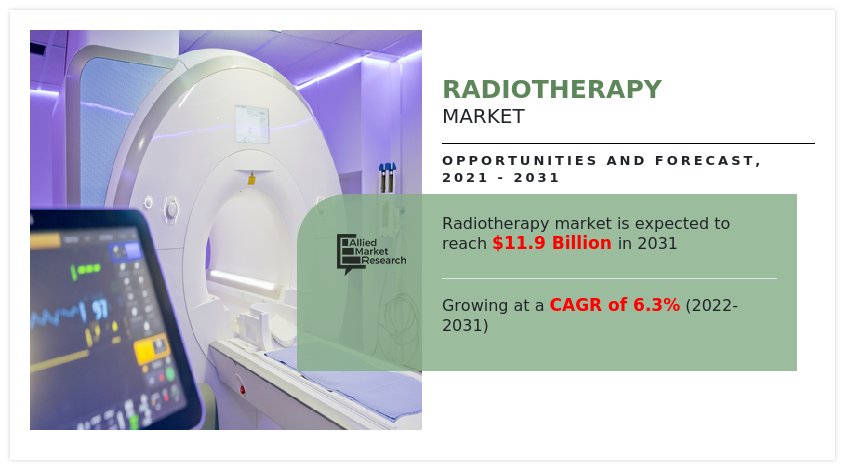 The demand for radiotherapy has increased considerably in the recent years owing to increase in the number of cancer patients, increase in geriatric population, rise in adoption of radiotherapy devices and procedures, owing to surge in number of awareness campaigns about the benefits of radiotherapy, and technological advancements in radiotherapy devices. However, dearth of skilled personnel and difficulty in tumor visualization restrict the radiotherapy market growth. Furthermore, growth opportunities in emerging markets and increase in demand for cancer treatment are expected to provide numerous opportunities for market growth during the forecast period.
According to the report of National Cancer Institute 2020, an estimated 1,806,590 new cases of cancer diagnosed in the U.S. and 606,520 people died from the disease in 2020. The most common cancers are breast cancer, lung and bronchus cancer, prostate cancer, colon and rectum cancer, melanoma of the skin, bladder cancer, non-Hodgkin lymphoma, kidney and renal pelvis cancer, endometrial cancer, leukemia, pancreatic cancer, thyroid cancer, and liver cancer. Prostate, lung, and colorectal cancers account for an estimated 43% of all cancers diagnosed in men in 2020. For women, the three most common cancers are breast, lung, and colorectal, and accounted for an estimated 50% of all new cancer diagnoses in women in 2020. By 2040, the number of new cancer cases per year is expected to rise to 29.5 million and the number of cancer-related deaths to 16.4 million. The cancer mortality rate is higher among men than women (189.5 per 100,000 men and 135.7 per 100,000 women). When comparing groups based on race/ethnicity and sex, cancer mortality is highest in African American men (227.3 per 100,000) and lowest in Asian/Pacific Islander women (85.6 per 100,000). As of January 2019, there were an estimated 16.9 million cancer survivors in the U.S. The number of cancer survivors is projected to increase to 22.2 million by 2030.
Implementation of lockdown to control the spread of COVID-19 consultations were conducted by means of telematic tools, and follow-up visits were postponed for patients who declared themselves as without evidence of oncologic disease, to minimize patient's exposure to viral diffusion without compromising oncological outcomes, the cancellation of appointments, postponing of procedures, and treatments' interruption are the reason of decrease in patient to get radiotherapy also many hospitals are converted into COVID-19 centers. Hence, cancer patients faced difficulty to get their radiotherapy on time. Thus, COVID-19 has negative impact on the radiotherapy market.
The radiotherapy market is segmented into Type and End User. Based on type, it is divided into external beam radiotherapy therapy, internal radiotherapy/brachytherapy, and systemic radiotherapy. Based on end user, it is categorized into hospitals & clinics and others. Based on region, radiotherapy market size is analyzed across North America, Europe, Asia-Pacific, and LAMEA.
Segment review
Radiotherapy Market

---
By Type
The external beam radiation therapy segment was the highest contributor to the market in 2021
Depending on type, the external beam radiotherapy segment dominated the radiotherapy market share in 2021, and this trend is expected to continue during the forecast period, owing to accuracy of the direct beams at the cancerous cells, thus causing less damage to normal tissues, allowing oncologists to use higher doses of radiotherapy for treatment and increase in cancer population. In addition, rise in awareness among people regarding the new and advanced methods for radiotherapy is also expected to boost the market growth.
Radiotherapy Market

---
By End User
Hospitals & clinics segment dominated the market in 2021, and is expected to continue this trend during the forecast period
Depending on end user, the hospital & clinics segment dominated the radiation therapy market in 2021. Generally, hospitals are well equipped with radiotherapy units to cater to the various needs of radiotherapy procedures. Hospitals and clinics have radiotherapy devices that are used for treatment of a variety of cancerous tumors, as a part of adjuvant therapy, to prevent recurrence of tumor after surgery and to remove a primary malignant tumor.
Radiotherapy Market

---
By Region
North America accounted for a majority of the radiotherapy market share in 2021, and is anticipated to remain dominant during the forecast period.
North-America garnered a major radiotherapy market share in 2021, and is expected to continue to dominate during the forecast period, due to increase in incidence of cancer patients and presence of key players, and development in R&D activities in the healthcare sector in the region.
However, Asia-Pacific is expected to register highest CAGR of 7.4% during radiotherapy market forecast, owing to increase in healthcare expenditure, rise in awareness about the treatment of cancer and the use of radiotherapy market therapy, increase in prevalence due to presence of a high population base (with India and China being the most populated countries), presence of unmet medical needs, and increase in disposable incomes of people in this region.
The key players that operate in the radiotherapy industry include Accuray Incorporated, Becton, Dickinson and Company, Elekta AB, IBA (Ion Beam Applications SA), Isoray Medical Inc., Eckert & Ziegler Group, ICAD INC., Nordion, Inc., Siemens Healthineers and Mevion Medical Systems, Inc.
Key Benefits For Stakeholders
This report provides a quantitative analysis of the radiotherapy treatment, market segments, current trends, estimations, and dynamics of the radiotherapy market analysis from 2021 to 2031 to identify the prevailing radiotherapy market opportunity.
The market research is offered along with information related to key drivers, restraints, and opportunities.
Porter's five forces analysis highlights the potency of buyers and suppliers to enable stakeholders make profit-oriented business decisions and strengthen their supplier-buyer network.
In-depth analysis of the radiotherapy market segmentation assists to determine the prevailing market opportunities.
Major countries in each region are mapped according to their revenue contribution to the global market.
Market player positioning facilitates benchmarking and provides a clear understanding of the present position of the market players.
The report includes the analysis of the regional as well as global radiotherapy market trends, key players, market segments, application areas, and market growth strategies.
 Radiotherapy Market Report Highlights
Aspects
Details
By Type

External Beam Radiation Therapy
Internal Radiation Therapy
Systemic Radiation Therapy

By End User

Hospitals and Clinics
Others

By Region

North America (U.S., Canada, Mexico)
Europe (Germany, France, U.K., Italy, Spain, Rest of Europe)
Asia-Pacific (Japan, China, Australia, India, South Korea, Rest of Asia-Pacific)
LAMEA (Brazil, Saudi Arabia, South Africa, Rest of LAMEA)

Key Market Players
Siemens Healthineers, Elekta AB, Eckert & Ziegler Group, Becton, Dickinson and Company, NORDION INC., Accuray Incorporated, MEVION MEDICAL SYSTEMS, INC., ICAD INC., ISORAY, INC., Ion Beam Applications SA