The global rail logistics market was valued at $1,995 billion in 2021, and is projected to reach $3,579.7 billion by 2031, growing at a CAGR of 6.1% from 2022 to 2031.
Rail logistics transport is a means of transferring goods on wheeled vehicles running on rails, which are located on tracks. It is one of the most important, commonly used, and cost-effective modes of commute and goods carriage over long as well as short distances. Rail has emerged as one of the most dependable modes of transport in terms of safety. Trains are fast and the least affected by usual weather turbulences, such as rain or fog, as compared to other transport mechanisms. In addition, rail transport is better organized than any other medium of transport. It has fixed routes and schedules. Moreover, its services are more certain, uniform, and regular as compared to other modes of transport.
The rapid spread of coronavirus pandemic has brought unprecedented challenges and threatens the normal life of human beings and global public health. Owing to this pandemic, many businesses are halted and are waiting for the rail logistics market conditions to improve. In addition, to contain the spread of COVID-19, countries such as the U.S., India, the Netherlands, Brazil, and Colombia took extreme measures such as lockdown, social distancing, stay-home regulation, and social Isolation. Following the directions of the World Health Organization (WHO) for minimizing the spread of the virus, governments of various countries have set up lockdown and trade restrictions, which has disrupted the exports, especially from China, causing large scale manufacturing interruptions across Europe, and the closure of assembly plants in the U.S. The situation has put intense pressure on the rail logistics industry. The railway department has shut down all the passenger train services and has limited its freight transport services with a reduction in demand for commodities and disturbed supply chain. In addition, during COVID-19 period, railways in several countries utilized rail logistics services for transportation of essential commodities to consumption places. For instance, in August 2020, Indian Railways operated 1,900 Kisan Rail services to move perishable goods such as fruits, vegetables, poultry, fishery, and dairy products from production units to the places of consumption. However, in 2021, majority of the governments have focused on infrastructural development in the second wave of COVID-19 health crisis. Therefore, such infrastructure developments planned in the rail industry front for 2021 are anticipated to support the growth of the rail logistics market. This positive demand outlook for the market is estimated to witness positive growth and the market is expected to witness strong recovery in 2021. Market participants of rail logistics industry are following certain approaches to manage the operations by slashed budgets, extended equipment lifecycles, and reduced salaries in the short term to overcome the financial downturn.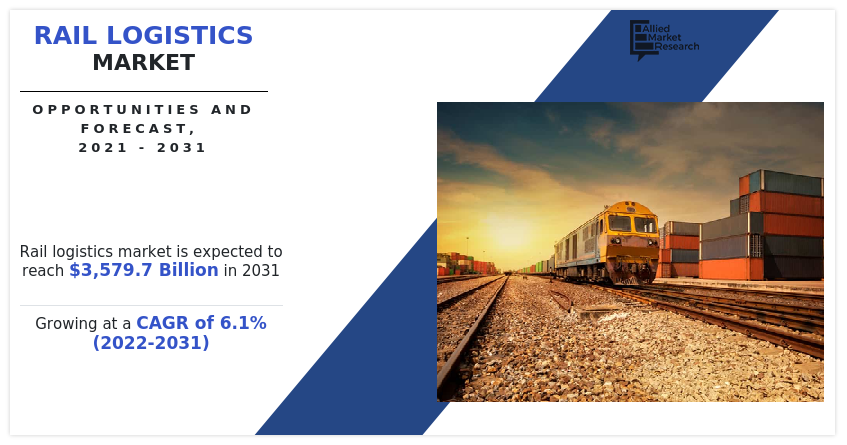 Rail intermodal is a less expensive alternative to truckload transport. In addition, rail intermodal is more fuel-efficient than long-haul trucks. Rail intermodals also aids in reducing in highway congestion and harmful emissions. In addition, with the increasing growth of intermodal transportation, companies are investing in the development of intermodal containers and trailers for better efficiency in terms of carrying goods, which in turn is expected to drive the growth of the segment.
The growth of the global rail logistics market has propelled due to increase in allocation of budget for development of railways and rise in demand for secure, safer, & efficient transport system. However, restrictions associated with cross border freight transport is the factor that hampers the growth of the market. Furthermore, surge in development & testing of autonomous train, and increase in industrial & mining activities are the factors expected to offer growth opportunities during the forecast period.
The rail logistics market is segmented on the basis of type, operational area, end-use industry, and region. By type, it is fragmented into intermodals, tank wagons, and freight cars. By operational area, it is classified into domestic and international. By end-use industry, it is categorized into healthcare, manufacturing, telecommunication, retail, technology, trade and transportation, and others. By region, the report is analyzed across North America, Europe, Asia-Pacific, and LAMEA.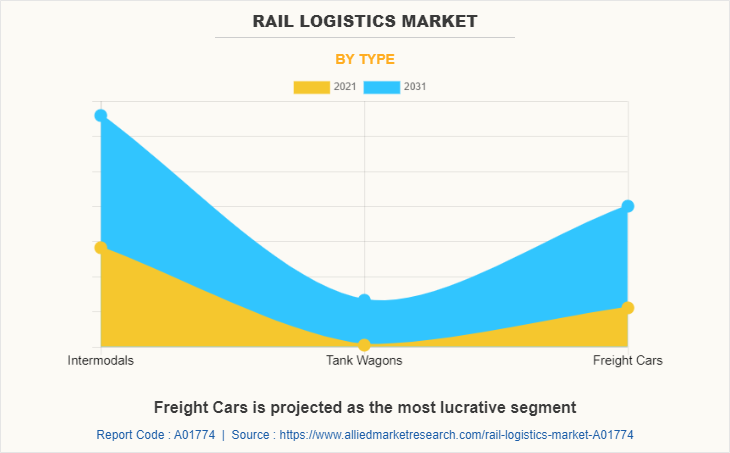 Some leading companies profiled in the rail logistics market report comprises A.P. Moller-Maersk, CEVA Logistics AG, C.H. Robinson Worldwide, Inc., DB Schenker, Deutsche Post DHL Group, DSV A/S, Geodis, FedEx, Kuehne+Nagel International AG, Nippon Express Co., Ltd., Schenker Deutschland AG, and United Parcel Service of America, Inc.
Increase in allocation of budget for development of railways
The developing countries such as India, China, and others are focused toward the development of their railway infrastructure by allocating higher budget. For instance, India allocated a budget of around $15.06 billion for the railways, with total capital expenditure outlay of $30.80 billion for the financial year 2021-2022, which highlighted an increase of 33% in total capital expenditure for 2021-22 over $22.4 billion for 2020-21. Similarly, various countries across the globe are continuously increasing their rail budget to deploy latest technologies and improve their infrastructure. For instance, the UK government invested over $6.28 billion in new & enhanced rail infrastructure and rolling stock in 2019-2020. Moreover, upsurge in budget allocation acts as a key factor that drives the growth of the global rail logistics market.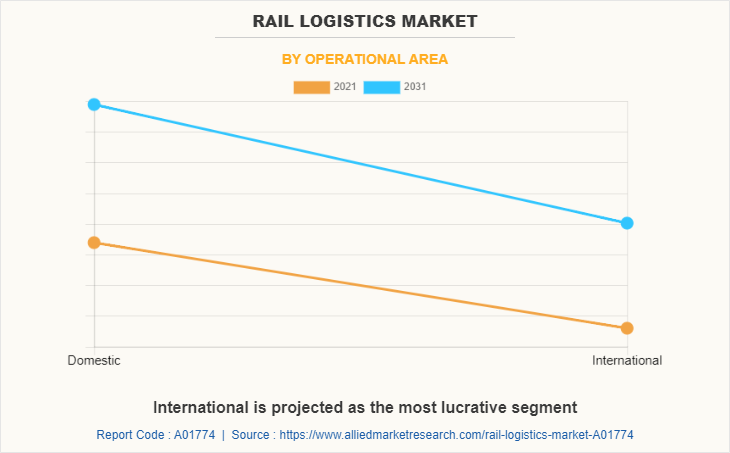 Rise in demand for secure, safer, and efficient transport system
According to the fact sheet of the World Health Organization (WHO), road traffic injuries are the leading cause of fatality among people aged between 15 and 29 years, thus accounting for 1.25 million deaths every year due to road accidents. In addition, 90% of the world's fatalities on roads occur in low and middle economical countries, though such countries have approximately 54% of the world's vehicles. Therefore, rise in need for safe, secure, and efficient transportation system significantly contributes toward the growth of the global rail logistics market. Railway transportation is considered as the safest and economical mode of transportation, which has boosted the demand for railways.
Latest trains are equipped with on-board cameras, sensors, and communication devices. Moreover, such trains in most locations run underground or at the ground level and are highly secured by fences or walls to prevent trespassing, which propels the growth of the market. In addition, modern advanced trains consume less energy due to better acceleration, traction, and braking system, resulting in reduction of energy consumption by around 30% based on the degree of automation. For instance, in February 2022, Alstom launched its first French hybrid train in partnership with SNCF Voyageurs. This electric-diesel-battery regional train is equipped with two energy storage systems, which offer reduced energy consumption and greenhouse gas emissions, with a solution that makes it possible to adapt to existing diesel fleet without the need to modify the current infrastructure. Furthermore, such trains can provide a flexible way to coordinate in terms of frequency, which results in the improvement of the system performance in all aspects, which boosts the growth of the rail logistics industry.
Restrictions associated with cross border freight transport
Each country has its own infrastructure, train protection systems, signals & safety regulations, and operating regulations. Cross-border trains must comply with the operating regulations of the country they pass through. For instance, a train is required to be formed in accordance with the country-specific regulations, i.e. the wagon sequence as well as the length and weight of train must meet the respective requirements. 
Moreover, there are several other factors such as variety of regulations regarding traffic management, or lack of communication resulting from different languages, which affects the cross border freight transport. These factors can result in delay in delivery of products or goods to destination through rail, which in turn can result in increase in transportation cost. Thus, restrictions associated with cross border freight transport is anticipated to limit the growth of the rail logistics market during the forecast period.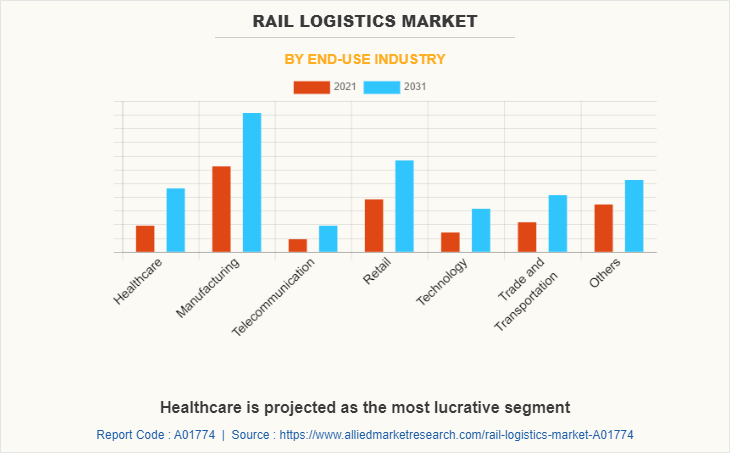 Increase in industrial & mining activities
Rapid industrialization, with global increase in population boosts the demand for valuable minerals or other geological materials such as clay, chalk, dimension stone, rock salt, metals, limestone, coal, oil shale, gemstones, potash, and gravel. Industries need transportation networks to move raw materials and finished goods efficiently. Freight transportation by rail has proved to be more cost effective and reliable compared to road transport.
Demand for freight wagons is high in countries such as the U.S., China, and Russia, owing to increase in demand for replacements and the strong growth of the manufacturing sector. Availability of custom-made and technologically advanced wagons such as chemical & pressure tank wagons and car-carrier & low-loader container-carrying wagons drive the rail logistics market growth for freight wagons. Moreover, increased mining activity in emerging economies is expected to positively impact the market for freight transportation. This has resulted in increase in industrial & mining activities, which is opportunistic for market expansion.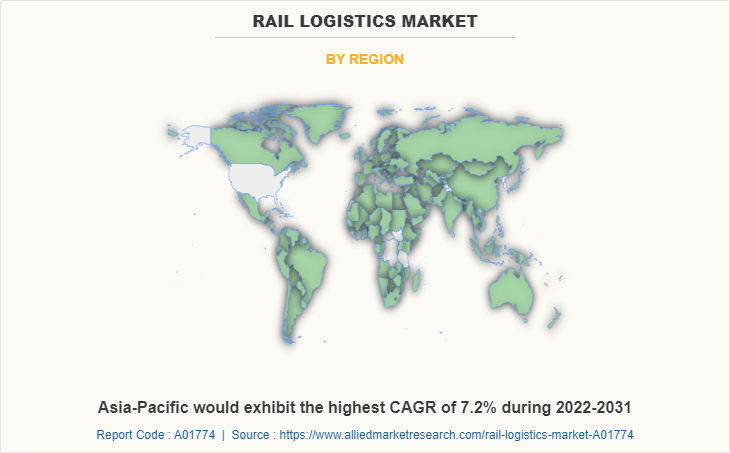 The rail logistics market is segmented into Type, Operational Area and End-Use Industry.
Key Benefits For Stakeholders
This report provides a quantitative analysis of the market segments, current trends, estimations, and dynamics of the rail logistics market analysis from 2021 to 2031 to identify the prevailing rail logistics market opportunities.
The market research is offered along with information related to key drivers, restraints, and opportunities.
Porter's five forces analysis highlights the potency of buyers and suppliers to enable stakeholders make profit-oriented business decisions and strengthen their supplier-buyer network.
In-depth analysis of the rail logistics market segmentation assists to determine the prevailing market opportunities.
Major countries in each region are mapped according to their revenue contribution to the global market.
Market player positioning facilitates benchmarking and provides a clear understanding of the present position of the market players.
The report includes the analysis of the regional as well as global rail logistics market trends, key players, market segments, application areas, and market growth strategies.
 Rail Logistics Market Report Highlights
Aspects
Details
By Type

Intermodals
Tank Wagons
Freight Cars

By Operational Area
By End-Use Industry

Healthcare
Manufacturing
Telecommunication
Retail
Technology
Trade and Transportation
Others

By Region

North America (U.S., Canada, Mexico)
Europe (UK, France, Germany, Italy, Rest Of Europe)
Asia-Pacific (China, Japan, India, South Korea, Rest Of Asia-Pacific)
LAMEA (Latin America, Middle East, Africa)

Key Market Players
Deutsche Bahn AG, Nippon Express Co., Ltd., CEVA Logistics, United Parcel Service Inc., Geodis Group, A.P. Moller – Maersk A/S, Kuehne + Nagel International AG, FedEx Corporation, DSV A/S, Deutsche Post DHL Group, C.H. Robinson Worldwide, Inc., DB Schenker