The global railway propulsion system market was valued at $9.9 billion in 2022, and is projected to reach $15.1 billion by 2032, growing at a CAGR of 4.5% from 2023 to 2032.
Report Key Highlighters:
The railway propulsion system market study covers 14 countries. The research includes regional and segment analysis of each country in terms of value ($million) for the projected period 2023-2032.

The study integrated high-quality data, professional opinions and analysis, and critical independent perspectives. The research approach is intended to provide a balanced view of global markets and to assist stakeholders in making educated decisions in order to achieve their most ambitious growth objectives.

Over 3,700 product literature, annual reports, industry statements, and other comparable materials from major industry participants were reviewed to gain a better understanding of the market.

The railway propulsion system market share is moderately fragmented, into several players including CRRC Corporation Limited, Hitachi, Ltd., Mitsubishi Corporation, Siemens, Toshiba Corporation, Alstom, Medcom, Titagarh Rail Systems Limited, ABB, and Fuji Electric Co., Ltd. The companies have adopted strategies such as product launch, contract, expansion, agreement, and others to improve their market positioning.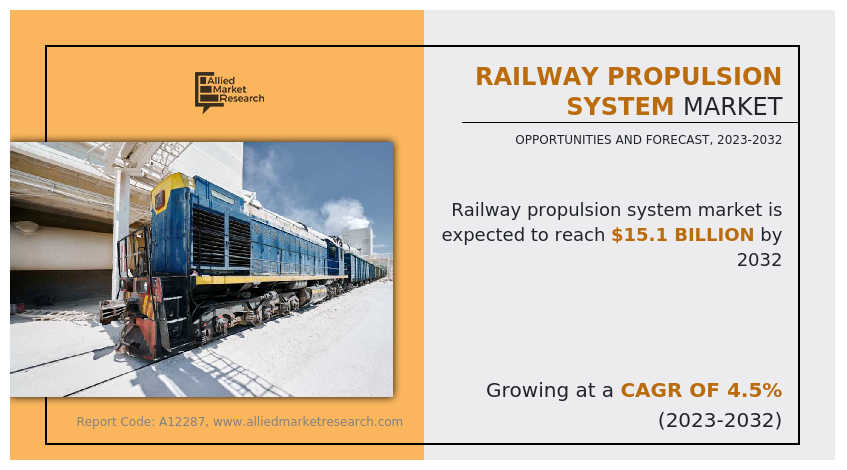 A Railway Propulsion System refers to the integrated mechanism responsible for generating and transmitting power to move trains along railway tracks. It encompasses a complex arrangement of components that work in tandem to convert various forms of energy, such as electricity, diesel, or even steam, into the necessary motive force. In an electric railway propulsion system, electric power is delivered through overhead wires afterward transformed and supplied to traction motors within the train's wheels. These propulsion systems are a significant view of modern rail transportation, playing a crucial role in ensuring efficient, consistent, and environmentally sustainable movement of passengers and goods across substantial networks of railway infrastructure.
The global adoption of railway propulsion systems has been driven by factors that have spurred their widespread implementation and evolution. Primary among these factors is the necessary need for more sustainable and energy-efficient modes of transportation. As concerns about environmental impact and carbon emissions have escalated, railway systems have emerged as a viable solution for reducing the carbon footprint of mass transit. The electric railway propulsion system, for example, offers a cleaner alternative to traditional diesel engines, contributing to cleaner air and reduced greenhouse gas emissions.
Furthermore, the growing urbanization and population density in many regions have underscored the significance of efficient and reliable transportation networks. Railway systems, with their high carrying capacity and ability to move large volumes of passengers and cargo, have become increasingly attractive options for alleviating traffic congestion and enhancing overall mobility. Economic considerations also play a pivotal role in the global adoption of railway propulsion systems. Trains are generally more energy-efficient and cost-effective over the long term compared to other modes of transportation, making them an economically viable choice for governments and transportation authority's seeking to optimize their infrastructure investments.
The global railway propulsion system market is segmented on the basis of type, application, end user, and region. By type, it is categorized into diesel, diesel-electric, and electric locomotive. By application, it is fragmented into locomotive, metro, monorail, trams, and others. By end user, it is bifurcated into passenger transit, and cargo transit. Region wise, the market is analyzed across North America, Europe, Asia-Pacific, and LAMEA.
The railway propulsion system industry in Asian countries has witnessed significant growth and is poised to offer compelling opportunities in the coming years. The region's rapid urbanization, burgeoning population, and increasing need for efficient transportation have collectively fueled the demand for advanced railway propulsion technologies. This demand has led to a thriving market where both domestic and international companies are actively pursuing developments and collaborations to capitalize on these opportunities.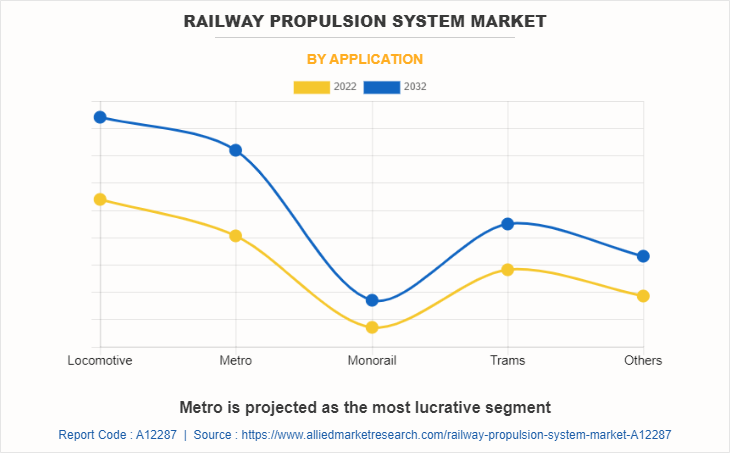 Several Asian countries have made substantial investments in expanding and modernizing their railway networks, creating a favorable landscape for propulsion system providers. For instance, China's high-speed rail network is a standout example of this growth, with companies like CRRC Corporation Limited playing a pivotal role in developing cutting-edge electric propulsion systems to power these high-speed trains. CRRC's advancements in traction motor technology and regenerative braking systems have not only improved energy efficiency but have also set industry benchmarks.
In India, the government's focus on infrastructure development and urban mobility has driven the growth of the railway propulsion systems market. Companies like Bharat Heavy Electricals Limited (BHEL) have been energetically working on electric propulsion systems for various types of trains, contributing to the expansion of electrified rail routes across the country. This shift towards electrification aligns with India's commitment to reducing carbon emissions and promoting sustainable transportation.
Key Developments
The leading companies are adopting strategies such as acquisition, agreement, expansion, partnership, contracts, and product launches to strengthen their market position.
In January 2023, Siemens Mobility secured a contract with Indian Railways to build 1,200 electric locomotives. The contract was valued at around €3 billion and includes the design, manufacturing, commissioning, and testing of the locomotives. The locomotives will comes with advanced propulsion systems, which will be produced locally in Siemens Mobility factories in India.
In July 2022, Alstom received a contract from MTR Nordic AB, a rolling stock operator to supply the propulsion systems for the new 25 Zefiro Express high-speed trains. The first firm order for Alstom's propulsion systems amounts to approximately $714 million, and the initial train is set to be delivered in 2026.
In May 2022, Alstom received a contract from Delhi–Meerut Regional Rapid Transit System in India to design, build and deliver 210 regional commuter and transit train cars. The company started the production of the train cars in July 2021. Alstom's Savli facility in Gujarat is expected to produce bogies, car bodies, and conducting train testing for the regional commuter and transit trains. On the other hand, the propulsion systems and electrical components are being manufactured at Alstom's factory located in Maneja, also in Gujarat.
In November 2019, Hitachi Ltd was awarded a contract from the Project of Mumbai Metro Line 2&7 (MRS1) for the supply of Propulsion System, Auxiliary Power Supply (APS), and Train Control Management System (TCMS).
Increase in the allocation of budget for the development of railways
Developing countries such as India, Japan, and others are focused on the development of their railway infrastructure by distributing higher budgets. For instance, the Indian government allocated a budget of around $33.3 billion for the Indian Railways in 2023. The budget allocation signifies the commitment of the Indian government to invest in the development and upgrading of the railway infrastructure.
Similarly, various countries across the globe are constantly increasing their rail budget to adopt the latest technologies and improve their infrastructure. For instance, in February 2023, France announced its plans to invest around $118 billion in rail transport by 2040. The plan includes expansion and upgradation of the rail network, including launching express commuter trains. In addition, numerous countries develop projects to create sustainable and efficient transport infrastructure. For instance, in June 2023, the European Union (EU) announced to invest $6.9 billion in sustainable, safe, and efficient transport infrastructure. The European Commission selected 107 transport infrastructure projects to receive $6.9 billion in EU grants from the Connecting Europe Facility (CEF).
The investment is expected to support various projects such as the development and delivery of an efficient, greener, and smarter network of railways. Therefore, a rise in the budget allocation acts as a key factor that drives the growth of the global railway propulsion system market.
Rise in the use of public transport services as a solution to minimize traffic congestion
The population rate has increased the sales of private vehicles such as bikes, passenger cars, and more across the globe, which contributes to traffic congestion on roads. Meanwhile, people are increasingly opting for public transport as it reduces on-road congestion and provides a time-saving, comfortable, and economical mode of transportation. Therefore, governments of various countries are planning to adopt strategies such as focusing on the development of railways, increasing the rail capacity for passengers and freight, more electrification, and remodeling more trains.
Therefore, factors such as a rise in vehicle emissions, an increase in concerns related to safety, and greater demand for faster commutes have increased the preference of individuals for rail transport. Moreover, various railway authorities across the globe work toward increasing rail networks and spending a large amount in developing high-speed trains to meet the growing demand for public transport. In addition, numerous countries plan to develop high-speed railways to increase connectivity, enhance mobility, and support economic development. According to the International Union of Railways, more than three billion passengers travel by high-speed trains annually.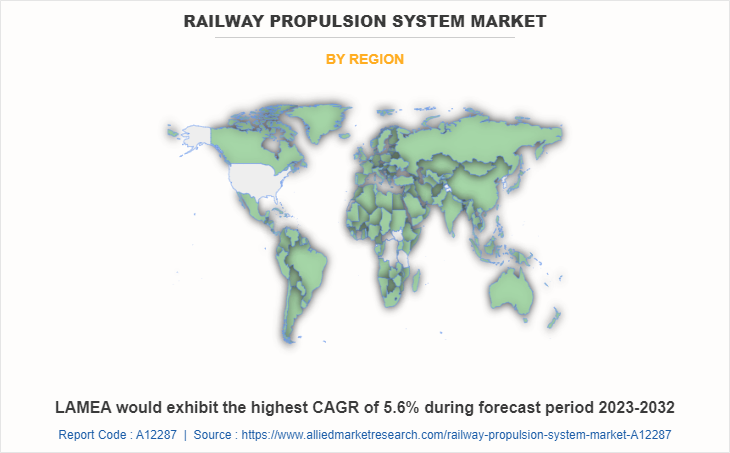 High initial investment costs
The increase in preference for railway transport is leading to high demand for rolling stocks and railway systems. In addition, the rise in urban traffic congestion and problems related to it are the major reasons for the shift toward the rapid urban transit networks such as the metro, monorails, and trams. In addition, the development in rail infrastructure, inexpensive fares, environment friendly, and faster modes of transport are the factors that increase penetration in the global market.
However, the rolling stock and supporting infrastructure are capital-intensive. Moreover, the local governments are required to provide significant financial support for the high cost of trains. In addition, the modernization and upgradation of the railway infrastructure including tracks, signaling systems, and distribution networks can further increase overall railway costs. Therefore, such high capital required for construction of railway infrastructure is expected to hinder the growth of railway propulsion system market.
Surge in the adoption of automation, digitization, and connectivity
The adoption of automation, digitization, and connectivity in the railway propulsion system market creates opportunities for innovation and optimization. Advanced control systems and artificial intelligence (AI) enable the optimization of operation and control, resulting in improved energy efficiency, reduced maintenance requirements, and enhanced overall performance. Automation also facilitates predictive maintenance, utilizing data analysis and AI algorithms to identify potential issues proactively, minimizing downtime and enhancing reliability. These technologies enable the development of intelligent and interconnected systems that can adapt to change in demands, optimize energy usage, streamline maintenance practices, and elevate the overall performance of railway propulsion systems. Therefore, the rise in the adoption of automation, digitization, and connectivity presents significant opportunities for the growth of the market.
The outbreak of COVID-19 resulted in travel restrictions, lockdown measures, and reduced passenger and freight movements Therefore, this led to a significant decline in the demand for rail transportation services. However, post-pandemic, as travel restrictions eased and passengers resumed the utilization of public transportation, it resulted in a rise in the passenger demand for rail travel. Therefore, this increased demand led to the expansion of railway networks, the upgrading of existing systems, and investment in modern propulsion technologies to accommodate the increased capacity requirements.
Key Benefits For Stakeholders
This report provides a quantitative analysis of the market segments, current trends, estimations, and dynamics of the railway propulsion system market analysis from 2022 to 2032 to identify the prevailing railway propulsion system market opportunities.
The market research is offered along with information related to key drivers, restraints, and opportunities.
Porter's five forces analysis highlights the potency of buyers and suppliers to enable stakeholders make profit-oriented business decisions and strengthen their supplier-buyer network.
In-depth analysis of the railway propulsion system market segmentation assists to determine the prevailing market opportunities.
Major countries in each region are mapped according to their revenue contribution to the global market.
Market player positioning facilitates benchmarking and provides a clear understanding of the present position of the market players.
The report includes the analysis of the regional as well as global railway propulsion system market trends, key players, market segments, application areas, and market growth strategies.
 Railway Propulsion System Market Report Highlights
Aspects
Details
Market Size By 2032
USD 15.1 billion
Growth Rate
CAGR of 4.5%
Forecast period
2022 - 2032
Report Pages
330
By Type

Diesel
Diesel-Electric
Electric

By Application

Locomotive
Metro
Monorail
Trams
Others

By End User

Passenger Transit
Cargo Transit

By Region

North America (U.S., Canada, Mexico)
Europe (Germany, Spain, Italy, France, Russia, UK, Netherlands, Norway, Rest of Europe)
Asia-Pacific (China, Japan, India, Australia, South Korea, Philippines, Indonesia, Viet Nam, Rest of Asia-Pacific)
LAMEA (Latin America, Middle East, Africa)

Key Market Players
Titagarh Rail Systems Limited, ABB, Medcom, Alstom, Toshiba Corporation, Fuji Electric Co., Ltd., Hitachi, Ltd., CRRC Corporation Limited, Mitsubishi Corporation, Siemens