Rat Model Market Outlook - 2027
Animal models continue to be important tools to understand disease mechanisms and for preclinical testing of potential therapeutics. As a model of human disease, rat offers many advantages over mouse and other organisms. In fact, rats were the most widely used organisms in medical research, and the successful isolation of rat ES (embryo-derived stem) cells is expected to quickly expand their utility. Rat is preferred over other animal models as its size enhances its use as a disease model. It is not only due to its ability to perform surgical procedures but also due to its proportional size of important substructures in organs that affects both how much of the organ is involved in an experimental lesion and the effects of drug administration to specific anatomical areas. This is particularly important in the central nervous system. In addition, the studies of cognition and memory have shown that the rat is superior to other models due to the physiological systems involved in learning; hence, its memory has been extensively studied. Rat is more intelligent than mouse and is capable of learning a wider variety of tasks that are important to cognitive research. Furthermore, rat is the primary model for mechanistic studies of human reproduction and has become a standardized physiological and toxicological model, particularly in the pharmaceutical industry.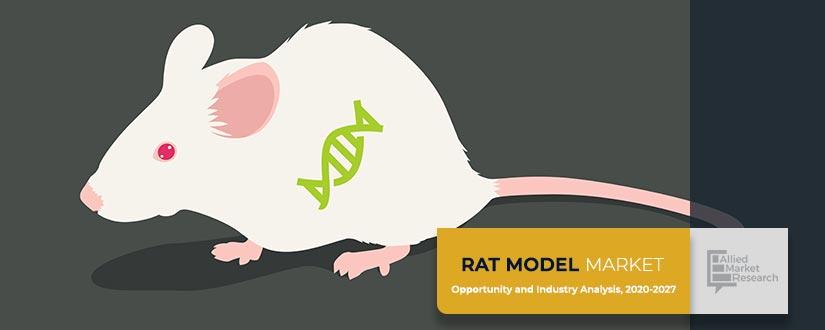 COVID-19 scenario analysis:    
Pharmaceutical and biotech companies together with governments around the globe are working to address the COVID-19 outbreak, from supporting the development of vaccines to planning for medicines supply chain challenges. Currently, around 115 vaccine candidates and 155 molecules are in the R&D pipeline. Moreover, commonly used drugs, such as hydroxychloroquine, have witnessed dramatic surge in demand for the treatment of COVID-19. Such high demand for these drugs has presented huge opportunity for manufacturers of COVID-19 management drugs as many developed countries are short of these drugs. 
The pharmaceutical and biotechnology industries are expected to witness a significant growth in the future, owing to the demand for vaccine and treatment drugs for COVID-19. In response to the current COVID-19 pandemic, the WHO Blueprint team established several an ad hoc expert working groups, including one focused on COVID-19 disease modeling (COM). The goal of the disease modeling group is to advance the development of COVID-19 medical countermeasures (vaccines, therapeutics and/or drugs). 
Significant progress has been achieved in the development of large animal models that recapitulate mild COVID-19 disease in humans. In particular, several laboratories across the world have experienced with high reproducibility that Rhesus macaques and ferrets can be infected with SARS-CoV-2., showing evidence of virus replication and shed virus in nasal swabs. Ongoing studies in these models include testing of therapeutics and vaccine candidates.
Top impacting factors: Market scenario analysis, trends, drivers, and impact analysis
Rats were the first mammalian species specifically domesticated to be used in the laboratory. Two centuries ago, the brown rat Rattus norvegicus was used by scientists to understand human physiology and medicine, concentrating on the effects of food and oxygen deprivation. With advancements, rats were used in various therapeutic areas. Rats are an ideal choice for human disease research due to their physiological similarity to humans. With the sequencing of rat genome, it is now know that almost all disease-linked human genes have counterparts in rats. In addition, with the advancement in gene editing and gene targeting, it is possible to specifically modify the rat genome. This helps to enhance the understanding of human disease and its treatment with the help of different rat models. Furthermore, rise in incidence of chronic disease, introduction of new infectious strains, need for advanced treatment or vaccines against new infectious microorganisms, and continuous investments & grants are the major growth drivers of the rat model market. 
Advancements in rat models
A new rat model of Angelman syndrome (AS) involves complete deletion of the maternal UBE3A gene, which causes multiple behavioral and neurological abnormalities. This model could be useful for better understanding AS and for testing new therapies. The new study describes a model of AS generated by deleting the full maternal UBE3A gene in rats. In addition, a rat model of AS offers advantages over a mouse model as rat's social behavior is somewhat more "human-like" than mouse behavior. The model was generated using a CRISPR-Cas9 gene-editing system, which allows genes to be cut at any desired location, a tailor-made genetic modification. The ZDSD rat colony was started by crossing ZDF/GMI rats with Crl: CD rats in 2001 at PreClinOmics under the direction of Dr. Richard Peterson. They continued the inbreeding of the ZDSD rat colony until generation 57 (2018) in the PreClinOmics breeding facilities and was given to Charles River in 2018 from CrownBio. Furthermore, ZDSD rat is ideally used to study type 2 diabetes, pre-diabetes, obesity, metabolic syndrome (insulin resistance, dyslipidemia, and hypertension), and diabetic complications (nephropathy, neuropathy, fatty liver). With the advancement in technology, new rat strains are becoming trends and fostering the growth of the rat model market. 
Key benefits of the report:
This study presents the analytical depiction of the rat model market along with the current trends and future estimations to determine the imminent investment pockets.
The report presents information related to key drivers, restraints, and opportunities along with detailed analysis of the rat model market share.
The current market is quantitatively analyzed to highlight the rat model market growth scenario.
Porter's five forces analysis illustrates the potency of buyers & suppliers in the market. 
The report provides a detailed analysis based on competitive intensity and how the competition will take shape in coming years. 
Questions answered in the rat model market research report:
Which are the leading market players active in the market?
What are the current trends that will influence the market in the next few years?
What are the driving factors, restraints, and opportunities of the market?
What are the projections for the future that would help in taking further strategic steps?
 Rat Model Market: Global Opportunity Analysis and Industry Forecast, 2021–2027 Report Highlights
Aspects
Details
By Model Type

Outbred Rats
Inbred Rats
Genetically Modified Rats
Hybrid/Congenic Rats
Conditioned/Surgically Modified Rats
Immunodeficient Rats

By Therapeutic Area

Toxicology
Oncology
Diabetes
Neurology
Immunology and Inflammation
Other Therapeutic Areas

By Application

Breeding
Rederivation
Cryopreservation
Quarantine
Model-in-Licensing
Genetic Testing
Others

By Technology

Clustered Regularly Interspaced Short Palindromic Repeats (CRISPR)
Microinjection
Embryonic Stem Cell Injection
Nuclear Transfer
Other Technologies

By End User

Pharmaceutical & Biotechnology Companies
Academic & Research Institutes
Contract Research Organizations (CROs)

By Region

North America (US, Canada)
Europe (Germany, UK, France, rest of Europe)
Asia-Pacific (China, Japan, India, rest of Asia-Pacific)
Latin America (Brazil, Mexico, rest of LATAM)
the Middle East
Africa

Key Market Players
Janvier Labs, Covance Inc., Taconic Biosciences, Inc., Biomedical Research Models (Biomere), Horizon Discovery Group plc, Envigo, Charles River Laboratories International, Inc., GenOway