The global reach trucks market size was valued at $2,583.8 million in 2018, and is projected to reach $4,085.8 million by 2026, growing at a CAGR of 5.6% from 2019 to 2026. Reach trucks are stacking trucks utilized for material-handling operations such as storing and retrieving pallets in racks. In addition, these trucks operate in narrow aisles. They are designed with handle load capacity up to 2000 kg. Moreover, it offers safety and maneuverability in the hardest working conditions and have the ability to drive across various terrains. Its advantageous features include standing operator over-head guard, multi-direction operation, AC electric steering, AC motor technology, multi-function joystick, optional integrated hydraulic fork position, and stand and sit down versions.
The adoption of compact material handling equipment has gained traction in the recent years, owing to their easier maintenance, movability, as well as similar performance compared to heavy machinery. Moreover, unlike heavy machinery, compact material handling equipment such as reach trucks do not require certified operators and are significantly easier to operate then heavy equipment. In addition, lower costs of these trucks over conventional material handling equipment boosts their popularity in end-user industries.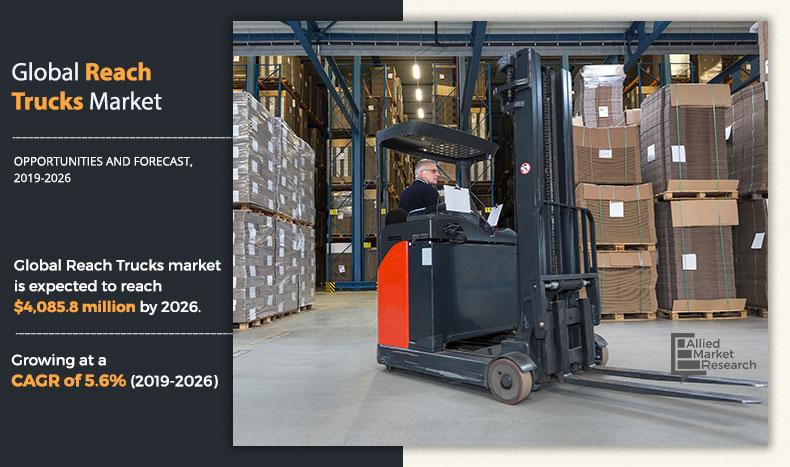 In addition, reach trucks offer versatile benefits in various tasks for industries such as manufacturing industries, shop floors, transportation hubs, warehouses, logistics, and factories, owing to their compact design as well as greater maneuverability capability. For instance, this equipment offers better accessibility in closed & compact areas, can easily relocate from one location to another, has lower costs, and is easy to maintain. In addition, the demand for safe and efficient material handling equipment in various cross industry verticals has led to an increase in adoption of these since recent years. These advantages are anticipated to drive the growth of the market. However, rise in prices of raw materials are estimated to hamper market growth.
Reach Trucks Market

---
By Load Capacity
More than 2000 kg segment is projected to grow at a significant CAGR
Furthermore, technical innovations in reach trucks are anticipated to drive the growth of the market in the coming years. Battery-operated reach trucks are gaining popularity among end use industries, owing to their ability to handle double pallet and horizontal transport. Moreover, lithium-ion battery option for increased flexibility and energy-efficiency makes them suitable for material handling involving long-distance travel and light-duty material handling applications. Many companies are focusing on development of reach trucks with features such as robust construction, smooth functioning, and enhanced durability.
Reach Trucks Market

---
By End-user
Retail and Wholesale segment holds dominant position in 2018
The global reach trucks market is segmented into type, end-user, and region. Depending on type, the market is segmented into less than or equal to 2000 kg and more than 2000 kg. On the basis of end-user, it is categorized into retail & wholesale, logistics, automobile, food & beverages, and others. Region wise, the market is analyzed across North America, Europe, Asia-Pacific, and LAMEA. Asia-Pacific had the largest share, in terms of revenue in 2018.
Reach Trucks Market

---
By Region
Asia-Pacific holds a dominant position in 2018 and is expected to grow at a moderate rate during the forecast period.
Competition Analysis
The key market players profiled in the reach trucks market report include Combilift Material Handling Solutions Company, Crown Equipment Corporation, Doosan Corporation, Godrej and Boyce Manufacturing Company Limited, Hangcha Group Co., Ltd, Hyster-Yale Materials Handling, Inc, Jungheinrich AG, KION Group AG, Mitsubishi Logisnext Co., Ltd, and Toyota Industries Corporation. These players have adopted key strategies such as product development to strengthen their outreach and sustain the stiff competition in the market. For instance, in May 2019, Crown launched new DS 3040 double reach truck, which is produced and developed in Germany. The product features load capacities of up to 2 tons and lift heights of up to 2.3 meters. It also offers high stability for medium-heavy applications such as, shelf replenishment, pallet transport and lorry unloading.
Key Benefits for Stakeholders:
The report provides an extensive analysis of the current and emerging reach trucks market trends and dynamics.  
In-depth market analysis is conducted by constructing estimations for the key segments between 2018 and 2026. 
Extensive analysis of the market is conducted by following key product positioning and monitoring of the top competitors within the market framework.
A comprehensive analysis of four major regions is provided to determine the prevailing opportunities.
The global reach trucks market forecast analysis from 2018 to 2026 is included in the report.
Key market players operating in the market are profiled in the report, and their strategies are analyzed thoroughly, which helpd to understand the competitive outlook of the reach trucks industry. 
Global Reach Trucks Market Segments:
By Load Capacity
Less than or equal to 2000 kg
More than 2000 kg
By End User
Retail & Wholesale
Logistics
Automobile
Food & Beverages
Others
By Region
North America
Europe

Germany
France
UK
Italy
Rest of Europe

Asia-Pacific

Japan
China
India
South Korea
Rest of Asia-Pacific

LAMEA

Latin America
Middle East 
Africa
Key Players
Combilift Material Handling Solutions
Crown Equipment Corporation
Doosan Corporation
Godrej and Boyce Manufacturing Company Limited
Hangcha Group Co., Ltd
Hyster-Yale Materials Handling, Inc
Jungheinrich AG
KION Group AG
Mitsubishi Logisnext Co., Ltd
Toyota Industries Corporation
 Reach Trucks Market Report Highlights
Aspects
Details
By LOAD CAPACITY

Less than or equal to 2000 kg
More than 2000 kg

By END-USER

Retail & Wholesale
Logistics
Automobile
Food & Beverage
Others

By Region

North America (U.S., Canada, Mexico)
Europe (France, Germany, Italy, Spain, UK, Russia, Rest of Europe)
Asia-Pacific (China, Japan, India, South Korea, Australia, Thailand, Malaysia, Indonesia, Rest of Asia-Pacific)
LAMEA (Brazil, South Africa, Saudi Arabia, UAE, Argentina, Rest of LAMEA)

Key Market Players
Hangcha Group Co., Ltd., Godrej and Boyce Manufacturing Company Limited, Doosan Corporation (Doosan Industrial Vehicle), Mitsubishi Logisnext Co., Ltd., Toyota Industries Corporation (Toyota Material Handling Group), Crown Equipment Corporation, Jungheinrich AG, Combilift Material Handling Solutions, Hyster-Yale Materials Handling, Inc., KION Group AG (Linde Material Handling GmbH)