Recycled Textiles Market Outlook - 2027
The global recycled textiles market size was valued at $5.6 billion in 2019 and is anticipated to generate $7.6 billion by 2027. The market is projected to experience growth at a CAGR of 3.6% from 2020 to 2027.
The COVID-19 pandemic had a deep impact on the recycled textiles market as international trade bans and lock-downs were imposed, however, the market is expected to show a recovery in a year.
Recycled textile is obtained through recycling and recovering of old clothing and waste fibrous materials through several treatments. Recyclable textiles are mostly found in municipal waste from sources such as old or discarded clothes, tires, footwear, carpets, furniture, and non-durable goods such as sheets and towels. The use of recycled textiles reduces pressure on virgin resources such as wool & cotton, pollution, and water & energy consumption.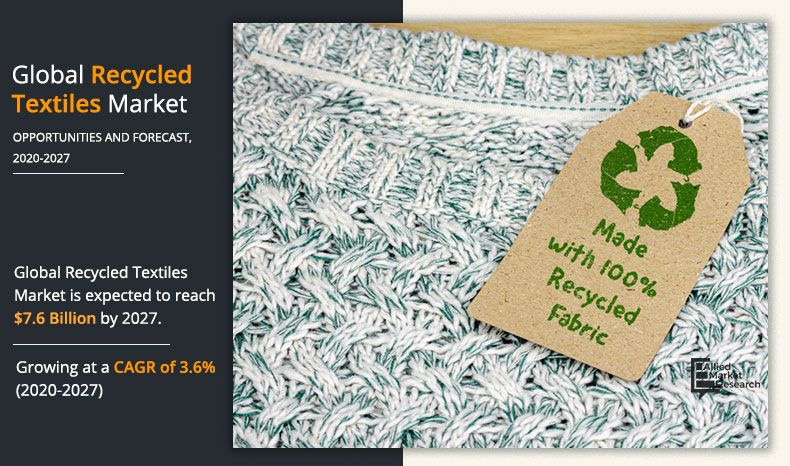 The low cost of recycled products in comparison to virgin products is also expected to boost the overall growth of the recycled textiles market. However, increase in processing cost combined with low-quality job offerings hampers the recycled textiles market growth. Meanwhile, the development in recycling technologies is anticipated to provide growth opportunities for the recycled textile industry.
The recycled textile market value is derived from Municipal Solid Waste (MSW) that contains waste of consumables like product packaging, bottles, newspapers, furniture, clothing, food scraps, grass clippings, and appliances. From these consumables, textile waste is recycled, incinerated, re-used, and subjected to landfill. The recycled textile market comprises 15.2% of MSW recycling. The recycled cotton holds 0.24% of recycled textile waste in the MSW market, whereas, recycled polyester holds 1.10%.
Clear and supportive policies from government encourages public as well as private investments in any sector, here recycled textile. In addition, policies that provide target and strategies are also necessary for the growth of any sector. Policies that are binding in nature are developed to regulate several use or production of concerned substances that are potentially harmful for environment or human health. In the recycled textile market, the waste textile is treated and turned into recycled product that is further used for manufacturing new products. It is estimated that less than 1% of waste textiles is recycled and rest goes in landfills, reuse, or incineration. When waste textile ends up in landfills, it causes soil contamination. When incinerated, it emits CO2, which is harmful for the environment.
The increase in concerns related to soil contamination and CO2 emissions have led to several policies and action plans from the government that discourages such practices and encourages recycling of waste textiles. For example, European Union's (EU) Circular Economy Action Plan, adopted in 2015, includes long-term targets focused on reducing landfilling and increasing recycling and reusing waste textiles.  In 2008, France introduced nationwide mandatory Extended Producer Responsibility (EPR), which encourages and enables recycling by providing financial and physical responsibility for the treatment and disposal of post-consumer products. The EU introduced the landfill directive (1999/31/EC) establishing rigorous requirements & standards for landfills to prevent & minimize the soil contamination, which has diverted the textile waste disposal toward recycling.
The recycled textiles market is segmented into type, end-user industry, and region. Depending on type, it is segmented into recycled cotton, recycled wool, recycled polyester, recycled nylon, and others. On the basis of end-user industry, it is divided into automotive, retail, mining, building & construction, and others. Region-wise, it is analyzed across North America, Europe, Asia-Pacific, and LAMEA (Latin America, Middle East, and Africa).
Recycled Textiles Market, by Type 
Recycled polyester segment garnered the largest market share in 2019 owing to its properties such as durable, chemicals resistant, resistant to stretching, and easy to dye. While recycled nylon segment is expected to grow at the fastest rate during the forecast period owing to its properties such as high elasticity, high strength, high moisture regaining ability, and wrinkle-resistance. Moreover, recycling of nylon offers less energy consumption, waste water savings, and CO2 emission reduction benefits, which foster the demand for recycled nylon. 
Global Recycled Textiles Market

---
By Type
Recycled Nylon is projected as the most lucrative segment.
Recycled Textiles Market, by End-user Industry
Retail segment dominated the market in 2019 owing to the proliferating demand for customized low-cost apparels. However, the automotive segment is expected to grow at the fastest rate during the forecast period. Increase in demand for cost-effective textiles from automotive industry. In addition, surge in penetration of recycled textiles in enhancing aesthetic appearance in automotive interiors is also one of contributing factors toward the segment's growth.
Global Recycled Textiles Market

---
By End-user Industry
Automotive is projected as the most lucrative segment.
Recycled Textiles Market, by Region
The recycled textiles market was dominated by Asia-Pacific. This is due to the demand for recycled textile products from emerging economies such as China, India, Australia, and South Korea in this region. North America is expected to grow fastest during the forecast period owing to presence of organizations that collects waste clothing and then either subjecting them to re-use or recycle. Moreover, growth in awareness among the government and consumers regarding harmful consequences have shifted the market inclination toward recycling the textiles acting as driving factor.
Global Recycled Textiles Market

---
By Region
North America is projected as the most lucrative market.
Key Benefits For Stakeholders
The report provides an in-depth analysis and recycled textiles market forecast along with the current and future market trends.
This report highlights the key drivers, opportunities, and restraints of the recycled textiles market along with the impact analyses during the forecast period.
Porter's five forces analysis helps analyze the potential of the buyers & suppliers and the competitive scenario of the recycled textiles industry for strategy building.
A comprehensive analysis of the factors that drive and restrain the recycled textiles market growth is provided.
The qualitative data in this report aims on recycled textiles market trends, dynamics, and developments.
The recycled textiles market size is provided in terms of revenue.
The report provides extensive qualitative insights on the significant segments and regions exhibiting favorable recycled textiles market share.
 Global Recycled Textiles Market Report Highlights
Aspects
Details
By Type

Recycled Cotton
Recycled Wool
Recycled Polyester
Recycled Nylon
Others

By End Use Industry

Automotive
Retail
Mining
Building & Construction
Others

By Region

North America (U.S., Canada, Mexico)
Europe (Germany, France, UK, Italy, Spain, Rest of Europe)
Asia-Pacific (China, Japan, India, Australia, South Korea, Rest of Asia-Pacific)
LAMEA (Brazil, Saudi Arabia, South Africa, Rest of LAMEA)

Key Market Players
USHA YARNS LTD., ANANDI ENTERPRISES, LEIGH FIBERS INC., HYOSUNG, MARTEX FIBER SOUTHERN CORP., KHALOOM TEXTILES INDIA PVT. LTD., KISHCO PVT. LTD., GEBRUEDER OTTO GMBH & CO. KG, CHINDI, RE:NEWCELL AB