Recycled Glass Market Outlook - 2025
The global recycled glass market was valued at $3,529.2 million in 2017 and is projected to reach $5,544.9 million by 2025, growing at a CAGR of 5.7% from 2020 to 2025.Glass obtained after processing of waste glass into usable products is called recycled glass. It is 100% recyclable and can be recycled without any loss in quality or purity. It is made from readily available domestic materials such as sand, limestone, soda ash, and cullet, which is a term for furnace-ready recycled glass. Sand is used in greater volume than cullet. All these materials are mixed, batched, and heated to a temperature of 2,600-2,800 degrees Fahrenheit and molded into the desired shape. Recycled glass can be substituted for up to 95% of raw materials.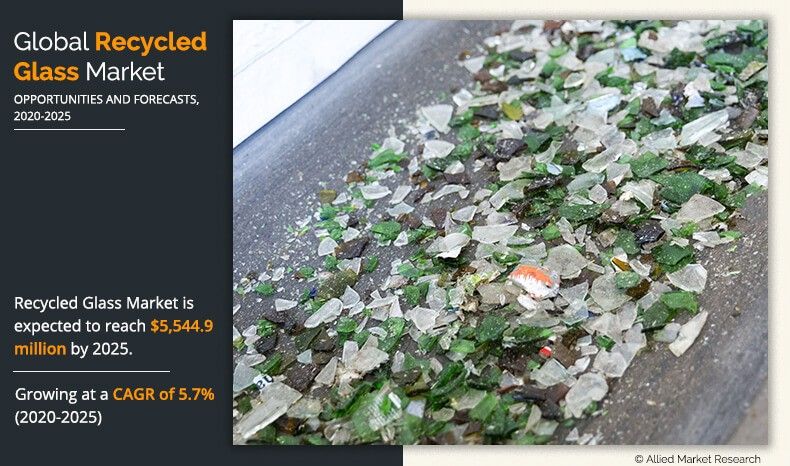 In several states, there is a mandatory beverage container deposit program where glass bottles are collected. In the beverage deposit program, residents pay a deposit on glass bottles and other containers and then return them to a collection center for refurbishment. According to the Container Recycling Institute, 63% is an average glass container recycling rate.. Various laws and deposit amounts have been established. The state of Oregon passed a law requiring buyers of carbonated beverages to pay five cents per container which is increased to ten cents in April 2017, as a deposit which would be refunded to anyone who returned the container for recycling. Industrial scale recycling is being introduced to China since the price of raw materials and demand has risen. All these laws and deposit amounts tend to improve the quality of glass collected for recycling and increase the percentage of containers going to bottle-to-bottle recycling.
Several countries have started initiating waste glass deposit program in order to manage waste. In England, all drink containers, whether plastic, glass, or metal, are covered under deposit-return scheme of the government. The scheme was announced to reduce the litter polluting the land and sea by recurring a small cash sum to consumers who return their bottles and cans. Similar schemes are operating in 38 countries, and it is believed that the campaigners have worked for a decade for its introduction in England.
Swift industrialization has resulted in large landfills of waste, which have boosted the demand for recycled products. This is one of the major factors driving the growth of this market. Additionally, several government initiatives and awareness campaign for cleanliness are also augmenting the global recycled glass market. The Sustainable Singapore Blueprint is one of the initiatives taken by the Singapore Government to reach its zero-waste goal. On the contrary, complex manufacturing process and contamination by unwanted materials present in product waste stream is expected to hamper the growth of the global market. Nevertheless, advancement promoting the use of recycled glass in industries like automotive, will offer future growth opportunities to the market.
The global market is segmented based on product and application. Based on product, the market is segmented into cullet, crushed glass, and glass powder. On the basis of application, it is segmented into bottle & containers, flat glass, fiber glass, highway beads, and others. Geographically, the market is analyzed across North America, Europe, Asia-Pacific and LAMEA. Supportive government regulations and promotion of glass recycling at institutional, public and professional level is driving the recycled glass market growth. The EU glass industry has a production volume of 35.8 Mta, accounting for 28 % of global production. In 2017 glass production volumes in the EU-28 was significant. Of the 35.8 Mta, 3.2 Mta are exported and 4.0 Mta imported. Container glass accounts for a market share of 62.1 % and flat glass for 29.2 %. All other glass types together amount to 8.7 %.
The key players operating in the Recycled Glass industry include Strategic Materials, Momentum Recycling, Reiling Glass Recycling GmbH & Co. KG, Glass Recycled Surfaces, Coloured Aggregates Inc., Harsco Corporation, Vetropack Holding Ltd., Ngwenya glass, Gallo Glass Company, and G.R.L, Glasrecyclin. Glass Recycled Surfaces turn glass bottles and recycled porcelain fixtures into useful products. Post-consumer and industrial glass is recycled into slab material. In the company, countertops, flooring, and wall applications are created from recycled products. Through mixing crushed glass with an epoxy resin, the company has created over 1,000 designs. Instead of combining glass with cement to create slabs, the company utilizes epoxy resin to offer advantages such as lighter weight, low maintenance, and longer lasting structural integrity.
Global Recycled Glass Market, by Region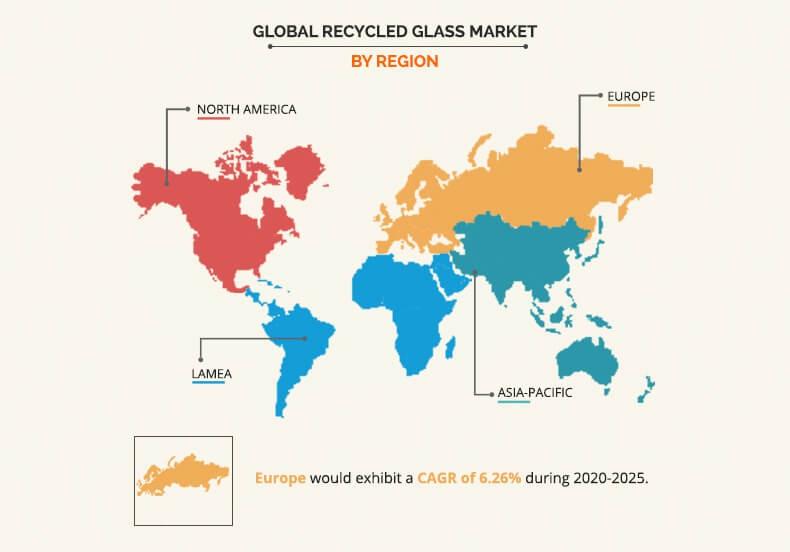 Based on region, North America accounts for major share in the global recycled glass market and Europe is attributed to be the fastest growing region.
Global Recycled Glass Market Size, by Product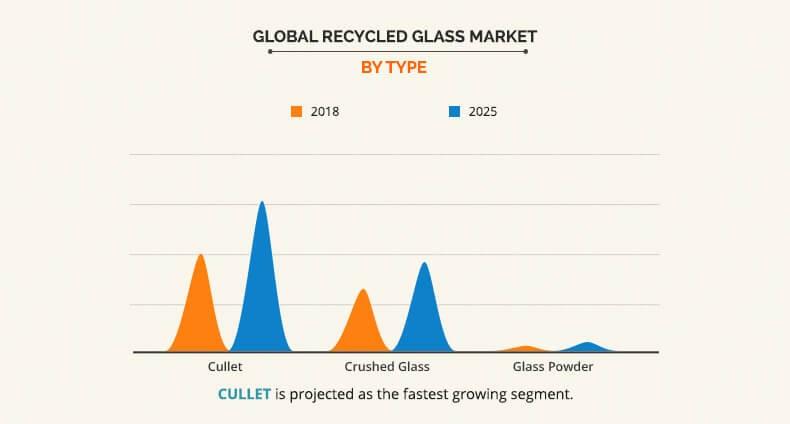 Based on product, the Cullet segment dominated the market in 2017, owing to increasing use of cullet for recycling glass which is driving growth of the market. Every year around 1 million tons of glass waste is transformed into 1 million tons of cullet products. These cullet are processed and sorted based on color with sorting technology to create low levels of impurities. These cullet are then used in process of recycling glass.
Global Recycled Glass Market Size, by Application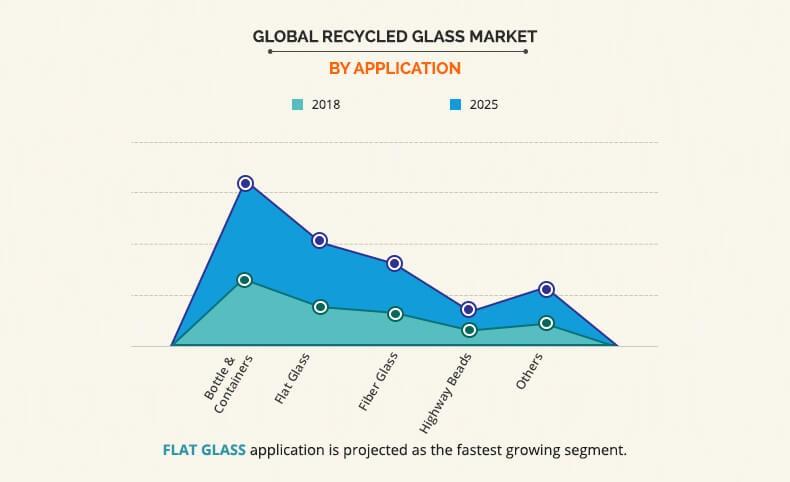 Based on application, the Bottle & Containers segment holds the major share in the market attributed to the increasing use of recycled glass for manufacturing bottles and containers.
Key Benefits for Recycled Glass Market:
Porter's five forces analysis helps to analyze the potential of buyers & suppliers and the competitive scenario of the industry for strategy building.
It outlines the current recycled glass market trends and future scenario of the recycled glass market size from 2020 to 2025 to understand the prevailing opportunities and potential investment pockets.
Major countries in the region have been mapped according to their individual revenue contribution in the recycled glass market analysis at the regional and country-level market.
The key drivers, restraints, and recycled glass market opportunities and their detailed impact analyses are elucidated in the study.
The profiles of key players along with their key strategic developments are enlisted in the report.
 Recycled Glass Market Report Highlights
Aspects
Details
By Product

Cullet
Crushed Glass
Glass Powder

By Application

Bottle & Containers
Flat Glass
Fiber Glass
Highway Beads
Others

By Region

North America (U.S., Canada, Mexico)
Europe (UK, Germany, France, Italy, Rest of Europe)
Asia-Pacific (China, Japan, India, Australia, South Korea, Rest of Asia-Pacific)
LAMEA (Brazil, Saudi Arabia, South Africa, Rest of LAMEA)

Key Market Players
Coloured Aggregates Inc., Gallo Glass company, Glass Recycled Surfaces, Harsco Corporation, Momentum Recycling, Reiling Glass Recycling GmbH & Co. KG, Strategic Materials, Vetropack Holding Ltd., Verallia, Owens-Illinois