The global red rice market size was valued at $2,915.0 million in 2020, and is projected to reach $4,110.9 million by 2030, registering a CAGR of 3.5% from 2021 to 2030. The rakthashali segment was the highest contributor to the market, with $1,299.2 million in 2020.  
Red rice is the primary staple food consumed across the globe. Red rice red in color due to the presence of water-soluble vacuolar pigments called anthocyanins. Red rice has red husk and holds the highest nutritional contents of intact nutrients. It has a nutty flavor and is a rich source of carbohydrates, iron, fats, and fiber.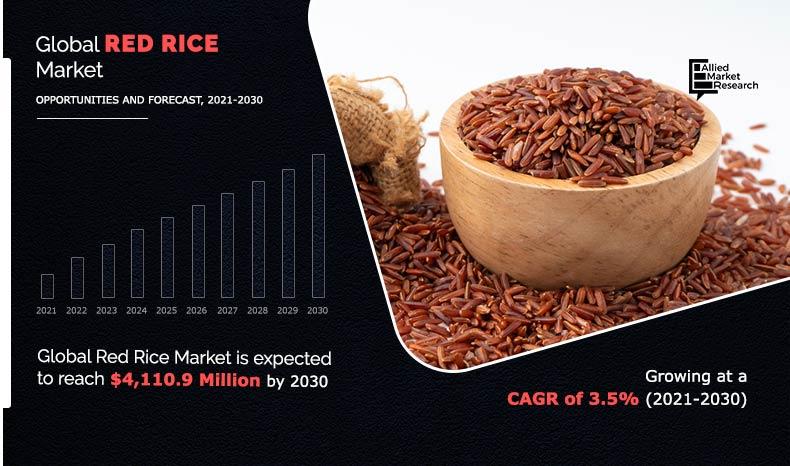 Red rice is a good source of dietary fibers and is rich in nutrients. Red rice is an excellent source of thiamin (B1) riboflavin (B2), iron, and calcium. The distinctive colour of red rice is anthocyanine that offers more antioxidants than brown rice. Red rice is a major source of manganese and iron. It has flavonoids that encourage cell health and decrease free radicals in the body. It also decreases the risk of inflammation, allergies and cancer. Red rice is a health advantage in the reduction of cholesterol and glucose, leading to the worldwide red rice market.
In the Asia-Pacific region, more than 90% of world rice is produced and consumed. Growth in stable rice production was a subject of concern for food safety, particularly in the region's emerging countries. Regions outside Asia-Pacific are adapting the consumption of rice as their daily meal, and beauty care companies are using rice as their key ingredient in their beauty care products. Rice water is well recognized in many personal care products to aid with skin irritation by sodium laurel sulfate (SLS). The increasing demand for rice in different regions of the world is encouraging Asian countries to export red rice in large quantities. 
Red rice is excellent for weight loss, it regulates asthma, improves bone health, is rich in antioxidants, and controls diabetes. In short red rice has no side effects, the only problem of red rice is over or excessive consumption of red rice causes indigestion and can lead to gastrointestinal issues. Red rice is high in fiber which takes more time to digest and for this reason overconsumption leads to indigestion.
The outbreak of the COVID-19 pandemic has negatively influenced the red rice market growth. Factors such as lockdowns and change in consumer behavior have significantly increased the demand for red rice. Besides, rising awareness and changing perceptions about red rice among consumers will present significant opportunities for vendors during the forecast period.   
According to the red rice market analysis, the market is segmented on the basis of product type, end use, distribution channel, and region. Depending on product type, the market is divided into Rakthashali, Thai Red Cargo rice, Bhutanese red rice, and others. By nature, it is segregated into organic and conventional. According to distribution channel, it is divided into supermarket & hypermarket, specialty store, municipal corporation stores, convenience Stores, specialty store, and online stores & others. Region wise, it is analyzed across North America (the U.S., Canada, and Mexico), Europe (Germany, France, the UK, Spain, Italy, Russia, and rest of Europe), Asia-Pacific (China, Japan, India, Australia, South Korea, Thailand, Vietnam, and rest of Asia-Pacific), and LAMEA (Brazil, Argentina, the UAE, Nigeria, Saudi Arabia, South Africa, and rest of LAMEA).     
On the basis of product type, the Rakthashali segment accounted for the maximum share in the global red rice market in 2020, and is expected to remain dominant during the red rice market forecast period. Demand for Rakthashali Red Rice, especially for its medicinal qualities and usage in ayurvedic medicine, has recently increased. The production of Rakthashali rice is towards the point of extension, and it's hardly available for the consumers to get their hands on it. The cultivation of Rakthashali rice is expected to regain as the demand will rise in consumers.
Red Rice Market

---
By Product Type
Others segment would witness the fastest growth, registering a CAGR of 4.0% during the forecast period.
On the basis of nature, the organic segment accounts to higher value share. The increased awareness in consumers about maintaining appropriate health conditions is giving rise to the usage of organic foods. The advantages and nutrients in organic red rice are more than conventional red rice, which offers a boost to customers' demand for organic red rice.
Red Rice Market

---
By Nature
Conventional Segment witnssed a major growth rate of 4.1%
On the basis of distribution channel, the municipal corporation stores segment held the significant red rice market share in 2020. Municipal Corporation stores is the local government bodies which offers various types of grains and cereals to the local consumers. These stores are also called as ration shop. The Municipal Corporation stores gain a major demand in the red rice market owing to growing instances of the consumers receiving inferior quality food grains in ration shops and at affordable price. To buy the food items, the consumer need to have the ration card which are issued by the government of the respective countries. 
Red Rice Market

---
By Distribution Channel
Municipal Corporation Stores Segment held the major share of 29.6% in 2020
On the basis of region, Europe dominated the red rice market in 2020, and accounted for maximum market share. European culinary customs, rice has always played a significant part. Since the 14th-century Risotto has been in Italian northwest cooking, whereas rice in Spain has been used since it was initiated by the Arabs in the 8th Century for cooking foods like paella. The discovery of red rice and its benefits of curing serious ailments in people has increased its popularity. People are shifting from conventional white rice to red rice. Top beauty care companies in Europe are infusing red rice in their cosmetics to utilize its benefits. Moreover, red rice market players have high chance of expanding their sales and seizing the whole rice industry
Red Rice Market

---
By Region
Europe held the major share of 44.6% in 2020
Players in the red rice market have adopted business expansion and product launch as their key developmental strategies to expand their market share, increase profitability, and remain competitive in the market. The key players profiled in the report include Lotus Foods, Inc, Urmatt Ltd, Ceylon Pure, Wuhan Jiacheng Biotechnology Co. Ltd, Lundberg Family Farm, Woodland Foods, Inc, The Kruger Co, Mars, Inc, Riviana Foods, Inc, and Fabrar Liberia, Inc. 
Key benefits for stakeholders    
The report provides quantitative analysis of the current red rice market trends, estimations, and dynamics of the market size from 2020 to 2030 to identify the prevailing red rice market opportunities.  
Porter's five forces analysis highlights the potency of buyers and suppliers to enable stakeholders to make profit-oriented business decisions and strengthen their supplier–buyer network.  
In-depth analysis and the market size & segmentation assist to determine the market potential.
The major countries in each region are mapped according to their revenue contribution to the market.    
The market player positioning segment facilitates benchmarking and provides a clear understanding of the present position of the market players in the red rice industry. 
 Red Rice Market Report Highlights
Aspects
Details
By Product Type

Rakthashali
Thai Red Cargo rice
Bhutanese red rice
Others

By End-use
By Distribution Channel

Supermarket & hypermarket
Municipal Corporation stores
Convenience Stores
Specialty store
Online store & others

By Region

North America (U.S, Canada, Mexico)
Europe (Germany, France, UK, Italy, Spain, Russia, Rest of Europe)
Asia-Pacific (China, Japan, Australia, South Korea, Thailand, Vietnam, Rest of Asia-Pacific)
LAMEA (Brazil, Argentina, UAE, Nigeria, Saudi Arabia, South Africa, Rest of LAMEA)

Key Market Players
LOTUS FOODS, INC, URMATT LTD, CEYLON PURE, Wuhan Jiacheng Biotechnology Co., Ltd., Lundberg Family Farms, Woodland Foods, Ltd, The Kroger Co., Mars, Inc., Riviana Foods, Inc., Fabrar Liberia, Inc.