Redox Flow Battery Market Outlook - 2026
The global redox flow battery market size was valued at $130.4 million in 2018, and is projected to reach $403.0 million by 2026, growing at a CAGR of 15.2% from 2019 to 2026.
A battery is a collective set of cells that stores energy and supply whenever needed. A redox flow battery is a type of electrochemical cell, where two chemical components provide chemical energy, which is dissolved in a liquid contained system and separated by the membrane. This system is called as stack with two electric components such as anode and cathode, which individually have separate tanks. Other components in the battery are bipolar plate and membrane. The number and size of the stack depends upon the power output required, which further determines the capacity of the battery. The trem redox in the redox flow battery refers to the redoxreaction, which means a change in the oxidation level of chemical, i.e., reduction and oxidation. During this process, electrons are transferred from one element to another and the overall setup produces energy.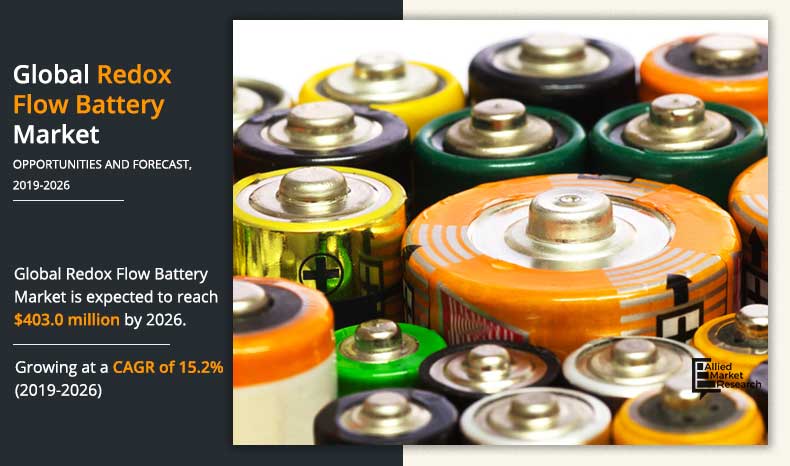 The global redox flow battery market is in its nascent phase, and a multiple developments are currently witnessed on this battery type. Redox flow battery type has several superior advantageous due to which it is largely used in energy storage applications. Therefore, rise in energy generation activities and increase in energy generation capacities fuel the demand for the redox flow battery. A redox flow battery is the only product that can be 100% recycled, which favoring its use in renewable energy, thereby contributing to market growth. As a result, high recylable nature of this battery is it self driving the growth of the market globally. On the other hand, high competition in the energy storage sector and large consumer base of lithium-ion battery hampering the global redox flow battery market growth. Developement of hybrid redox flow battery is one of the recent redox flow battery market trends observed in across the globe. Therefore, the global redox flow industry expected to witness profitable growth opportunities.
The global redox flow battery market is segmented into type, application, and region. Dependingon type, the global market is bifurcated into a vanadium redox flow battery and hybrid redox flow battery. By application, it is categorizedinto utility services, renewable energy integration, ups, and others. Region wise, the market is studied across North America, Europe, Asia-Pacific, and LAMEA.
Asia-Pacific is the largest regional market of redox flow battery wherein countries such as China, Japan, India, South Korea, and Australia have emerged as prominent consumers. Energy consumption in Asia-Pacific is growing significantly due to growth in population, robust industrialization, and the adoption of cost-effective energy storage devices. Therefore, with increasing energy, the demand for energy storage devices is increasing rapidly, which drives the adoption of redox flow battery in Asia-Pacific.
Some of the major market players operating and profiled in this market are Avalon Battery Corporation, Dalian Rongke Power Co., Ltd, HydraRedox, H2, Inc, Le System Co., Ltd., redT Energy plc, StorEn Technologies Inc, Storion Energy, Sumitomo Electric Industries, Ltd, and Vionx Energy.
Global Redox Flow BatteryMarket, bytype
By type, vanadium redox flow battery segment accounted for the largest redox flow battery market share in 2018 and the similar trends are expecetd during the forecast period. This is attracted to the fact that it is a more developed version of redox flow batteries and is used in various applications. Higher capacities associated with this battery type make it well suited in large energy storage applications. Therefore, utility facilities, renewable energy integration, and UPS systems are some of the prominent applications of vanadium redox flow batteries
Redox Flow Battery Market

---
By Type
Vanadium is projected as the most lucrative segment.

Global Redox Flow Battery Market, by application 
By application, utility services segment dominated the global market with largest market share. Since redox flow batteries are favorable in energy storage applications, the utility sector serves as the largest application segment. The electric utility sector is engaged in electricity generation and distribution roles where energy storage devices are consistently required to store electricity for a longer time interval. Redox flow batteries are cost-competitive energy storage devices,which requirezero maintenance. Therefore, their demand for electric utility services is growing significantly. Although electric utility companies majorly operatein the government-regulated market, over the past few years, these companies are focuson the commercial market in response to privatization in most countries.
Redox Flow Battery Market

---
By Application
Utility Services is projected as the most lucrative segment.
Global Redox Flow BatteryMarket, by region
By region, Asia-Pacific is the largest regional market in the redox flow battery market, which acquired around 40% market share in 2018. The countries that are a key contributor in the Asia-Pacific region include China, India, Japan, South Korea, and Australia. Asia-Pacific region has been significant in terms of the adoption of economic batteries for energy storage. Thus, redox flow batteries showcase superior energy capacity characteristics in the long run.
Redox Flow Battery Market

---
By Region
Asia-Pacific holds a dominant position in 2018 and would continue to maintain the lead over the forecast period.
Key Benefits For Stakeholders
The report provides an in-depth analysis of the redox flow batterymarket forecast along with the current and future markettrends. 
 This report highlights the key drivers, opportunities, and restraints of the market along with the impact analyses during the forecast period.
 Porter's five forces analysis helps analyze the potential of the buyers & suppliers and the competitive scenario of the global redox flow batteryindustry for strategy building.
 A comprehensive redox flow battery market analysis covers factors that drive and restrain market growth.
 The qualitative data in this report aims on market dynamics, trends, and developments.
 Redox Flow Battery Market Report Highlights
Aspects
Details
By Type

Vanadium Redox Flow Battery
Hybrid Redox Flow Battery

By Application

Utility Services
Renewable Energy Integration
UPS
Others

By Region

North America (U.S., Canada, Mexico)
Europe (Germany, France, Italy, Spain, UK, Rest of Europe)
Asia-Pacific (China, Japan, India, South Korea, Australia, Rest of Asia-Pacific)
LAMEA (Brazil, Saudi Arabia, UAE, South Africa, Rest of LAMEA)

Key Market Players
Avalon Battery Corporation, Dalian Rongke Power Co., Ltd., HydraRedox, H2, Inc., Le System Co., Ltd., redT Energy Plc, StorEn Technologies Inc., Storion Energy, Sumitomo Electric Industries, Ltd., Vionx Energy