Refrigerated Trailer Market Overview:
The global market for refrigerated trailer generated $5,588 million in 2015, and is estimated to grow at a CAGR of 4.8% to reach $7,658 million by 2022. The market is expected to register a twofold increase by 2022 in developing countries, owing to increase in demand for packaged food along with government initiatives to control food wastage, enhanced efficiency of refrigerated trailers, and higher reliability requirements of food consumers.
A refrigerated trailer is a part of van or truck designed to carry fresh consignment at specific temperatures. The global market is projected to witness significant growth during the forecast period, owing to wide use of refrigerated trailer in cold chain space, high demand for package food, and rise in third-party logistics business globally.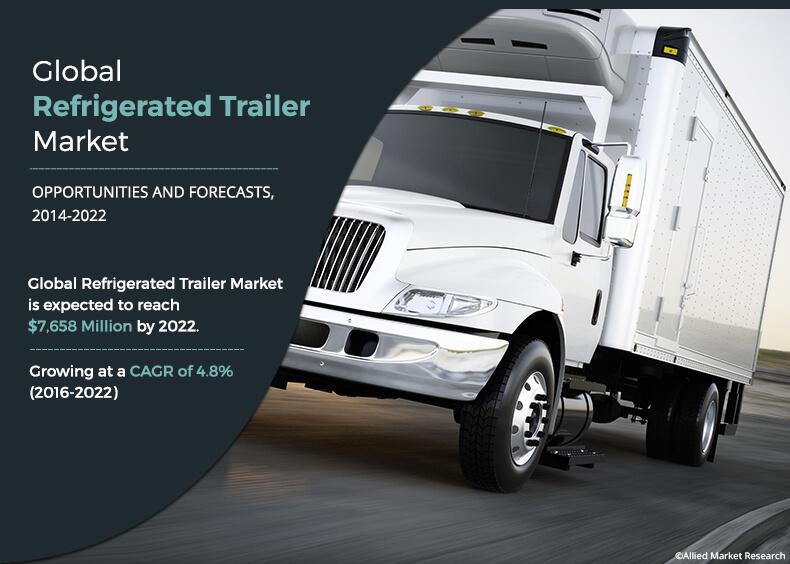 Segment Overview
The global refrigerated trailer market is segmented on the basis of type, end user, and geography.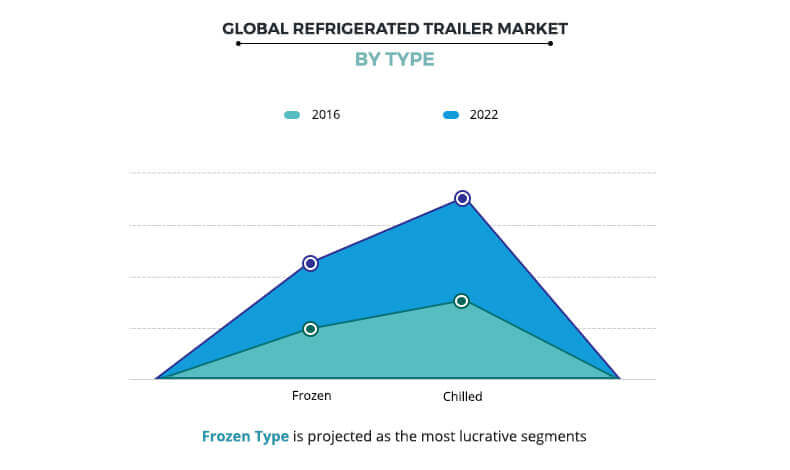 Chilled food is major product type of refrigerated trailer, which accounts for nearly 62% of the global refrigerated trailer market, followed by frozen food.
The market by end user is further bifurcated into dairy, fruits & vegetables, meat & seafood, and others (medical products, confectionary, and bakery). Currently, meat & seafood segment is the highest revenue-generating end user for this market, owing to increasing adoption in cold chain space and frozen food products.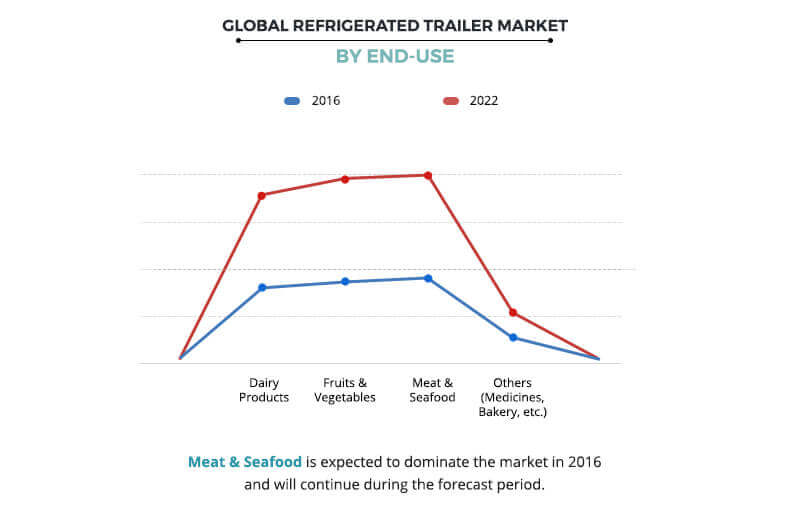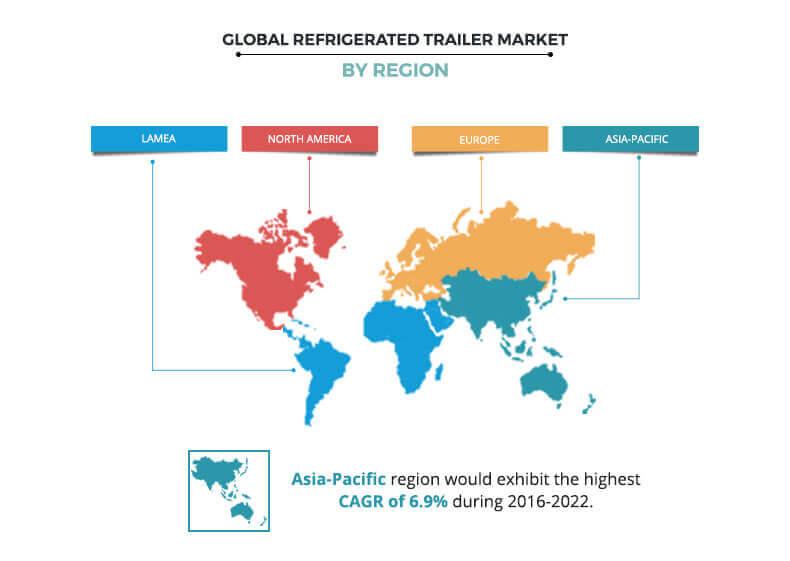 Expansion of Cold Chain Capacity Globally
Increasing application of refrigerated trailer in cold chain space, which is growing at a rapid pace is driving the market growth. In addition, high food wastage has increased the government's attention on the use of cold chain capacity. Therefore, expansion of cold chain capacity and government support are expected to boost the market growth in the coming years.
Increase in Demand for Package Meat & Seafood Globally
Rising demand for packaged food also affecting the adoption of refrigerated trailer. Increasing disposable income and transformed lifestyle have changed the food eating patterns worldwide; thus, people prefers expediency foods, which requires efficient logistics services. In the future, the demand for packaged food is expected to drive the market.
Competitive Landscape
The report provides a comprehensive analysis of major market players, such as Wabash National Commercial Trailer Product, Great Dane Trailers, Inc., Utility Trailer Manufacturing Company, Schmitz Cargobull AG., Kogel Trailer GmbH & Co. KG, Fahrzeugwerk Bernard KRONE GmbH, Lamberet Refrigerated SAS, Montracon Ltd., Gray & Adams Ltd, Randon Implementos, and the prominent strategies adopted by them.
Key Benefits
The study provides an in-depth analysis of the global refrigerated trailer market to elucidate the prominent investment pockets.
Current trends and future estimations are outlined to determine the overall market scenario and single out profitable trends.
The report provides information about key drivers, restraints, and opportunities with a detailed impact analysis.
Analysis of value chain is conducted to understand the role of intermediaries.
 Refrigerated Trailer Market Report Highlights
Aspects
Details
By Product Type
By End User

Dairy
Fruits & Vegetables
Meat & Seafood
Others (Confectionary, Medical product, Bakery)

By Geography

NORTH AMERICA
EUROPE

GERMANY
FRANCE
UK
ITALY
RUSSIA
REST OF EUROPE

ASIA-PACIFIC

CHINA
INDIA
SOUTH KOREA
AUSTRALIA
TAIWAN
JAPAN
REST OF ASIA-PACIFIC

LATIN AMERICA

LATIN AMERICA
MIDDLE EAST
AFRICA

Key Market Players
Kogel Trailer GmbH & Co. KG, Schmitz Cargobull AG., Fahrzeugwerk Bernard KRONE GmbH, Montracon Ltd., Gray & Adams Ltd.. ., Lamberet Refrigerated SAS, Utility Trailer Manufacturing Company, Wabash National Commercial Trailer Product, Great Dane Trailers, Inc., Randon Implementos