RegTech Market Outlook - 2027
The global RegTech market size was valued at $5.46 billion in 2019, and is projected to reach $ 28.33 billion by 2027, growing at a CAGR of 22.3% from 2020 to 2027. 
RegTech, which is a combination of the words regulatory and technology, manages regulatory processes within the financial industry via advance technologies. With helping businesses comply with regulations efficiently & less expensively. RegTech involves in usage of advance technologies such as machine learning, biometrics, cloud computing, big data, and blockchain. Moreover, main functions of RegTech include data analytics, regulatory monitoring, risk management, reporting, regulatory compliance, and fraud detection.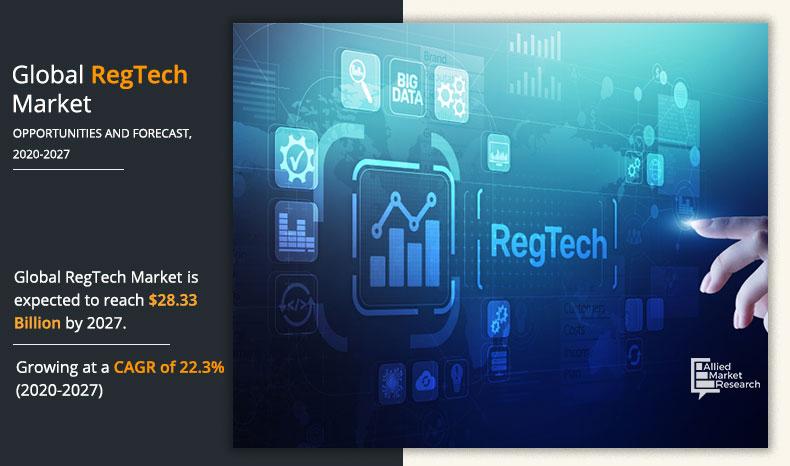 Rise in focus toward maintaining transparency in financial regulations & improve strategies for Know Your Customer (KYC) & Anti Money Laundering (AML) by implementing regulatory technologies has become a major growth factor for the market. In addition, with changing government policies & country regulations, significant requirements to improve quality of reported data across various regimes & jurisdictions is continuing to rise in the market, therefore, propels the RegTech market growth. For instance, in Europe, the implementation of RegTech is gaining traction in the European Parliament's MiFID II legislation and is expected to grow significantly in the coming years. In addition, this regulation aimed at providing uniformity among investment services within the 31-member states of the European Economic Area (EEA). 
However, ensuring secure management & privacy of consumer data and conflicting regulations across different jurisdictions are some of the factors that limit the market growth. Furthermore, developing economies offer significant opportunities for RegTech solution providers to expand & develop their offerings, especially among emerging economies such as Australia, China, India, Singapore, and South Korea. In addition, mandatory application of the General Data Protection Regulation (GDPR) guidelines is expected to provide lucrative opportunities during the forecast period.
The large enterprises segment dominated the RegTech market in 2019, and is projected to maintain its dominance during the forecast period. This is attributed to the fact that enterprises under this category involve huge amount of data are, therefore, compelled to adopt regulatory programs. Therefore, massive presence of publicly traded companies in this segment emphasizes on the importance of RegTech solutions & services in the market. 
The report focuses on growth prospects, restraints, and trends of the RegTech market analysis. The study provides Porter's five forces analysis to understand the impact of various factors such as bargaining power of suppliers, competitive intensity of competitors, threat of new entrants, threat of substitutes, and bargaining power of buyers on the RegTech market.
Segment review
The RegTech market is segmented on the basis of component, deployment type, organization size, application, end user, and region. Based on component, the market is bifurcated into solution and services. In terms of deployment type, it is divided into on-premises and cloud. On the basis of organization size, it is segmented into large enterprises and small & medium enterprises (SMEs). By application, it is segmented into anti-money laundering (AML) & fraud management, regulatory intelligence, risk & compliance management, regulatory reporting, and identity management. Based on end user, it is segmented into banks, insurance companies, fintech firms, IT & telecom, public sector, energy & utilities, and others. Region wise, the market is analyzed across North America, Europe, Asia-Pacific, and LAMEA. 
RegTech Market

---
By Component
Solution is projected as one of the most lucrative segments.
The report analyses the profiles of key players operating in the market include ACTICO GmbH, Acuant, Inc., Ascent, Broadridge Financial Solutions, Inc., ComplyAdvantage, International Business Machines (IBM), MetricStream Inc., NICE Ltd., Thomson Reuters, and Wolters Kluwer N.V. These players have adopted various strategies to increase their market penetration and strengthen their position in the industry.
RegTech Market

---
By Deployment Model
Cloud is projected as one of the fastest growing segments.
COVID-19 impact analysis
COVID-19 pandemic has a significant impact on the RegTech market, owing to increase in use and adoption of online and digitalized financial services globally. Moreover, to curb spread of virus, several regions have imposed lockdown, therefore, RegTech providers offer software-as-a-service platforms are gaining momentum during the pandemic situation. This, in turn, has become one of the major growth factors for the RegTech market during the global health crisis.
RegTech Market

---
By Enterprise Size
Large Enterprises accounted for the largest market share in 2019.
Top impacting factors
Increase in collaboration between national regulators & financial institutions
Regulatory bodies across Asia-Pacific, the U.S. and Europe are continuously looking forward in collaborating with the fintech community globally. In addition, this robust inclination between the fintech community & regulators to collaborate aims at a win-win for business and governments. For instance, the Global Financial Innovation Network (GFIN), which was formally launched in January 2019 by an international group of financial regulators & related organizations, committed to supporting financial innovation in interests of consumers. Moreover, the GFIN seeks to provide efficient solution for innovative firms to interact with regulators, helping them with new business models across more than one jurisdiction. Therefore, this increase in collaboration between national regulators & financial institution propels the RegTech market growth during the forecast period.
RegTech Market

---
By Application
Risk & Compliance Management is projected as one of the most lucrative segments.
Varied & conflicting regulations across different jurisdictions 
With increase in unified approach taken by financial centers toward regulations, various laws in different countries include their own standards & regulations across different jurisdictions. This becomes a crucial factor for RegTech companies to elaborate solutions across manifold regulations such as MiFID II and GDPR coming together brings potential inter-regulation conflicts, which further hinders growth of the RegTech market. For instance, in the U.S., banks stand by the Dodd-Frank Act, while in Europe MiFID II regulations are considered for businesses under its jurisdiction. This, as a result hampers the market growth.
RegTech Market

---
By End User
Banks accounted for the largest market share in 2019.
Increase in GDPR concerns across regions 
With growth in RegTech, which is disrupting regulatory landscape by providing technologically advanced solutions within the financial industry, the GDPR guidelines have become mandatory for consumers personal data. Therefore, GDPR governs use of personal data and introduces a right for individuals to object profiling, which, therefore, is expected to create lucrative opportunities for the market, in terms of gaining trust & building service loyalty in the market. As a result, GDPR requirements for certain personal data-related activities are required by law, RegTech solution providers taking the GDPR into account, and is expected to boost the market growth in the upcoming years.
Asia-Pacific would exhibit the highest CAGR of 23.8% during 2020-2027.
Key benefits for stakeholders 
The study provides in-depth analysis of the global RegTech market share along with current & future trends to illustrate the imminent investment pockets.
Information about key drivers, restrains, and opportunities and their impact analysis on the market size are provided in the report.
Porter's five forces analysis illustrates the potency of buyers and suppliers operating in the industry.
An extensive analysis of the key segments of the industry helps to understand the global RegTech market trends.
The quantitative analysis of the global RegTech market from 2020 to 2027 is provided to determine the market potential.
 RegTech Market Report Highlights
Aspects
Details
By Component
By Deployment
By Enterprises

LARGE ENTERPRISES
SMALL &MEDIUM ENTERPRISES (SMES)

By Application

ANTI-MONEY LAUNDERING (AML) & FRAUD MANAGEMENT
Regulatory Intelligence
Risk and Compliance Management
Regulatory Reporting
Identity Management

By End User

Banks
Insurance Companies
FinTech Firms
IT & Telecom
Public Sector
Energy & Utilities
Others

By Region

North America (U.S., Canada)
Europe (UK, Germany, France, Italy, Spain, Rest of Europe)
Asia-Pacific (China, India, Japan, Singapore, Australia, Rest of Asia-Pacific)
LAMEA (Latin America, Middle East, Africa)

Key Market Players
ACTICO GMBH, ACUANT, INC., ASCENT, BROADRIDGE FINANCIAL SOLUTIONS, INC., COMPLYADVANTAGE, INTERNATIONAL BUSINESS MACHINES (IBM), METRICSTREAM INC., NICE LTD., THOMSON REUTERS, WOLTERS KLUWER N.V.