Remittance Market Outlook – 2030 
The global remittance market size was valued at $701.93 billion in 2020, and is projected to reach $1,227.22 billion by 2030, registering a CAGR of 5.7% from 2021 to 2030. Remittance is referred as sending of money by foreign migrant cross border to another person via electronic payments, drafts, and check. In addition, majority of remittance services providers are focusing on digital remittance to enhance their business and provide customer with easier and quicker transferring services. Numerous benefits of using digital channels such as high speed, availability of digital channels 24 hours a day, transparency, ease of use, high security, and others, for sending money create numerous opportunities for the remittance market.
The COVID-19 pandemic has negatively impacted the remittance market, owing to large job loses in first quarter of COVID-19 pandemic and decreasing employment rate of foreigners living in other countries.
Rise in mobile-based payment channels and cross-border transactions and decrease in remittance transfer time & cost drives the growth of the market. In addition, increase in adoption of banking & financial sectors across the globe fuels the remittance market growth. However, rise in number of financial crimes and lack of awareness for digital remittance is expected to impede the market growth. Furthermore, technological advancements in digital remittance market is expected to provide lucrative opportunities for the market growth.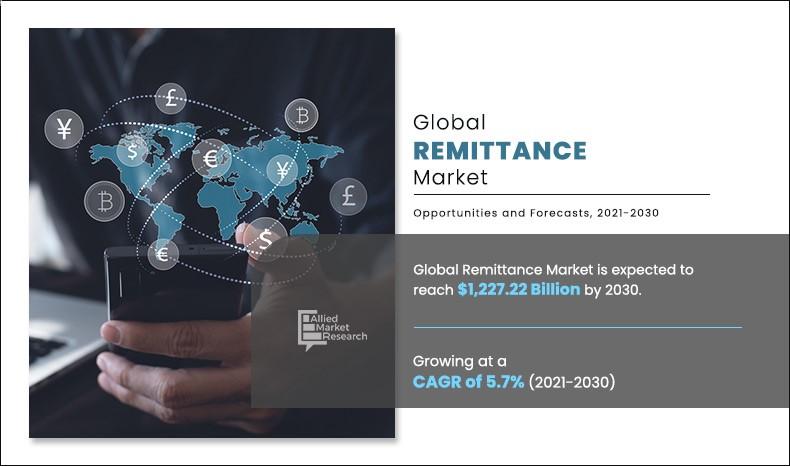 By end user, the personal segment is expected to garner a significant remittance market size and is expected to witness growth at the highest rate during the forecast period, owing to money sent by the migrant labor workforce to their home country as they migrate to other countries to pursue work such as seasonal work. 
Region wise, the remittance market was dominated by Asia-Pacific in 2020 and is expected to witness growth at the highest rate owing to growing number of immigrants and increasing adoption of digital remittance owing to rapidly advancing technologies, evolving customer expectations, and a changing regulatory landscape, which are driving the automation of cross-border and remittance services. 
The report focuses on growth prospects, restraints, and trends of the remittance market. The study provides Porter's five forces analysis to understand impact of various factors, such as bargaining power of suppliers, competitive intensity of competitors, threat of new entrants, threat of substitutes, and bargaining power of buyers, on the remittance market share.
Remittance Market

---
By Application
Consumption segment will dominate the market during the forecast period
Segment Overview
The global remittance market is segmented on the basis of application, remittance channel, end user, and region. In terms of application, the market is classified into consumption, savings and investments. By remittance channel, it is divided into banks, money transfer operator, and others. By end user, it is divided into business and personal. Region wise, it is analyzed across North America, Europe, Asia-Pacific, and LAMEA.
Remittance Market

---
By Remittance Channel
Banks segment will maintain the lead during the forecast period
Competitive Analysis
The key players profiled in the remittance market analysis are Bank of America, Citigroup Inc., JPMorgan Chase & Co., MoneyGram International Inc., RIA Financial Services Ltd., TransferWise Ltd., UAE Exchange, Wells Fargo, Western Union Holdings Inc. and XOOM. These key players have adopted various strategies, such as product portfolio expansion, mergers & acquisitions, agreements, geographical expansion, and collaborations, to increase their market penetration and strengthen their foothold in the industry.
Remittance Market

---
By End User
Personal segment will generate the highest revenue during 2021 - 2030
COVID-19 Impact Analysis
As the COVID-19 pandemic spread across the globe economic crisis continues to spread, the demand for remittance industry decreased owing to decreasing amount of money migrant workers send home. In addition, it is projected to decline 14% by 2021 compared to the pre COVID-19 levels in 2019, according to the latest estimates published in the World Bank's Migration and Development Brief. Remittance flows to low and middle-income countries (LMICs) are projected to fall by 7%, to $508 billion in 2020, followed by a further decline of 7.5%, to $470 billion in 2021. 
The foremost factors driving the decline in remittance industry include weak economic growth and employment levels in migrant-hosting countries, weak oil prices; and depreciation of the currencies of remittance-source countries against the U.S. dollar. Moreover, the declines in 2020 and 2021 will affect all regions, with the steepest drop expected in Europe and Central Asia (by 16% and 8%, respectively), followed by East Asia and the Pacific (11% and 4%), the Middle East and North Africa (8% and 8%), Sub-Saharan Africa (9% and 6%), South Asia (4% and 11%), and Latin America and the Caribbean (0.2% and 8%).
Remittance Market

---
By Region
Asia-Pacific region would exhibit the highest CAGR of 6.4% during 2021 - 2030
Top Impacting Factors
Rise in Cross-Border Transactions and Mobile-Based Payment Channels
Rise in cross-border transactions and move toward mobile banking and mobile-based payment solutions dominate payment trends in Asia-Pacific, which is expected to drive the growth of the remittance market. In addition, owing to rise in international commerce, migration and changing economic trends across the globe. In addition, new developments in the world of cross-border payments is the prospect of making real-time international payments a reality. 
Furthermore, number of banks are striving to deliver timely cross-border remittances and value-added services using a relationship-centric approach, which fuel the growth of the remittance market. For instance, in September 2021, HSBC India launched HSBC UniTransact, a digital proposition aimed at simplifying cross-border transactions. The offering is a one-stop solution, bringing clients the benefit of seamless integration of all aspects of transaction banking while minimizing manual intervention through the course of the transaction journey.
Reduced Remittance Cost and Transfer Time
Cross-border payments have become insignificant in cost, quick, auditable, and accessible to everyone owing to the use of digital transfer networks such as mobile phone technology, mobile money, digital currencies, distributed ledgers, electronic identity, and others to send money. The adoption of digital remittance is expected to reduce reliance on cash agents in both sender and receiver nations, which is now contributing to the maintenance of high transaction costs.
It is also expected to alleviate many of the risks, hurdles, and costs associated with security and know-your-customer (KYC). As a result, banks and money transfer companies use digital technology to offer remittance services at considerably cheaper prices than conventional over-the-counter services, increasing digital remittance adoption in the area. 
Furthermore, the use of modern technologies and government-led public awareness initiatives significantly lower remittance costs. The usage of digital remittance is expected to increase as a result of this decrease. Transparency projects like SendMoneyPacific, for example, allow remittance senders to compare rates and learn about the advantages of new digital transfer providers. This is intended to increase consumer awareness about digital remittance market.
Key Benefits For Stakeholders     
The study provides an in-depth analysis of the remittance market forecast along with the current trends and future estimations to explain the imminent investment pockets.
Information about key drivers, restraints, & opportunities and their impact analysis on the global remittance market is provided in the report.
Porter's five forces analysis illustrates the potency of the buyers and suppliers operating in the industry.
The quantitative analysis of the market from 2021 to 2030 is provided to determine the market potential.
 Remittance Market Report Highlights
Aspects
Details
By Application

Consumption
Savings
Investment

By Remittance Channel

Banks
Money Transfer Operator
Others

By End User
By Region

North America (U.S., Canada)
Europe (France, Germany, UK, Italy, Spain, Rest of Europe)
Asia-Pacific (China, Japan, India, Philippines, Pakistan, Rest of Asia-Pacific)
LAMEA (Latin America, Middle East, Africa)

By Key Market Players

Bank of America
Citigroup Inc.
JPMorgan Chase & Co.
MoneyGram International Inc.
RIA Financial Services Ltd.
TransferWise Ltd.
UAE Exchange
Wells Fargo
Western Union Holdings Inc.
XOOM

COMPANY PROFILES: STARTUP'S
AZIMO LTD., .CWALLET, DENARII CASH, INSTAREM INDIA PVT. LTD., NOW MONEY, REMITNOW, .REMITR, SCI VENTURES, INC., SENDAH, SURECASH