The global remote towers market was valued at $318.7 million in 2021, and is projected to reach $1,033.3 million by 2031, growing at a CAGR of 11.7% from 2022 to 2031.
The COVID-19 impact on the remote towers market is unpredictable, and is expected to remain in force for a few years. The COVID-19 outbreak forced governments across the globe to implement stringent lockdown and ban import–export of essential raw material items for most of 2020, and few months in 2021. This led to sudden decline in availability of important raw materials. As a result of interrupted supply chains and production schedules caused by the COVID-19 pandemic, aviation production and sales suffered severely, which, in turn, negatively impacted the market for remote tower market in 2020. To prevent the spread of the COVID-19 virus, governments across the globe implemented strict lockdowns and made social distancing mandatory. Consequently, several organizations began work from home programs as precautionary measure. This led to a sudden decline in global demand for traveling, which has affected the market. However, vaccination drive enabled lowering of barriers to economic activity, as well as domestic and international travel. As the restrictions lifted, travel recovered quickly leading to increase in air traffic which expected to boost the market.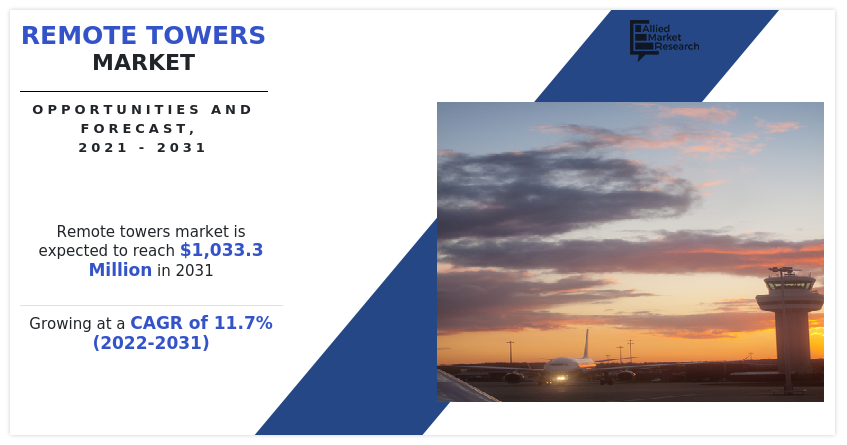 The remote towers market is segmented into Offerings, Application, End User and Operation Type.
Remote & virtual towers are used to regulate, assist, and maintain orderly air traffic operations remotely, unlike the local ground-based control tower. Remote towers are being adopted quickly by modern airports for faster & safe airport operation. For instance, in December 2018, Saarbrucken Airport (an airport in Saarland, Germany) deployed the Germany's first remote tower to control air traffic from a city Leipzig (a city in Germany), 450 KM away from Saarbrucken. This remote tower is operated by Deutsche Flugsicherung (DFS), the company in-charge of air traffic control for Germany. Such investments in remote & virtual towers is expected to increase air traffic management efficiency. Owing to this the major international airports across the globe are implementing remote tower solutions.
Factors such as need for better airspace management systems, increase in demand for cost effective air traffic control solution, and rise in the number of airports are anticipated to boost the growth of the global remote tower market during the forecast period. However, threat of cybersecurity and data breach and lack of standardization are expected to hinder the growth of the global market during the forecast period. Moreover, digitalization in air traffic management and rise in air-traffic are expected to create an opportunity for the market in near future.
Remote Towers Market

---
By Application
Communication is projected as the most lucrative segment
The remote tower market is segmented on basis of application, end user, operation type, offerings, and region. By application, it is divided into communication, information & control, flight data handling, surveillance, and visualization. By end user, it is divided into military airport and commercial airport. By operation type, it is divided into single, multiple and contingency. By offerings, it is segmented into hardware, software & solutions, and services.  By region, the market is analyzed across North America, Europe, Asia-Pacific and LAMEA.
The key players that operate in this remote towers market are ADACEL, Becker Avionics GmbH, DFS Deutsche Flugsicherung GmbH, EIZO Corporation, Frequentis Group, Indra Sistemas, Kongsberg Gruppen, L3Harris Technologies, Leidos, Leonardo S.P.A, Northrop Grumman Corporation, Raytheon Technologies Corporation, RETIA AS, ROHDE & SCHWARZ, SAAB AB, Searidge Technologies, and Thales Group.
Need of better airspace management systems
In accordance with the data releases by international civil aviation organization (ICAO), the number of departures reached about 37.8 million in 2018, which was a 3.5% increase over 2017. This data clearly indicates the increase in the global air traffic. This results in increased burden on the existing air space management solutions, which translates into high higher risk of the air fatalities. For instance, the global aviation accident rate increased to 2.6 accidents per million schedule departures for 2018, from 2.4 accidents per million scheduled departures in 2017.
Owing to this, there is a need for better airspace management solutions. A remote tower enables Air Traffic Control (ATC) services to be provided at an airport from a remote location, instead of from the conventional ATC tower situated at the airport.  The remote tower services use high resolution cameras, microphones, sensors, and a local processing system, which enables the air traffic controller to provide the same ATC services from remote location. Owing to all these factors, the demand for better airspace management system is expected to fuel the remote tower market. 
Remote Towers Market

---

By End User
Commercial Airport is projected as the most lucrative segment
Increase in demand for cost effective air traffic control solution
Remote towers can operate a single airport or multiple airports from a remote location. The use of remote towers saves money on civil infrastructure and air traffic control systems. Due to high air traffic control (ATC) tower costs, the operations of small- and medium-sized airports with low traffic is not cost effective. The remote towers systems can operate and control such multiple airports from a single location simultaneously and sequentially, according to a schedule. The cost of having independent towers at such airports is prohibitively expensive when compared to installing a high-tech camera system that relays video footage to a remote tower for ATC operations. Owing to this, many countries are implementing remote tower services for their air traffic management operations.
For instance, in 2019, first remote tower technology was installed in Norway. Moreover, by end of 2022, 15 airports in Norway are expected to implement remote towers technology for their operations. This is expected to be significantly less expensive than building separate towers at each of these airports. The remote towers will handle the increased passenger traffic at a much lower cost than upgrading and developing traditional air traffic control towers. The need to reduce the costs of air traffic management is expected to drive the demand for remote tower.
Threat of cybersecurity and data breach
According to the International Air Transport Association (IATA), cyber-attacks on aviation industry costs the airline industry$460 billion annually. In the next three years, cyber security is anticipated to account for a sizable chunk of over $33 billion in IT spending for airlines and airports. Hackers/attackers can take advantage of the software vulnerabilities of advanced system used in remote towers so as to exploit air traffic control (ATC) systems, which in turn could result in air traffic fatalities.
Remote Towers Market

---

By Operation Type
Contingency is projected as the most lucrative segment
In addition, in line with the report released by the U.S. Government Accountability Office (GAO), the cybersecurity weaknesses could lead to extreme disruptions and undermine the safety of the country's ATC system. Hence, to avoid such cyber-attacks, cybersecurity in air traffic management (ATM) becomes more of a priority. This requires companies and regulators to focus more on the technological solutions as well as potential applications of artificial intelligence (AI) and blockchain to avoid the potential risk of cyber threat. Such potential risk of cyber threat is expected to hamper the growth of the remote tower market.
Digitalization in air traffic management
The aviation industry is undergoing a significant technological transformation. Advanced technologies, such as unmanned aircraft & drones, digital airport technologies, and digital MRO are shifting the industry toward digitalization. Remote towers system is one of the newest and technologically advanced system, which replaces human out-of-the-window view with highly automated digital equipment. Moreover, the remote towers use aeronautical data and automated algorithms for digital anti-collision mapping and terrain mapping. For instance, ENAIRE and Indra Sistemas are working on digital control tower project through which they are developing remote provision for tower control traffic services.
This advanced solution is based on based on the application of augmented reality and artificial intelligence. This solution integrates the air traffic communications systems, air traffic control (ATC) and air traffic service (ATS) surveillance data with a panoramic visualization system and is equipped with innovative information and alert functionalities. Such developments are helping air traffic management system to shift from the visual operations to a new digitalized air traffic management system. Owing to all these factors, the digitization in air traffic management is expected to propel the remote towers market during the forecast period.
Remote Towers Market

---

By Region
Asia-Pacific would exhibit the highest CAGR of 6.9% during forecast period.
Key Benefits For Stakeholders
This report provides a quantitative analysis of the market segments, current trends, estimations, and dynamics of the remote towers market analysis from 2021 to 2031 to identify the prevailing remote towers market opportunities.
The market research is offered along with information related to key drivers, restraints, and opportunities.
Porter's five forces analysis highlights the potency of buyers and suppliers to enable stakeholders make profit-oriented business decisions and strengthen their supplier-buyer network.
In-depth analysis of the remote towers market segmentation assists to determine the prevailing market opportunities.
Major countries in each region are mapped according to their revenue contribution to the global market.
Market player positioning facilitates benchmarking and provides a clear understanding of the present position of the market players.
The report includes the analysis of the regional as well as global remote towers market trends, key players, market segments, application areas, and market growth strategies.
 Remote Towers Market Report Highlights
Aspects
Details
Offerings

Hardware
Software and solutions
Services

Application

Communication
Information and Control
Flight Data Handling
Surveillance
Visualization

End User

Military Airport
Commercial Airport

Operation Type

Single
Multiple
Contingency

By Region

North America (U.S., Canada, Mexico)
Europe (United Kingdom, Poland, Spain, Rest of Europe, Germany, France, Russia, Netherlands)
Asia-Pacific (China, India, Japan, South Korea, Asean, Rest of Asia-Pacific)
LAMEA (Brazil, UAE, Saudi Arabia, South Africa, Rest of LAMEA)

Key Market Players
SAAB AB, FREQUENTIS GROUP, THALES GROUP, INDRA SISTEMAS, RAYTHEON TECHNOLOGIES CORPORATION, L3HARRIS TECHNOLOGIES, NORTHROP GRUMMAN CORPORATION, SEARIDGE TECHNOLOGIES, LEONARDO S.P.A, KONGSBERG GRUPPEN, LEIDOS, RETIA A.S, ROHDE & SCHWARZ GMBH & CO., DFS DEUTSCHE FLUGSICHERUNG GMBH, BLACK BOX, BECKER AVIONICS GMBH, ADACEL