Renal Denervation Market Statistics - 2030
The global renal denervation market size was valued at $156,327.4 thousand in 2020, and is projected to reach $4,555,983.0 thousand by 2030, growing at a CAGR of 40.7% from 2021 to 2030. Renal denervation is a catheter-based, minimally invasive treatment for treating hypertension. Radio frequency ablation is used to burn the nerves in the renal arteries. Nerve activity is reduced andit lowers the blood pressure.In most situations, the operation is used when pharmacological therapy has failed to offer relief. Radiofrequency pulses or ultrasound are used to ablate the nerves of the renal artery wall. This decreases sympathetic kidney activity, resulting in lower blood pressure.
The outbreak of COVID-19 has disrupted workflows in the healthcare sector globally. The disease has forced a number of industries to shut their doors temporarily, including several sub-domains of healthcare. The COVID-19 pandemic led to disruptions in the healthcare facilities. The overall impact of the COVID-19 pandemic was negative on key players operating in renal denervation market.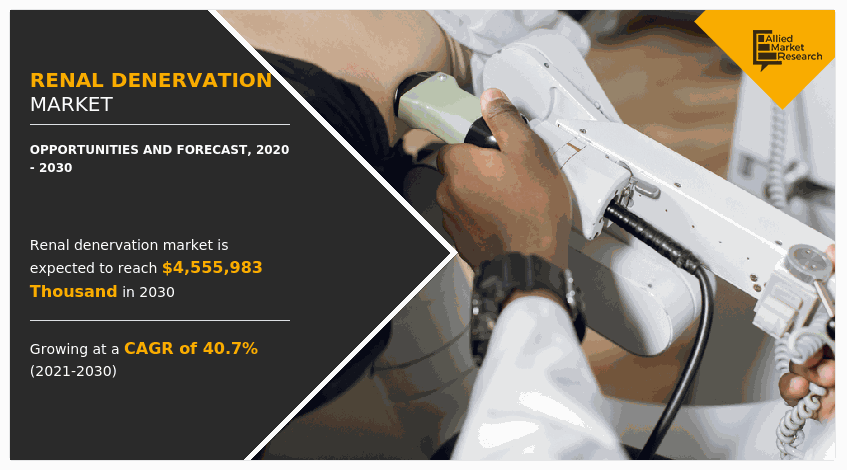 The renal denervation market size has expanded due to increase in change in lifestyle that lead to resistant hypertension and an increase in the prevalence of hypertension. Further, technological advancements that have led to the development of alternative technologies for renal denervation systems, such as micro-infusion have propelled the renal denervation market growth forward. In addition, over the last few years, the prevalence of hypertension has increased significantly, which causefluctuation of blood pressure throughout the day, but if it remains high for an extended period of time, it might harm one's heart and cause health concerns. According to the World Health Organization, about 1.28 billion individuals aged 30 to 79 years would be affected with hypertension by 2021. During the projected period, surge in occurrences of hypertension is likely to drive demand for renal denervation devices. However, the renal denervation industry expansion has been hampered by severe regulatory standards for renal denervation devices and negative reimbursements for the treatment.
The ultrasound-based renal denervation devices employ ultrasound to ablate nerves in the renal artery wall, disrupting nerve impulse transmission, and lowering blood pressure. It is minimally invasive treatment used to treat hypertension. The significant efficiency of ultrasound-based technologies demonstrated in trials is expected to boost their relevance and renew them. For instance, in October 2021, ReCor Medical, manufacturer of medical devices introduced Paradise Ultrasound Renal Denervation for the treatment of Hypertension in Europe. This renal denervation system is minimally invasive procedure for treating high blood pressure.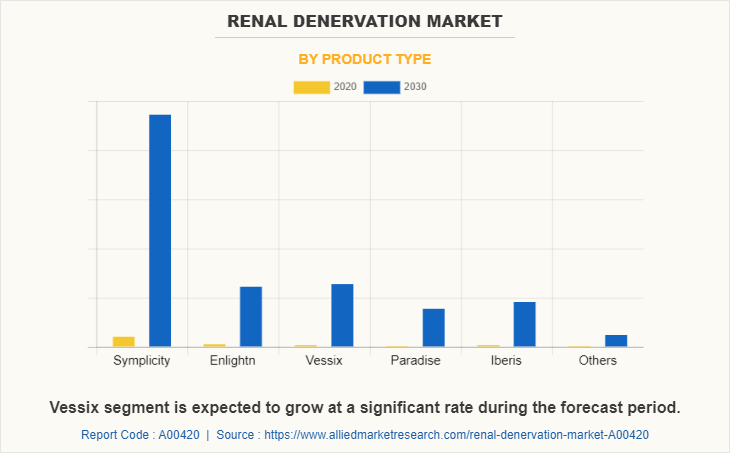 On the basis of product, symplicity accounted for the largest renal denervation market share in 2020. This system is being used most frequently to treat hypertension as it delivers low level radiofrequency energy and hence reduce the risk of radiations on body tissues due to high level radiofrequency. It also offers minimally invasive procedure to treat excessive hypertension.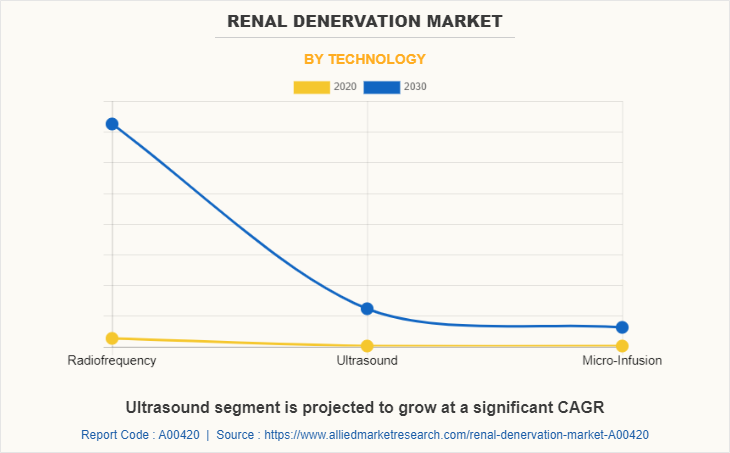 Radiofrequency was the most frequently used technology in the renal denervation market and it was the major segment in 2020. Radiofrequency renal denervation is an effective way to control resistant hypertension, and a one-time procedure is enough to lower the blood pressure levels up to two years.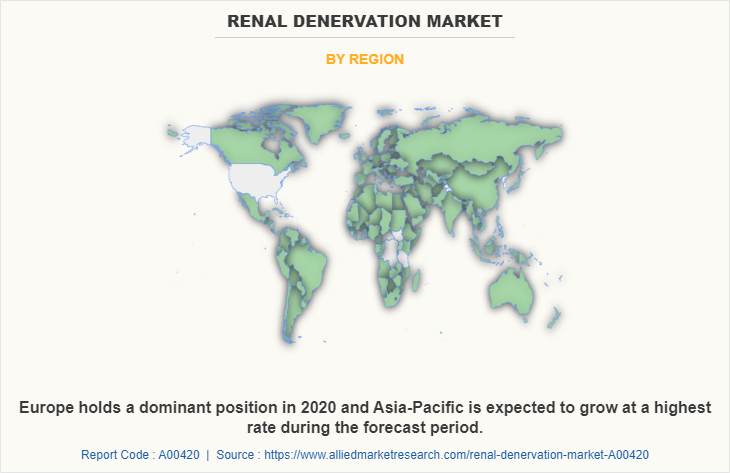 Based on region, Europe has accounted for largest share in 2020 and Asia-Pacific is projected to grow with high CAGR. Europe's high share is attributed to the early start of this technology in European countries. In addition, most of the devices in this market have received a CE mark approval and are available for sales in the European region. Whereas, in Asia-Pacific owning to presence of ample growth opportunities in terms of unmet medical needs for the treatment of hypertension, increase in awareness about the use of advanced technologies such as renal denervation systems, and high prevalence rate of resistant hypertension.
The novel coronavirus (COVID-19) rapidly spread across various countries and regions in 2019, causing an enormous impact on lives of people and the overall community. It began as a human health condition and has now becomea significant threat to global trade, economy, and finance.The COVID-19 pandemic halted production of many products in the renal denervation market, owing to lockdowns. Furthermore, the number of COVID-19 cases is expected to reduce in the futurewith the introduction of the vaccine for COVID-19 in the market. This has led to the reopening of renal denervation companies at their full-scale capacities, which is anticipated to help the market recover by the start of 2022.After COVID-19 infection cases begin to decline, equipment &machinery producers must focus on protecting their staff, operations, and supply networks to respond to urgent emergencies and establish new methods of working.
The market is segmented on the basis ofproduct, technology, and geography. On the basis of product, the market is divided into symplicity, enligHTN, vessix, paradise, and, iberis. On the basis of technology, the market is divided into radiofrequency, ultrasound, and micro-infusion. On the basis of end user, the market is divided into hospitals, specialty clinics, and others. Region wise, the market analysis is conducted across North America (the U.S., Canada, and Mexico), Europe (the UK, France, Germany, Italy, and Rest of Europe), Asia-Pacific (China, Japan, India, Australia, and Rest of Asia-Pacific), and LAMEA (Latin America, the Middle East, and Africa).
Key Benefits For Stakeholders
The report provides an extensive analysis of the current and emerging renal denervation market trends and dynamics. 

In-depth renal denervation market analysis is conducted by constructing market estimations for key market segments between 2021 and 2030.

Extensive analysis of the renal denervation market growth is conducted by following key product positioning and monitoring of top competitors within the market framework.

The report includes renal denervation market opportunity. 

The global renal denervation market forecast analysis from 2021 to 2030 is included in the report.

The key players within renal denervation market are profiled in this report and their strategies are analyzed thoroughly, which help understand the competitive outlook of the renal denervation industry.
 Renal Denervation Market Report Highlights
Aspects
Details
By Product Type

Symplicity
Enlightn
Vessix
Paradise
Iberis
Others

By TECHNOLOGY

Radiofrequency
Ultrasound
Micro-Infusion

By END USER

Hospitals
Specialty Clinics
Others

By Region

Asia-Pacific (China, India, Japan, Australia, Rest of Asia-Pacific)
Europe (Germany, France, UK, Italy, Rest of Europe)
LAMEA (Latin America, Middle East, Africa)
North America (U.S., Canada, Mexico)

Key Market Players
Boston Scientific Corporation, Cardiosonic Ltd, terumo corporation, ReCor Medical, Inc, Mercator MedSystems, Inc, Renal Dynamics Limited, Abbott Laboratories, Johnson & Johnson, Ablative Solutions, Inc, Medtronic plc