Renewable Methanol Market Overview
The global renewable methanol market was valued at $3.3 billion in 2019, and is projected to reach $5.3 billion by 2027, registering a CAGR of 5.8%. Renewable methanol is a second-generation methanol derived from renewable energy sources, mainly from biomass and industrial wastage. It is an important input for biodiesel production, which can be processed as a chemical feedstock or blended in automobile fuels. The production of renewable methanol is similar to conventional methanol where carbon dioxide is substituted for carbon monoxide. It has high octane rating, owing to high hydrogen to carbon ratio and helps in curbing greenhouse effects on the environment.
The global renewable methanol market growth is driven by rise in carbon dioxide emissions coupled with stringent environmental regulations to reduce the impact of carbon dioxide. This factor is expected to fuels the demand for renewable methanol with application in the transportation and industrial sectors. Moreover, the conversion of agricultural and industrial wastages into renewable methanol is also expected to create potential growth opportunities for the market in the coming years. Biomass is the primary source of generation of renewable methanol. Therefore, the market is expected to create lucrative growth opportunities, owing to its application in various solvents and chemical feedstock.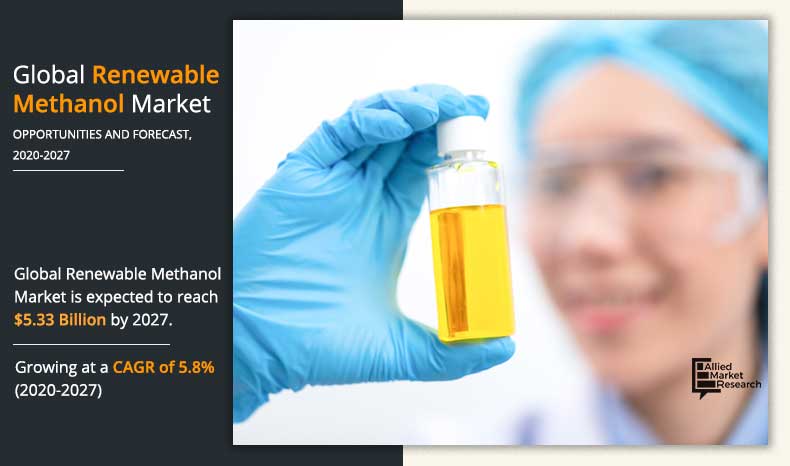 Furthermore, high-octane fuel ethers such as Methyl-tert-butyl-ether (MTBE) used in the production of biodiesel are likely to witness growth with increase in demand from the automobile and transportation end-use segments. Moreover, growth in demand for production of formaldehyde from methanol is expected to drive the renewable methanol market with major applications in paints & coatings and construction. However, lack of infrastructural setups is expected to hinder the market growth. On the contrary, growing environmental regulations on reducing greenhouse gases coupled with R&D are anticipated to boost the market growth.
Renewable Methanol Market

---
By Feedstock
CO2 Emission is projected as the most lucrative segment.
The global renewable methanol market is segmented on the basis of feedstock, application, end-user industry, and region. Based on feedstock, the market is segmented into agricultural waste, forestry residues, municipal solid waste, Co2 emissions, and others. The municipal solid waste segment was the highest contributor in the global renewable methanol market size in 2019. Municipal solid waste is used increasingly for producing renewable methanol. Around 1.3 billion metric tons of this waste is produced globally every year and it is expected to increase to around 2.2 billion metric tons by 2025. By utilizing it for the production of renewable methanol, unrecyclable garbage can be utilized in an efficient way and pressure on landfill sites could be relieved.
Renewable Methanol Market

---
By Application
Other Segment is projected as the most lucrative segment.
On the basis of application, the market is fragmented into formaldehyde, dimethyl ether (DME, also known as methoxymethane) and methyl tert-Butyl Ether (MTBE), gasoline, solvents, and others. Renewable methanol is utilized in number of end-user industries. It is used as a source of energy for power plants as well as for automotive or shipping fuel. In addition, it can also be used as a chemical building block in chemical products. Based on end-user industry, the global renewable methanol market is segmented into chemical, transportation, and power generation. 
Renewable Methanol Market

---
By End-user Industry
Power Generation is projected as the most lucrative segment.
Region wise, the renewable methanol market analysis is done across North America, Asia-Pacific, Europe, and LAMEA.  Asia-Pacific was the highest revenue contributor and is estimated to grow with a CAGR of 5.4%. Leading provider of methanol technology are partnering with each other to promote the use of renewable methanol production. Geely Holdings and Zixin Industrial Co are among them and are establishing renewable methanol production facilities in China. Further, China signed an agreement with Enerkem to build 100 advanced biofuels facilities by 2035. 
Renewable Methanol Market

---
By Region
Asia-Pacific holds a dominant position in 2019 and is expected to grow with a CAGR of 5.4% during the forecast period.
These ongoing developments are expected to fuel the demand for renewable methanol and hence are predicted to escalate the market growth. Japan is an extensive consumer of renewable methanol and is contributing notably in developing methanol production technology. Asia-Pacific and Europe collectively accounted for around 79.0% share in 2019, with the former constituting around 61.0% share. North America and Europe are expected to witness considerable CAGRs of 7.7% and 6.7%, respectively, during the forecast period.
The top market players analyzed in the global renewable methanol market include Advanced Chemical Technologies, BASF SE, Carbon Recycling International (CRI), Enerkem, Fraunhofer, Innogy, Nordic Green, OCI N.V., Serenergy A/S, and Sodra. In order to stay competitive, these market players are adopting different strategies such as product launch, partnership, merger and acquisition. In an instance, Advanced Chemical Technologies started new production of methanol from carbon dioxide in the TransAlta Bluewater Energy Park from 2020. This will expand company's market size targeting new customer segments.
Key benefits for stakeholders
The report provides extensive qualitative and quantitative analyses of the current renewable methanol market trends and future estimations of the market size from 2019 to 2027 to determine the prevailing opportunities.

Comprehensive analysis of factors that drive and restrict the growth of the renewable methanol market share is provided.

Estimations and forecast are based on factors impacting the market growth, in terms of both value and volume.

Profiles of leading players operating in the renewable methanol market has been provided, and this helps in understanding the competitive scenario.

The report provides extensive qualitative insights on the significant segments and regions exhibiting favorable market growth.

The renewable methanol market forecast is done from 2020-2027.
 Renewable Methanol Market Report Highlights
Aspects
Details
By Feedstock

Agricultural Waste
Forestry Residues
Municipal Solid Waste
Co2 Emissions
Others

By Application

Formaldehyde
Dimethyl Ether (DME, also known as Methoxymethane) and Methyl tert-Butyl Ether (MTBE)
Gasoline
Solvents
Others

By End Use Industry

Chemicals
Transportation
Power Generation
Others

By Region

North America (U.S., Canada, Mexico)
Europe (Germany, UK, Sweden, Denmark, France, Italy, Spain, Rest of Europe)
Asia-Pacific (China, Japan, India, Australia, South Korea, Rest of Asia-Pacific)
LAMEA (Brazil, Saudi Arabia, South Africa, Rest of LAMEA)

Key Market Players
ADVANCED CHEMICAL TECHNOLOGIES, BASF SE, CARBON RECYCLING INTERNATIONAL (CRI), ENERKEM, FRAUNHOFER, INNOGY, NORDIC GREEN, OCI N.V., SERENERGY A/S, SODRA