The U.S. Food and Drug Administration (FDA) defines reusable medical devices as those "devices that health care providers can reprocess and reuse on multiple patients." Disinfection, appropriate cleaning, remanufacturing, quality check, disinfecting, packaging and labelling of the devices are the factors emphasized upon in order to put the medical devices to service again. Reprocessing of any medical device is a regulated activity for conducted by third party or hospitals. The U.S. Food and Drug Administration (FDA) mandates third-party device reprocessors to match the original standards of manufactured single-use devices. Efficacy, life cycle are the elements considered while reprocessing a medical device along with potential risk to the patient.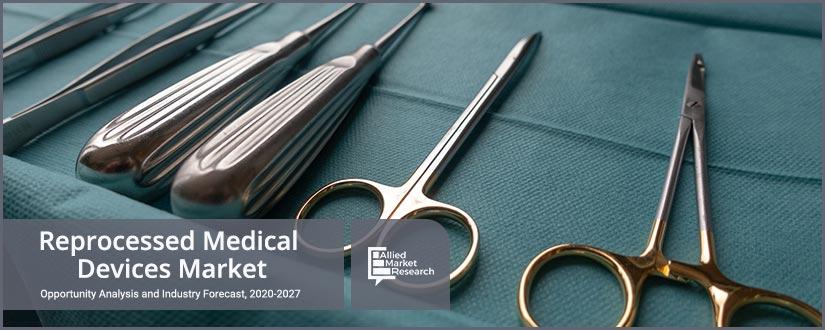 For regulation of safety of reprocessed devices, FDA developed a three-class categorization system. Class I 'no-critical' devices pose a minimum risk of harm; 47% of devices fall in this category. Class II 'semi critical' devices that pose some or unknown risk; about 43% of all devices are included in this class. Class III 'critical' device pose higher or unknown risk; about 10% of devices fall into this category.
COVID – 19 scenario analysis:  
The COVID-19 pandemic has emerged as a humanitarian as well as economic crisis, creating strain on the society and affecting millions of people and businesses
Industry closures and people are asked to stay in their homes which has cause taken a huge toll in terms of money and economic growth
Over 4 million people affected globally, with 300 thousand losing their lives due to novel coronavirus
Healthcare organizations are already working in battle mode, preparing new plans to respond growing COVID-19 patients, right from sourcing rapid diagnosing kits to sufficient PPE kits for workers
Due to diversion of medical field towards treating COVID-19, the funding to R&D activities related to reprocessed medical devices has been reduced and this segment have to face negligence subsequently causing negative impact on reprocessed medical devices market
Top impacting factors: Market Scenario Analysis, Trends, Drivers and Impact Analysis
Recent advancements in the field of medical science and therapeutics, demand for minimally invasive surgical and diagnostic procedures with less involvement in post-surgical complications have pushed the development of innovative solutions and improvised medical devices. Evolution in engineering and material sciences has made these upgradations possible. These advancements are contributing to this reprocessed medical devices market. 
Health care organizations are seeking solutions for cutting on the costs by reprocessing the medical devices instead of using a single-use device once and discarding. Studies have found that reusing a single-use device is greener, resulting in less medical waste generation which would be beneficial for the environment. Medical waste amplifies the landfills and has significant charges to avail proper bio waste disposal service. Regulated medical waste (RMW) costs approximately 5 to 10 times more in comparison to the disposal of regular solid waste thereby increasing expenditure. Various health care providers observed that reusable and single-use devices are almost identical and proper reprocessing of devices would cause no harmful effects on the users. Association of Medical Device Reprocessors (AMDR), stated use of single-use devices checks the expenditure and saves up to 50% of the hospital cost and reduces the amount of generated medical waste significantly. These factors are further fueling the growth of reprocessed medical
devices market.
In addition, developing countries and countries with limited resources, where cost of the healthcare decides the treatment and costs need to be brought down drastically, reusing single-use devices possessing capability to be reprocessed for reusability is clinical to cut down costs of healthcare services. This will surge the demand for reprocessed medical devices propelling the reprocessed medical devices market growth.
On the contrary, inappropriate sterilization and disinfection practices and non-compliance with the issued guidelines by FDA can increase the potential outbreaks and surgical site infections within the patients which may cause hindrances in reprocessed medical devices industry growth. 
Rising environmental degradation to reduce medical waste to drive the market
The need to reduce degradation of environment and cut down the costs of healthcare services to provide efficient healthcare services at affordable costs in developed as well as developing economies is the prime driving factor for the reprocessed medical devices market. Association of Medical Device Reprocessors (AMDR) stated that hospitals can cut down expenditures and could potentially save up to $ 2 million per year by optimum integration of reprocessed medical devices. Another prime drivers fueling market growth are the rising awareness about environmental concerns and environmental issues owing to the rising amount of medical waste generated from single use of disposable medical devices that are discarded after one use.
Efforts in the past few years by the emerging economies and middle income countries to reduce the expenditure and provide cost-effective and appropriate medical services has helped the market to expand in developing countries as well. Furthermore, rising emphasis of several industry players to produce and process medical devices with compliance to environmental guidelines to reduce the generation of waste is set to boost the market growth for reprocessed medical devices globally.
North American region dominates the market 
North America is expected to lead the reprocessed medical devices market throughout. The dominance is due to factors like rise in the global prevalence of cardiovascular diseases and higher adoption of technology in the region. According to Centers for Disease Control and Prevention, cardiac diseases are a leading cause of death in American men. As per the American Heart Association, in 2018, nearly 92.1 million individuals in the U.S. suffered from cardiovascular diseases resulting higher demand for affordable treatment and cost effective therapies is propelling the market in the United States. Drastic rise in healthcare expenditure and high strain to get better health outputs at lower costs, availability of a well-developed infrastructure and presence of major industry are the other factors fostering the market in the near future.
Key benefits of the report:
This study presents the analytical depiction of the global reprocessed medical devices industry along with the current trends and future estimations to determine the imminent investment pockets.
The report presents information related to key drivers, restraints, and opportunities along with detailed analysis of the global reprocessed medical devices market share.
The current market is quantitatively analyzed from 2020 to 2027 to highlight the global reprocessed medical devices market growth scenario.
Porter's five forces analysis illustrates the potency of buyers & suppliers in the reprocessed medical devices market.
The report provides a detailed global market analysis based on competitive intensity and how the competition will take shape in coming years.
Questions answered in the Reprocessed Medical Devices Market research report:
Who are the leading market players active in the reprocessed medical devices market?
What are the current trends that will influence the market in the next few years?
What are the driving factors, restraints, and opportunities in the market?
What are the projections for the future that will help in taking further strategic steps?
 Reprocessed Medical Devices Market: Global Opportunity Analysis and Industry Forecast, 2020-2027 Report Highlights
Aspects
Details
By Product

Cardiovascular Medical devices
Laparoscopic Instruments
Orthopedic Devices
Gastroenterology Devices
General Surgery Devices

By Application

Cardiology
Gastroenterology
Arthroscopy
Orthopedic

By End Users

Hospitals
Medical Laboratories
Specialty Care Centers

By Region

North America (US, Canada, Mexico)
Europe (France, Germany, UK, Italy, Spain, rest of Europe)
Asia-Pacific (Japan, China, India, Australia, South Korea, rest of Asia-Pacific)
LAMEA (Brazil, South Arabia, South Africa, rest of LAMEA)

Key Market Players
Ethicon Inc. (Johnson & Johnson Services), GE Healthcare, Stryker Corporation, SureTek Medical, Innovative Health, Medline Industries Inc., Medtronic PLC, ReNu Medical (Arjo), Teleflex Incorporated, Vanguard AG