The global reusable launch vehicle market is expected to be valued at $1.38 billion in 2025, and is projected to reach $3.56 billion by 2035, growing at a CAGR of 10.3% from 2026 to 2035.
The COVID-19 impact on the reusable launch vehicle market is unpredictable, and is expected to remain in force for a few years. Due to revenue crunch and rise in maintenance costs were two of the major challenges adversely affecting the rocket and space launch vehicle manufacturers. Furthermore, the reduced GDP of major economies such as the U.S., UK, China, France, India, Germany, and others in 2020 was anticipated a drop in investment in the aerospace and defense industry. Moreover, the start-ups are particularly vulnerable to the COVID-19 crisis, major concern of start-ups in the space industry is the lack of visibility of future contacts with clients. Furthermore, the restrictions on international travel and cancellations of conferences and trade fairs also make tasks much more difficult to make new business deals. For instance, in March 2020, OneWeb, a company that develops services for satellite broadband in the low-earth orbit, has filed for bankruptcy protection after its failure to raise funds for completing its constellation. Further, a German survey specifically targeting space start-ups reveals that almost 40% of respondent's companies reported the impacts of COVID-19 are threatening the existence of their firm and 80% of surveyed start-ups reported existing government support measures insufficient. The reduction in aerospace and defense spending has had a negative impact on space launch vehicle development and deployment plans, particularly reusable launch vehicles. However, post pandemic, the satellite industry saw a huge increase in demand, which also resulted in rise in demand for space carrier rockets or launchers. Furthermore, the governments around the globe have increased their focus on space as a priority either for space exploration or for the national defense. For instance, the space industry across the world has launched more than 1,200 satellites in 2020, which is more than in any other past years. These developments are expected to boost the growth of the market in near future. Moreover, the increase in commercial space launch by private companies namely SpaceX, Virgin Galactic, and Blue Origin, among others in 2021 is expected to revive the growth of the market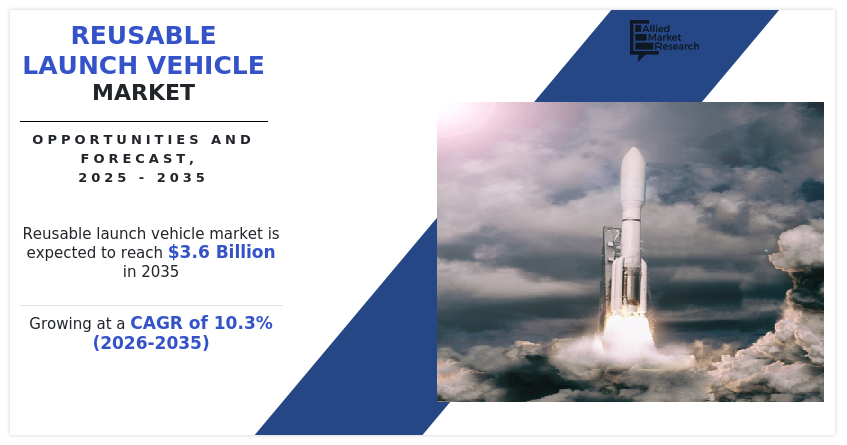 The reusable launch vehicle market is segmented into Vehicle Weight, Reusable Type, Configuration, Application, Type and Landing Systems.
Reusable launch vehicle is defined as a vehicle that is designed to launch the payloads into an orbital or suborbital trajectory. These vehicles can return/recovered on the earth and is reused for a subsequent future launch. Moreover, the rockets have the ability to launch satellites and transport goods and personnel to space stations, the Moon, and Mars, among other uses. Developed economies are concentrating their efforts on the development of reusable rockets to reduce launch costs and delays. For instance, the U.S. government gave SpaceX permission to launch reused rockets for military missions in June 2021. Increase in number of launches every year carrying payloads such as satellites, cargos, and testing probes for orbital, lunar, and interplanetary missions, is driving the reusable launch vehicle market. Rockets and rocket propulsion systems have undergone recent advancements, which are projected to give a lucrative possibility for market expansion. For instance, in July 2021, New Shepard rocket manufactured by Blue Origin was launched to space along with 4 astronauts. The reusable suborbital rocket system was used to demonstrate crewed flight mission capabilities of the New Shepard rocket.
Factors such as rise in space exploration missions from private sector, and increase in government investment in space exploration activities are anticipated to boost growth of the global reusable launch vehicle market during the forecast period. However, high cost involved in the development of reusable rocket, and heightened emissions due to rise in number of space launches are expected to hinder growth of the global reusable launch vehicle market during the forecast period. Moreover, rise in demand for space tourism, and surge in demand for satellite data are expected to create opportunities for the market in the future.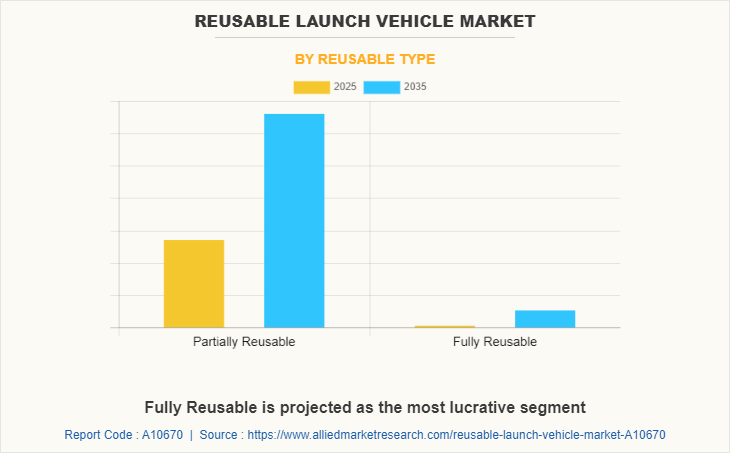 The reusable launch vehicle market is segmented on the basis of vehicle weight, reusable type, configuration, application, type, landing systems and region. Based on vehicle weight, it is divided into Up to 4000 lbs, 4000 to 9000 lbs, and Over 9000 lbs. Based on reusable type, it is segmented into partially reusable, and fully reusable. By configuration, it is divided into single stage, and multi stage. By application, the market is divided into commercial, and defense. By type, it is divided into orbital, and sub orbital. By application, the market is divided into braking, horizontal, vertical, and others. By region, the market is analyzed across North America, Europe, Asia-Pacific and LAMEA. 
Key players that operate in this reusable launch vehicle market include ArianeGroup, Blue Origin, China Academy of Launch Vehicle Technology, European Space Agency, Galactic Energy, ISRO, I-space (Beijing Interstellar Glory Space Technology Co., Ltd.), LinkSpace Aerospace Technology, Group, National Aeronautics and Space Administration (NASA), NPO-Energia (S.P. Korolev Rocket and Space Public Corporation), Orbex, PLD Space, Relativity Space, Rocket Lab USA, Inc., State Space Corporation, ROSCOSMOS, SpaceX, and United Launch Alliance, LLC
Rise in space exploration missions from private sector
Private companies are increasingly involved in space exploration, and the number of collaborations between government and private space agencies as well as agreements and outsources, including sourcing of different electrical parts & ancillary equipment, modern propulsion systems, robotic gadgets, and software development, have increased in the recent years. Amazon and SpaceX have revealed plans to colonize the moon and Mars, accordingly. For instance, in February 2022, CEO of SpaceX, Elon Musk announced SpaceX's megarocket Starship that will one day take people and cargo to the moon, Mars, and other destinations in space. Such developments in space exploration for space tourism are expected to enhance spacecraft manufacturing capabilities and create demand for advanced space propulsion systems during the forecast period.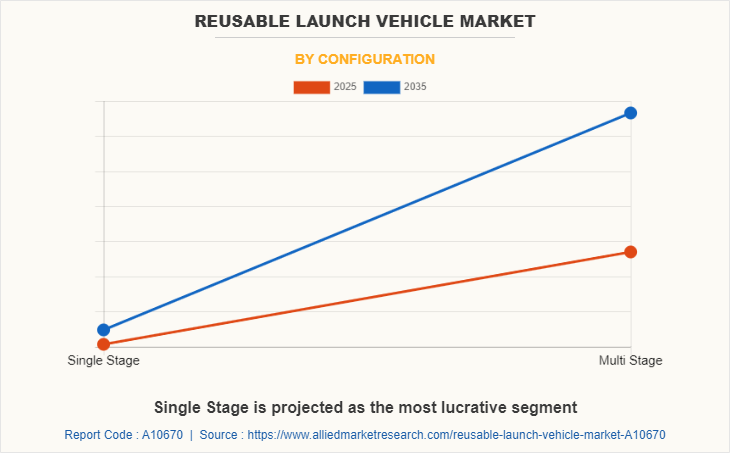 Moreover, space exploration has resulted in the research and construction of more dependable and efficient propulsion systems and spacecraft, lowering the possibility of system failure and increasing mission success rates. This factor pushed organizations and market players to develop new efficient propulsion systems for space missions. For instance, in January 2021, ISRO issued an invitation for "expression of interest" for design and modeling; simulation and analysis; testing and qualification of 100W Radioisotope Thermoelectric Generator (RTEG) without radio isotope, an alpha source thermoelectric propulsion technology.
In order to cater the growing demand for space exploration mission companies are manufacturing reusable launch vehicles. For instance, SpaceX provides Falcon 9 two stage reusable rocket transport of people and payloads into Earth orbit and beyond. Such developments in space propulsion systems are due to increase in space exploration missions, are expected to drive the growth of the reusable launch vehicle market during the forecast period. 
Increase in government investment in space exploration activities
Over the last decade, more than 20 space exploration or planetary missions have been launched by countries such as the U.S., India, China, Russia, Japan, and agencies such as the European Space Agency. The government budget across the globe is increasing every year. The governments are investing in sponsoring space exploration missions and supporting infrastructure. There were times when lack of monetary resources restricted the space programs. Today, the situation has turned owing to the high competition in the space industry. Many nations are investing in launch vehicles and facilities to be a launch capable nation and stay ahead in the space race. For instance, in 2019, the National Aeronautics and Space Administration (NASA) had $19,500 million, China National Space Administration (CNSA) had $11,000 million, and European Space Agency (ESA) had $6,300 million government budget for the space industry. Thus, the increased spending & governments space investment in such activities drives the space launch services which in turn expected to propel the reusable launch vehicle market during the forecast period.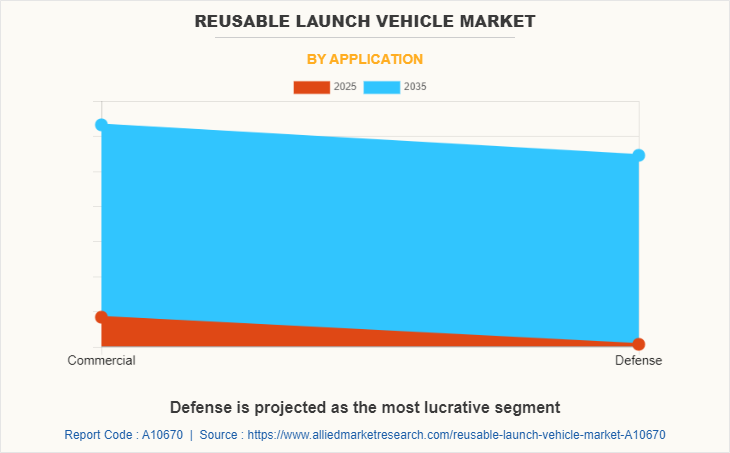 High cost involved in the development of reusable rocket
Reusable rockets are a developed using sophisticated technologies and modern materials that are both strong and light, such as aerospace-grade aluminum or titanium. The cost of a reusable rocket is increased by the adoption of advanced technology and modern hardware, which limits reusable rocket development. For instance, Virgin Galactic's successful launch into space in July 2021 was valued $841 million. The spaceship was launched into orbit using Virgin Galactic's passenger rocket aircraft VSS Unity. The hefty expenses of developing a carrier rocket prevent new manufacturers from entering the market. The high costs related to reusable rocket act as a challenge for the growth of the reusable launch vehicle market during the forecast period.
Surge in demand for satellite data
Satellites offer an almost limitless range and scope of services that they can provide. The global need for satellite-based services such as surveillance for military, environmental, and public safety applications, navigation & positioning, vehicle monitoring, and telephony is rapidly escalating. The telecommunications industry—which has been exploiting space for years and is a crucial component of the global infrastructure for communications, commercial & government data transmission, and applications—is expected to increase demand for medium and small satellites, which eventually fosters the demand for satellite propulsion systems.
Moreover, the demand for earth observation (EO) data is increasing for a wide range of applications, including scientific research, environment, and metrology. Satellites, including CubeSats, can now transfer terabytes of data and photographs of the earth in real time, enabling a wide range of artificial intelligence (AI)-driven applications that reveal previously unavailable insights on world scale economic, social, and industrial activities. The demand for satellite data is being driven by security in military operations and money transfer applications. In addition, CubeSats are increasingly being used for earth observation due to their low cost and rapid construction cycle. CubeSat systems with various spectral, radiometric, and spatial sensors have been launched over the years for optical EO and associated services. For instance, Planet Labs Inc. released the Flock-4e'1 to Flock-4e'9 constellations in 2020. In addition, Hera-1 (2019), Tianyan-02 (2019), and NAPA-1 (2020) were launched by Hera Systems, ADA Space, and the Royal Thai Air Force to collect and evaluate earth's resources. Such usage and launching operations of Cubesats and satellites for providing satellite data boost the key players to develop propulsion systems for these satellites. For instance, in August 2021, VACCO Industries presented a SmallSat propulsion system overview at a virtual booth for a SmallSat propulsion presentation. Thus, surge in demand for satellite data is anticipated to drive the need for satellites and satellite launch vehicle which in turn will propel the reusable space launch vehicle market.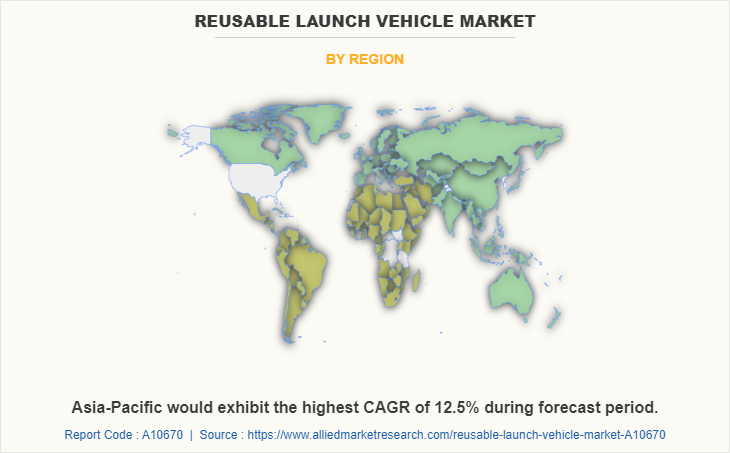 Key Benefits For Stakeholders
This report provides a quantitative analysis of the market segments, current trends, estimations, and dynamics of the reusable launch vehicle market analysis from 2025 to 2035 to identify the prevailing reusable launch vehicle market opportunities.
The market research is offered along with information related to key drivers, restraints, and opportunities.
Porter's five forces analysis highlights the potency of buyers and suppliers to enable stakeholders make profit-oriented business decisions and strengthen their supplier-buyer network.
In-depth analysis of the reusable launch vehicle market segmentation assists to determine the prevailing market opportunities.
Major countries in each region are mapped according to their revenue contribution to the global market.
Market player positioning facilitates benchmarking and provides a clear understanding of the present position of the market players.
The report includes the analysis of the regional as well as global reusable launch vehicle market trends, key players, market segments, application areas, and market growth strategies.
 Reusable Launch Vehicle Market Report Highlights
Aspects
Details
By Vehicle Weight

Up to 4000 lbs
4000 to 9000 lbs
Over 9000lbs

By Reusable Type

Partially Reusable
Fully Reusable

By Configuration
By Application
By Type
By Landing Systems

Braking
Horizontal
Vertical
Others

By Region

North America (U.S., Canada)
Europe (Russia, Germany, Spain, Rest Of Europe)
Asia-Pacific (China, India, Japan, New Zealand, Rest Of Asia-Pacific)
LAMEA (Iran, Isreal, Rest Of LAMEA)

Key Market Players
LinkSpace Aerospace Technology, Group, ISRO, Galactic Energy, PLD Space, Rocket Lab USA, Inc., United Launch Alliance, LLC., European Space Agency, National Aeronautics and Space Administration (NASA), Relativity Space, Orbex, SpaceX, I-space (Beijing Interstellar Glory Space Technology Co., Ltd.), China Academy of Launch Vehicle Technology, ArianeGroup, Blue Origin, NPO-Energia, State Space Corporation ROSCOSMOS