RFID Locks Market Outlook 
The global RFID locks market size was $2.92 billion in 2019, and is expected to reach $9.93 billion by 2027, growing at a CAGR of 19.40% from 2020 to 2027. A radio frequency identification (RFID) lock, also known as IC card lock, is the electronic lock that adopts a radio frequency card as the key. With the help of RFID technology, the RFID card can be contactless to open the lock while the old-style contactable card requires physical contact with a reader. The RFID technology is recognition system that works with the help of electromagnetic waves to transmit signals. In addition, for home use, the RFID lock system is not used to replace the mechanical lock due to the cost and the traditional concept. Moreover, RFID door locks can be effective or ineffective in real-time operation. At the same time, the validity of the RFID card is under control as the valid period of the RFID card can also be set. 
RFID technology plays a vital role in the government, residential, and other sectors. The safety and security of personal assets & information and law enforcements are the major concerns behind the adoption of RFID technology in the government sector. Several government organizations and forensic departments use RFID locks for access control of sensitive centers of information, employee authentication, and others.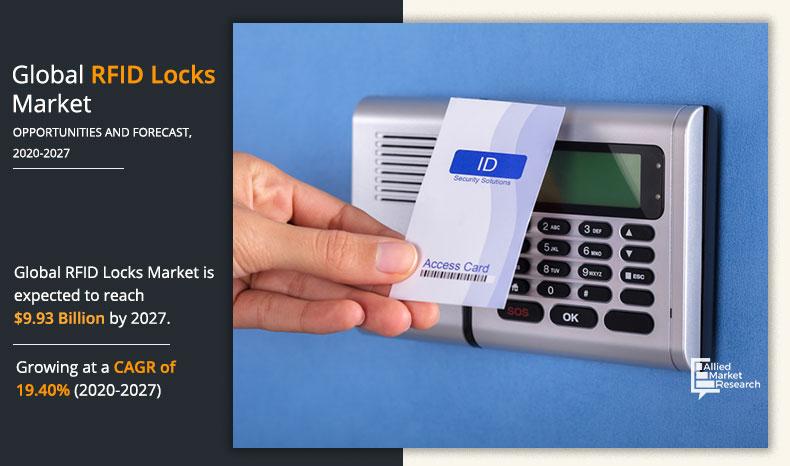 In addition, commercial sectors, especially banking & finance sectors & enterprises, have adopted RFID locks technology for various applications, including PC/network access and physical access in an effort to provide strong authentication and security mechanisms. RFID locks are considered great for hotels, hospitals, dormitory, and commercial buildings. Rising adoption of RFID locks in commercial and government sectors is expected to provide lucrative growth opportunities for the RFID locks market.   
The prominent factors that drive the RFID locks market share include high usage of RFID locks in commercial and government sectors and high adoption of smartphones. High usage of smartphone and the penetration of its numerous features in day-to-day activity are providing lucrative opportunities for the RFID locks market growth. In addition, the user-friendly experience of mobile phones and their application are allowing companies to offer their product services right into the customer's hand by enabling them to control the RFID door locks more proficiently & handily. This is the most prominent attraction for the customers that is expected to increase the smart lock user base, thereby supporting the growth of the RFID locks market and increasing the demand for access control systems with near field communication (NFC). 
The most common use of RFID in access control system is in door entry systems for personnel. RFID-enabled tags are usually employed at a very basic level as identification badges for workers and provide a simple solution for any company or industry, which uses access control systems. In addition, RFID technology is popularly employed in access control systems to allow only authenticated and authorized personnel to enter secure spaces. 
RFID Locks Market

---
By Access Device
Key Cards segment is projected as one of the most lucrative segments.
RFID is a favored choice for several uses aside from office management such as supply chain inventory, parking garage gate control, and retail checkout lines. Rising demand for access control systems with NFC technology creates lucrative opportunities for the RFID locks market. However, one of the major restraints is the unaffordable prices of security solutions. On the contrary, high development of smart home is anticipated to provide lucrative opportunities for the expansion of the RFID locks industry during the forecast period. The rising adoption of smart home architecture across the globe that includes features, such as remote access, voice control, and seamless connectivity, is further boosting the adoption of RFID locks for the residential sector. RFID locks enable advanced security features, which have become increasingly popular, owing to increasing safety & security concerns across various end users, including hospitality, government and educational institutions, residential premises, and several corporate buildings. These factors are expected to create lucrative opportunities for the RFID locks market. 
The global RFID locks market is segmented into access device, end user, and region. On the basis of access device, the market is classified into key cards, mobile phone, and wearables. Depending on end user, the market is fragmented into residential, hospitality, automotive, government, retail, BFSI, and other. Region-wise, the RFID locks market trends are analyzed across North America (the U.S., Canada, and Mexico), Europe (Germany, the UK, France, and rest of Europe), Asia-Pacific (China, Japan, South Korea, India, and rest of Asia-Pacific), and LAMEA (Latin America, Middle East, and Africa). North America accounted for the highest market share, owing to increase in adoption of smart locks and rise in sale of RFID locks.  
RFID Locks Market

---
By End User
Residential segment is expected to secure leading position during forecast period.
Top Impacting Factors
The prominent factors that drive the growth of the RFID locks market size include high usage of RFID locks in commercial and government sectors, high adoption of smartphones, and high demand for access control systems with near field communication (NFC). However, unaffordable prices of security solutions restrict the market growth. Conversely, high development of smart home creates lucrative opportunities for the RFID locks market.   
Competition Analysis
Competitive analysis and profiles of the major players operating in the market, such as Honeywell International Inc., Godrej & Boyce Manufacturing Company Ltd, Assa Abloy Group, Samsung Electronics Co Ltd, Dormakaba Holdings AG, Allegion plc, Spectrum Brands, Inc., MIWA Lock Co., OJMAR, S.A., and Hettich Holding GmbH & Co. oHG, are provided in this report.
RFID Locks Market

---
By Region
Asia-Pacific region would exhibit the highest CAGR of 22.60% during 2020-2027
Covid-19 Impact Analysis
The global RFID locks market has been significantly impacted by the COVID-19 outbreak. Production facilities of smart locks have been halted, owing to the slowdown and unavailability of the workforce across the globe. COVID-19 outbreak has caused a significant and protracted drop in manufacturing utilization while travel bans & facility closures kept workers out of their factories, which led to slowdown in the growth of the RFID locks market in 2020. 
Social & physical distancing and other restrictions have now become a part of our lives and will influence our behavior for the foreseeable future. Post COVID-19, consumers, enterprises, and governments are expected to focus notably on keeping workplaces safe and clean. There is a long list of action items required that include regular decontamination of offices and factories, wearing masks, social distancing, and mandatory compliance with corporate apps that track employee health and movement.
The COVID-19 pandemic has severely impacted the automotive, manufacturing, and transportation & logistics industry globally. The demand for locks has been impacted globally, owing to lockdowns across different countries. COVID-19 has also disrupted the global supply chain of major electronic brands.
Key Benefits For Stakeholders
This study comprises analytical depiction of the global RFID locks market outlook along with the current trends and future estimations to depict the imminent investment pockets.
The overall RFID locks market analysis is determined to understand the profitable trends to gain a stronger foothold. 
The report presents information related to key drivers, restraints, and RFID locks market opportunities with a detailed impact analysis.  
The current RFID locks market forecast is quantitatively analyzed from 2019 to 2027 to benchmark the financial competency. 
Porter's five forces analysis illustrates the potency of the buyers and suppliers in the market. 
The report includes the market trends and the market share of key vendors. 
 RFID Locks Market Report Highlights
Aspects
Details
By Access Device

Key Cards
Mobile Phone
Wearables

By End Use

Residential
Hospitality
Automotive
Government
Retail
BFSI
Other

By Region

North America (U.S., Canada, Mexico)
Europe (Germany, UK, France, Rest of Europe)
Asia-Pacific (China, Japan, South Korea, India, Rest of Asia-Pacific)
LAMEA (Latin America, Middle East, Africa)

Key Market Players
ASSA ABLOY Group, SAMSUNG ELECTRONICS CO. LTD.$, Dorma+kaba Holdings AG., Godrej & Boyce manufacturing Company Ltd, HONEYWELL INTERNATIONAL INC., .Allegion plc, Spectrum Brands, Inc., MIWA Lock Co., OJMAR, S.A, Hettich Holding GmbH & Co. oHG