Kids/Children Ride on Bikes Market - 2031
The global ride on bikes market size was valued at $7.4 billion in 2021, and is projected to reach $15 billion by 2031, growing at a CAGR of 7.4% from 2022 to 2031.
Ride on bikes are used to improve gross motor abilities in children such as coordination, balance, posture, lower limb strength, and core strength. Ride on bikes can be manually propelled, battery operated, or engine propelled. In case of battery powered ride on bikes, the power is supplied to the bike by a rechargeable battery that drives an electric motor. Ride on bikes include motorcycles, scooters, dirt bikes, electric balance bikes, and others.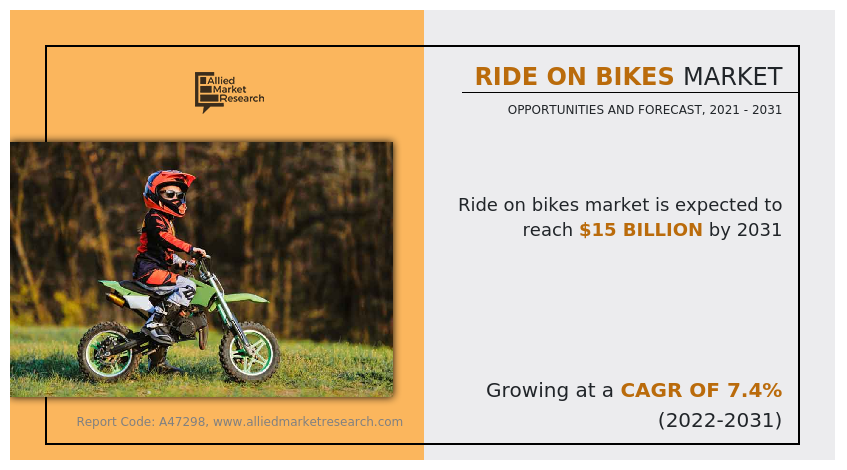 Factors such as the development of gross and motor skills in kids by ride on bikes, increase in demand for ride on bikes for racing and off-road driving, and introduction of new features in ride on bikes are anticipated to boost the growth of the global ride on bikes market during the forecast period. However, surge in popularity of online games among kids, and increase in battery prices are expected to hinder the growth of the global ride on bikes market during the forecast period. Moreover, rise in inclination toward biking as a physical activity and surge in popularity of lightweight electric balance bikes are expected to create an opportunity for the ride on bikes market.
The ride on bikes market is segmented on the basis of age, propulsion, distribution channel, and region. By propulsion, it is divided into motorized and non-motorized. On the basis of age, it is segmented into 1 to 6 years, 6 to 12 years, and greater than 12 years. By distribution channel, the market is divided into online, and offline. By region, the market is analyzed across North America, Europe, Asia-Pacific, and LAMEA.
North America includes the U.S., Canada, and Mexico. The growing interest in biking as a physical activity is expected to boost the ride on bikes market in the region. Ride on bikes helps toddlers engage in outdoor physical activity and promote a positive image of exercise. For instance, steering strengthens the upper extremities when driving over uneven ground or difficult terrain. Therefore, various advantages provided by the ride on bikes are expected to drive the growth of the market. Moreover, the extension of the product range by the manufacturers of electric bikes to develop electric bikes and motorcycles for kids is expected to accelerate the growth of the market. For instance, in March 2022, SUPER73, a manufacturer of electric bicycles launched C1X moto concept, new kid's e-bike, updated SUPER73-Z e-bike, and more.
Ride on Bikes Market

---

By Sales Channel
Online channel is projected as the most lucrative segment
In North America, the U.S. is expected to dominate the market. Ride-on bikes offer numerous benefits, including independent play and balance. Kids favor using ride on bikes during their relaxation time which also provides a cardiovascular workout for children. Moreover, numerous automakers develop ride on bikes for outdoor driving. For instance, Suzuki Motor USA, LLC provides DR-Z125L, RM85, DR-Z50 for offroad biking. The company provides engine-powered ride on bikes for young riders for racing and dirt biking.
A major benefit of a ride on bikes is that it encourages exploration and critical thinking in kids and supports the development of balance. Ride-on bikes improve balance and coordination in kids. Manufacturers in Canada are developing ride on bikes equipped with fully adjustable speed and acceleration to sharpen the riding skills of the kids. For instance, Kuberg Canada offers electric dirt bikes for kids to learn to bike riding for more stability and control. Such developments are expected to drive the growth of the market.
The leading companies profiled in the ride on bikes market report include Razor USA LLC, TOBBI, Suzuki Motor Corporation, Honda Motor Co., Ltd., Kawasaki Heavy Industries, Ltd., KTM AG, Costzon, Huffy Corporation, Woom GmbH, and Yamaha Motor Co., Ltd.
The prominent companies operating in the market are adopting strategies such as product launch and partnerships to strengthen their market position. In January 2020, Huffy Corporation partnered with children's miracle network hospitals to bring smiles to patients and families on wheels.The partnership also included Huffy's donation of battery powered ride-ons, for kids to use on their way into surgery, to all 170 member hospitals, as well as bicycles for use in assorted healthy activities, to select CMN Hospitals.
In March 2019, Suzuki Motorcycles introduced DR Z50 motorcycle, a mini-bike for children. The motorcycle is supported on 10-inch wheels, has bright yellow bodywork with graphics, an automatic clutch, three-speed transmission, and electric start for smooth operation. In June 2021, Woom announced first e-bike line, the Up 5 and 6. The bikes, designed to fit kids approximately size 50- to 65-inches tall, feature a 250-watt Fazua drive system for up to 12 miles per hour of pedal assist.
Ride on Bikes Market

---
By Age Group
Greater than 12 years age group is projected as the most lucrative segment
Introduction of new features in ride on bikes
Manufacturers launch various features and accessories in ride on bikes to attract customers. There is an increase in advancements in battery technologies to make powerful and compact batteries. Manufacturers aim to produce ride on bikes with improved design, and looks by adding new features. They add features such as flashing lights and music to entertain kids while bike riding. Some ride on bikes are equipped with engine-revving sound effects for imaginative play. Ride on bike manufacturers include features such as inbuilt music, USB, and Aux for kids to listen to their favorite music while riding by connecting with the USB.
Moreover, numerous ride on bikes are launched with features that allow parents to control the maximum speed of the vehicle. For instance, Torrot provides electric motorcycles for kids with parental control and security feature. The app allows to set power, speed, throttle response, and regeneration. The feature is a wireless control that allows parents to restrict, configure and even disconnect their child's motorcycle from their mobile phone via an Android or iOS application. In addition, manufacturers provide navigation features to receive information about the routes. For instance, Volcon provides a dirt bike called Volcon Runt equipped with app-based navigation feature to help riders to keep track of the routes.
Increase in demand for ride on bikes for development of gross and motor skills in kids
Ride on bikes provide an opportunity for kids to explore the outdoors. Operating ride on bikes develops an improved sense of balance in children. Ride on bikes teaches kids to distribute their weights while riding the vehicle on various surfaces. Spatial play is stimulated while riding these bikes which contributes to children's early development of spatial skills. Therefore, there is an increase in the inclusion of ride on bikes in children's toys collection. Ride on bikes improve gross motor, balance skills, and spatial awareness, which is necessary in the early stages of development of children. Therefore, there is an increase in demand for ride on bikes to encourage physical activity & imagination, and build self-confidence in kids.
Rise in demand for ride on bikes for racing and off-road driving
Ride on bikes improve posture, keep kids active, and increase confidence in children. Parents introduce ride on bikes to kids for off-road motorcycle driving to teach riding skills, fitness, recovery, and flexibility on the road. Younger children are increasingly preferring ride on bikes such as dirt bikes for sports and racing. There is an increase in demand for electric models of either 350 or 650-watt electric motors, allowing the child to ride from 30 minutes to an hour or more.
Kids gas dirt bikes range from 50cc to 125cc engines, bikes with larger engine capacities are commonly reserved for older teenagers.  4-stroke engine bikes have become popular as they offer smoother acceleration than a 2-stroke engine. Moreover, manufacturers are introducing new ride on bikes to provide exploration and adventure in off-road riding. For instance, KTM offers dirt bikes such as 50 SX Mini, KTM SX-E 5, KTM SX-E 3. The bikes are equipped with high-performance engines, and lightweight & high-strength frame. Therefore, an increase in the use of ride on bikes in sports activities and racing competitions for kids is expected to boost the growth of the market.
Ride on Bikes Market

---

By Propulsion
Motorized ride on bike is projected as the most lucrative segment
Surge in popularity of online games among kids
The emergence of new technologies such as virtual reality, cloud gaming, and augmented reality play an important role in the adoption of online gaming. Virtual reality (VR) used in the gaming industry is an immersive multimedia or virtual environment that allows the user to interact with three-dimensional objects and images. Online games provide enhanced visuals and graphics, and realistic physics which discourages children to engage in outdoor play. Therefore, the increase in demand for online games such as video games is expected to decrease the sales of ride on bikes.
In addition, sales of online games are growing due to the penetration of smartphones.  With the rise of popular video games, children are spending more time indoors in front of screens. In 2018, Ofcom (regulator and competition authority for the UK communications industries) found that three-quarters of 5-15-year-old gamers only ever play online – up from two-thirds in 2017. Therefore, the widespread availability of affordable internet, easy access to gaming systems, and massive development of unique and engaging multiplayer games are expected to hamper the market growth. 
Increase in battery prices
The Russia-Ukraine war has increased prices for nickel, lithium, and other materials, adding to the global chip shortages and other supply chain problems caused by the COVID-19 pandemic. Moreover, there is a surge in battery demand that is expected to increase the price of lithium-ion batteries. The global demand for batteries is expected to grow by about 30% by 2030 to about 4,500 gigawatt hours (GWh) per year. In addition, according to Bloomberg NEF's (BNEF) report, average battery prices are expected to rise by 7% as compared to the year 2021. BNEF expects average battery pack prices to continue rising at $152/kWh in 2023. Therefore, the surge in prices of raw materials and battery components and rising inflation has led to increase in prices of lithium-ion battery packs, which is expected to hinder the growth of the ride on bikes market.
Ride on Bikes Market

---

By Region
Asia-Pacific would exhibit the highest CAGR of 9.0% during 2022-2031
The spread of the COVID-19 pandemic has impacted the ride on bikes market owing to travel restrictions and the shutting of manufacturing units. However, post pandemic, the production and sales of ride on bikes increased owing to the lifting of lockdowns in the majority of the countries. Greater demand for outdoor toys and ride on bikes was experienced to keep kids engaged and encourage participation in outdoor activities.
Key Benefits For Stakeholders
This report provides a quantitative analysis of the market segments, current trends, estimations, and dynamics of the ride on bikes market analysis from 2021 to 2031 to identify the prevailing ride on bikes market opportunities.
The market research is offered along with information related to key drivers, restraints, and opportunities.
Porter's five forces analysis highlights the potency of buyers and suppliers to enable stakeholders make profit-oriented business decisions and strengthen their supplier-buyer network.
In-depth analysis of the ride on bikes market segmentation assists to determine the prevailing market opportunities.
Major countries in each region are mapped according to their revenue contribution to the global market.
Market player positioning facilitates benchmarking and provides a clear understanding of the present position of the market players.
The report includes the analysis of the regional as well as global ride on bikes market trends, key players, market segments, application areas, and market growth strategies.
 Ride on Bikes Market Report Highlights
Aspects
Details
Market Size By 2031
USD 15 billion
Growth Rate
CAGR of 7.4%
Forecast period
2021 - 2031
Report Pages
347
Age Group

1 to 6 years
7 to 12 years
Greater than 12 years

Sales Channel
Propulsion
By Region

North America (U.S., Canada, Mexico)
Europe (UK, Germany, France, Italy, Rest of Europe)
Asia-Pacific (China, India, Japan, South Korea, Rest of Asia-Pacific)
LAMEA (Latin America, Middle East, Africa)

Key Market Players
Razor USA LLC, TOBBI, Suzuki Motor Corporation, Honda Motor Co., Ltd., Kawasaki Heavy Industries, Ltd., KTM AG, Costzon, woom GmbH, Yamaha Motor Co., Ltd., Huffy Corporation