Global Rimless Toilets Market Research, 2031
The global rimless toilets market size was valued at $1.44 billion in 2021, and is projected to reach $2.08 billion by 2031, growing at a CAGR of 3.7% from 2022 to 2031.
A toilet without rim is known as a rimless toilet in which water flows with a superior flushing mechanism that removes the need for a rim altogether. Instead of flushing water downward, it has a flushing system that shoots water toward the edge of the bowl while leaving no spots missed. A rimless toilet is significantly easier to clean and offers improved hygiene. Rise in hygiene awareness, expansion of the hospitality industry, increase in acceptance of smart bathrooms, and surge in initiatives by government for water conservation and utilization in commercial settings are some of the main drivers accelerating the market growth.
The COVID-19 outbreak has severely affected the rimless toilet industry, closing down several companies and its manufacturing facilities worldwide. The pandemic caused huge revenue losses in rimless toilet end-use industries like commercial & residential construction and healthcare.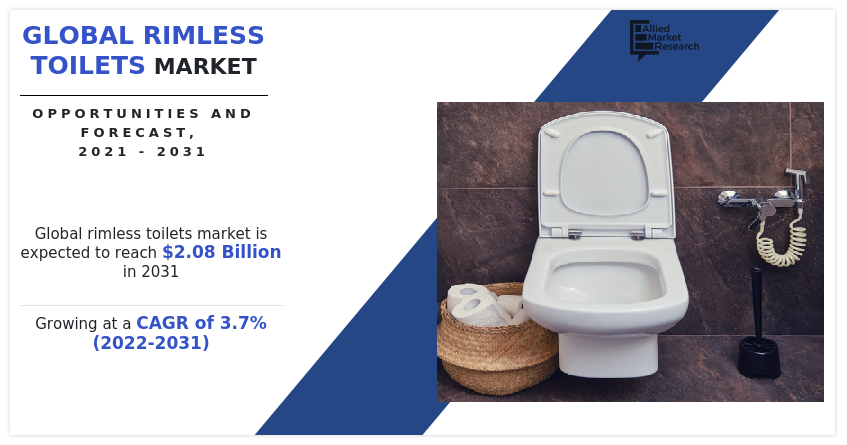 Consumer desire for ultimate hygiene is best served by rimless toilet design. The primary distinction between rimmed and rimless toilets is the water distribution, which necessitates the use of a direct flush technique. In contrast to the usual distribution method, water is flushed directly into and around the toilet basin in this method. Rimless toilets, whether for household or commercial use, guarantee that germs do not accumulate behind the rims, necessitating routine cleaning. The straight flush assures a clean bowl and excellent efficiency.
Consumer preferences for aesthetically better designs, textures, and colors as well as low-maintenance and easy-to-install rimless toilets are expected to propel market growth. In addition, increase in urban population increases the commercial construction activity, which is expected to drive the rimless toilets market. Furthermore, new commercial construction projects, such as business complexes, hospitals, housing facilities, and shopping malls, are being prompted by rise in urban population. Consumers are investing their hard-earned money in high-quality residential complexes with hygiene toilets, which boosts the growth of the rimless toilet market.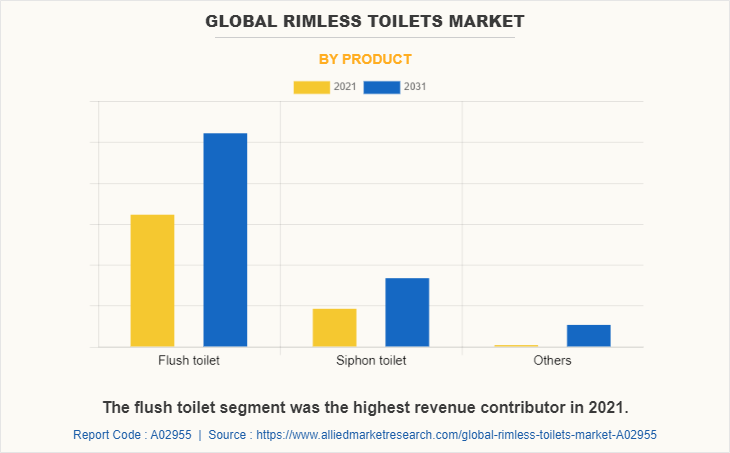 On the basis of product type, the flush toilets segment generated the largest revenue in 2021, due to unique appearance and easy-to-use properties of flush toilets. The panels are scratch-resistant and comparatively more hygienic, and are made to be lightweight and durable. Hence, due to such factors, vendors in the market are focusing on manufacturing rimless toilets. Moreover, rise in urbanization leads to increase in residential infrastructure construction, and thus, countries such as the U.S., China, and India have increased the demand for toilets and accessories, further driving the rimless toilets market growth.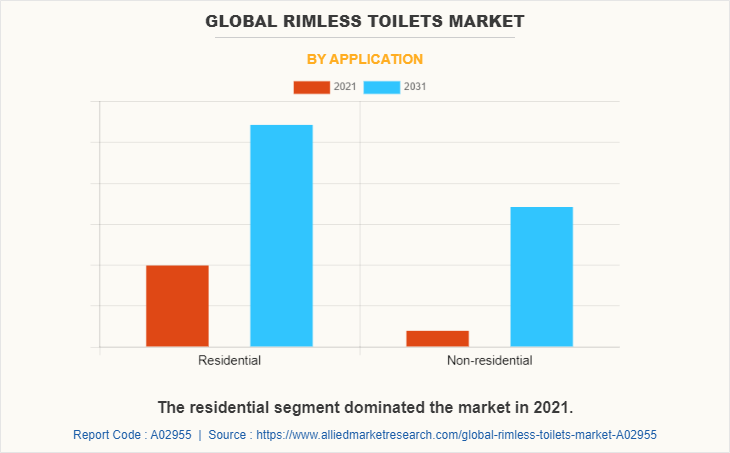 On the basis of end user, the residential segment accounted for highest revenue in the global market in 2021 owing to rise in  residential construction in developed and developing countries. The nonresidential sector is likely to encounter steady growth attributing to surge in awareness and massive demand from commercial sectors such as education, healthcare, and airport.
The novel coronavirus (COVID-19) rapidly spread across various countries and regions in 2019, causing an enormous impact on the lives of people and the overall community. It began as a human health condition and has now become a significant threat to global trade, economy, and finance. The COVID-19 pandemic halted production of many products in the rimless toilets market, owing to lockdowns. Furthermore, the number of COVID-19 cases is expected to reduce in the future with the introduction of vaccines for COVID-19 in the market. This has led to the reopening of rimless toilets companies at their full-scale capacities. This is expected to help the market recover by the mid of 2022. After COVID-19 infection cases begin to decline, equipment & machinery producers must focus on protecting their staff, operations, and supply networks to respond to urgent emergencies and establish new methods of working.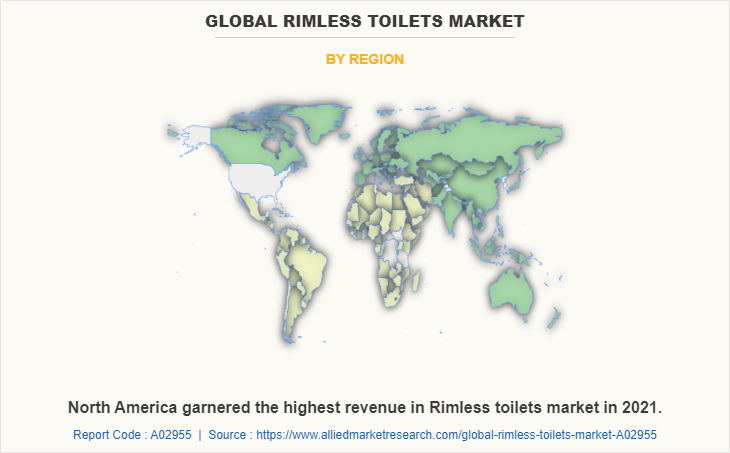 On the basis of region, North America has registered highest revenue in 2021 owing to rise in investment in commercial and residential constructions. Furthermore, the market expansion is predicted to be fueled by increase in population and smart toilets demand. Moreover, market witnesses potential rise in awareness to save water and other resources in the commercial spaces. As a result, increase in number of new building and infrastructure projects is likely to provide profitable prospects in rimless toilets market share.
The global rimless toilets market is segmented into Product, Sales channel and Application. On the basis of product type, the market is divided into flush toilet, siphon toilet, and others. On the basis of sales, the market is divided into online and offline. On the basis of end user, the market is divided into residential and non-residential. Region-wise, the global market analysis is conducted across North America (the U.S., Canada, and Mexico), Europe (UK, France, Germany, Italy, and Rest of Europe), Asia-Pacific (China, Japan, India, South Korea, and Rest of Asia-Pacific), and LAMEA (Latin America, the Middle East, and Africa).
Competition Analysis
The key players operating in the rimless toilets industry are Duravit Ag, Grohe Ag, Hindware Homes, Kohler Co., Toto Ltd., Caroma Industries Limited, Enware Australia Pty Limited, Ceramica Flaminia S.P.A., Laufen Bathrooms Ag, and Lecico.
Key Benefits For Stakeholders
This report provides a quantitative analysis of the market segments, current trends, estimations, and dynamics of the global rimless toilets market analysis from 2021 to 2031 to identify the prevailing global rimless toilets market opportunity.
The market research is offered along with information related to key drivers, restraints, and opportunities.
Porter's five forces analysis highlights the potency of buyers and suppliers to enable stakeholders make profit-oriented business decisions and strengthen their supplier-buyer network.
In-depth analysis of the global rimless toilets market forecast assists to determine the prevailing market opportunities.
Major countries in each region are mapped according to their revenue contribution to the global market.
Market player positioning facilitates benchmarking and provides a clear understanding of the present position of the market players.
The report includes the analysis of the regional as well as global rimless toilets market trends, key players, market segments, application areas, and market growth strategies.
 Global Rimless Toilets Market Report Highlights
Aspects
Details
By Product

Flush toilet
Siphon toilet
Others

By Sales channel
By Application

Residential
Non-residential

By Region

North America (U.S., Canada, Mexico)
Europe (Germany, France, Italy, U.K., Rest of Europe)
Asia-Pacific (China, India, Japan, South Korea, Rest of Asia-Pacific)
LAMEA (Latin America, Middle East, Africa)

Key Market Players
KOHLER CO., DURAVIT AG, GROHE AG, TOTO LTD., CERAMICA FLAMINIA S.P.A, LAUFEN BATHROOMS AG., CAROMA INDUSTRIES LIMITED, LECICO, ENWARE AUSTRALIA PTY LIMITED, HINDWARE HOMES