The global road marking machine market was valued at $7.02 billion in 2021, and is projected to reach $17.21 billion by 2031, growing at a CAGR of 9.3% from 2022 to 2031.
Markings on the road plays an important role in road safety. It provides safety information such as vehicle positioning, road alignment, and other vital road information to drivers. The road marking machine is a kind of device specially used to delineate diverse traffic lines on blacktop or concrete surface in order to offer guidance and information to motorists and pedestrians. They are capable of providing the different design and sizes of the marks on road in addition to safety signs. The process is conducted through screeding, extruding, and spraying thermoplastic paints or cold solvent paints on to the pavement surface. It is mainly used in car parks, avenues, streets, highway, etc. contributing to improve the convenience and safety of driving and walking.
The COVID-19 crisis is creating uncertainty in the road marking machine market. Governments of different regions have already announced total lockdown and temporarily shutdown of industries, thereby adversely affecting the overall production and sales. Countries around the globe have posed stringent restrictions ranging from days to months of lockdown periods. Owing to this pandemic, many businesses are halted and are waiting for the market conditions to improve. In addition, due to the impact of COVID-19, reverse migration and disruption of supply chains, among others are some of the multiple consequences which the construction sector is expected to face. Despite all these factors, the heavy & civil engineering construction sector resumed its activities. For instance, as per the he Ministry of Road Transport and Highways (India) highway construction in the country dropped to 18 km per day as laborers were optimally employed to complete the highways with minimal hindrance. This is estimated to positively impact the road marking materials market in India. Also, the South-east Asian nations like Singapore, Thailand, and China are some of the major exporters of resins like polyurethane, epoxy and others which are used to manufacture road marking materials. Hence, the lockdowns imposed by various European and Asian countries have severely impacted the raw material supply chain of the road marking materials market, on a global level.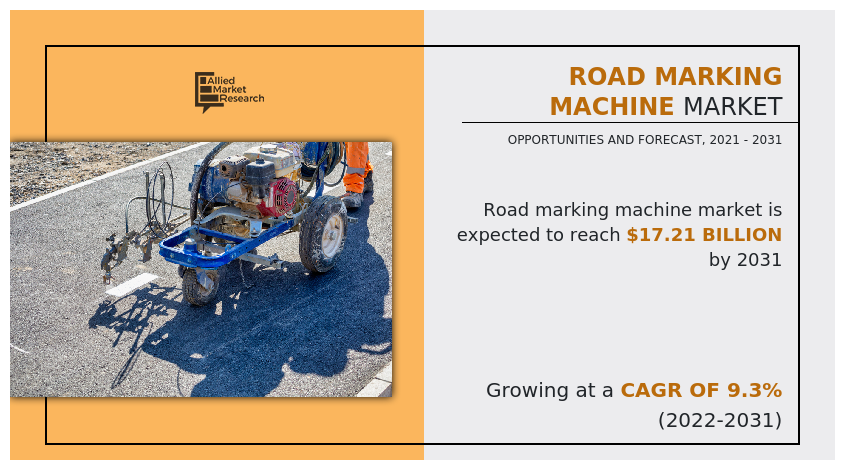 Currently, road marking equipment manufacturers have benefitted from higher investments by government authorities in infrastructure development, and this factor stands true for both, developing as well as developed economies. For instance, according to the 14th Five-Year Plan, China is planning to spend around 190 Bn Yuan (US$ 29.3 Bn) in the 2021-2025 period on transportation infrastructure projects. This investment will be used to construct new expressways, upgrade existing highways, and improve rural road conditions, among other things in Tibet.
The factors such as rise in government spending on developing road infrastructure, rising number of accidents due to absence of road markings, and technological advancements are expected to drive the global road marking machine market. However, fluctuating raw material prices and conservative approach of road contractors are the factors expected to hamper the market growth. On the contrary, development of smart cities and emergence of autonomous vehicles are the factors creating lucrative opportunity for the key players operating in road marking machine market.
Road Marking Machine Market

---

By Operation Type
Semi-Automatic/Fully Automatic is projected as the most lucrative segment
The road marking machine market is segmented into operation type, material capacity, distribution channel, and application. By operation type, the market is divided into manual and semi-automatic/fully automatic. By material capacity, it is fragmented into less than 100 Ltr, 100 Ltr - 250 Ltr, 251 Ltr - 750 Ltr, and more than 750 Ltr. By distribution channel, it is categorized into online and offline. By application, it is further classified into road, car park, anti-skid, and other. By region, it is analyzed across North America, Europe, Asia-Pacific, and LAMEA.
The leading players operating in the road marking machine market are Advanced Striping Equipment, Automark, Borum, Dayu Road Marking Co., Ltd., EZ Liner, Hawk Pumps, HOFMANN, Graco Inc., M-B Companies, MRL Equipment Company, Inc., Nanjing Roadsky Traffic Facility Co., Ltd, Road Marking Equipment (RME), Road Marking Services, STiM, Tatu Highway Group Co., ltd., Titan Tool Inc., and Zhengzhou Dayu Machinery Co., Ltd.
Road Marking Machine Market

---

By Material Capacity
100 Ltr - 250 Ltr is projected as the most lucrative segment
Rise in government spending on developing road infrastructure
The quality of road infrastructure is one of the most important factors stimulating economic development and competitiveness. It is regarded as an engine of growth because it propels all facets of socio-economic activities in both developing and developed countries It includes the operation, maintenance, and construction of highways, streets, roads, sidewalks, bridges, and other related structures. For instance, in October 2020, in India, the National Investment and Infrastructure Fund (NIIF) is making progress towards integrating its road and highway portfolio. The NIIF has acquired Essel Devanahalli Tollway and Essel Dichpally Tollway through the NIIF master fund. These road infra-projects will be supported by Athaang Infrastructure, NIIF's proprietary road network, assisted by a team of established professionals with diverse domain expertise in the transport field. Despite pandemic and lockdown, India has constructed 13,298 km of highways in FY21. Under the Union Budget 2022-23, the Government of India has allocated $26.04 billion to the Ministry of Road Transport and Highways. According to Urban Institute, a nonprofit research organization, in 2019, 42% of highway and road spending went toward operational costs, such as maintenance, repair, snow and ice removal, highway and traffic design and operation, and highway safety. The other 58% went toward capital spending, such as the construction of both highways and roads globally. Hence, such growing investments by governments on developing road infrastructures is expected to drive the road marking machine market.
Road Marking Machine Market

---

By Distribution Channel
Online is projected as the most lucrative segment
Technological advancement
In recent years, technological advancements have transformed the way of planning, designing, building, and operating road & transportation systems. The technical methods that mark the road surfaces in street traffic as well as maneuvering areas and runways at airports for better orientation purposes are called road marking. Currently, the technology can apply symbols and lines even more precisely and permanently onto various surfaces and grounds. The adoption of latest, precision road marking technologies that work most accurately even at changing speeds have long since had fully automatically regulated dosing modes and measurement technologies. For instance, in May 2022, Graco Inc. launched the new the Contractor King air-powered protective coatings sprayer and the Silver Plus HP spray gun for road marking to maximize productivity and portability. The new Silver Plus HP gun is pressure rated up to 7,250 psi (500 bar) and is designed to handle today's protective coatings, including high solid coatings. The Contractor King air-powered sprayer is made specifically for contractors looking for a more compact and lighter coatings sprayer. In addition, adoption of small & hand-controlled machines which are easy to maneuver are used for longer distances. Therefore, improvement in the road marking machine technology is expected to drive road marking machine industry.   
Fluctuating raw material prices
The need for more fully automatic & high-performance road marking technologies has lately increased the demand for certain raw materials in the road marking machine industry. Several factors such as the increase in transportation costs, high prices of corrugated board & packaging paper, rise in labour costs, and depreciation in China's currency, the major exporter of raw material components, has pushed the price of raw materials in the road marking machine industry. Furthermore, fluctuating prices of raw materials such as thermoplastic paint, engine, air compressor, paint bucket, spray gun, and other chemicals such as titanium dioxide due to damage to the supply chain caused by pandemic present problems for both suppliers & OEMs. Thus, imbalances in the supply & demand chain of the road marking machine components industry accounted for fluctuation in the raw material prices and stagnating average transaction prices, which continued to pressure margins in addition to rising raw material costs. This will in turn hinder the road marking machine industry growth.
Emergence of autonomous vehicles
Car manufacturers incorporate more autonomous features in their vehicles every year, and drivers continue to expect more autonomy from their vehicles as the technology advances. In autonomous vehicles, road markings will increase lane detection and continue to provide vehicles (and its users) with a clear lane delineation with all types of guidance systems. Since the autonomous vehicles directly interface with road markings, proper marking installation and maintenance practices are essential. The new digital infrastructure recreates virtual roads along with vehicles present alongside. In 2019, Tesla launched Autopilot features which assists in steering within a clearly marked lane. Additionally, it consists of auto-lane change technology which assists in moving to an adjacent lane on the highway when Autosteer is engaged. Hence, as more autonomous vehicles are being tested and developed, more drivers are comfortable with the idea of owning autonomous driving vehicles. Thus, emergence of autonomous technologies in vehicles create lucrative opportunity for the road marking machine market.
Road Marking Machine Market

---

By Region
LAMEA would exhibit the highest CAGR of 11.1% during 2022-2031
Key Benefits For Stakeholders
This study presents analytical depiction of the global road marking machine market analysis along with current trends and future estimations to depict imminent investment pockets.

The overall road marking machine market opportunity is determined by understanding profitable trends to gain a stronger foothold.

The report presents information related to the key drivers, restraints, and opportunities of

the global road marking machine market with a detailed impact analysis.

The current road marking machine market is quantitatively analyzed from 2021 to 2031 to benchmark the financial competency.

Porter's five forces analysis illustrates the potency of the buyers and suppliers in the industry.
 Road Marking Machine Market Report Highlights
Aspects
Details
Operation Type

Manual
Semi-Automatic/Fully Automatic

Material Capacity

Less Than 100 Ltr
100 Ltr - 250 Ltr
251 Ltr - 750 Ltr
More Than 750 Ltr

Distribution Channel
Application 

Road
Car Park
Anti-Skid
Others

By Region

North America (U.S., Canada, Mexico)
Europe (U.K., Germany, France, Russia, Spain, Italy, Rest of Europe)
Asia-Pacific (China, Japan, India, South Korea, Australia, Vietnam, Rest of Asia-Pacific)
LAMEA (Africa, Latin America, Middle East)

Key Market Players
RME, Road Maintenance Services Limited, STiM, TATU Traffic Group, Titan Tool Inc., Zhengzhou Dayu Machinery Co., Ltd, Graco Inc., MRL Equipment Co., Advanced Striping Equipment, Automark Industries, BORUM A/S, Dayu Road Marking, EZ-Liner Industries, Hawk Pumps, HOFMANN, M-B Companies, Inc., Nanjing Roadsky Traffic Facility Co.,Ltd.