Robotics Technology Market Research, 2032
The global robotics technology market was valued at $87.4 billion in 2022, and is projected to reach $349.8 billion by 2032, growing at a CAGR of 15.2% from 2023 to 2032.
Robotics technology is the field of engineering and technology that focuses on the design, development, operation, and application of robots. It entails building tools that can function independently or partially autonomously and imitate human behavior and interactions with the real world. Robotic technology can complete jobs quickly, precisely, and accurately, increasing production and efficiency. Moreover, these numerous benefits provide enhanced customer convenience and a better user experience. In addition, robotic automation can streamline processes, optimize resource utilization, and improve overall operational efficiency, as well as provide enterprises with a great opportunity in the global market. Such aforementioned factors are expected to provide lucrative opportunities for market growth during the forecast period.
Rise in penetration of digital technologies and increase in demand of flexible business solutions and services in several industries are expected to positively impact the growth of the robotics technology market. In addition, with the use of robotics technology organizations can consistently perform tasks with a high level of accuracy, and by eliminating human errors and variations. This further resulted in improved product quality, standardized processes, and reduced defects. Hence, these components are anticipated to fuel market expansion throughout the forthcoming years. Furthermore, the market is anticipated to experience lucrative growth over the coming decades as a result of the rise of robotics applications in a variety of industries, including healthcare, agriculture, and retail. Moreover, surge in demand for smart solutions in manufacturing and healthcare are also anticipate creating lucrative opportunities for the market growth.
The COVID-19 pandemic proved to have an overall beneficial influence on the robotics technology market, due to its rising number of applications and increasing automation in several business sectors.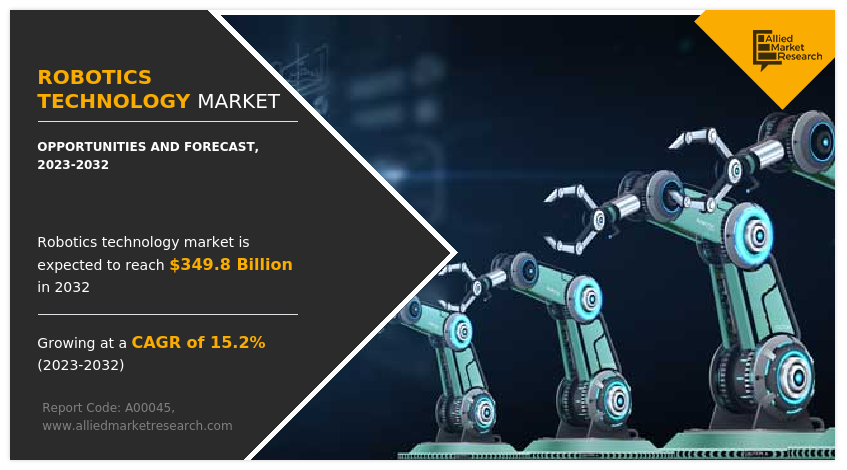 The robotics technology market is segmented into Component, Robot Type and Application.
Segment Review
The robotics technology market is segmented into component, robot type, application, and region. In terms of component, it is bifurcated into hardware, software, and service. Based on the robot type, the market is segmented into industrial robots, service robots, and mobile robots. In terms of application, the market is segmented into healthcare, defense and security, automotive, aerospace, infrastructure, industrial and residential. Region-wise, it is analyzed across North America, Europe, Asia-Pacific, and LAMEA.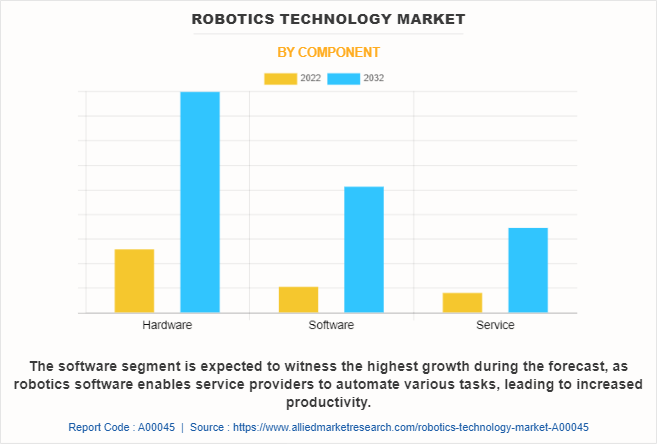 On the basis of component, the global robotics technology market share was dominated by the hardware segment in 2022 and is expected to maintain its dominance in the upcoming years, owing to the adoption of robotics technology continues to grow across various industries and rising demand for robotic hardware components to build and deploy new robotic systems. However, the software segment is expected to witness the highest growth during the forecast, as robotics software enables service providers to automate various tasks, leading to increased productivity.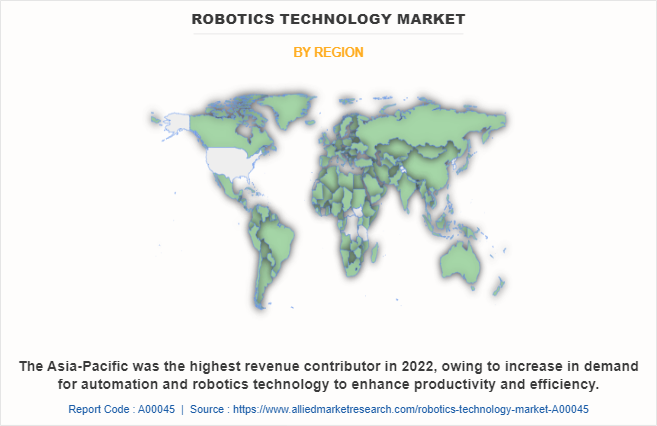 By region, Asia-Pacific dominated the market share in 2022 for the robotics technology market. The region's has robust industrial sector, including manufacturing, automotive, and logistics, has been an early adopter of robotics technology that is anticipated to propel the growth of the robotics technology market. In addition, key players are investing heavily in automation and robotics technology to enhance productivity, improve efficiency, and address labor shortages are expected to provide lucrative growth opportunities for the market in this region.
COVID-19 Impact Analysis
The robotics technology market witnessed significant growth in the past few years due to the outbreak of the COVID-19 pandemic. This was attributed to the fact that there was a sudden increase in demand for healthcare services, as businesses were moving to capitalize on the increased automation and robotics in the healthcare sector. Furthermore, the rise in number of COVID-19 cases influenced governments and local authorities to enforce strict measures such as social distancing and self-isolation policies to the closing of physical shops and businesses. This was intended to help slow the spread of the COVID-19 cases, which further caused a growing number of businesses depending on automation technologies in healthcare sector, such trends accelerated digital transformation of physical businesses during the period of the pandemic. For instance, in August 2020, Invento launched a food and medicine delivery robot in Apollo Hospital Indore, to deliver food and medicines to patients in isolation wards in the hospital. This in turn caused the demand for robotics technology solutions to rise after the pandemic period, as businesses depended upon smart healthcare solutions for faster digital transformation.
Top Impacting Factors  
Rise in need for automation and safety in organizations 
The rising need for automation and safety in enterprises has been a significant driving force behind the growth of the global robotics technology market. Automation and safety are two critical challenges that robotics technology addresses effectively, which results in an attractive solution for businesses across several industries. In addition, businesses all across the world are automating their development processes to cut costs, free up time, and produce goods of higher quality. Businesses are automating processes for improved quality and higher productivity as a result of the rising market competition. These factors are significantly contributing to huge potential for the growth and development of the global robotics technology market.
In addition, the emerging trend of smart homes appliances to improve user convenience, as well as advance positivity to the urban development and national economy is driving the demand for robotics technology. It also increases the quality of life of the entire population by responding to comprehensive challenges of sustainability. Thus, businesses are increasingly using and implementing robotics concepts in smart device developments and maintenance operations. For instance, in March 2023, CyberLink partnered with Macnica, and GROOVE X, the partners will integrate CyberLink's AI facial recognition engine, FaceMe, into LOVOT, GROOVE X's smart family robot, enhancing its interpersonal interactions. The partnership initiative will further seek to promote technological innovation to make the robots more reachable to people. Therefore, these factors will pave a way for the deployment of robotics technology, which eventually enhance the robotics technology market forecast.
The growing availability of cost and energy-efficient robots:
The increase in availability and accessibility of affordable and energy-efficient robots to improve optimization is directly influencing the growth of the global robotics technology market. There is increasing demand for robotics technology in several industries for different applications, owing to the rapidly evolving technological advancement. In addition, the rise in investments in robotics solutions due to the fall in prices of these solutions has created numerous opportunities for global market growth in small and medium-sized enterprises. This increase in accessibility opens up new possibilities for automation and efficiency across many different sectors and applications, which is projected to fuel the demand of robotics technology market trends worldwide.
Furthermore, key players of the market are increasingly investing in low-cost and high-quality robots to stay competitive in the robotics technology industry. For instance, in March 2023, Tompkins Robotics launched PickPal product series, it is a is line of pick assist (PA) autonomous mobile robots (AMR). PickPal provides a quickly implemented and low operating cost robotic technology that can be inserted into existing operations doing order fulfillment in a scalable robotics as a service (RaaS) model. Moreover, advancements in technology enable developers to design new innovative products while maintaining the affordability of the product. Furthermore, several manufacturing sectors across the globe are adopting energy-efficient robots to assist their employees in performing critical tasks without any interruption. Such aforementioned factors are expected to fuel the demand for robotics technology market growth.
Key Benefits for Stakeholders
The study provides an in-depth robotics technology market analysis along with the current trends and future estimations to elucidate the imminent investment pockets.

Information about key drivers, restraints, and opportunities and their impact analysis on the robotics technology market size is provided in the report.

The Porter's five forces analysis illustrates the potency of buyers and suppliers operating in the robotics technology industry.

The quantitative analysis of the global robotics technology market for the period 2022–2032 is provided to determine the robotics technology market potential.
 Robotics Technology Market Report Highlights
Aspects
Details
Market Size By 2032
USD 349.8 billion
Growth Rate
CAGR of 15.2%
Forecast period
2022 - 2032
Report Pages
245
By Component

Hardware
Software
Service

By Robot Type

Cobots
Professional Service Robots
Others
Traditional Industrial Robots

By Application

Manufacturing
Healthcare
Aerospace and Defense
Media and Entertainment
Logistics
Others

By Region

North America (U.S., Canada)
Europe (UK, Germany, France, Italy, Spain, Rest of Europe)
Asia-Pacific (China, Japan, India, Australia, South Korea, Rest of Asia-Pacific)
LAMEA (Latin America, Middle East, Africa)

Key Market Players
Denso Corporation, Mitsubishi Electric Corporation, Yaskawa Electric Corporation, Seiko Epson Corporation, FANUC Corporation, ABB Ltd., Kawasaki Robotics, OMRON Corporation, KUKA AG, Staubli International AG
Analyst Review
As the robotics technology industry continues to evolve, CXOs are evaluating the opportunities and challenges regarding this emerging technology. The robotics technology industry has grown increasingly in accordance with the potential need to automate processes, improve operational efficiency and reduce costs, and the need for optimizing workflows, increase productivity, and streamline operation. CXOs are considering the advantages that robotics technology can offer, such as the automation capabilities. Automation can replace certain tasks and reduce the need for human workforce in repetitive or hazardous activities. In addition, robotics technology can provide a competitive edge for organizations. It can analyze the potential for innovation, improved customer experiences, and enhanced operational capabilities that can position the organization as a leader in the market. Such factors are expected to provide lucrative opportunities for market growth during the forecast period.
Furthermore, robotics technology is considered to be the return of investments (ROI) that allows developers and partners to build and integrate new applications and services. The initial capital investment, ongoing maintenance and support costs, potential labor savings, increased productivity, and the timeframe for achieving a positive ROI. However, businesses also analyze the challenges associated with robotics technology. Robotics technology requires significant investment in infrastructure, data analytics capabilities, and expertise, which can be a barrier to entry for small and medium-sized enterprises (SMEs) across the world.
Furthermore, developing robotics technology with existing systems can be a tough and time-consuming process. These constraints must be addressed, as well as compatibility issues, data integration, and training personnel on the new technology are challenges that organizations need to address when integrating robotics systems. businesses must evaluate the platform based on their organization's specific needs and requirements, including factors such as scalability, reliability, and security. Addressing these challenges requires collaboration between industry stakeholders, research institutions, and policymakers. Businesses can unlock the full potential of robotics technology to transform their operations, create value, and gain a competitive advantage in their industry. For instance, in October 2022, Yaskawa launched new Robotics Technology Center in Turkey. The Robotics Technology Center is located in a major industrial park in Istanbul, and it display demonstration machines as well as operate a system that allows customers in Turkey.