Rocker Switch Market Research, 2031
The global rocker switch industry was valued at $6.3 billion in 2021, and is projected to reach $9.2 billion by 2031, growing at a CAGR of 3.86% from 2022 to 2031.
To connect or disconnect an electrical circuit, rocker switches have a button for operation that can be pressed on either end like a seesaw. On the primary power sources for electrical equipment, they are frequently employed as ON/OFF switches. The swaying motion that the switch creates when the button is pressed gives it the name "rocker switch." In addition, ascending automotive industry, coupled with technological innovation to boost the demand for target product.
Rocker light switch are used to turn the main power supplies on electronic devices ON and OFF. Moreover, favorable regulatory regulations and an increasing number of SMEs are expected to propel the industry forward. 
Major players operating in the rocker switch market are expected to make low R&D cuts, which will allow them to sustain a rich and evolving product portfolio. In addition, companies are expected to strive to fund innovation, rather than setting the bare minimum budget required to keep R&D running.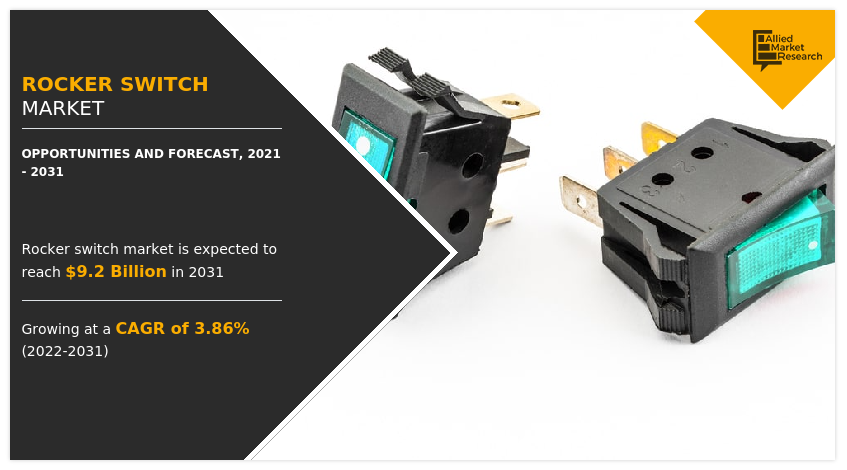 The rocker switch market share is expected to witness notable growth during the forecast period, owing to huge opportunity available in healthcare sector with the help of automation. Moreover, compact size and vast range of ampere, voltage rating and continuous research and development will help propel the rocker switch market growth during the forecast period.
In single break designs, the mechanism controls the position of one movable contact arm and the contact at its end via a single rotational route. EIA-520D000 and MIL-S-22885/92 standards are followed by manufacturers of rocker switch. A double break switch can control two different circuits, either individually or together (through one or two ON positions). It is helpful to conceive a double pole rocker as being able to replace two single-pole switches with only one button.
Rocker Switch Market

---
By Switching Configuration
Double break as switching configuration is expected to continue its dominance during forecast period
Rocker switches are widely utilized in the automotive industry because they offer a straightforward and convenient approach to control a variety of electrical operations. They are most commonly used to operate lights, but can also be used to control fans, pumps, and other devices. Rocker switches come in a range of sizes, shapes, and colors to suit the industry requirements. Aerospace rocker switches generally come in two different shapes, such as "V" and "H". This shape makes it easier for the pilot to turn on and off while in flight or on the ground. In addition, these switches also provide extra features such as backlit or illumination from the switch.
Rocker Switch Market

---
By End Use Verticals
The automotive segment was the highest revenue contributor to the market
Asia-Pacific is the most lucrative market for rocker switch market opportunity, due to the availability of high-end enhanced technologies, increase in demand for smart electronics, and growth in manufacturing industries. In the present scenario, countries such as China, Japan, India, and South Korea are the potential markets; the rest of Asia-Pacific countries are small, but emerging markets. Technological development by the emerging economies in Asia-Pacific boosts the rocker switch market growth. Regional growth is expected to be influenced by high demand for electric vehicles in the automotive sector. In addition, rise in government initiatives for safety and standard of products in Asia-Pacific and upcoming long-term investments in smart technologies drive the growth of the Asia-Pacific market.
Rocker Switch Market

---
By Region
Asia-Pacific and North America are expected to witness considerable CAGRs
TOP IMPACTING FACTORS
Significant factors that impact the growth of the global rocker switch industry include increase in technological advancement in automotive industry to boost the target product. Moreover, rise in number of attractive regulatory policies and an increasing number of SMEs will continue to support market expansion. However, presence of substitute switches for rocker switch is one of the prime factor restraining the market growth. On the contrary, healthcare sector, especially invasive body checkups and surgeries may provide lucrative opportunities for the growth of the rocker switch market during the forecast period.
COMPETITION ANALYSIS
Competitive analysis and profiles of the major digital thermometer market players, such as ABB Ltd., APEM, Carling Technologies, Eaton Corporation, Emerson Electric Co., E-switch, Everel Group S.p.A., Honeywell International Inc., Leviton Manufacturing Co. Inc., NKK Switches, Omron Corporation., OTTO Engineering, Panasonic, Schruter, Sensata Technologies, Inc., TE Connectivity and ZF Electronics are provided in this report along wtih Rocker Switch Market Outlook. Furthermore, Carling switches is this four-digit internal manufacturing code, rating values and logos for these switches that are agency approved with high standard of technical specifications.
KEY BENEFITS FOR STAKEHOLDERS
This study comprises analytical depiction of the rocker switch market size along with the current trends and future estimations to depict the imminent investment pockets.

The overall rocker switch market analysis is determined to understand the profitable trends to gain a stronger foothold.

The report presents information related to key drivers, restraints, and opportunities with a detailed impact analysis.

The current rocker switch market forecast is quantitatively analyzed from 2021 to 2031 to benchmark the financial competency.

Porter's five forces analysis illustrates the potency of the buyers and suppliers in the smart display.

The report includes the market share of key vendors and rocker switch market trends.
 Rocker Switch Market Report Highlights
Aspects
Details
By Switching Configuration

Single-Break
Double Break

By End Use Verticals

Aerospace
HVAC
Instrumentation
Automotive
Others

By Region

North America (Canada, Mexico, U.S.)
Europe (France, Germany, Italy, United Kingdom, Rest of Europe)
Asia-Pacific (China, Japan, India, South Korea, Rest of Asia-Pacific)
LAMEA (Latin America, Middle East, Africa)

Key Market Players
ABB Ltd, apem, inc., carling technologies, Eaton Corporation, Emerson Electric Co., e-switch, inc., everel group s.p.a., Honeywell International Inc., Leviton Manufacturing Co. Inc., nkk switches, Omron Corporation, OTTO Engineering, Panasonic Corp., Schruter, sensata technologies, inc., TE Connectivity Ltd., ZF Friedrichshafen AG