The global rocket hybrid propulsion market size was valued at $1.03 billion in 2021, and is projected to reach $2.0 billion by 2031, growing at a CAGR of 6.7% from 2022 to 2031.
Hybrid rocket propulsion is a special type of propulsion system designed for rockets where the rocket motor utilizes propellants in two different states of matter i.e., one solid and the other either gas or liquid. Hybrid rockets refrain some disadvantages of solid rockets such as the dangers of propellant handling, while also avoiding some disadvantages of liquid rockets such as their mechanical complexity. In addition to liquid rocket engines, hybrid rocket motors can be shut down easily and the thrust is throttleable. Normally, a hybrid rocket comprises a pressure vessel (tank) consisting of liquid propellant, a combustion chamber containing solid propellant, and a valve isolating the two. When thrust is intended, a suitable ignition is introduced in the combustion chamber and the valve is opened. The liquid propellant flows into the combustion chamber where it is vaporized and then reacts with the solid propellant. Also, combustion occurs in a boundary layer diffusion flame, which is placed adjacent to the surface of the solid propellant.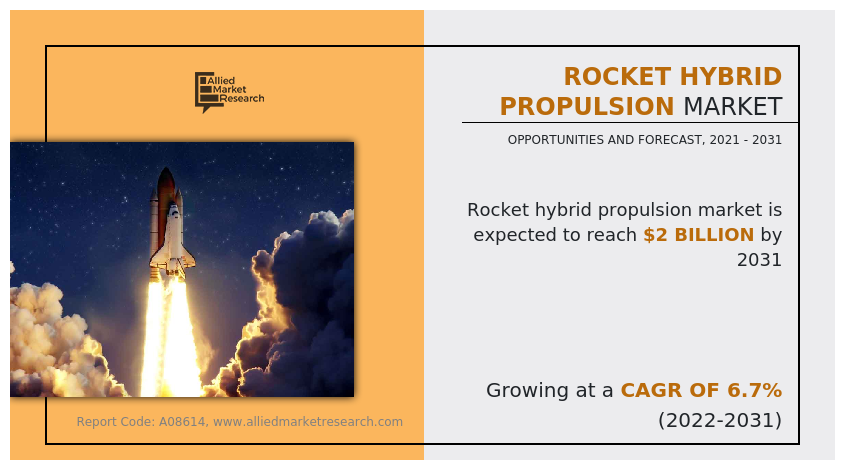 Hybrid rockets have higher impulse than solid propulsion system and hence, they are considered in many specific areas of space transportation. The applications consist of lunar & planetary landers, microsatellites (orbit transfer & maneuvering), suborbital and orbital tourism vehicles. The most positive qualities of a hybrid propulsion are safety, simplicity, stop & restart ability, and throttling ability. Hybrid propellants are storable and non-toxic. Usually, the liquid propellant is the oxidizer, and solid propellant is the fuel, because solid oxidizers are sometimes problematic and less performing than liquid oxidizers. Furthermore, using a solid fuel such as hydroxyl-terminated poly butadiene (HTPB) or paraffin wax allows for the incorporation of high-energy fuel additives such as aluminum, lithium, or metal hydrides.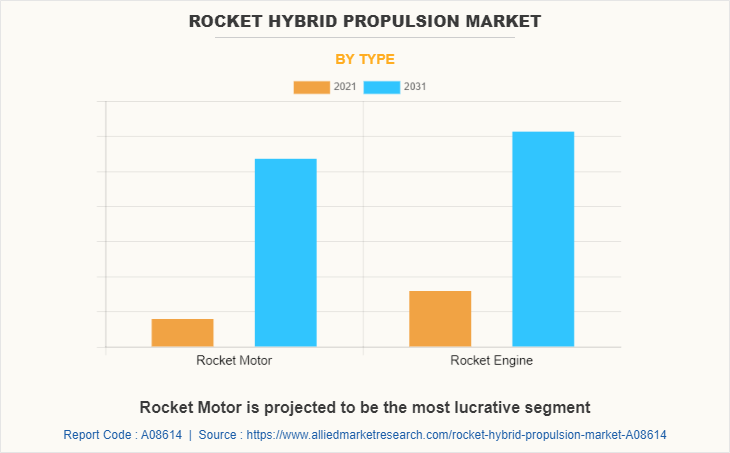 Solid fuel grains are not highly receptive to cracks, imperfections, and environmental temperature and are hence considered secure to transport, store, manufacture, and use for satellite launch. In addition, the factors such as an increase in number of space explorations, rise in commercial applications of the space industry, and high efficiency & technological advancements in rocket propulsion supplement the growth of the rocket hybrid propulsion market across the globe. However, the lack of measures for the disposal of orbital debris and political insurgencies between nations are the factors that hamper the growth of the hybrid rocket propulsion market across the globe. In addition, advances in rocket propulsion, and cost-effective spacecraft launches create numerous opportunities for the key players operating in the rocket hybrid propulsion industry to develop advanced technologies across the globe.
The global rocket hybrid propulsion market is segmented on the basis of type, orbit, component, vehicle type, end user, and region. By type, the market is divided into rocket engine, and rocket motor. By orbit, it is fragmented into low earth orbit (LEO), medium earth orbit (MEO), geostationary earth orbit (GEO), and beyond geosynchronous orbit (BGEO). By component, it is categorized into motor casing, nozzle, igniter hardware, turbopump, propellant, and others. 
By vehicle type, a rocket hybrid propulsion can be manned and unmanned type. By end-user, it is further classified into military & government and commercial. By region, the global rocket hybrid propulsion market has been analyzed across North America, Europe, Asia-Pacific, and LAMEA. The leading players operating in the rocket hybrid propulsion market are China Aerospace Science and Technology Corporation, Environmental Aeroscience Corporation, ISRO, HyPrSpace, Nammo AS, Northrop Grumman, Raytheon Technologies Corporation, Virgin Galactic, HyImpulse, and Pulsar Fusion.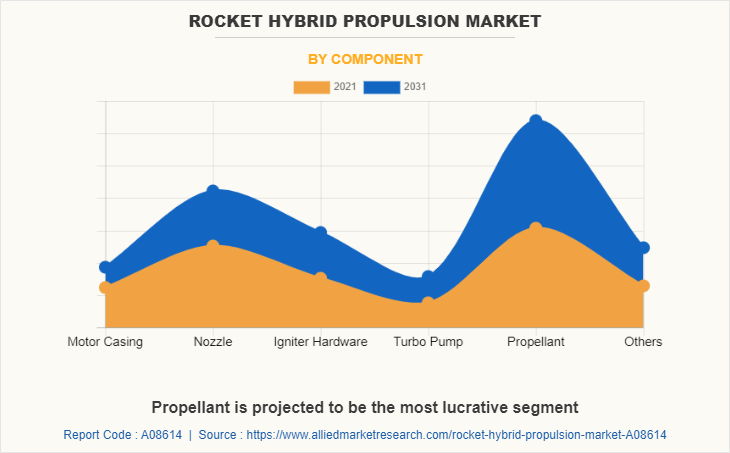 Increase in number of space exploration
Exploring the universe has been one of the major objectives of humankind. Human interest has fueled curiosity in exploring and discovering new worlds, pushing the limits of the known, and increasing technical and scientific knowledge. States and space agencies have been involving in space exploration since the first space launch. The first space launch led to the first human space flight, which led to the first moonwalk.
At present attention has shifted to joint robotic and human missions, Mars, near-Earth asteroids, and destinations beyond solar system. The pace of space exploration was rapid with key developments in space policy. In December 2021, there were a record 19 people weightless in space, eight of them private citizens. The six tourist spaceflights in 2021 were also a record, and part of a resurgence in activity in space. In 2021, there were about 134 successful orbital missions in China, which were closer to the launches carried out by the U.S. in 2021.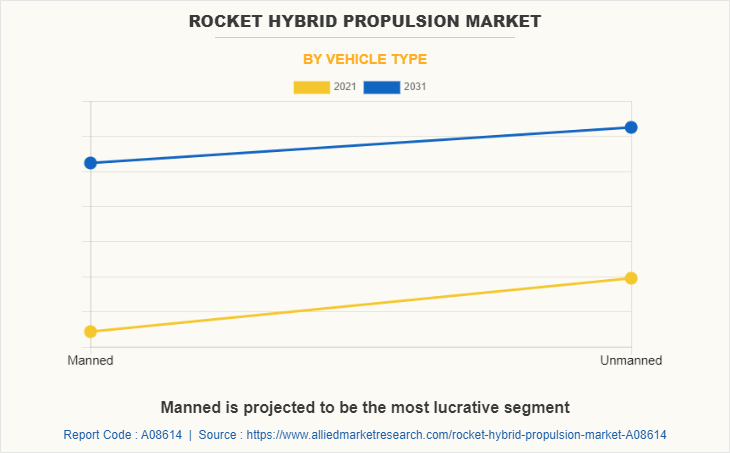 Furthermore, the future of humans in space is uncertain, governments, and companies are investing billions of dollars to further understanding of what lies beyond Earth. Space exploration and the innovation it involves are vital drivers for opening new domains in space science and technology.
This creates new partnerships and develops capabilities that produce new opportunities for addressing global challenges. Space exploration also motivates young people to pursue education and careers in science, technology, engineering, and mathematics. For instance, in October 2020, India partnered with France for Expedition to Venus. The Indian Space Research Organization (ISRO), India's civilian space agency, will be undertaking the mission in 2025.
According to reports, France has agreed to be part of the mission, the first time a French payload will be carried on an Indian space exploration mission. In addition, the National Aeronautics and Space Administration (NASA) had $19,500 million, China National Space Administration (CNSA) had $11,000 million, and European Space Agency (ESA) had a $6,300 million government budget for the space industry in 2019. Thus, the increased spending & government space investment in space exploration activities drive the rocket propulsion market growth during the forecast period.
Rise in commercial applications of the space industry
Space-related industries have recognized several opportunities for the future commercial use of space. For their economic attainability, many depend on reducing the cost of transportation to space, a purpose that to date has evaded both governments and private entrepreneurs. Access to low Earth orbit has usually cost tens of thousands of dollars per kilogram of payload a considerable blockade to further space development. However, several companies, such as SpaceX lowered this cost by a factor of 10 with its Falcon 9 rocket and promises to reduce it still further with its planned Falcon Heavy.
The commercial applications of the space industry are highly regulated because it involves technology and has potential military applications. The U.S. Government works assiduously to encourage a vibrant business environment for U.S. firms, while securing the safety of the American people and restraining the proliferation of threatening technologies. The commercial space transportation industry attains significant amount of revenues from the launching of satellites into the Earth's orbit. Commercial launch providers help in placing government and private satellites into low Earth orbit (LEO) and geosynchronous Earth orbit (GEO).
Moreover, from activities in low Earth orbit to the Artemis program, the commercial space industry is initiating to take on an increased role as innovator in both commerce, space access, and exploration. This growth of commercial use of space over the past few decades offers the prospective for a new paradigm shift for space exploration. The private space industry is expected to remain relevant as a partner with governments to deliver space cargo and develop innovative technologies. Companies profit from space activities and deliver services or extractive practices, such as space mining, which eventually increases the number of resources dedicated to space exploration activities. Increasing use of space industry for various commercial applications such as space launch services, communications and remote sense satellites, related satellite services, and necessary ground-based equipment, is expected to further drive the demand for rocket hybrid propulsion market.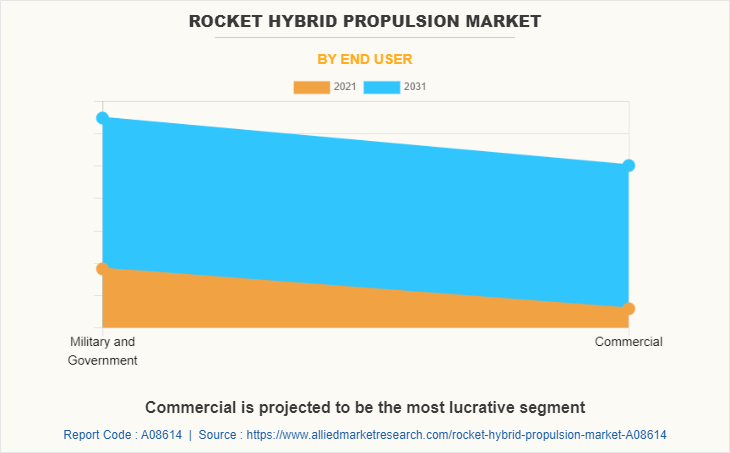 Lack of measures for disposal of orbital debris
In May 2021, a 10-story chunk of China's biggest rocket plunged to Earth. It landed harmlessly in the Indian Ocean, but there will be many more uncontrolled reentries as China builds its space station. Also, in November 2021, when Russia destroyed its own orbiting satellites and created an extensive fast-moving debris which forced astronauts in the international space station to take shelter in their escape spacecraft. Space junk is a major problem. 
There are approximately 23,000 pieces of debris larger than a softball orbiting the Earth. But space junk moves so rapidly that any of the 100 million pieces larger than a millimeter can damage a spacecraft. In addition to launching 12 people into Earth orbit, SpaceX launched 800 small satellites in 2021. Musk's eventual goal is 42,000 Starlink satellites to deliver wireless internet to remote parts of the world. These mega-constellations of satellites being launched by SpaceX and other companies will clutter low-Earth orbit. And they are also bright, shiny objects that will adversely affect ground-based astronomy. There is no international treaty governing space debris. This may hamper demand for the rocket hybrid propulsion market.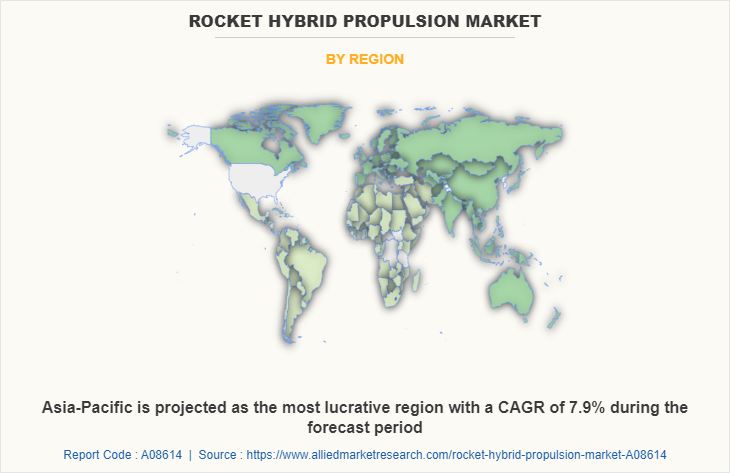 Advances in rocket propulsion
A great number of solid-propellant rocket weapons also were produced, and tens of millions were fired during combat operations by German, British, and the U.S. forces. The main advances in propulsion that were involved in the wartime technology were the development of pumps, injectors, and cooling systems for liquid-propellant engines and high-energy solid propellants that could be formed into large pieces with reliable burning characteristics. Many government institutions and organizations are developing new technologies which are available for all for use in their projects and missions. For instance, in May 2021, the University of Colorado Denver initiated a competition in University for RocketLynx Hybrid Rocket Propulsion System. RocketLynx's primary goal is to design, build, and test lightweight hybrid rocket propulsion systems. This hybrid rocket engine is designed to produce a maximum thrust of 100 pounds for 10 seconds of static combustion.
Hybrid rockets are expected to provide safer & lower-cost avenues for spacecraft and missiles than the present solid propellant and liquid propellant systems. Traditional hybrids can be throttled for thrust tailoring, perform in-flight motor restart and shutdown. In classical hybrids, the fuel is reserved in the form of a solid grain, requiring only half the feed system hardware of liquid bipropellant engines. Hybrid rocket engines are a promising technology for a variety of applications, due to their advantages with respect to solid and liquid propulsion systems. However, their use has been hindered in the past due to the low regression rate performance associated with classical polymeric hybrid fuels. The discovery of high regression rate hybrid fuels has renewed the interest in hybrid rocket propulsion. The commonly used fuels are benign, nontoxic, and not hazardous to store and transport.
Due to COVID-19, numerous space sector firms survived the lockdown and pandemic, meanwhile a significant number of space sector firms struggled, especially small and medium-sized enterprises that comprised a bulk of commercial manufacturers in the space industry. Space agencies and other public administrations require them to fully review the vulnerable smaller companies in their overall crisis responses. Pandemic-spawned supply-chain disruptions are delaying launches and development of satellites, lunar rovers, and interplanetary missions. However, the post pandemic space sector of various countries will see substantial progress and remarkable new records. The proportion of launches using new-generation rockets has increased.
Key Benefits For Stakeholders
This report provides a quantitative analysis of the market segments, current trends, estimations, and dynamics of the rocket hybrid propulsion market analysis from 2021 to 2031 to identify the prevailing rocket hybrid propulsion market opportunities.
The market research is offered along with information related to key drivers, restraints, and opportunities.
Porter's five forces analysis highlights the potency of buyers and suppliers to enable stakeholders make profit-oriented business decisions and strengthen their supplier-buyer network.
In-depth analysis of the rocket hybrid propulsion market segmentation assists to determine the prevailing market opportunities.
Major countries in each region are mapped according to their revenue contribution to the global market.
Market player positioning facilitates benchmarking and provides a clear understanding of the present position of the market players.
The report includes the analysis of the regional as well as global rocket hybrid propulsion market trends, key players, market segments, application areas, and market growth strategies.
 Rocket Hybrid Propulsion Market Report Highlights
Aspects
Details
Market Size By 2031
USD 2 billion
Growth Rate
CAGR of 6.7%
Forecast period
2021 - 2031
Report Pages
310
By Type

Rocket Motor
Rocket Engine

By Orbit

Low Earth Orbit (LEO)
Medium Earth Orbit (MEO)
Geostationary Earth Orbit (GEO)
Beyond Geosynchronous Orbit (BGEO)

By Component

Motor Casing
Nozzle
Igniter Hardware
Turbo Pump
Propellant
Others

By Vehicle Type
By End User

Military and Government
Commercial

By Region

North America (U.S., Canada, Mexico)
Europe (Germany, UK, France, Russia, Rest of Europe)
Asia-Pacific (China, Japan, India, Rest of Asia-Pacific)
LAMEA (Latin America, Middle East, Africa)

Key Market Players
Virgin Galactic, HyImpulse, Northrop Grumman, ISRO, Raytheon Technologies Corporation, HyPrSpace, Nammo AS, PULSAR FUSION, China Aerospace Science and Technology Corporation, Environmental Aeroscience Corporation