The global rocket propulsion market size was valued at $5.1 billion in 2021, and is projected to reach $8.5 billion by 2031, growing at a CAGR of 5.3% from 2022 to 2031.
Rocket propulsion is a method used to send a projectile and out space while breaking earth's gravity. The propulsion system used in rockets generate an enormous forwards push thus lifting the rocket from ground and propelling it towards space. A rocket can be aircraft, spacecraft, missile, or a vehicle which generates thrust. Thrust is generated by propulsion system of the rocket. Rocket engines use three states of propellants: solid, liquid, and hybrid (combination of solid and liquid propellants). Solid rocket engines use solid fuels, generates high thrust, and are more reliable than other propulsion systems.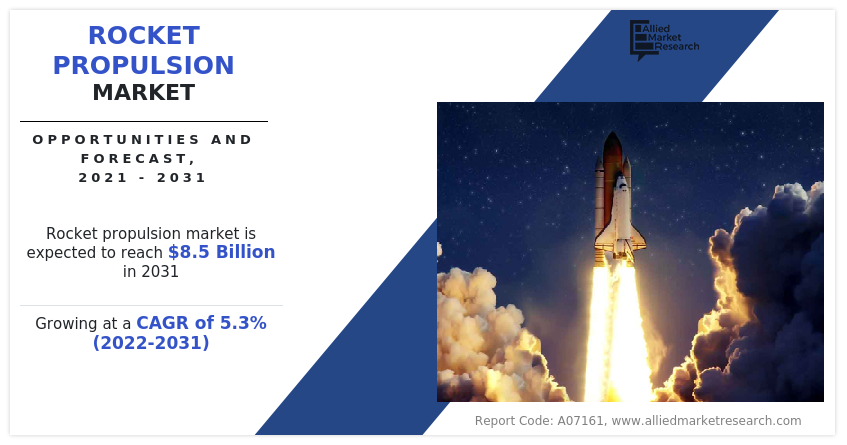 However, solid rocket engines do not have the capability of restart. While liquid rocket engine uses liquid fuel, generates lots of thrust, and are more controllable than solid propellant rockets. However, liquid rocket engines have complex design and thereby having high costs. Hybrid propulsion system in rockets uses both solid & liquid fuel in two different phases. Hybrid rocket engines possess capabilities of both solid & liquid propulsion systems. The rocket propulsion system dates backs thousands of years, but the accelerated growth and technological innovations in modern rocketry began in past decade. These systems are used for several operations such as launching vehicles to space, placing artificial satellite in orbit, human space flight and space exploration. 
Rocket Propulsion Market

---

By Orbit
LEO and Elliptical segment is projected as the most lucrative segment
Growth drivers, restraints, and opportunities are explained in the study to better understand the market dynamics. This study further highlights key areas of investment. In addition, it includes Porter's five forces analysis to understand the competitive scenario of the industry and the role of each stakeholder. The study features strategies adopted by key market players to maintain their foothold in the market.
The rocket propulsion market is segmented into orbit, end-use, application, propulsion and region. By orbit, the market is classified into LEO & Elliptical, GEO, MEO. Depending on end use, it is segregated into commercial, military, and Civil & Government. On the basis of application, it is fragmented into communication, earth observation, navigation, global positioning system (GPS) and surveillance, technology development and education, and others. Depending on end use, it is segregated into solid, liquid, and hybrid. Region wise, it is analyzed across North America, Europe, Asia-Pacific, and LAMEA.
The leading players operating in the rocket propulsion market are Airbus, Blue Origin, Boeing, Mitsubishi Heavy Industries, Moog Inc., Northrop Grumman, Rocket Lab USA, SAFRAN S.A., SpaceX, and Virgin Galactic.
Increasing space exploration mission
Over the last decade, 19 space exploration or planetary missions have been launched by countries such as the U.S., India, China, Russia, Japan, and agencies such as the European Space Agency. The government budget across the globe is increasing every year. The governments are investing in sponsoring space exploration missions and supporting infrastructure. There were times when a lack of monetary resources restricted the space programs. In the current scenario, the situation has turned owing to high competition in the space industry. Many nations are investing in enhancing their satellite connectivity and facilities to be launch-capable nations and stay ahead in the space race. For instance, the National Aeronautics and Space Administration (NASA) had $19,500 million, China National Space Administration (CNSA) had $11,000 million, and European Space Agency (ESA) had a $6,300 million government budget for the space industry in 2019. Thus, the increased spending & government space investment in such activities drive the rocket propulsion market growth during the forecast period.
Governments of the countries such as Russia, the U.S., China, and India are increasing investment in armed forces to establish dominance on the battlefield. According to Stockholm International Peace Research Institute (SIPRI), total global military expenditure escalated to $1981 billion in 2020 an increase of 2.6% from 2019. In addition, the increase in international conflicts force countries to enhance their military strengths through advancements in weapons capabilities propelling the demand for rocket propulsion systems.
Moreover, governments of developed and developing countries such as India, China, Russia, and the U.S. are significantly spending on military modernization programs to improve their firepower and upgrade their weapons & surveillance capabilities. For instance, in March 2021, the U.S. Army signed a $1.12 billion contract with Lockheed Martin Corporation for Lot 16 production of Guided Multiple Launch Rocket System (GMLRS) rockets and associated equipment. Furthermore, an increase in programs of armed forces by major economies boosts the use of rocket systems, which is expected to supplement the growth of the market. In November 2021, the U.S. Army entered into a collaboration with Lockheed Martin Corporation for the PAC-3 program. Under this program, two PAC-3 MSE missiles were successfully engaged with the U.S. Army Integrated Air and Missile Defense Battle Command System (IBCS). These activities are expected to drive the rocket propulsion market during the forecast period.
Rocket Propulsion Market

---

By End Use
Commercial segment is projected as the most lucrative segment
Technological advancements in rocket propulsion systems
The development of rocket artillery systems and surge in adoption of such weapons in modern warfare techniques are the major factors that are anticipated to fuel the growth of the rocket propulsion system. For instance, in May 2022, Poland announced buying 500 more High Mobility Artillery Rocket System (HIMARS) artillery rocket systems from the U.S. In addition, in October 2021, the Indian Army deployed Pinaka and Smerch Multiple Rocket Launcher Systems (MRLS) at a position near the China border to counter any threat arising across the Line of Actual Control (LAC). Thus, rise in adoption of advanced rocket propulsion system and collaboration between NASA and industry leaders have produced numerous innovations that advance not only space exploration and aeronautics, as all forms of transportation through space, air, and even water.
Every advance in aerospace propulsion systems has been underpinned by advances in the manufacture of electronic components. These advances meet the need for precise calibration and control demanded by new engine designs. For instance, electric propulsion systems for orbiting GPS, military, and communications satellites have revolutionized fuel efficiency by ionizing stable gases instead of burning heavy fuel. To do this, the thrusters use electricity from solar cells to create a plasma that is propelled by the spacecraft's exhaust gases.
Rocket Propulsion Market

---

By Application
Communication segment is projected as the most lucrative segment
The plasma Thruster is just one of many advances in aerospace that will be the future of space exploration. Other propulsion systems under development include electrothermal engines, solar sails, thermonuclear fission, pulsed nuclear fusion, and antimatter propulsion spacecraft. Scientists are beginning to see results from research into EmDrive, a design long thought impossible to convert electricity into microwaves. Many of these designs still only exist in the lab, as other advances are already making their way into space. Reduced costs by manufacturing the revolutionary raptor engine, which runs on liquid methane and liquid oxygen, and makes twice as much power as the company's largest engine to date. The Raptor was reused 1,000 times and was designed to travel to Mars. It is a full-flow internal combustion engine that burns fuel more efficiently than most previous rocket engines, consuming nearly all of the fuel in the combustion process.
Testing and manufacturing innovative space propulsion systems require electronic components and printed circuit boards (PCBs) that can withstand extreme temperatures and extremely high pressures and fit into smaller form factors than traditional motors. Such components are also in high demand in advanced aerospace and marine propulsion systems, where environmental considerations play a much more important role in their design.
Aerospace has greatly improved thermal efficiency through innovations such as the use of advanced materials such as ceramic matrix composites (CMC). Electric, hybrid, and biofuel engines currently in development have the potential to fundamentally transform the industry. Companies such as Airbus and Boeing are at the forefront of propulsion systems that conserve and eventually eliminate the use of fossil fuels in aviation. These systems include state-of-the-art batteries and electronics designed for much smaller aircraft engines and electric motors.
Rocket Propulsion Market

---

By Propulsion
Hybrid segment is projected as the most lucrative segment
Whether in space, aerospace, or marine, all recent advances in propulsion systems are based on reliable, flexible, efficient, and rugged printed circuit boards and other electronic components. As an industry leader specializing in prototype and production-ready electronic products, NPI's core competencies include turnkey electronic assembly, kitting, PCB manufacturing (class 2, class 3, flex and rigid-flex), cost analysis, and logistics and services such as BOM.   
High initial investment
The initial cost for launch services is very high. A launch service can roughly cost $1 million to $100 million. Initially, the space activities and launching services were either controlled by the government & military or by the space agencies formed by the government. The market was monopolized as there were lesser to no other players in the market. The industry still has a few players in the rocket propulsion market that are largely concentrated in the U.S. and European countries.
The initial cost associated with providing satellite launch services hampers the satellite connectivity market growth. The launch services provider needs to invest hugely to procure the infrastructure and supporting activities required for the launch. Also, the minor impact of the coronavirus pandemic has affected the space industry. In addition, global space-related events such as satellite 2020, CABSAT, sea air space, SMi Small Satellites Conference, and many others, have either been canceled or rescheduled.
The start of the pandemic will affect the space industry in the future owing to the limited workforce & investment from giant players for the launch. Moreover, the maintenance activities and getting the infrastructure ready for every launch requiring specific preparations affect the launch service cost as well. The small launch service-providing companies find it difficult to survive in the rocket propulsion industry, owing to numbered launches and growth in private players in the industry.
Rocket Propulsion Market

---

By Region
Asia-Pacific would exhibit the highest CAGR of 6.5% during the forecast period 2022-2031
Adoption of open architecture
Many government institutions and organizations are developing new technologies which are available for all for use in their projects and missions. Also, they are not patented by any organization or institution. For instance, in May 2021, the University of Colorado Denver started a competition in University for RocketLynx Hybrid Rocket Propulsion System. RocketLynx's primary goal is to design, build, and test lightweight hybrid rocket propulsion systems. This hybrid rocket engine is designed to produce a maximum thrust of 100 pounds for 10 seconds of static combustion. This rocket engine was developed with the requirements of the Spaceport America Cup in mind. One of the long-term goals is to eventually enter this competition with a similar engine. Hybrid rocket engines consisted of a nitrous oxide-based oxidant, also known as NOS, and acrylonitrile butadiene styrene as a solid fuel, also known as ABS. Moreover, in 2019, HAL open science released a report on automatic control methods for liquid-propellant rocket engines. The main purpose of this report is to examine the field of convergence between liquid propellant rocket propulsion and automated control fields. Thus, such factors are anticipated to rise the adoption of new technologies by market players and institutions, which offer lucrative opportunities for the rocket propulsion market players during the forecast period.
The COVID-19 pandemic had an adverse effect on the overall space and satellite manufacturing and, in turn, on the rocket propulsion industry. There was a shortage of semiconductors across the globe, owing to sudden rise in demand for consumer electronics. However, investments done by companies to have technological dominance and are expected to support growth in the coming years.
Key Benefits For Stakeholders
This study presents an analytical depiction of the global rocket propulsion market analysis along with current trends and future estimations to depict imminent investment pockets.

The overall rocket propulsion market opportunity are determined by understanding profitable trends to gain a stronger foothold.

The report presents information related to the key drivers, restraints, and opportunities of

the global rocket propulsion market with a detailed impact analysis.

The current rocket propulsion market are quantitatively analyzed from 2022 to 2031 to benchmark the financial competency.

Porter's five forces analysis illustrates the potency of the buyers and suppliers in the industry.
 Rocket Propulsion Market Report Highlights
Aspects
Details
Market Size By 2031
USD 8.5 billion
Growth Rate
CAGR of 5.3%
Forecast period
2021 - 2031
Report Pages
238
Orbit

LEO and Elliptical
GEO
MEO

End Use

Civil and Government
Commercial
Military

Application

Communication
Earth Observation
Navigation, Global Positioning System (GPS) and Surveillance
Technology Development and Education
Others

Propulsion
By Region

North America (U.S., Canada, Mexico)
Europe (Germany, France, Italy, Spain, Russia, UK, Rest of Europe)
Asia-Pacific (China, India, Japan, South Korea, Rest of Asia-Pacific)
LAMEA (Latin America, Middle East, Africa)

Key Market Players
Airbus, Rocket Lab USA, Boeing Company, Spacex, Virgin Galactic, Northrop Grumman, Moog Inc., Safran S.A., Mitsubishi Heavy Industries, Blue Origin