Rockfall Radar Market Research, 2031
The global rockfall radar market was valued at $126.6 million in 2021, and is projected to reach $285.6 million by 2031, growing at a CAGR of 8.5% from 2022 to 2031. Rockfall radar is used for determining and tracing rockfall events on railway lines, rock-cut highways, tunnels, quarries, etc. Landslides and rockfall hazards are spatially related. The difference between rockfalls and landslides is that rocks in a rockfall disaster lose their contact with a slope while in landslides rocks are always in contact with the slope.
The COVID-19 pandemic has severely impacted the rockfall radar market. Lockdowns, quarantine, and social distancing led to business slowdowns or complete shutdowns. This in turn hampered manufacturing and transportation activities. Rockfall radar has high demands from highway and mining operators. However, during the outbreak, the mining and construction sector was among those that underwent the most significant impacts. Thus, hampering the demand of rockfall radars.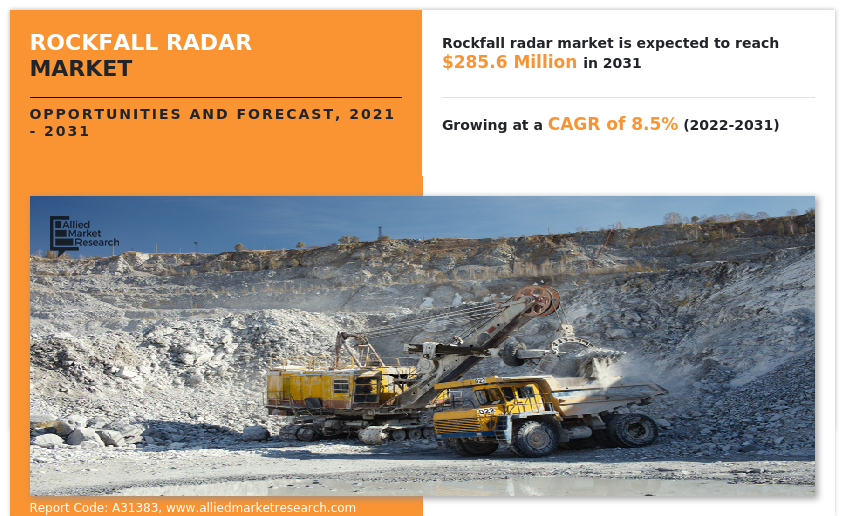 Rockfall disasters can harm people and cause severe damage to vehicles and infrastructure. Rockfall radar effectively detects the likelihood of rockfalls in real-time and can operate in snowfall, rain, etc. Moreover, it provides a wide-area range for analyzing rockfall-prone areas. 
The substantial growth of the rockfall radar market can be primarily attributed to a surge in rockfalls in mountainous territories. Climate change is reducing the strength of slopes in the mountains. This in turn increases the danger for people traveling through rock-cut highways. Severe rainfall along with extreme temperatures are two major factors responsible for climate change. Geological threats such as rockfalls frequently disrupt transportation routes, increase financial losses and fatalities, and endanger the safety of civil infrastructure. Owing to these factors, risk analysis using cutting-edge solutions such as rockfall radars is important to mitigate potential rockfalls.  
The shortage of skilled technical personnel having good knowledge of rockfalls and less awareness about rockfall radars in developing regions are anticipated to restrain the rockfall radar market growth over the forecast period.  
A surge in demand for rockfall radars in open-pit mines is anticipated to provide excellent opportunity for the rockfall radar market. The safety of workers is pivotal in open-pit mine sites. Open-pit mines operations can be jeopardized by rockfalls, which can hamper productivity, thus, resulting in substantial economic losses. This challenge can be solved using rockfall radars. Rockfall radars can help to assess potential rockfall, thus, decreasing fatalities and increasing productivity. 
The industry players are investing a lot of effort on the research and development of smart and unique strategies to grab a rockfall radar market opportunity. These strategies include product launches, mergers & acquisitions, collaborations, partnerships, and refurbishing of existing technology. For example, in 2019, Hexagon AB launched IDS GeoRadar RockSpot for rockfalls and landslides. The solution can detect and analyze rockfalls effectively.  
The key players profiled in this report include Hexagon AB, SkyGeo, TERRASIGNA, TRE ALTAMIRA, Canary Systems, GroundProbe, Geomotion Australia, Geobrugg AG, and others. 
The global rockfall radar market outlook report is segmented on the basis of application, offering, and region. By application, the market is sub-segmented into highways, railways, mines, and others. By offering, the market is classified into cloud and on-premises. By region, the market is analyzed across North America, Europe, Asia-Pacific, and LAMEA. 
The rockfall radar market forecast is segmented into Offering and Application.
Rockfall Radar Market

---
By Offering
The on-premises sub-segment held the largest market share in 2021
By offering, the cloud sub-segment is expected to show a fastest CAGR during the forecast period. Cloud-based rockfall radars offer a range of advantages such as real-time rockfall alerts. This technology stores information in a broad database on a cloud-based server. The information collected can then be analyzed in collaboration to construct models for rockfall dangers. The information on the cloud-based rockfall radars can be accessed using a web browser and can be integrated with smartphones. Cloud-based radars have an edge over other solution offerings and their augmentation in the market is expected to grow in upcoming years. 
Rockfall Radar Market

---
By Application
The highways sub-segment is projected to grow at a fastest CAGR during the forecast period
By application, the mines sub-segment dominated the rockfall radar market share in 2021. Sometimes it is not possible to anchor drapery owing to the problem of reaching some slopes. In such cases, rockfall radars are used to track and analyze rockfall-prone sites. Rockfall disasters in open pit mines are a danger to workers and are typically addressed using cutting-edge solutions such as rockfall radars. Rockfalls in open pit mines often hamper mining production. The implementation of mitigation measures against rockfall in open pit mines is very important. Thus, to mitigate rock fall hazards, advanced technologies such as rockfall radars are implemented. These are predicted to be the major factors affecting the rockfall radar market size during the forecast period too. 
Rockfall Radar Market

---
By Region
The Asia-Pacific region is estimated to grow at fastest CAGR during the forecast period
By region, Europe is expected to dominate the global rockfall radar market during the forecast period. This significant growth is majorly attributed to the growing number of rockfalls and landslides in this region. Rockfalls are a major hazard in Europe on account of their unique topography and dense population in hilly areas as well as in coastlines and steep riverbanks. Additionally, presence of major players in this region is expected to boost the rockfall radar market size over the forecast period.  
Impact of COVID-19 on the Global Rockfall Radar Industry 
The COVID-19 pandemic halted numerous business activities worldwide, as many nations shutdown their ports, domestic transportation as well as airports while imposing stringent lockdowns and social distancing measures. 
The COVID-19 outbreak has negatively impacted the demand for rockfall radars.  
Rockfall radars have a high demand from highway operators and open pit mine sites. However, during the COVID-19 outbreak, the transportation and mining sector was among those that witnessed the most severe impact.  
Key Benefits For Stakeholders
This report provides a quantitative analysis of the market segments, current trends, estimations, and dynamics of the rockfall radar market analysis from 2021 to 2031 to identify the prevailing rockfall radar market opportunities.
The market research is offered along with information related to key drivers, restraints, and opportunities.
Porter's five forces analysis highlights the potency of buyers and suppliers to enable stakeholders make profit-oriented business decisions and strengthen their supplier-buyer network.
In-depth analysis of the rockfall radar market segmentation assists to determine the prevailing market opportunities.
Major countries in each region are mapped according to their revenue contribution to the global market.
Market player positioning facilitates benchmarking and provides a clear understanding of the present position of the market players.
The report includes the analysis of the regional as well as global rockfall radar market trends, key players, market segments, application areas, and market growth strategies.
 Rockfall Radar Market Report Highlights
Aspects
Details
Market Size By 2031
USD 285.6 million
Growth Rate
CAGR of 8.5%
Forecast period
2021 - 2031
Report Pages
280
Offering
Application

Highways
Railways
Mines
Others

By Region

North America (U.S., Canada, Mexico)
Europe (Germany, UK, France, Switzerland, Italy, Russia, Rest of Europe)
Asia-Pacific (China, Japan, India, South Korea, Australia, Rest of Asia-Pacific)
LAMEA (Brazil, United Arab Emirates, Saudi Arabia, South Africa, Rest of LAMEA)

Key Market Players
Geobrugg AG, SkyGeo, TERRASIGNA, TRE ALTAMIRA,  Canary Systems, GroundProbe, Geomotion Australia, Hexagon AB