Rotary Air Compressor Market Overview:
Rotary Air Compressor provides various benefits to process industries offering services for varied end-users by providing enhanced safety, improved operational efficiency, and enhanced productivity through integration of energy-efficient and cost-effective products. Rotary Air Compressor providers have introduced innovative products and solutions to enable and high level of output ability to achieve high productivity. Moreover, rotary air compressors are used by varied industry verticals which include oil & gas, waste management, chemicals, power generation, automotive, mining, pharmaceuticals, food & beverages, and others. The stationary segment is anticipated to witness the highest growth rate during the forecast period. The global Rotary Air Compressor market was valued at $9,298 million in 2016, and is projected to reach at $12,634 million by 2023, growing at a CAGR of 4.50% from 2017 to 2023.
The increase in need for energy efficient products, increasing application areas, penetration of IoT & Industry 4.0, and the increased market for compressed air supplements the market growth. Rotary Air Compressor gains traction among the end users due to high rate of adoption from end-user industries, rise in number of industrial infrastructure projects, and increase in investment across all the process industries. The increased market for construction sector is expected to drive the Rotary Air Compressor market growth.
Segment Overview
The global air compressor market is segmented based on type, lubrication method, end-user industry, and region. The type segment includes portable and stationary air compressors. Based on lubrication method, the Rotary Air Compressor market is bifurcated into oiled and oil-free air compressors. Based on region, the Rotary Air Compressor market is analyzed across North America (U.S., Mexico, and Canada), Europe (UK, Germany, France, and rest of Europe), Asia-Pacific (China, India, Japan, and rest of Asia-Pacific), and LAMEA (Latin America, Middle East, and Africa).
Top Impacting Factors
The global Rotary Air Compressor market is influenced by several factors that include increased penetration of IoT & Industry 4.0, increased application areas, proliferation of efficient solutions, growth associated with end-use industries, demand from developing economies, and others. All these factors collectively provide opportunities for Rotary Air Compressor market growth.
Growth of Oil and Mining Industries
Growth associated with the oil industry and natural gas production is a prominent factor that may fuel the Rotary Air Compressor market demand during the forecast period. According to EIA's Annual Energy Outlook, U.S. crude output is going to increase by 20% by 2030, and the demand for natural gas is estimated to attain around 15.6% of growth over the next few years. Further, expenditure by the U.S. oil and gas companies is expected to increase during the forecast period. Natural gas is gaining importance as the preferred fuel option, owing to its low emission and low-cost properties. Air compressors have wide-scale application in the oil and mining industries, which may act as a driver for the air compressor industry.

Availability of Energy-efficient Compressors
Compressed air is one of the most expensive sources of energy in a plant. Air compressors account for one of the prime sources of pressurized air, which is utilized by industrial facilities, and power consumption by them acts as a key are of concern for these facilities. Moreover, 1030% of the electricity consumed in an industrial facility is used to generate compressed air. Use of energy-efficient air compressors helps in conserving electricity and reduces electricity bills largely. Further, growth in awareness towards environmental and energy conservation has created the need for development of energy-efficient and cost-effective solutions to cater to the increasing demand from end-use industries.
Impact of Developing Economies
Increase in demand for advanced solutions and technological advancements in end-use industry, presence of untapped demands, and surge in need for better infrastructure in the countries such as China, Japan, and Australia provide enormous opportunities for the market growth.
The Rotary Air Compressor Market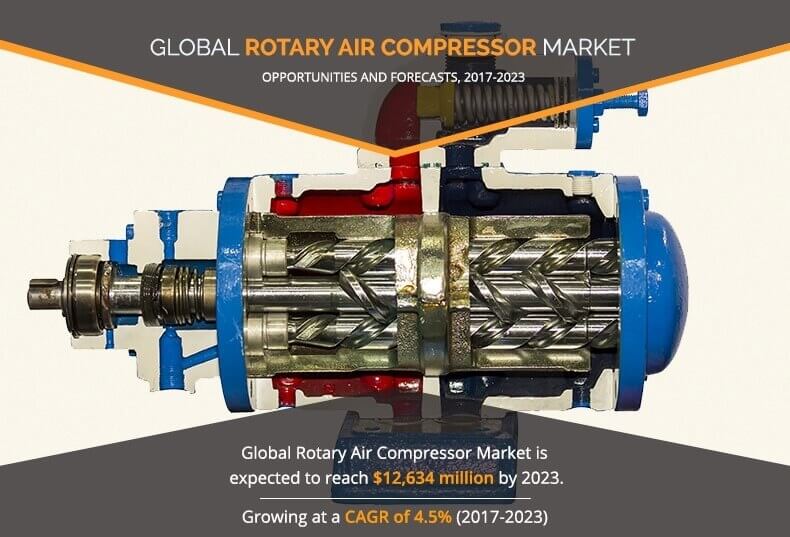 The Rotary Air Compressor Market by Type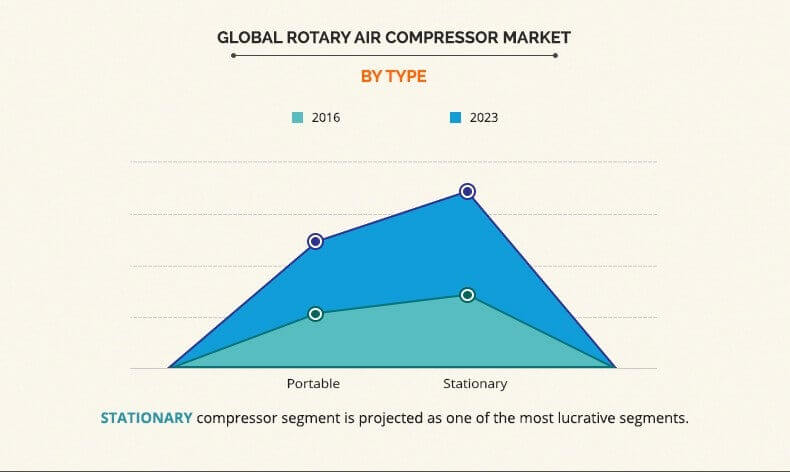 The Rotary Air Compressor Market by Lubrication Method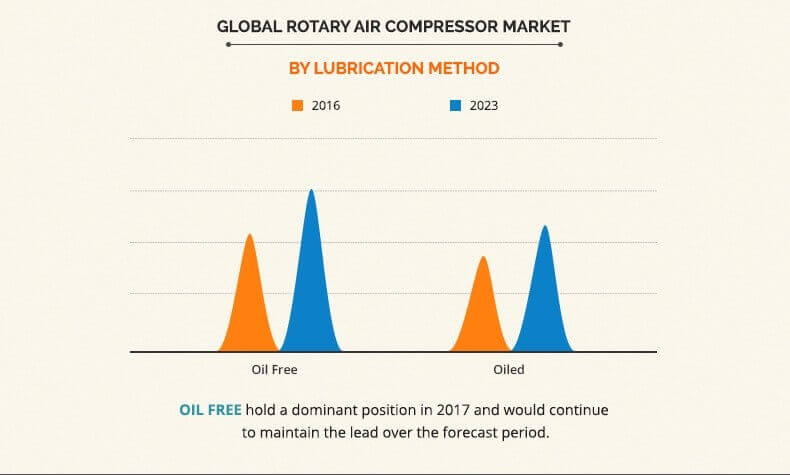 The Rotary Air Compressor Market by End-Use Industry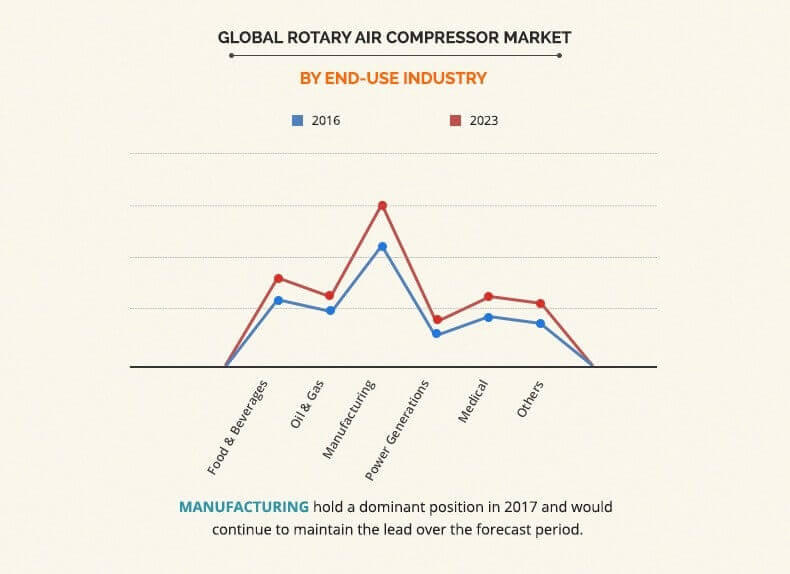 Key Benefits for Stakeholders
The report provides an overview of the trends, structure, drivers, challenges, and opportunities in the global Rotary Air Compressor market.
Porters Five Forces analysis highlights the potential of buyers & suppliers, and provides insights on the competitive structure of the market to determine the investment pockets.
Current and future trends adopted by key market players are highlighted to determine overall competitiveness.
The quantitative analysis of the market from 2016 to 2023 is provided to elaborate the market potential.
Rotary Air Compressor Market Key Segments:
By Type
By Lubrication Method
By End-User Industry
Food & Beverage
Oil & Gas
Manufacturing
Medical
Power Generation
Others
By Region
North America
Europe

Germany
France
UK
Russia
Rest of Europe

Asia-Pacific

China
India
Japan
Rest of Asia-Pacific

LAMEA

Latin America
Middle East
Africa
Key Market Players
Atlas Copco AB
Kobe Steel Ltd.
Elgi Equipments Limited
Ingersoll-Rand PLC
Kirloskar Pneumatic Company Limited
Mitsubishi Heavy Industries Ltd.
Suzler Ltd.
Ebara Corporations
Porter Cable
VMAC Global Technology Inc.
Campbell Hausfled
Doosan Infracore Portable Power