Rugged IC Market Outlook – 2030 
The global rugged IC market was valued at $811.0 million in 2020, and is projected to reach $1,551.8 million by 2030, registering a CAGR of 6.9% from 2021 to 2030. Integrated circuit (IC), also known as microchip is a set of electrical circuits, which are mounted over a semiconductor material. ICs are the main components of all modern electronic devices such as TVs, mobile phones, computers, cameras, washing machines, and microwaves. ICs are used for several functions such as microprocessors, oscillators, filters, and regulators. Rugged integrated circuits are the microchips that are specially designed and built to carry out operations under extreme conditions. They can perform under a wide range of temperature, vibration levels, and dust. 
COVID-19 scenario to impact Consumer Electronics segment of Rugged IC Market negatively.
Rugged ICs are created by using silicon carbide as this semiconducting material can withstand high voltage and possess high thermal conductivity.  Rugged ICs are far superior than usual ICs, in terms of built quality and design and thus they provide better performance to electrical devices.  These advanced ICs improve efficiency of the analog and digital circuits and are extensively used in different sectors such as electronics, power generation, automobile, and aerospace.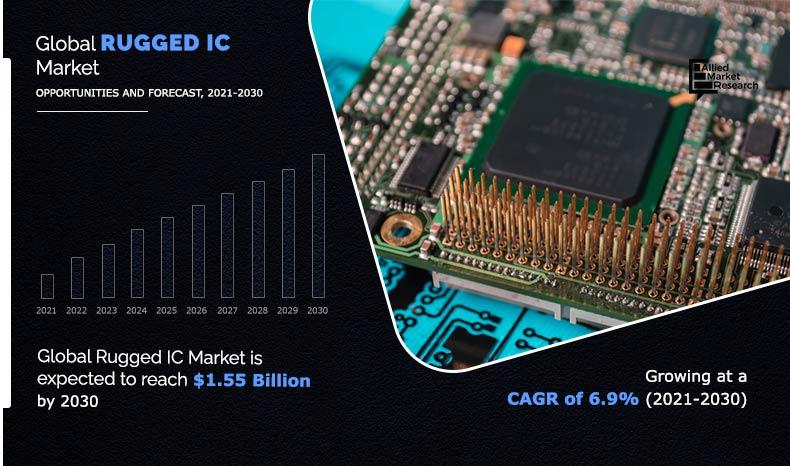 In the coming years, the Rugged IC industry is expected to generate moderate cash output with modest investments in development, research, and tests. However, the rugged IC market is nearing the maturing stage, and is expected to generate modest revenue for key players in the coming years. 
Factors such as growth in development of smart cities, increase in demand, growth of rugged loT, and rise in adoption of ruggedized computers are expected to drive growth of the market in the future. However, high production cost of rugged devices act as major barriers and hamper the market growth. Furthermore, rise in need for hardy and reliable electrical equipments for military and aerospace industries are expected to offer lucrative opportunities for rugged IC market growth.
Rugged IC Market

---
By Level
Fully Rugged segment is projected to be the most lucrative segment
Segment Overview
The rugged IC market is analyzed by level, application, end use, and region. By level, the market is divided into semi-rugged, fully-rugged, and ultra-rugged. By application, it is classified into mobile phones, tablets, scanners, and others. By end use, it is categorized into consumer electronics, automotive, healthcare, industrial, manufacturing, and others. By region, the rugged IC market forecast is analyzed across North America, Europe, Asia-Pacific, and LAMEA along with their prominent countries.
Rugged IC Market

---
By Application
Mobile Phone segment will maintain the lead throughout the forecast period
Competitive Analysis
The key players profiled in the report include General Dynamics Corporation, Crystal Group, Richtek Technology Corporation, Qualcomm, Honeywell International Inc., Infineon Technologies AG, Analog Devices Inc., NXP Semiconductors N.V., Texas Instruments Inc., and STMicroelectronics. These key players have adopted various strategies, such as product portfolio expansion, mergers & acquisitions, agreements, geographical expansion, and collaborations to enhance their market penetration.
Rugged IC Market

---
By End Use
Healthcare segment will grow at a highest CAGR of 11.6% during 2021 - 2030
The ongoing spread of COVID-19 has become one of the biggest threats to the global economy and is causing widespread concerns and economic hardship for consumers, businesses, and communities across the globe. The "new normal" that includes social distancing and working from home has created challenges with daily activities, regular work, needs, and supplies, causing delayed initiatives and missed opportunities.
The COVID-19 pandemic has impacted the society and overall economy across the globe. The impact of this outbreak has grown day-by-day that affects the supply chain. This has createduncertainty in the stock market; decreased business confidence, slowed supply chain, and increased panic among customers. European countries under lockdown have suffered a major loss of business and revenue due to shutdown of manufacturing units in the region. Operations of production and manufacturing industries have been heavily impacted by the outbreak of COVID-19, which led to decrease in growth of the rugged IC market in 2020.
Rugged IC Market

---
By Region
Asia-Pacific region would exhibit the highest CAGR of 10.9% during 2021 - 2030
According to the rugged IC market trends, the COVID-19 pandemic has severely impacted the global manufacturing and industrial sectors as production facilities have stalled, which, in turn, led to significant demand in industries.
Emergence of COVID-19 has declined growth of the rugged IC market in 2020, and is estimated to witness slow growth till the end of 2021. Implementation of partial or complete lockdown across various countries globally is the prime reason for decline in growth rate of the market. As industries were temporarily shut, it reduced the need for maintenance from various industries.
Top Impacting Factors
The significant factors that impact the global rugged IC market include surge in adoption for ruggedized computers for various industrial purposes, increasing investments for development of smart cities. In addition, the market is influenced by high production costs of rugged devices. Moreover, rise in development of loT, specifically in the industrial sector has affected the market growth to a certain extent. Each of these factors is anticipated to have a definite impact on the global rugged IC market during the forecast period. These factors are expected to offer lucrative opportunities for the market growth in the coming years.
Growth in Adoption of Ruggedized Computers
A ruggedized computer is a specially designed computer, which can withstand extreme conditions such as strong vibrations, extreme temperatures, and wet or dusty conditions and operate reliably. Their robust structure is supported by their fan-less, cable-less, and one-piece design and integrated rugged ICs. This is why plenty of industries are benefited from ruggedized computers for their applications, which include data centers, logistics & transport, mining, oil & gas, manufacturing, defense, aerospace and others. 
Industries such as mining, oil & gas, and defense require exceptionally sturdy and reliable technology for tasks related to equipment maintenance, GIS mapping, surveillance, and others, where consumer devices fail, rugged mobile computers stand up to the most challenging environments such as constantly vibrating vehicles, airborne dust and mineral particles, variable weather conditions, hard surfaces and humidity to reduce worker and equipment downtime and improve safety and productivity. 
Moreover, rugged computers are also capable of withstanding heavy computing tasks such as AI, machine learning, and deep learning and thus, are extensively used in data centers and smart manufacturing facilities. Rapid technological advancements across the globe acts as a major driver for increase in demand for rugged computers and consequently there is a surge in applications for rugged ICs in the market.
High Production Cost of Rugged Electronics
The major factor restricting growth of the rugged IC market is the high production cost of different rugged electronics. In addition, to achieve high performance and superior mechanical strength of rugged devices, the manufacturing cost increases steeply compared to conventional electronics devices. For instance, a rugged mobile phone costs a few times higher than a normal smart-phone offering the same specifications. Rugged hand-held devices used in different construction and mining sites also come with a significantly high price-tag.  Thus, high cost of rugged electronics in comparison to the benefits offered by them is expected to be a major restraint to growth of the global rugged electronics market.
Key Benefits For Stakeholders
This study comprises analytical depiction of the rugged IC market size, rugged IC market opportunity along with current trends and future estimations to depict imminent investment pockets.
The overall rugged IC market analysis is determined to understand profitable trends to gain a stronger foothold. 
The report presents information related to key drivers, restraints, rugged IC market size and opportunities with a detailed impact analysis.
The rugged IC market outlook forecast is quantitatively analyzed from 2020 to 2030 to benchmark the financial competency. 
Porter's five forces analysis illustrates potency of buyers and the market share of key vendors.
The report includes the market trends and the rugged IC market share of key vendors.
 Rugged IC Market Report Highlights
Aspects
Details
By Level

Semi-Rugged
Fully-Rugged
Ultra-Rugged

By Application

Mobile Phones
Tablets
Scanners
Others

By End Use

Automotive
Consumer Electronics
Healthcare
Industrial
Manufacturing
Others

By Region

North America (U.S, Canada, Mexico)
Europe (UK, Germany, France, Italy, Rest of Europe)
Asia-Pacific (China, Japan, South Korea, Rest of Asia-Pacific)
LAMEA (Latin America, Middle East, Africa)

Key Market Players
General Dynamics Corporation, Crystal Group, Richtek Technology Corporation, Qualcomm, Honeywell International Inc., Infineon Technologies AG, Analog Devices Inc., NXP Semiconductors N.V., Texas Instruments Inc., STMicroelectronics