Russia IVF Market Overview:
The IVF Market size in russia was valued at $398 million in 2015, and is estimated to reach $641 million by 2022, registering a CAGR of 7.0% from 2016 to 2022. In vitro fertilization (IVF) is the process of artificial fertilization used to treat infertility problems. It is the most efficient assisted reproductive technology (ART) that aids couples or single parents to conceive a child. However, this procedure does not always provide successful results, and its success rate varies from individual to individual.
IVF has emerged as a preferable choice for fertility treatment in the clinical industry. This procedure is performed in a clinical laboratory where the matured egg (self-egg or donors egg) is fertilized with the sperm (self-sperm or donors sperm). The fertilized egg or embryo is then implanted into the uterus.
The Russia IVF market is driven by the low-cost clinical settings for IVF treatments as compared to treatment facilities in the U.S., UK, and other established markets. Rise in popularity of medical and fertility tourism, coupled with advanced IVF facilities and treatment options, supplements the in vitro fertilization market growth.
Russia IVF Market Segmentation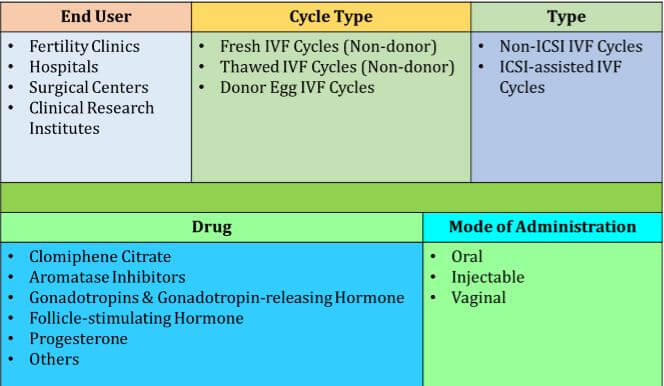 The Russia IVF market is segmented based on end user, cycle type, type, drug, and mode of administration. Based on end user, it is divided into fertility clinics, hospitals, surgical centers, and clinical research institutes. On the basis of cycle type, it is classified into fresh IVF cycles (non-donor), thawed IVF cycles (non-donor), and donor egg IVF cycles. The type segment includes non-ICSI IVF cycles and ICSI-assisted IVF cycles. On the basis of drug, the market is categorized into clomiphene citrate, aromatase inhibitors, gonadotropins & gonadotropin-releasing hormone, follicle-stimulating hormone, progesterone, and others. Based on mode of administration, this market is analyzed through oral, injectable, and vaginal modes.
The in vitro fertilization market is expected to witness moderate growth during the forecast period, owing to the rise in adoption of IVF systems in Russia due to growth in medical and fertility tourism. Rise in willingness of single parents and same-sex couples to experience parenthood through ART, especially IVF, is expected to present various opportunities for market expansion. However, inadequate reimbursement policies associated with this treatment may impede the market growth.
The report provides extensive competitive analysis and profiles of key market players such as Ava-Peter Clinic, MD Medical Group, and IVF Russia (The International Centre of The Reproductive Medicines).
The other players in the value chain include Vitrolife AB, EMD Serono, Inc., Irvine Scientific, Cooper Surgical, Inc., Cook Medical, Inc., and Thermo Fisher Scientific, Inc.
Russia IVF Market, By End User, 2015 ($Million)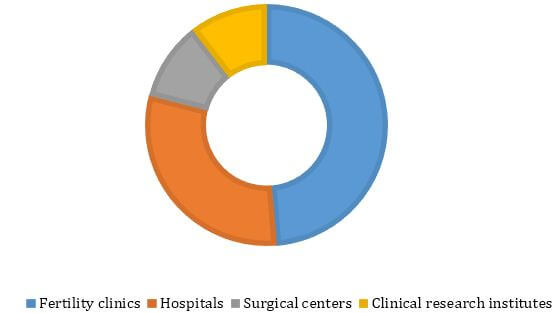 Clinical research institutes possess high market potential for growth in the Russian in vitro fertilization market, owing to increase in awareness and availability of different ARTs, such as ovulation induction (OI), gamete intrafallopian transfer (GIFT), preimplantation genetic diagnosis (PGD) and others; and rise in healthcare and research expenditure.
Key Benefits
This report provides a detailed quantitative analysis of the current IVF market trends from 2014 to 2022 to identify the prevailing opportunities.
Market estimations are based on comprehensive analysis of the key developments in the IVF industry.
In-depth analysis based on drugs and end users assists to understand the in vitro fertilization market and facilitates strategic business planning.
The developmental strategies adopted by key manufacturers are enlisted to understand the competitive scenario of the in vitro fertilization market.
Russia IVF Market Key Segments:
By End User
Fertility Clinics
Hospitals
Surgical Centers
Clinical Research Institutes
By Cycle Type
Fresh IVF cycles (Non-donor)
Thawed IVF cycles (Non-donor)
Donor Egg IVF Cycles
By Type
Non-ICSI IVF Cycles
ICSI-assisted IVF Cycles
By Drug
Clomiphene Citrate
Aromatase Inhibitors
Gonadotropins & Gonadotropin-releasing Hormone
Follicle-stimulating Hormone
Progesterone
Others
By Mode of Administration
 In Vitro Fertilization (IVF) Market Report Highlights
Aspects
Details
By End user

Fertility clinics
Hospitals
Surgical centers
Clinical research institutes

By cycle type

Fresh IVF cycles (non-donor)
Thawed IVF cycles (non-donor)
Donor egg IVF cycles

By type

Non-ICSI IVF cycles
ICSI-assisted IVF cycles

By Region

North America (U.S., Canada, Mexico)
Europe (France, Germany, Italy, Spain, UK, Russia, Rest of Europe)
Asia-Pacific (China, Japan, India, South Korea, Australia, Thailand, Malaysia, Indonesia, Rest of Asia-Pacific)
LAMEA (Brazil, South Africa, Saudi Arabia, UAE, Argentina, Rest of LAMEA)

By pharmacological modality

Duration of therapy
Segmentation of drugs for IVF
Mode of administration
Market dynamics

Drivers

Rise in popularity of fertility tourism
Advanced IVF facilities and treatment options

Restraint

Inadequate reimbursement policies

Regulatory issues, legislations, and authorities
Insurance reimbursement scenario

Key Market Players
IVF RUSSIA (THE INTERNATIONAL CENTRE OF THE REPRODUCTIVE MEDICINES), AVA-PETER CLINIC, MD MEDICAL GROUP INVESTMENTS PLC (MD MEDICAL GROUP)