Sanger's Sequencing Service Market Overview:
The Global Sanger's Sequencing Service Market was valued at $192 million in 2013, and is estimated to reach at $1,085 million by 2025, registering a CAGR of 14.2% from 2018 to 2025. Sanger's sequencing is one of the most pivotal techniques used by molecular biologists worldwide for sequence analysis. In this method, the target nucleic acid is reproduced several times, thereby making fragments of varying lengths.
Technological advancements in sequencing procedures, advantages associated with Sanger's sequencing, and increase in genome mapping programs boost the growth of the global Sanger's sequencing services market. Furthermore, rise in investment in R&D and increase in sequencing applications have supplemented the market growth.
However, lack of skilled professionals and standardization concerns associated with sequencing procedures hamper the growth of the industry. On the contrary, untapped potential of emerging markets and the use of cloud computing as a potential data management service are expected to provide lucrative opportunities for the market expansion.
The Sanger's sequencing service market is segmented based on application, end user, and region. On the basis of application, the market is divided into biomarkers & cancer, diagnostics, reproductive health, personalized medicine, forensics, and others. By end user, it is categorized into academic & government research institutes, pharmaceuticals companies, biotechnology companies and hospitals & clinics. Region wise, it is analyzed across the U.S., Europe, Japan, China, India, South-East Asia, and rest of the world (ROW).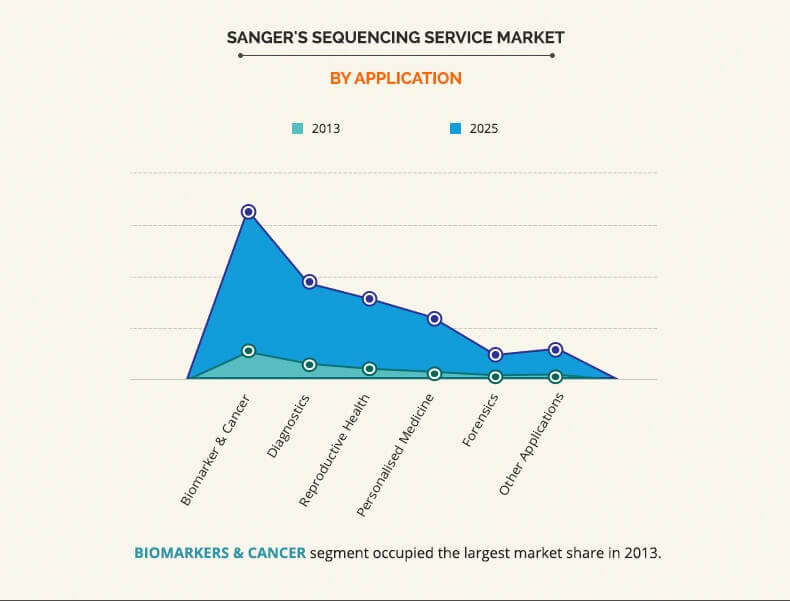 The Sanger's sequencing market share is dominated by the biomarkers & cancer segment, owing to their wide application in oncology research, biomarker discovery, and surge in prevalence of chronic diseases such as cancer.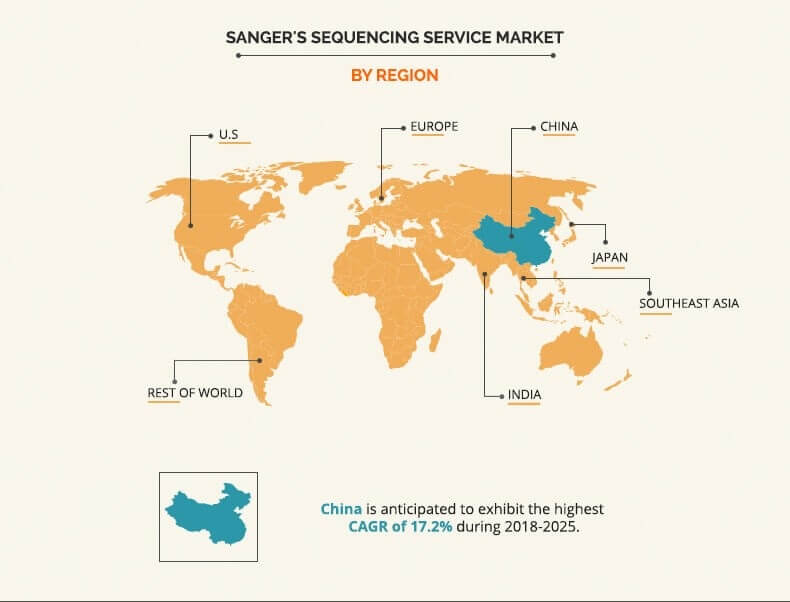 Rise in focus of vendors on emerging markets, such as China, India, and Southeast Asia is expected to boost the market growth. China is projected to witness significant growth in the near future, owing to increase in R&D investment and surge in applications of Sanger's sequencing. Furthermore, the Chinese region presents noteworthy opportunities for the venture capitalists and investors, as the developed markets are comparatively saturated.
The report provides extensive competitive analysis and profiles of the key market players such as Source BioScience, GenScript Biotech Corporation, Thermo Fisher Scientific, Inc., LGC Science Group Limited, Fasteris SA, CeMIA SA, Quintara Biosciences, GenHunter Corporation, GENEWIZ, Nucleics, SciGenom Labs Pvt. Limited, and Microsynth AG. Inc. The other players in the value chain (not included in the report) include Laragen, Inc. and StarSEQ GmbH.
Key Benefits for Stakeholders
This report entails a detailed quantitative analysis of the current market trends from 2013 to 2025 to identify the prevailing opportunities along with strategic assessment of global Sanger's sequencing service market.
Sanger's sequencing service market size and market estimations are based on comprehensive analysis of the applications, end users, and developments in the industry.
In-depth analysis based on region assists to understand the regional market and the strategic business planning.
The development strategies adopted by key market players are enlisted to understand the competitive scenario of the market.
 Sangers Sequencing Service Market Report Highlights
Aspects
Details
By Application

Diagnostics
Biomarkers & Cancer
Reproductive Health
Personalized Medicine
Forensics
Others

By End User

Academic & Government Research Institutes
Pharmaceutical Companies
Biotechnology Companies
Hospitals & Clinics

By Region

U.S.
Europe
Japan
China
India
Southeast Asia
Rest of the World

Key Market Players
Microsynth AG, Thermo Fisher Scientific Inc., LGC Science Group Holdings Limited, SciGenom Labs Pvt. Ltd., Fasteris SA, Quintara Biosciences, Source BioScience Plc, Nucleics Pty. Ltd., Genscript Biotech Corporation, GENEWIZ, Inc., GenHunter Corporation, CeMIA SA