The global satellite antenna market size was valued at $4.4 billion in 2022, and is projected to reach $17.6 billion by 2032, growing at a CAGR of 15.1% from 2023 to 2032.
Report Key Highlighters:
The satellite antenna market study covers 14 countries. The research includes regional and segment analysis of each country in terms of value ($million) for the projected period 2023-2032.

The study integrated high-quality data, professional opinions and analysis, and critical independent perspectives. The research approach is intended to provide a balanced view of global markets and to assist stakeholders in making educated decisions in order to achieve their most ambitious growth objectives.

Over 3,700 product literature, annual reports, industry statements, and other comparable materials from major industry participants were reviewed to gain a better understanding of the market.

The market is highly fragmented, with several satellite antenna market companies including Honeywell International Inc., Hughes Network Systems, LLC., Kymeta Corporation, L3Harris Technologies, Inc., Thales, Viasat, Inc., Airbus DS Government Solutions Inc., Cobham Limited, Gilat Satellite Networks Ltd, CPI International Inc., and Intellian Technologies, Inc.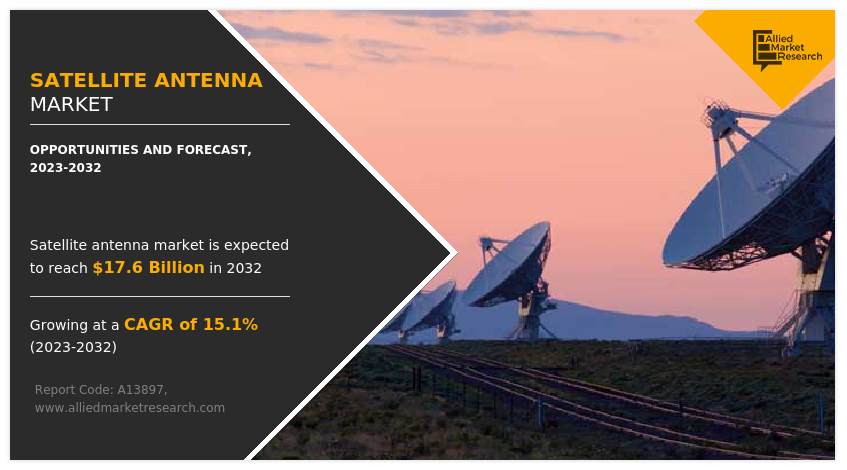 The satellite antenna market refers to the sector of the global telecommunications and technology industry that involves the manufacturing, distribution, and utilization of antennas designed for communication with and reception of signals from satellites. These antennas play a crucial role in establishing and maintaining connectivity with satellites in various applications, such as telecommunications, broadcasting, navigation, scientific research, Earth observation, and more.
Factors such as growth in satellite broadband services, rise of in-flight, maritime and land mobile connectivity, and investments in SATCOM infrastructure and ground stations drive the growth of the satellite antenna market. However, high costs associated with phased array and electronically steered antennas, and regulatory barriers and restrictions on placement/installation of antennas hinder growth of the market. Furthermore, development of flat panels, interoperable, multi-orbit antennas, and adoption of electronically steered antennas (ESA) in aerospace, defense offer remarkable growth opportunities for the players operating in the satellite antenna market.
The satellite antenna market is segmented on the basis of antenna type, frequency, application and region. On the basis of antenna type, it is divided into parabolic reflector antenna, flat panel antenna, and others. On the basis of frequency, the market is classified into C/K/Ku/Ka band, S and L band, X band, VHF and UHF band, and others. On the basis of application, it is categorized into land, airborne, maritime, and space. On the basis of region, the market is analyzed across North America, Europe, Asia-Pacific, and LAMEA.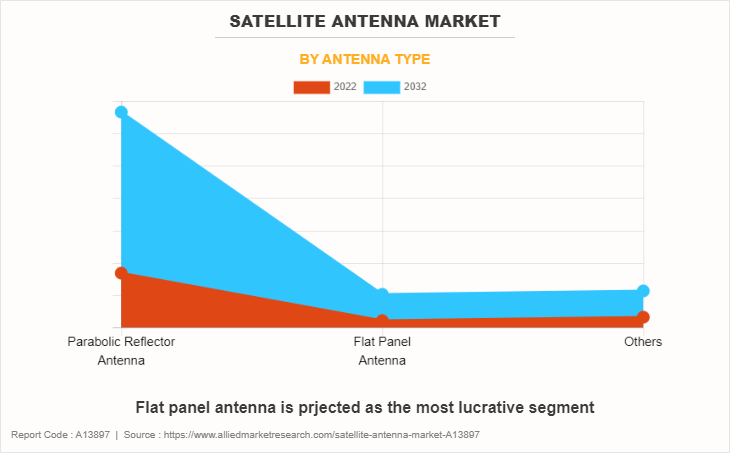 Moreover, Ka band has extensive use in both GEO and LEO broadband architectures for consumer, enterprise, and inflight connectivity. High throughput consumer VSATs leverage Ka band for satellite broadband services such as Viasat, Inc. and Starlink. There is expanded adoption of Ka band antennas in inflight connectivity systems as more airlines opt for satellite-based WiFi. Ka band provides a lower cost option than Ku band with higher reliability performance than C band.
In addition, government partnerships with companies such as Hughes and Viasat, Inc. have expanded satellite broadband and TV access for rural areas, increasing satellite antenna market share. For instance, in February 2023, Viasat, Inc., a global satellite company and a Mexican telecom company collaborated to provide internet access to 850 under-connected communities across Mexico. The partnership is projected to use satellite technology to bring broadband to rural areas without reliable connectivity. This is anticipated to help more people get online and access key resources such as healthcare, education, and government services.
Moreover, companies focus on contracts with government entities to expand their presence in the maritime antenna sector.  In June 2023, Cobham Limited, a prominent global provider of radio and satellite communications solutions in maritime and land sectors, secured a purchase order worth over $12 million from a leading U.S. prime contractor, featuring annual renewal options for additional units. This contract is aimed at acquiring next-generation maritime antennas from Sea Tel product line of Cobham Satcom to bolster the U.S. Government and the Department of Defense programs, ultimately enhancing fleet operations and communications capabilities. The systems come equipped with advanced signal processing features, empowering maritime performance by providing the capacity to interfere with, disrupt, deny, or defeat use of radio frequency spectrum of adversaries, whether they are state or non-state actors. Such developments is expected to further propel the satellite antenna market during the forecast period.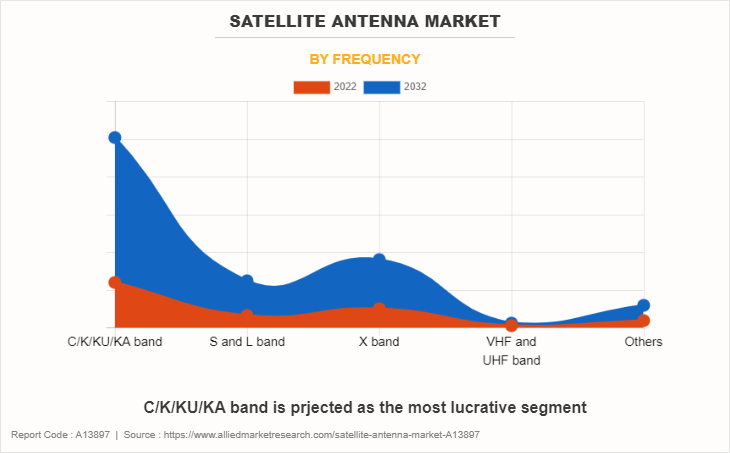 Growth in satellite broadband services
The expansion of the satellite broadband industry has created significant demand for consumer-grade satellite broadband antennas and terminals. Companies such as SpaceX Starlink, Project Kuiper of Amazon, OneWeb, Telesat Lightspeed have already launched or are planning to launch large constellations of low Earth orbit (LEO) satellites to provide global broadband internet access.
SpaceX alone has already deployed over 3,000 Starlink satellites with plans for up to 42,000. SpaceX reported that it crossed over 400,000 subscribers as of May 2022.  Customers require a small flat panel phased array antenna capable of tracking multiple satellites to access LEO broadband services of Starlink. SpaceX claims the antenna costs under $1,500.
Other LEO constellations are expected to drive similar antenna demand as they seek to compete and capture market share in the consumer broadband segment. OneWeb currently operates 428 satellites around 1,200 kilometers above Earth, and it plans to increase this to nearly 650 satellites. In addition, providers such as Hughes, Viasat, Inc., and Eutelsat have upgraded their geostationary satellite fleets and ground infrastructure to improve broadband offerings. This also requires significant investments in satellite antennas and terminals.
The satellite antenna industry stands to benefit from this high-volume demand for affordable, high-throughput consumer broadband antennas. Therefore, the surge in satellite broadband industry has accelerated adoption of satellite antennas globally, making it a key driver of growth and revenues in the satellite antenna market.
Rise of in-flight, maritime and land mobile connectivity
The mobility sector, including aviation, maritime and land transport, has increasingly adopted satellite connectivity services to enable in-transit broadband access. This has created strong demand for specialized satellite antenna systems and terminals optimized for mobility usage.
In aviation, more airlines have equipped their aircraft with satellite antenna systems to provide inflight WiFi for passengers. For instance, in February 2023, Intelsat, a company known for its extensive satellite and ground networks as well as in-flight connectivity services, finished in-flight testing of its advanced electronically steered array (ESA) antenna. This innovative antenna allows airlines globally to offer high-speed global Wi-Fi services to passengers.
The maritime industry is another growth vertical, with passenger ferries, cruise liners, and freight carriers that hasadopted satellite links for onboard communications and operations via compact maritime satellite antennas. For instance, Intellian Technologies, a prominent global provider of advanced satellite user terminals and communication solutions, revealed a significant investment of $100 million dedicated to the R&D of satellite communication technologies at the official inauguration of its Advanced Development Center (ADC) located in Maryland. The investment is anticipated to expand and enhance its product portfolio, particularly for enterprise, government, and maritime customers in phased array antennas.
Land mobile sectors such as coaches, trains, emergency services, and logistics firms also present opportunities for mobile satellite antennas for Internet access and communications on the move. Therefore, the rise of in-flight, maritime and land mobile demand for broadband connectivity propels the adoption of advanced satellite antenna technologies and provides growth opportunities in the industry.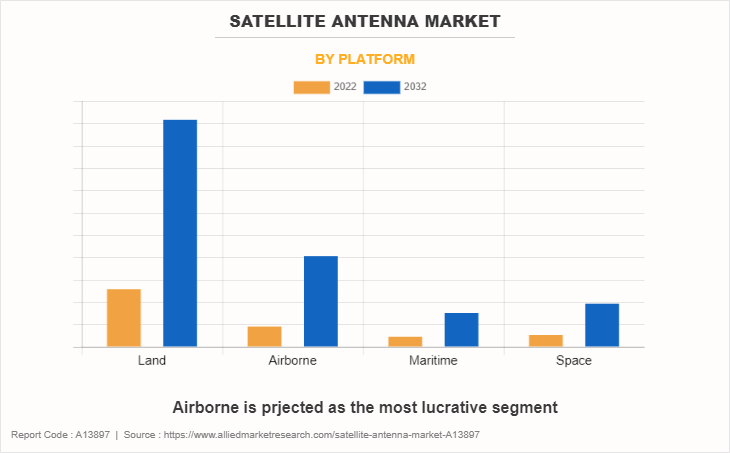 High costs associated with phased array and electronically steered antennas.
The costs are currently higher compared to conventional mechanically steered dishes While phased array antennas provide advantages such as electronic beam steering, rapid switching, and interference nulling. The thousands of RF modules, phase shifters, amplifiers, and solid-state components required make phased arrays complex to manufacture. This results in high procurement and maintenance costs.
Emerging methodologies leveraging 3D printing, photonic integrated circuits, and Meta-materials are under development to mitigate the costs associated with phased array antennas.  However, their comprehensive integration into widespread operational contexts is anticipated to be a multi-year endeavor.
Operational challenges such as DC power requirements, heat dissipation, system calibration, and integration on platforms also drive-up lifecycle costs currently. As a result, commercial adoption of phased arrays remains limited outside of government and enterprise markets. Lower cost mechanics-based antennas dominate consumer broadband.
Thus, the high price point of electronically steered and phased array antennas continues to be a restraint for mass commercial adoption and remains an impediment to realizing the full addressable market potential despite the advantages.
Development of flat panel, interoperable, multi-orbit antennas
Traditional parabolic dish antennas are being replaced by flat panel antennas that open new use cases and market opportunities.
Flat panel antennas for consumer broadband provide lower form factor than dishes, enabling easier installation and less conspicuous placement.  The phased array antenna of Starlink is smaller than conventional parabolic antenna and can be mounted unobtrusively. Competitors have developed interoperable antennas that can switch between different constellations.
Conformal flat panels allow integration on aircraft fuselages, vessels, and vehicles for mobile applications, while maintaining aerodynamic profiles.  Aero antennas of Gilat blend into the curve of plane exteriors. Kymeta has demonstrated metamaterial antennas that can directly coat car roofs.
Electronically steered arrays allow tracking of multiple satellites and rapid switching of beams to maintain high throughput links. Isotropic systems tout optical beamforming tech to unlock "all orbits, all bands" antennas.
Therefore, flat panel antennas present strong innovation and revenue potential for antenna vendors while meeting the needs of next-gen multi-orbit broadband constellations and advanced mobility use cases.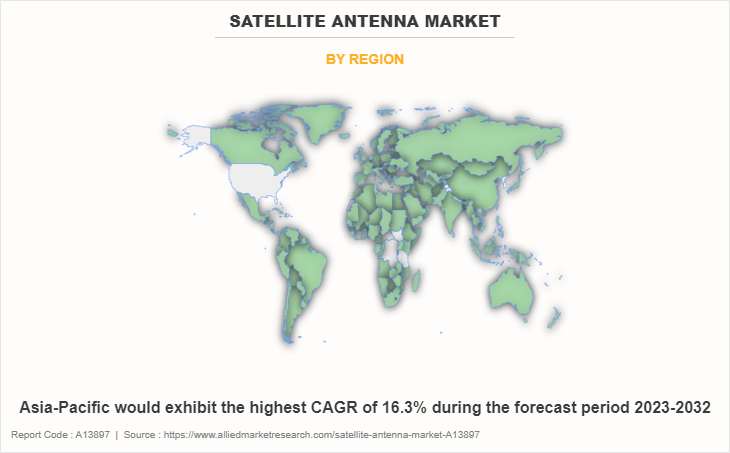 Key Developments in the satellite antenna industry
The leading companies are adopting strategies such as acquisition, agreement, expansion, partnership, contracts, and product launches to strengthen their market position.
In October 2023, Kymeta corporation launched its Osprey u8 HGL, a hybrid geostationary/low Earth orbit (GEO/LEO) terminal satellite, for the military use, is first multi-orbit terminal.
In March 2023, L3Harris Technologies, Inc. received a contract from Maxar, a space technology company to design and build reflector antennas for two geostationary communications satellites.
In June 2023, Kymeta corporation launched low power Peregrine u8 flat panel antenna for the maritime industry One Web's LEO satellite communication.
In August 2022, Cobham Limited launched THOR 7 ka-band antennas satellite it use for full range of network applications including big data management in the cloud architecture.
In June 2020, Honeywell International Inc. launched the smallest satellite communication technology for unmanned aerial vehicles. It helps to connect aircraft to each other and to operators or air traffic control on the ground.
In September 2020, L3Harris Technologies, Inc. received a contract from Airbus Defense and Space to build a space reflector antenna for a next-generation satellite.
On February 24, 2022, Russia initiated an invasion of Ukraine, marking a significant escalation in the ongoing Russo-Ukrainian War. The sanctions imposed on space industry and space technology exports of Russia following its invasion of Ukraine could affect Russian satellite programs and operations. This marks the twenty-fourth equipment transfer to Ukraine by the Biden administration since August 2021. Deputy Pentagon Press Secretary, Sabrina Singh stated that these antennas are expected to enhance the effectiveness of Ukrainian troops and provide their leadership with improved command and control capabilities. Overall, the Russia-Ukraine war has dampened the near-term prospects for the global satellite antenna market through multiple interconnected factors. The market dynamics remain fluid and hard to precisely estimate.
Key Benefits For Stakeholders
This report provides a quantitative analysis of the market segments, current trends, estimations, and dynamics of the satellite antenna market analysis from 2022 to 2032 to identify the prevailing satellite antenna market opportunities.
The market research is offered along with information related to key drivers, restraints, and opportunities.
Porter's five forces analysis highlights the potency of buyers and suppliers to enable stakeholders make profit-oriented business decisions and strengthen their supplier-buyer network.
In-depth analysis of the satellite antenna market segmentation assists to determine the prevailing market opportunities.
Major countries in each region are mapped according to their revenue contribution to the global market.
Market player positioning facilitates benchmarking and provides a clear understanding of the present position of the market players.
The report includes the analysis of the regional as well as global satellite antenna market trends, key players, market segments, application areas, and market growth strategies.
 Satellite Antenna Market Report Highlights
Aspects
Details
Market Size By 2032
USD 17.6 billion
Growth Rate
CAGR of 15.1%
Forecast period
2022 - 2032
Report Pages
258
By Antenna Type

Flat Panel Antenna
Others
Parabolic Reflector Antenna

By Frequency

C/K/KU/KA band
S and L band
X band
VHF and UHF band
Others

By Platform

Land
Airborne
Maritime
Space

By Region

North America (U.S., Canada, Mexico)
Europe (Germany, France, UK, Italy, Rest of Europe)
Asia-Pacific (China, Japan, India, South Korea, Rest of Asia-Pacific)
LAMEA (Latin America, Middle East, Africa)

Key Market Players
Viasat, Inc., Thales, Gilat Satellite Networks Ltd., L3Harris Technologies, Inc., Hughes Network Systems, LLC., Cobham Limited, Kymeta Corporation, Honeywell International Inc., Airbus DS Government Solutions Inc., Intellian Technologies, Inc., CPI International Inc.