The global satellite manufacturing market was valued at $16.2 billion in 2021, and is projected to reach $27.3 billion by 2031, growing at a CAGR of 5.7% from 2022 to 2031.
Several new firms have entered the satellite industry in recent years, intending to launch small, relatively affordable satellites with capabilities equal to those given by established large-size satellites. The arrival of this new paradigm has sparked rivalry with current large-satellite producers, altering the game's rules and posing a challenge to long-established industry participants, whose old manufacturing processes are being challenged.
As a result, in the current space-industry environment, adopting innovative manufacturing methods by the satellite manufacturers is not only desirable, but also necessary for increasing efficiency and competitiveness. Currently, the majority of GEO communications satellites must be custom-built, which increases their cost. On-orbit software upgrades are expected to allow manufacturers to mass-produce homogenous satellite that operators can subsequently customize to their unique, changing needs via software uploads.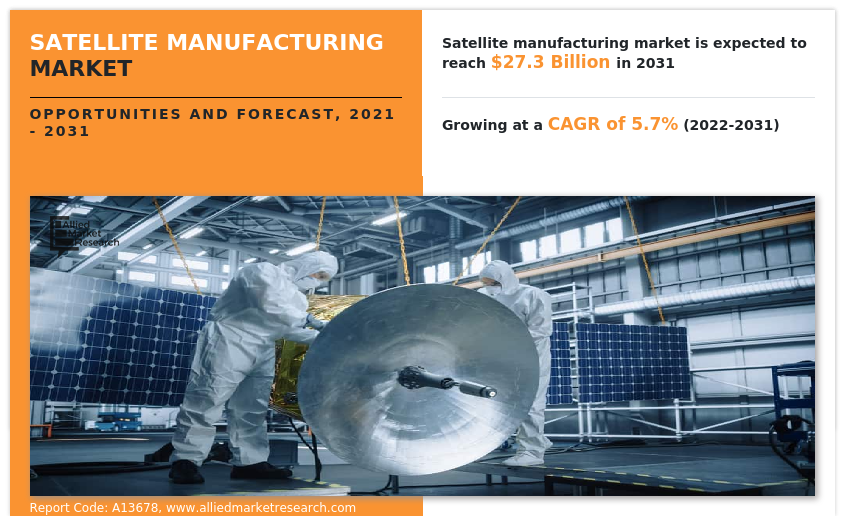 The satellite manufacturing market is segmented into Application, Satellite Type and Size.Due to the materials necessary in the manufacturing process, particularly for the basic standards to be satisfied, building a satellite is a high-cost operation. These devices must be able to withstand space radiation (to avoid damage to internal components), be sufficiently resistant to the pressure of travelling through space at a constant speed of 700 kilometers per hour, and be strong enough to withstand possible impacts from space debris or smaller asteroids.
 The global satellite manufacturing market is expected to witness growth during the forecast period, due to increased technical innovation, lower launch costs, and the development of automation technologies. Advanced satellite technologies such as CubeSats and small satellites offer completely new designs for a wide range of space operations, with the potential for exponential leaps in transformational research, due to technological innovation. For instance, SpaceX launched a Falcon 9 rocket with 143 small satellites from Cape Canaveral in January 2021. The evolution of space technology has helped the satellite manufacturers in lowering the size of the satellite and increasing its functionality.
Satellite Manufacturing Market

---

By Application
Earth Observation Satellites is projected as the most lucrative segment
The satellite manufacturing market is segmented into application, satellite type, size, and region. By application, the market is segmented into communication, earth observation, navigation, space observation, and others. On the basis of satellite type, the market is segmented into LEO, MEO, GEO, and others. By size, the market is segmented into small, medium, and large. Region-wise, the market is analyzed across North America, Europe, Asia-Pacific, and LAMEA.
Key players operating in the global satellite manufacturing market include Airbus, Arianespace, Ball Corporation, Geooptics, Inc., L3Harris Technologies, Inc., Lockheed Martin Corporation, Maxar Technologies, Mitsubishi Electric Corporation, Northrop Grumman Corporation, Raytheon Technologies Corporation, Sierra Nevada Corporation, SpaceX, Thales Group, The Boeing Company, and Viasat, Inc.
Increase in the Number of Space Exploration Missions
In recent years, the number of space exploration missions increased as launch costs reduced, technologies advanced, and public interest in space exploration increased. The missions of space expeditions are mostly focused on human Low-Earth-Orbit missions and unmanned scientific research. Moreover, various countries plan to collaborate with other countries for space exploration. For instance, in September 2022, China announced its plans to build partnerships with other countries for its upcoming missions to moon and solar system exploration. In addition, the Space Force, which was expected to be established as a sixth branch of the U.S. military in 2019 as well as increased interest from Russia and China, are projected to boost public-sector investment in the space industry in the coming years. As part of the National Defense Authorization Act for 2020, the U.S. government formed a U.S. Space Command, which includes a Space Operations Force and a Space Development Agency, in December 2019. This development will most certainly benefit the U.S. Defense Department as well as the aerospace and defense sectors, allowing for more focused and faster investment in breakthrough technologies and capabilities. There is an increase in the need for satellite manufacturing to augment space exploration missions with the rise in number of space expedition missions. For instance, in July 2021, using a 747 airliner, Virgin Orbit launched seven satellites from three different customers namely the U.S. Defense Department, the Royal Netherlands Air Force, and Poland SatRevolution company. An increase in private investments in space exploration missions is projected to be a major driver for growth of the satellite manufacturing market during the forecast period.
Satellite Manufacturing Market

---

By Satellite Type
LEO Satellite is projected as the most lucrative segment
Rise in Demand for Satellite Aided Warfare
Several tests and demonstrations are being carried out by government organizations and defense forces around the world to establish space warfare capabilities. Ground-to-space warfare, such as attacking satellites from the ground, space-to-space warfare, such as satellites attacking satellites, and space-to-ground warfare, such as satellites targeting Earth-based objects, are all different forms of space warfare. Moreover, the military collaborates with satellite manufacturers for designing, developing and fabricating communication satellites to train its officers.
For instance, in July 2022, the Indian army aimed to use a small communication satellite for training its students from the Corps of Signals at the Military College of Telecommunication Engineering. The U.S, Russia, and India as well as other big economies, have developed dedicated space force groups to establish space defense infrastructure. For instance, the Indian government formed the Defense Space Agency (DSA) in April 2019. The agency is in charge of India's space warfare and satellite intelligence assets. Satellite technologies are rapidly being used by military forces around the world to supplement their defense capabilities.
For instance, United Launch Alliance (ULA), launched the fifth Space-Based Infrared System satellite for the U.S. Space Force in May 2021. With the help of its onboard infrared sensors, the $1 billion satellite, built by Lockheed Martin, is designed to identify and track plumes produced by missile launches throughout the world. Its capabilities will allow the U.S to prepare for any imminent attacks. The increase in efforts to expand space defense capabilities by the government and defense organizations boosts the growth of the satellite manufacturing market.
Satellite Manufacturing Market

---

By Size
Small satellite is projected as the most lucrative segment
Interference in satellite data transmission
Satellite systems are designed for transmitting and receiving signals on the internet, telephony, backhaul, and other services. Interference in the satellite transmission operations severely impacts the performance of the satellite and results in a significant loss of income for the operators. Moreover, additional costs have to be spent on fixing and debugging the problems in communication to further enable normal communications. Interference in satellite data transmission occurs due to various factors such as interference from high-power radar, intentional jammers, unauthorized transmissions namely piracy, adjacent satellite interference (ASI), interference from broadcast FM transmitters, aircraft interference, and adjacent frequency emissions from other signals.
For instance, in February 2021, Dish demonstrated interference in the 12GHz spectrum between Starlink satellite internet service, and Dish terminals. Moreover, in August 2022, after several incidents of harmful radio interference have been brought to the attention of the ITU Radio Regulatory Commission, a recent circular advised ITU Member States to prevent radio navigation satellite service (RNSS) signals from interfering with receivers. In addition, purposeful interference by terrorists and criminals to alter satellite broadcasts adds to the difficulty of satellite data transfer.
Furthermore, the proliferation of satellites in space also increases interference in the transmission of data between the ground station and the satellite. Factors such as increase in the number of satellites and adjacent frequency emissions generate interference in data transmission through satellites, further acts as a restraint for the growth of the satellite manufacturing market.
Advancement in satellite mission technologies
The driving factor for advancement in satellite mission technologies is the demand for telecommunications to provide faster internet and accessibility to people around the world. Satellites that produce high-resolution multispectral imagery and advanced geospatial analysis are driving new developments that make navigation easier, roads safer, and vehicles more accessible. GPS is powered by more detailed and accurate maps created by the ability of satellites to map a location's terrain and its spatial context in detail. Satellites also cover a much wider area and can return to a specific location multiple times a day for more detailed information.
The small satellite standard was developed to offer universities and research organizations with faster and more cost-effective access to space. Leading players across the world are making many advancements in satellite technology (such as hyperspectral and multispectral imaging and additive manufacturing) to further expand the capabilities of satellites, decrease the cost, and improve the customizability of satellites. Hyper-spectral and multi-spectral imaging enhance the capabilities of satellites in collecting precise data about changes in the environment. Hyperspectral sensors produce images comprising highly detailed spectral data that allow the detection of micro-level changes in the environment such as in soil, crops, and water.
Multispectral sensors, on the other hand, provide a clear perception of details on the ground, such as spotting pest-infested trees. The need for cost reduction by prominent rocket manufacturers, as well as a growing worldwide awareness of the need to reduce the CO2 footprint of rocket launches, are driving the development of reusable rockets, which further provides a cost-effective and environment-friendly opportunity for launching satellites by the space organizations. The advancement in satellite technologies and launch systems technologies provide an opportunity for the satellite manufacturing business to flourish.
Satellite Manufacturing Market

---

By Region
Asia-Pacific would exhibit the highest CAGR of 6.4% during forecast period
The COVID-19 outbreak forced governments across the globe to implement strict lockdowns and made social distancing mandatory to contain the spread of the virus. Consequently, several organizations started work from home programs as safety measures. This led to a sudden decrease in satellite manufacturing across the world. Moreover, nationwide lockdowns disrupted the supply-chain as several satellite manufacturing facilities across the globe had to partially or fully shut down their operations. The adverse impacts of the COVID-19 pandemic resulted in huge supply-demand issues for the satellite manufacturing industry globally. However, post-pandemic, several key players operating in satellite industry are focusing on providing broadband internet services across the globe through thousands of low earth orbit (LEO) satellites, which in turn is expected to drive the growth of the market during the forecast period. Furthermore, the governments around the globe have increased their focus on space as a priority either for space exploration or for the national defense. To conclude, the factors such as increased government investments in the space industry for space exploration, rise in number of defense sector contracts in the space industry, and surge in satellite launches in space are expected to boost the growth of the satellite manufacturing market in the near future.
Key Benefits For Stakeholders
This report provides a quantitative analysis of the market segments, current trends, estimations, and dynamics of the satellite manufacturing market analysis from 2021 to 2031 to identify the prevailing satellite manufacturing market opportunities.
The market research is offered along with information related to key drivers, restraints, and opportunities.
Porter's five forces analysis highlights the potency of buyers and suppliers to enable stakeholders make profit-oriented business decisions and strengthen their supplier-buyer network.
In-depth analysis of the satellite manufacturing market segmentation assists to determine the prevailing market opportunities.
Major countries in each region are mapped according to their revenue contribution to the global market.
Market player positioning facilitates benchmarking and provides a clear understanding of the present position of the market players.
The report includes the analysis of the regional as well as global satellite manufacturing market trends, key players, market segments, application areas, and market growth strategies.
 Satellite Manufacturing Market Report Highlights
Aspects
Details
Market Size By 2031
USD 27.3 billion
Growth Rate
CAGR of 5.7%
Forecast period
2021 - 2031
Report Pages
311
Application

Communication
Earth Observation
Navigation
Space Observation
Others

Satellite Type
Size
By Region

North America (U.S., Canada)
Europe (Germany, France, UK, Russia, Rest of Europe)
Asia-Pacific (China, India, Japan, South Korea, Rest of Asia-Pacific)
LAMEA (Latin America, Middle East, Africa)

Key Market Players
Arianespace, Geooptics, Inc., L3Harris Technologies, Inc., Lockheed Martin Corporation, Maxar Technologies, Mitsubishi Electric Corporation, Northrop Grumman Corporation, Raytheon Technologies Corporation, Sierra Nevada Corporation, Spacex, Thales Group, The Boeing Company, Viasat Inc., Airbus, Ball Corporation