The Saudi Arabia events industry size was valued at $6.1 billion in 2021 and is expected to reach $17.6 billion by 2031, registering a CAGR of 8.7% from 2022 to 2031.
Events refer to public gathering of populace art at a determined time and place. The purpose for staging an event can be increase in business profitability, celebratory, entertainment, and community causes among others. The most popular events include conference & exhibition, corporate events & seminars, promotion & fundraising, music & art performance, sports, festival, trade shows, and product launch. The key stakeholders within the events market are corporate organizations, public organizations & NGOs.
The Saudi Arabia events industry constituted approximately 1% of the global events industry in terms of revenue in 2021. Saudi Arabia is one of the fastest-growing economy as well as fastest-growing events industry. The rising investments towards the development of infrastructure in Saudi Arabia and rising focus of the government to make Saudi a hotspot for various business and sports events is positively influencing the of the Saudi Arabia events industry growth.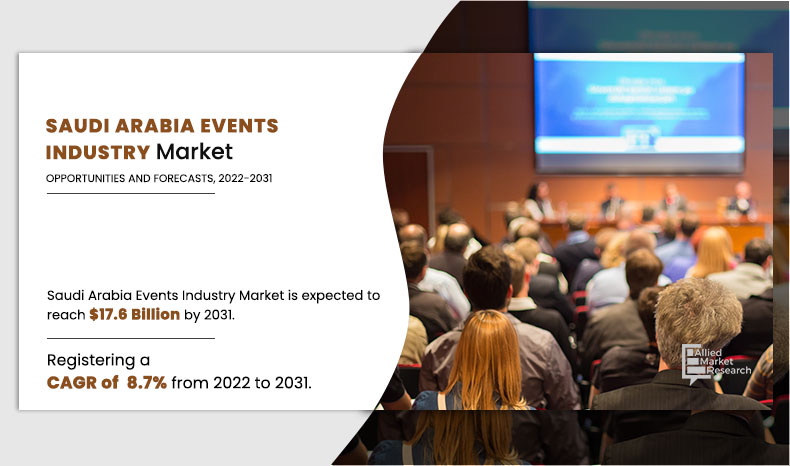 Saudi Arabia, in 2016 unveiled Saudi Arabia Vision 2030, an initiative to create strategy to release the kingdom's economic potential by building a forward-thinking and diverse nation. Under Saudi Arabia Vision 2030, several mega projects such as NEOM, The Red Sea Project, The Middle East Green Initiative, The Soudah Development Company, and Saudi Made have been proposed to promote economic development, create numerous job opportunities, and infrastructural development in the region. These in lined mega projects in Saudi Arabia are anticipated to offer a huge growth opportunity to the major players operating in the Saudi Arabia Events market, in the near future.
These $1 trillion projects in line with Vision 2030 are expected to create opportunities in new areas such as clean energy, tourism, and smart cities, which are aimed to make Saudi Arabia a global hub for investment and logistics in the upcoming years.
In the past few decades, economies have been seeking ways to utilize the potential of youth in entrepreneurship, and start-up ventures. Various events & programs such as seminars, conferences, entrepreneurship programs, fora, and others are organized to offer guidelines and solutions for the youth. Different countries organize and invest in various programs to see whether students can leverage untapped business opportunities.
The increase in the number of attendees at business seminars and proper counselling programs has enabled youth to convert their innovative business ideas into viable plans. In December 2018, numerous digital business leaders, investors, and entrepreneurs gathered in Arabnet Riyadh, an event that featured two events simultaneously. This has resulted in the growing interest among youth toward such conferences, seminars, and career-related events, which is expected to propel the demand for events, thereby driving the growth of the events industry.
To increase awareness about products and services offered by various companies, the leading players operating in myriad industry sponsor events such as music concerts and sports events. Sponsorship is done to provide material support to an event or an organization. In addition, sponsorship enables the leading players to advertise their products and reach a wide consumer base, thereby fueling the adoption of their products. Moreover, it helps to focus on consumer preference and to foster brand loyalty. 
Furthermore, it draws attention to the existing and potential customers of a brand or company and creates a positive impact on them, thereby leading to increased brand loyalty. Sponsors further check the past proven records of a particular event as well as the probability of success of the event before they sponsor an event, as they invest in a plan, and expect positive return on the investment. The most common sponsorship can be seen in the field of sports and entertainment, ranging from local to regional and international events. 
Sports events can act as a potential catalyst for economic development in Saudi Arabia. The Saudi government has committed to making large investments in sports, including $2 billion by 2023, $670 million to fund private sector sports clubs, and $320 million in club sponsorships. The rising government support to the sports sector in the country is expected to drive the growth of the overall economy and events industry during the forecast period.
Advancements such as online booking, phone calls, emails, and video conferences have made communication and transactions significantly cost-effective and easy in real time. Apart from the change in approach and purpose in event management, technology has been a key turning point in the evolutionary process of event management. 
It has been witnessed that events such as music concerts attract majority of the population, especially the youth and middle-aged individuals, which boost the growth of the Saudi Arabia events industry. Although the album sales have drastically reduced, shift in preference of artists and performers toward touring and conducting music concerts at various places across the world has further driven the growth of the Saudi Arabia events industry. 
The popular music events include the annual SoundStorm festival in Riyadh, hosted in December 2021, which is the largest EDM festival in the world, and a string of performances in conjunction with recent Formula One races in Jeddah that included American supergroup the Black Eyed Peas and R&B singer Chris Brown, among others. In addition, Saudi Arabia has hosted performances by Mariah Carey, Enrique Iglesias, and One Republic.
Furthermore, such music concerts and events offer valuable opportunities for promoters and brands to align themselves with people attending concerts. Moreover, the streaming services in the music industry create new opportunities along with new distribution methods and media platforms that provide additional scope for brands to align and interact with world's leading artists.
Exhibitions & Conferences are activities organized to showcase new products, services, and information to potential customers or buyers. An exhibitor rents an area from the organizer and sets up a booth to meet potential buyers. The buyers need an invitation or a ticket to be allowed into the exhibition. The purpose for organizing such conferences and exhibitions is to get sales leads, build a network for influential contacts, new product introduction, build the company's image, and gather the latest information about the competitors.
Competition among international convention destinations has increased dramatically in the past decade due to heavy investment in infrastructure, marketing, and human resources. Furthermore, government in the Saudi Arabia have recognized the economic impact that convention centers, and they are willing to invest in their development and expansion, which contributes toward the growth of the market.
In addition, digital evolution has introduced various creative ways to reach a wide customer base for events. Smartphones, desktop apps, and mobile apps have made events efficient and manageable. It has helped people get all tasks organized, managed, and executed without losing much time and effort. Furthermore, events can now be conducted online through webinars and video conferences, which is expected to offer remunerative opportunities for market expansion during the forecast period.
Corporate events & seminars are events conducted in a format that creates a learning-by-doing atmosphere through experiments, discussion, and interaction among the attendees. 
This may include conventions, symposia, congresses, incentive group events, marketing events, special celebrations, seminar, courses, public or trade shows, product launches, exhibitions, company general meetings, corporate retreats, study tours, or training programs. 
Such events can be both small and large scale, formal or informal. The planning of such events begins a month prior to designing and developing a theme for it. Corporate events & seminars help to build and strengthen relationships with existing and future clients and agency. It is a way of conveying a message to inspire and motivate employees, stake holders, and business associates. 
The Saudi Vision 2030 is expected to foster a rapid change in the infrastructure, society, and businesses. Powered by the Vision 2030, Saudi Arabia aims to become a powerhouse of business events and meetings. Reforms, enhanced competitiveness, and increased productivity are the major strategies that have significantly boosted the MICE (meetings, incentives, conferences, and exhibitions) industry in Saudi Arabia in the recent past. Moreover, business tourism is one of the major factors that is expected to boost the growth of this segment in the forthcoming years.
According to the Saudi Arabia events industry analysis, the market is segmented into type, revenue source, organizer, and age group. On the basis of type, the market is divided into music concerts, festivals, sports, exhibitions & conferences, corporate events & seminars, and others. On the basis of revenue source, it is segregated into ticket sale, sponsorship, and others. As per organizer, it is categorized into corporate, sports, education, entertainment, and others. By age group, it is fragmented into below 20 years, 21–40years, and above 40 years.
Saudi Arabia Events Industry by Type

---
By Type
Sports segment held the major share of 31.1% in 2021
As per Saudi Arabia events industry trends, in 2021, on the basis of type, the corporate events & seminars segment garnered a significant Saudi Arabia events industry share, owing to rise in number of companies and frequent seminars & events conducted by them. In addition, such seminars and events involve interaction between speaker and audience, thus attracting more attendees. On the other hand, the music concerts category is anticipated to grow at the highest CAGR of 10.1% during the forecast period. 
This is attributed to increase in popularity of such events among the population, especially the youth and middle-aged individuals, which boost the growth of the Saudi Arabia events industry. Furthermore, such music concerts and events offer valuable opportunities for promoters and brands to align themselves with people attending concerts.
Saudi Arabia Events Industry by Type

---
By Revenue Source
Sponsorship segment held the major share of 50.8% in 2021
As per Saudi Arabia events industry demand, depending on revenue source, the sponsorship segment accounted for the highest revenue in 2021. This is attributed to the unlimited opportunities the organizers find to broaden their competitive advantage. Moreover, sponsoring an event increase reach among potential buyers and customers, thereby boosting the growth of the Saudi Arabia events industry.
Saudi Arabia Events Industry by Type

---
By Organizer
Sports segment held the major share of 31.1% in 2021
Based on the organizer, the sports segment dominated the market, garnering a market share of 31.1% in 2021. Tournaments such as FIFA, World Cup, IPL, and others attract a huge population base that helps in revenue generation, owing to increase in interest toward such sports tournaments. Sports events earn considerable revenue through selling tickets, sponsorships, endorsements, advertisements, and others.
Saudi Arabia Events Industry by Type

---
By Age Group
21-40 Years segment held the major share of 47.5% in 2021
By age group, the 21–40 years segment contributed the maximum revenue in 2021, owing to growing interest toward entrepreneur & business seminars, conferences that offer proper guideline & direction to the youth for establishing a start-up, along with music concerts and festive gatherings.
However, entering into this industry may require high initial costs and can be risky due to the presence of existing giants. Thus, potential entry barrier is anticipated to hinder the growth of the industry during the Saudi Arabia events industry forecast period.
The major players profiled in the report are Riyadh Exhibitions Company Ltd., HWADI Group, Konoz Retaj Organization, DConcept, Stamina, Events AVP Technical Event Management, Your Event Arabia Co., Benchmark, Gevents, and Add.
Key benefits for stakeholders 
The report includes an in-depth analysis of different segments and provides market estimations between 2021 and 2031. 
Porter's five forces model illustrates the potency of buyers & sellers, which assists the market players to adopt effective strategies.
Key market players are profiled to gain an understanding of the strategies adopted by them.
This report provides a detailed analysis of the current trends and future estimations from 2021 and 2031, which helps identify the prevailing Saudi Arabia events industry opportunities.
 Saudi Arabia Events Industry by Type Report Highlights
Aspects
Details
By Type

Music Concert
Festivals
Sports
Exhibitions and Conferences
Corporate Events and Seminars
Others

By Revenue Source

Ticket Sale
Sponsorship
Others

By Organizer

Corporate
Sports
Education
Entertainment
Others

By Age Group

Below 20 Years
21-40 Years
Above 40 Years