The Saudi Arabia personal loan market was valued at $146.54 billion in 2021 and is projected to reach $670.58 billion by 2031, registering a CAGR of 16.3% from 2022 to 2031
Personal loan is an amount of money borrowed by an individual for a variety of purposes such as paying for home renovations, consolidate debt, and wedding. In addition, personal loans are generally offered by banks, credit unions, and online loan providers. Moreover, personal loans typically have lower interest rates than credit cards and can be used to consolidate multiple credit card debts into a single and lower-cost monthly payment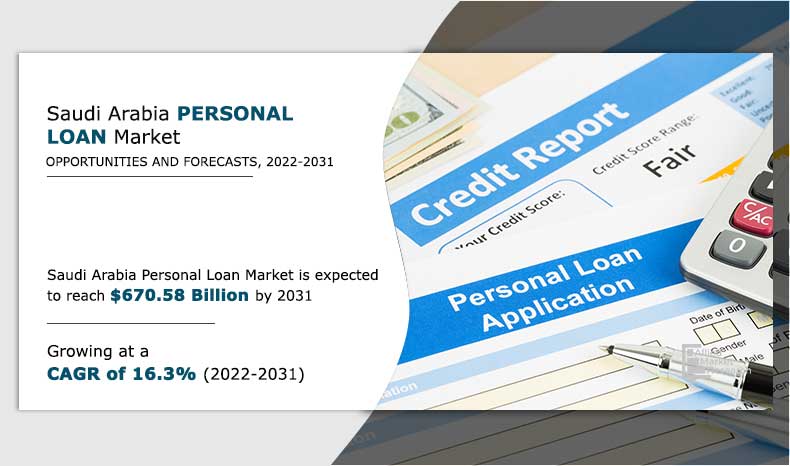 High demand for residential houses from expatriates entering the country and increase in number of initiatives by government to strengthen the financial system is boosting the growth of the Saudi Arabia personal loan market. In addition, development of digitization and the instantaneous loan and approval procedure is positively impacting the growth of the Saudi Arabia personal loan market. However, emerging non-banking finance companies and FinTech companies and increasing security concerns are hampering the Saudi Arabia personal loan market growth. On the contrary, increase in entrance of new players in KSA personal finance is expected to offer remunerative opportunities for expansion of the Saudi Arabia personal loan market during the forecast period.
In terms of end-user, the salaried segment holds the highest Saudi Arabia personal loan market share as it provides personal loans are usually lower than those of credit cards. However, the business segment is expected to grow at the highest rate during the forecast period, as it covers expenses for expanding their businesses, such as purchasing new equipment and machinery to increase production of goods and services.
Saudi Arabia Personal Loan Market

---
By Type
P2P Marketplace segment is projected as one of the most lucrative segments.
Segment Review
The Saudi Arabia personal loan market is segmented on the basis of type, marital status, consumer age, end user, and region. By type, the market is bifurcated into P2P marketplace and balance sheet. Based on marital status, the market is segregated into married, single, and others. Depending on consumer age, it is segmented into less than 30, 30-50, and more than 50. By end user, the market is divided between salaried and business. The salaried segment is further segregated into male, female, and others.
Saudi Arabia Personal Loan Market

---
By Marital Status
The single segment is anticipated to grow at a significant rate owing to, rise in demand for short-term financing due to low-income levels, rapid lending & approval processes, and created collateral-free credit programs for personal loans.
Competitive Analysis
The key players that operate in the Saudi Arabia personal loan market are Abdul Latif Jameel United Finance Company, Al Rajhi Bank, Alinma Bank, Arab National Bank, Bank Albilad, Banque Saudi Fransi, Emirates NBD Bank, Emirates NBD Bank, Emkan Finance Company, Nayifat, Quara Holding, Riyad Bank, SAAB, Tamam Finance, SNB. These players have adopted various strategies to increase their market penetration and strengthen their position in the industry.
Saudi Arabia Personal Loan Market

---
By Consumer Age
Less than 30 would exhibit the highest CAGR of 18.2% during 2022-2031.
Digital Capabilities:
As the world becomes increasingly digitized. In Saudi Arabia, the banking sector has undergone a digital transformation in recent years with new technologies and services being introduced to make the banking experience more convenient and efficient for customers. In addition, Saudi Arabia is considered a late adopter of digital transformation compared to other countries in the world. However, in recent years, the Kingdom has made great strides in its journey towards a digital future. Moreover, as part of Vision 2030, there has been a focus on developing the digital infrastructure and capabilities of Saudi businesses. This has been evident in the investments made by the government and private sector into fostering a healthy digital ecosystem for banking and financial services. For instance, in 2020, the government of Saudi Arabia granted its first digital banking licenses to two locally established banks. For Instance, in January 2022, Saudi Arabia's stc pay, the digital payment provider service of a telecommunications company, launched Qattah, which it describes as an integrated service that allows customers to easily share and track expenses with multiple people, removing the stress from splitting bills.
Key Benefits:
The Saudi Arabia personal loan is an amount of money borrowed by an individual for a variety of purposes such paying for home renovations, consolidate debt, and wedding. In addition, personal loans are generally offered by banks, credit unions, and online loan providers. Moreover, Saudi Arabia personal loans typically have lower interest rates than credit cards and can be used to consolidate multiple credit card debts into a single and lower-cost monthly payment. In addition, it helps to pay for emergency expenses without draining savings. Moreover, in accordance with several interviews that were conducted of the top level CXOs, with increase in demand for personal loans, in terms of unique goals & short-term fluctuating needs, consumers increasingly turned to personal loans, making this type of financing one of the fastest-growing forms of debt. Moreover, firms are aiming at enhancing immediate focus toward seamless client communications and adopting digital tools for fulfilling consumers constant needs toward personal loans. Firms in the personal loans sector are increasingly expanding their offerings to other financial services such as banks & credit agencies to meet changing consumer needs.
Saudi Arabia Personal Loan Market

---
By End User
Business would exhibit the highest CAGR of 19.5% during 2022-2031.
During the COVID-19 health crisis, credit scores among personal loan holders have disrupted and lenders began to tighten their loan qualification requirements. In addition, several lenders have made widespread changes to their credit and risk preferences and thus, are restricting the supply of credit. These factors have resulted in a massive decline in personal loans during the pandemic situation.
Government Regulations:
All well-governed IT industries should be able to demonstrate due diligence to ensure regulatory compliance in applicable fields and consumers in Saudi Arabia adopting personal loan due to the increasing demand for high-cost consumer goods, such as cars and home renovations. Moreover, to further develop the digital banking ecosystem, the government has invested in initiatives to support small businesses. In 2016, the Saudi government launched Monshaat, an online platform that offers a range of services for small businesses, including access to financing. This is in line with the Vision 2030 goal of supporting entrepreneurship and small businesses and help to create an ecosystem that will promote the development of smaller digital banking and fintech companies in Saudi Arabia. For instance, to support private sectors SAMA has announced the introduction of Private Sector Financing Support Program with a total value of about $13.32 billion. The program aims at supporting and enabling the private sector to promote economic growth through a package of measures that includes providing concessional finance of about $3,512 billion for SMEs by granting loans from banks and finance companies to the SME sector to support business continuity and sector growth during the current stage in a way that contributes to supporting economic growth and maintaining employment levels in these enterprises and also helps in depositing an amount of about $7.99 billion for banks and financing companies to delay the payment of the dues of the financial sector (banks and finance companies) from SMEs for a period of six months as of its date. Moreover, with the country's rapid shift towards digital finance, Saudi Arabia Monitory Authority (SAMA) is working towards enhancing the financial sector's digital transformation, with more than 35 fintech already operating under its 'Regulatory Sandbox'. According to the regulator, these companies can use open banking services to utilize their customer's banking data, with consent, to provide innovative financial services which meet changing demands of these 35 fintech, Sulfah was recently announced as the third consumer microfinance company to be granted a license in the kingdom. The regulator clarified that it would continue to provide licenses to companies specialized in this type of financial activity.
Top Impacting Factors
High demand for residential houses from expatriates entering the country   
Residential houses are an ever-evolving industry, and opportunities emerge regularly. The industry is expected to see new opportunities for expatriates to get personal loan as well as new types of alternatives to invest in. The demand from expatriates has further intensified the residential housing shortage, with about 5.5 million ex-pat workers in the country. Moreover, with younger Saudi nationals and expatriates are displaying a preference for apartments and more affordable properties, the government is taking steps such as incentivizing developers to build affordable housing projects, encouraging banks to introduce more home financing options to fulfill its ambition of increasing homeownership by Saudi Arabian nationals to 60% by 2020 and 70% by 2030, the Saudi Arabian housing ministry announced a plan to build approximately 19,500 residential units for its nationals under the 'Sakani' housing development program. Moreover, shift of focus towards ownership of homes in Saudi Arabia Vision, the renovation and home improvement segment is expected to witness growth and that might aid the personal finance market in the country. Such demands are driving the growth of the market.
Increase in number of initiatives by the government to strengthen the financial system 
Saudi Arabia government has massive plans for the economy targeting to improve employment figures that might be fruitful for the personal finance market. Furthermore, government has launched Saudi Arabia's Vision 2030, which is a pathway to the future. Unveiled in 2016, it represents a transformative and deeply ambitious plan to unlock the Kingdom's vast potential, by creating a diversified, innovative, and world-leading nation, for the benefit of future generations. In addition, the loans borrowed by large corporations and private sector are expected to grow due to increasing privatization as one of the goals in Vision 2030. Moreover, KSA's Vision 2030 includes the Financial Sector Development Program which envisions better access to financial products and aims to increase the share of cashless transactions by developing the digital infrastructure. Moreover, the Program also focuses on enabling FinTech to drive innovation and competition. FinTech companies are expected to contribute immensely toward the growth of the market.
Key Benefits for Stakeholders  
The study provides an in-depth analysis of the Saudi Arabia personal loan market forecast along with current & future trends to explain the imminent investment pockets.
Information about key drivers, restraints, & opportunities and their impact analysis on Saudi Arabia personal loan market trend is provided in the report.
The Porter's five forces analysis illustrates the potency of the buyers and suppliers operating in the industry.
The Saudi Arabia personal loan market analysis from 2022 to 2031 is provided to determine the market potential.
 Saudi Arabia Personal Loan Market Report Highlights
Aspects
Details
By Type

P2P Marketplace
Balance Sheet

By Marital Status
By Consumer Age

Less than 30
30-50
More than 50

By End-User

Salaried
Male
Female
Others
Business

Key Market Players

Abdul Latif Jameel United Finance Company
Al Rajhi Bank
Alinma Bank
Arab National Bank
Bank Albilad
Banque Saudi Fransi
Emirates NBD Bank
Emirates NBD Bank
Emkan Finance Company
Nayifat
Quara Holding
Riyad Bank
SAAB
Tamam Finance
SNB