Saudi Arabia Smart Cities Market: 2027 
The Saudi Arabia smart cities market size was valued at $3,552.1 million in 2019, and is projected to reach $14,745.2 million by 2027, growing at a CAGR of 19.6% from 2020 to 2027. Smart cities encourage sustainable economic development and high quality of life to address growing urbanization challenges through the use of Information and Communication Technologies (ICTs) in various areas, including economy, environment, mobility, health, living, and governance. The main objective of the smart city mission is to stimulate economic growth and improve the quality of life of individuals by enabling local development and harnessing technology, particularly the technology leading to smarter results.
The COVID-19 outbreak had a positive impact on growth of the Saudi Arabia smart cities market due to constant rise in demand for smart cities solutions. This demand is mainly attributed to growing number of smart cities initiatives & smart infrastructure projects. In addition, increasing investment on smart city projects by the Kingdom of Saudi Arabia such as NEOM city and 'Saudi Vision 2030' are boosting the growth of this market.
Smart cities comprise several constituents, including smart buildings, smart transport systems, smart security & safety services, parks fitted with smart communication systems (Wi-Fi), smart rain & floods drainage networks, smart street lighting systems, fast emergency response system, and smart economy supportive of SMEs and large companies.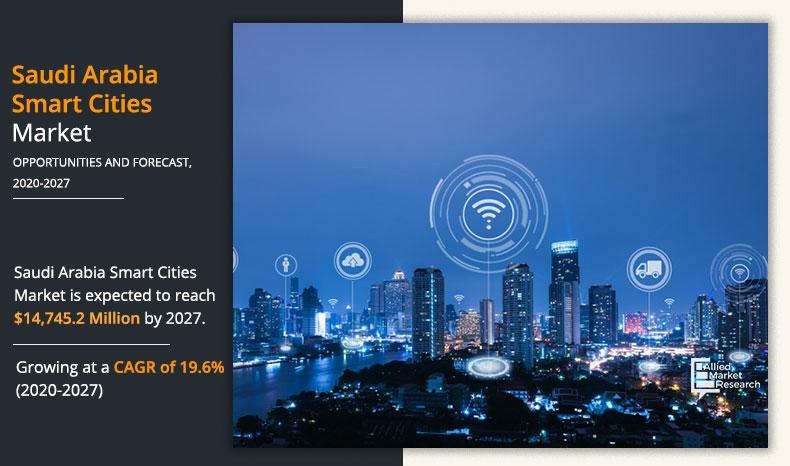 By functional area, the smart infrastructure segment dominated the Saudi Arabia smart cities market share in 2019, and is expected to continue its dominance in the coming years, owing to increase in trends of IoT device adoption across the Kingdom of Saudi Arabia (KSA). Smart transportation under the solution sub-segment held the largest smart cities market share, owing to its energy-efficiency and cost-effectiveness. Therefore, there is a need for smart transportation solutions, with the increase in the number of smart city plans across the kingdom. Smart transportation solutions help to save on high energy consumption and promote the sustainability of a smart city while providing residents a fast and reliable mode for their commute. 
By functional area, the smart energy segment is expected to exhibit the highest CAGR during the forecast period, owing to effective distribution, production, and management of energy resources. Furthermore, the smart grid segment is anticipated to maintain a large market share, owing to the various efforts and practices adopted by the government to minimize the usage and wastage of energy across the KSA. Smart grid solutions are gaining ground in the country due to their energy-efficient and cost-saving features.
Saudi Arabia Smart Cities Market

---
By Functional Area
Smart Energy segment is projected as one of the most lucrative segments during the forecast period.
The smart cities market prospered in the Saudi Arabian region in 2019, owing to great investments on smart cities projects and technological advancements pertaining to the market. In line with the Saudi Vision 2030 objectives, Saudi authorities have planned to start the implementation of the smart city project in 10 cities across the kingdom. Primarily, this initiative is expected to target five Saudi cities, Makkah, Riyadh, Jeddah, Al-Madinah, and Al-Ahsa, respectively. Rapid urbanization also boosts the market growth particularly in metropolitan areas such as Riyadh, Dammam, Jeddah, and Makkah. Moreover, leadership in the region is focusing more on the implementation of technologically advanced, cost-effective, and environment-friendly living solutions. For instance, in January 2021, Saudi Arabian Crown Prince announced plans to build 'The Line' project - a 170km belt of hyper-connected future communities, without cars, streets & no carbon emissions & having smart infrastructure. These factors are expected to drive the Saudi Arabia smart cities market growth of the during the forecast period.
COVID-19 impact analysis
The COVID-19 pandemic is anticipated to have a considerable impact on the growth of the Saudi Arabia smart cities market. Although the COVID-19 emergence has affected the overall major industrial sectors, the smart cities market is expected to witness continuous revenue growth, owing to an increase in requirement from sectors such as healthcare systems, transportation systems, governance solutions & services, and others. Furthermore, there is a high demand for healthcare systems in cities that require minimal human contact, owing to lockdown imposed across various countries to contain the COVID-19 virus. This effort is headed by Dallah Healthcare, with telemedicine solutions provided to the citizens of Saudi Arabia without having to leave their homes during the pandemic.
The report focuses on Saudi Arabia smart cities market trends, growth prospects, and restraints. Moreover, the study includes Porter's five forces analysis of the industry to understand the impact of various factors such as bargaining power of suppliers, competitive intensity of competitors, threat of new entrants, threat of substitutes, and bargaining power of buyers on the growth of the given market.
Segment review
The Saudi Arabia smart cities market is segmented on the basis of functional area including smart infrastructure, smart governance, and smart education, smart energy, smart mobility, smart healthcare, smart buildings, and others.
The key players operating in the Saudi Arabia smart cities market analysis AT&T, Inc., Cisco Systems Inc., Ericsson, General Electric, Hitachi Ltd., Huawei Technologies Co., Ltd., IBM Corporation, Intel Corporation, Microsoft Corporation, and Schneider Electric SE.
Top impacting factors
The rise in demand for sustainable and eco-friendly cities, government initiatives for smart cities, infrastructural development in the regions, and development of new economic sectors to reduce the country's dependence on oil and petroleum sectors drive the growth of Saudi Arabia smart cities market. However, data safety & privacy concerns and higher investment costs for the development of smart cities are expected to hamper the market growth during the forecast period. Furthermore, green initiatives and developments in the field of the Internet of Things (IoT) and cloud-applications are anticipated to provide lucrative opportunities for the market growth.
Proactive government smart cities initiatives and investments
The Kingship of Saudi Arabia is strongly committed toward building modern smart cities and intelligent homes for Saudi people and in recent years several new smart-city initiatives have been proposed to boost the quality of living of Saudi Arabia's residents, as well as to modern cities and towns. On April 25, 2016, Mohammad bin Salman, Crown Prince of Saudi Arabia, launched a highly ambitious "Saudi Vision 2030" project to reduce the reliance on a single revenue source, oil that contributes more than 30% to the country's total GDP. The authority plans to invest on Saudi 2030 under the National Transformation Program, entertainment, and tourism industries. In connection with this initiative, the KSA collaborated with several international companies to build world-class smart cities, primarily aiming to provide more than 84% of Saudi people living in urban environments with new, smart housing.
The need to develop environmental and eco-friendliness of smart cities
Smart city is a greener and environmentally sustainable initiative that allows the country to seamlessly and efficiently reduce its carbon footprint and handle pollution levels. Smart city technology offers new opportunities, improved interactivity and interactions for residents. Smart cities encourage improved living conditions in an environmentally sustainable, flexible and dynamic place. Smart systems help to forecast future needs, save power, predict, identify and prevent problems, improve operational efficiency, create new ways of interacting with the environment designed and with its users.
Smart city initiatives, such as NEOM which were funded by the KSA, are expected to provide an energy-efficient system designed to minimize electricity usage without compromising or minimizing any functional features of the system. Thus, such initiatives to support eco-friendly environment is anticipated to provide lucrative opportunities for smart cities market in Saudi Arabia.
Key Benefits For Stakeholders
This study includes the analytical depiction of the Saudi Arabia smart cities market forecast and trends to determine the imminent investment pockets.
The report presents information related to key drivers, restraints, and Saudi Arabia smart cities market opportunity.
The current market size is quantitatively analyzed from 2019 to 2027 to highlight the financial competency of the Saudi Arabia smart cities industry.
Porter's five forces analysis illustrates the potency of buyers & suppliers in the Saudi Arabia smart cities market.
 Saudi Arabia Smart Cities Market Report Highlights
Aspects
Details
By Functional Area

SMART INFRASTRUCTURE
SMART GOVERNANCE AND SMART EDUCATION
SMART ENERGY
SMART MOBILITY
SMART HEALTHCARE
SMART BUILDINGS

Key Market Players
Intel Corporation, Hitachi Ltd., AT&T, Inc., Microsoft Corporation, General Electric, Huawei Technologies Co., Ltd., Cisco Systems Inc., Ericsson, IBM Corporation