SAVE Tourism Market Outlook - 2026
The global SAVE tourism market size was valued at $69.5 billion in 2018 and is projected to reach $106.9 billion by 2026, growing at a CAGR of 5.8% from 2019 to 2026. SAVE is a tourism concept, which adopts an approach that combines the demand for market and supply of four untapped verticals-Scientific, Academic, Volunteer, and Education aimed at tourism specifically. The market serves as a prime resource connecting NGOs, municipalities, and local businesses with customer supply, market exposure, and necessary funding. Travel is a way to learn, explore, help, and grow. Considering the SAVE tourism concept, it is essential that travelers and their travels make a positive impact on the destination they visit and help the place grow and maintain its uniqueness. Those attracted to SAVE tourism tend to be interested inactivities, which can be readily geared to cultural and natural heritage preservation efforts and that contribute to the improvement of local lives.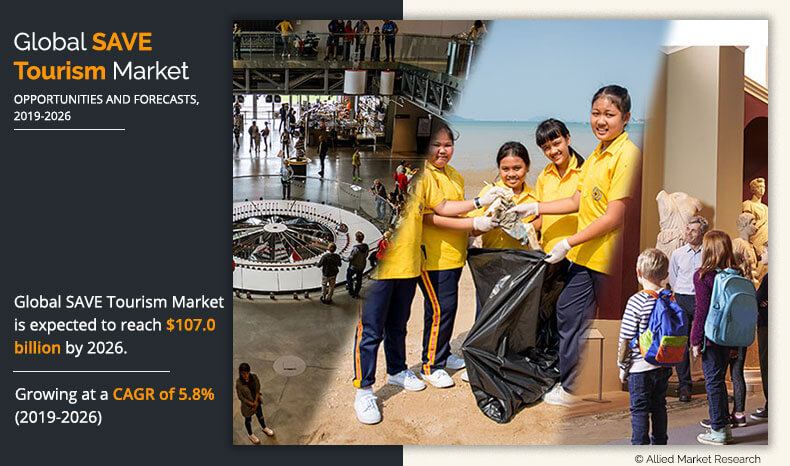 SAVE tourism is comparatively a newer concept developed in the last decade itself. Scientific travel is essential for expanding support and knowledge in destinations. This needs additional assistance outside their local communities. Travelers looking to impact communities with their scientific expertise choose new unexplored destinations to impact the place positively with a different approach. Scientific work enriches the travel landscape, fosters global development, and positively impacts communities. Generally, the scientific travels are planned for some of the specific reasons such as ecological study, marine observation, anthropological research, and archaeological expeditions.
SAVE Tourism Market

---
By Type
Academic and volunteer segments dominates the global SAVE tourism market and is expected to retain its dominance throughout the forecast period.
Academic travel is an exciting way for students to gain academic credit. Thesis research, short term university trips, study abroad programs, and visiting scholarships trips are ways for travelers to explore the world while gaining knowledge in a field of study. Volunteers who wish to contribute their services and make a positive impact on communities in need can choose from a wide range of SAVE tourism programmers. Volunteer travel is a tourism that allows tourists to volunteer in an organized way to undertake holidays that might involve the aiding or alleviating the material poverty of some groups in society, or help in restoration of certain environments, and  in research related to environment. Opportunities in volunteering include rebuilding disaster-stricken areas, language education, and preserving World Heritage Sites.
The continuous rise in international travelers and rising competition between local and global players has encouraged destinations all around the world to differentiate and position themselves in order to gain maximum revenue share in the SAVE tourism market demand. These activities encourage the destinations to target SAVE travelers which is a growing niche market in tourism industry. Companies are offering unique services to SAVE travelers that offers invaluable knowledge , research  and more depending upon their assets and capabilities. This factor is anticipated to drive the growth during SAVE tourism market forecast.
SAVE Tourism Market

---
By Sales Channel
Online segment is projected to grow with fastest CAGR during the forecast period
The formation of SAVE travel alliance was a collaborative effort of The George Washington University (GWU), The National Geographic Society (NGS), Honduras Institute of Tourism (HIT) and Counterpart International (CI) .The motive behind the formation of this alliance was to build a bridge between the travelers and the destinations who are interested to go after sustainable growth, paring with meaningful and authentic experiences of different duration. Thus, resulting in connecting more travelers with the destinations that need positive and responsible tourism. 
Education is an integral part of human development. It doesn't have to stop when a student finishes school. It is a lifelong journey, and learning can be accomplished in a number of environments. Educational travel includes alumni travel, language immersion classes, Agro-cooking tours, and lessons in traditional crafts.
Newer opportunities can be explored by The Ministry of Tourism, Ministry of Culture, or other appropriate bodies of respective countries, which can adopt a SAVE tourism development strategy as a component of their national tourism plan. Latest trends in the SAVE tourism market points at the exploration of newer natural wonders like remote islands and scientific researches on the historically popular places using newer techniques.
The SAVE tourism market size is segmented into type, sales channel, and region. Based on type, the SAVE tourism market is classified into scientist, academic, volunteer, and education. Based on sales channel, the SAVE tourism market is divided into travel agent, and online channel. Based on region, SAVE tourism market is studied across North America, Europe, Asia-Pacific, and LAMEA
SAVE Tourism Market

---
By Region
Europe dominates the Global SAVE tourism market and is expected to grow with a CAGR of 4.4% during the forecast period
The key players profiled for SAVE tourism industry include ABTA Ltd., ATTITUDE HOSPITALITY LTD (AHL), Bookdifferent, Caribtours Ltd, Deutsche Gesellschaft für Internationale Zusammenarbeit (GIZ) GmbH, Fair Trade Tourism, Four Communications, NECSTouR, Responsible Vacation, The travel foundation, Tui Group, and we-are.travel GmbH.
Key Benefits for SAVE Tourism Market :
This report provides a quantitative analysis of the current SAVE tourism market trends, estimations, and dynamics of the SAVE tourism market from 2018 to 2026 to identify the prevailing opportunities in SAVE tourism industry.
Porter's five forces analysis of SAVE tourism market highlights the potency of buyers and suppliers to enable stakeholders to make profit-oriented business decisions and strengthen their supplier–buyer network.
In-depth analysis of the market shares of segmentation to determine the prevailing SAVE tourism market growth opportunities.
Major countries in each region are mapped according to their revenue contribution to the global industry.
The market player positioning segment facilitates benchmarking while providing a clear understanding of the present relative SAVE tourism market share and position of the key market players.
The report includes SAVE tourism market analysis of the regional as well as global market, key players, market segments, application areas, and growth strategies.
The report provides extensive qualitative insights on the potential SAVE tourism market segments
 SAVE Tourism Market Report Highlights
Aspects
Details
By Type

Scientist
Academic
Volunteer
Education

By Sales Channel
By Region

North America (U.S., Canada, Mexico)
Europe (UK, German, France, Italy, Netherland, Rest of Europe)
Asia-Pacific (China, Japan, India, South Korea, Australia, Rest of Asia-Pacific)
LAMEA (Latin America, Middle East, Africa)

Key Market Players
The travel foundation, ABTA Ltd., ATTITUDE HOSPITALITY LTD (AHL), Fair Trade Tourism, Bookdifferent, NECSTouR, Four Communications, Responsible Vacation, Caribtours Ltd, Deutsche Gesellschaft für Internationale Zusammenarbeit (GIZ) GmbH