The global school uniform market size was valued at $6.2 billion in 2020, and is projected reach $25.0 billion by 2030, registering a CAGR of 6.8% from 2021 to 2030. The shirts segment led in terms of the market share in 2020 while the tracksuits segment is predicted to witness the highest growth during the forecast period.
School uniforms are formal articles of clothing that are used by schools as a common dress code for their students. These uniforms consist of shirts, trousers, skirts, sweaters, blazers, and tracksuits. School uniforms are much prevalent in Asia-Pacific and LAMEA regions. Most of the school uniforms are made from materials, such as polyester, nylon, and cotton, while materials, such as wool, are used for sweaters. Majority share of school uniform is traditional and formal; however, with emerging sports activities in school, the sports wear segment is also gaining high traction.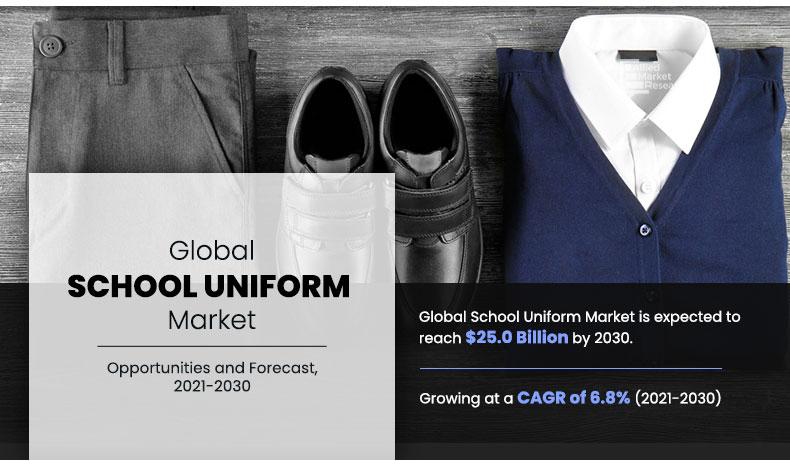 With changing government policies, focus, and emphasis on promoting primary and secondary education, the school uniform market is expected to offer prosperous opportunities during the forecast period. China is the most populous country in the world, followed by India. The removal of the one child policy by the Chinese government has led to an increase in children and young population in the country, which is expected to grow more in the coming years. Furthermore, many countries in the region are developing, and the governments are investing heavily in the healthcare and child welfare sector. Due to increase in medical services that are available to the people, the rate of infant mortality has reduced significantly. This has again led to an increase in children and young population of the region, which, in turn, will convert into a school going population. With changing government policies and decreasing mortality rates, the region is expected to witness high population growth, resulting in increased demand for school uniform.
Sports play a crucial role in the growth and development of children. It plays a vital importance in brain development as sports in acquiring motor skills, helps in gaining coordination and balance, and reduces risk of obesity. Along with physical development, playing sports assists children in learning as well as building social and communication skills. Furthermore, sports also help in improving personal skills, including cooperation and leadership. Various studies across the world suggest sports in early stages also aid in enhancing decision making capabilities and discipline. Furthermore, group sports promote skills, such as team work, collaboration, and close coordination, which act beneficial for children in their later stages. Attributed to multiple benefits of sports in early stage of life, governments are emphasizing on inclusion of various sports activities in the curriculum. Since sports activities involve certain set of clothes, which provide greater flexibility, fast drying, and air permeability, these are specially designed, which are of different material compared to traditional uniforms. Inclusion of sports drives the market expansion for the sports wear segment of the global school uniform market. .
Segment review
The global market is segmented on the basis of type, form, material, and region. Based on type, the global market is divided into trousers, shirts, skirts, tracksuits, sweaters and blazer, and others. Based on form, the market is bifurcated into traditional wear and sports wear. Based on material, the market is studied across polyester, nylon, cotton, and others. The global school uniform market is also studied across North America, Europe, Asia-Pacific, and LAMEA.
By type, the market is divided into trousers, shirts, skirts, tracksuits, sweaters and blazers, and others. Shirts are the most commonly used uniform items used by both male and female students, thus leads in terms of global school uniform market share.
Depending on form, school uniforms are divided into traditional wear and sports wear. Traditional wear uniforms are the most commonly worn uniforms in most schools. These are made up of formal pieces of clothing. Sports wear uniforms are used for sports activities, gymnasiums, and other physical activities. Increasing importance of sports for child development has resulted in extensive inclusion for such activities in curriculum, thus resulting in new growth avenue for the sports wear segment in the global market.
By material, the school uniform market is divided into polyester, nylon, cotton, and others. Polyester is the most commonly used material for school uniforms while cotton is predicted to grow with the highest CAGR during the forecast period.
The report focuses on the market growth prospects, restraints, and opportunities of the global school uniform market. The study provides Porter's five forces analysis to understand the impact of various factors such as competitive intensity of competitors, bargaining power of suppliers, threat of substitutes, threat of new entrants, and bargaining power of buyers.
Some of the major players profiled in the school uniform market analysis include Alinta Apparel Pty Ltd, Beleza Pty Ltd, Dennis Uniform, Donya Uniforms Private Limited, GS International, LT Apparel Group, Schoolwear House, The Uniform Company, Trutex, and Zeco LTD. Other prominent players analyzed in the report are Tombow, Fraylich School Uniforms, Smart F&D, Williamson Dickie, Modest Apparel, Campus Outfitters, Campus ID Wear, and School Uniforms Australia.
Covid-19 Impact Analysis
The school uniform industry was severely negatively impacted by the pandemic, owing to closure of schools due to lockdowns
The shift from physical classes to online education has negatively impacted the growth of the global market
Uncertainty of school reopening in many countries is leading to distress among manufacturers
Nevertheless, with rapid vaccination of population across the world, the global market is expected to recover post 2022.
Key Benefits For Stakeholders
The report provides an extensive analysis of the current and emerging school uniform market trends and opportunities.
The report provides detailed qualitative and quantitative analysis of the current trends and future estimations that help evaluate the prevailing school uniform market opportunities in the market.
The school uniform market forecast is offered along with information related to key drivers, restraints, and opportunities.
The market analysis is conducted by following key product positioning and monitoring the top competitors within the market framework.
The report provides extensive qualitative insights on the potential and niche segments or regions exhibiting favorable growth.
School uniform Market Segments
By Type
Trousers
Shirts
Skirts
Tracksuits
Sweaters and Blazers
Others
By Form
Traditional Wear
Sports Wear
By Material
Polyester
Nylon
Cotton
Others
By Region
North America
Europe

UK
Germany
France
Italy
Spain
Rest of Europe

Asia-Pacific

China
Japan
India
Australia
ASEAN
Rest of Asia-Pacific

LAMEA

Latin America
Middle East
Africa