Scrubber System Market Research, 2031
The global scrubber system market size was valued at $8.47 billion in 2021, and is projected to reach $13.86 billion by 2031, growing at a CAGR of 4.8% from 2022 to 2031.
Scrubber system is an air pollution control device that is extensively used to remove some particulates and gases from industrial exhausts. Scrubbers are one the most commonly used pollution control devices owing to its efficiency to control gaseous emissions, especially acid gases. Dry system and wet system are the two main types of scrubber systems prevailing in the market. These systems use a slurry or dry reagent that is injected into a polluted exhaust stream to eliminate acidic gases. Scrubber systems can perform flue-gas condensation for heat recovery.
The novel coronavirus (COVID-19) rapidly spread across various countries and regions in 2019, causing an enormous impact on lives of people and the overall community. It began as a human health condition and has now become a significant threat to global trade, economy, and finance. The COVID-19 pandemic halted production of many products in the scrubber system market, owing to lockdowns. Furthermore, the number of COVID-19 cases is expected to reduce in the future with the introduction of the vaccine for COVID-19 in the market. This has led to the reopening of scrubber system industry at their full-scale capacities. This is expected to help the market recover by end of 2022.
The global manufacturing and processing industry is witnessing significant growth owing to rise in demand for products, such as food & beverage, oil & gas, and pharmaceutical. Increase in manufacturing facilities results in emission of various pollutants and dust particles. This creates a demand for use of pollution control devices, such as scrubber systems. Scrubber systems are available in a wide range of specifications and sizes, thus making them suitable for use in variety of industries, such as oil & gas processing, food processing, and other manufacturing industries is anticipated to boost the scrubber system market opportunities. However, high initial cost of these systems is a major restraint on the growth of the market.
Major players have adopted various strategies, such as product launch and acquisition to sustain the competition and improve the product portfolio. For instance, in January 2021, Valmet is enhancing emission control with its patented and fully automatic water treatment solution for the marine scrubber system and exhaust gas recirculation system. This aims in diversifying its portfolio.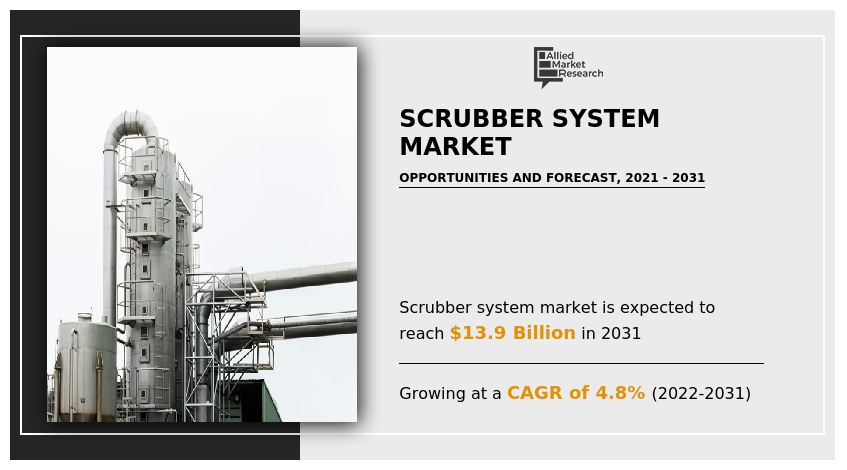 The scrubber system market is segmented into End-user industry, Construction material and Product type and region. On the basis of product type, the market is divided into dry scrubbers, wet scrubbers, and electrostatic precipitators. On the basis of construction material, the market is divided into metal based and non-metal based. On the basis of end-user industry, the market is divided into energy & power, metal, constructions and others. Region-wise, the global market analysis is conducted across North America (the U.S., Canada, and Mexico), Europe (UK, France, Germany, Spain, and Rest of Europe), Asia-Pacific (China, Japan, India, South Korea, and Rest of Asia-Pacific), and LAMEA (Latin America, the Middle East, and Africa).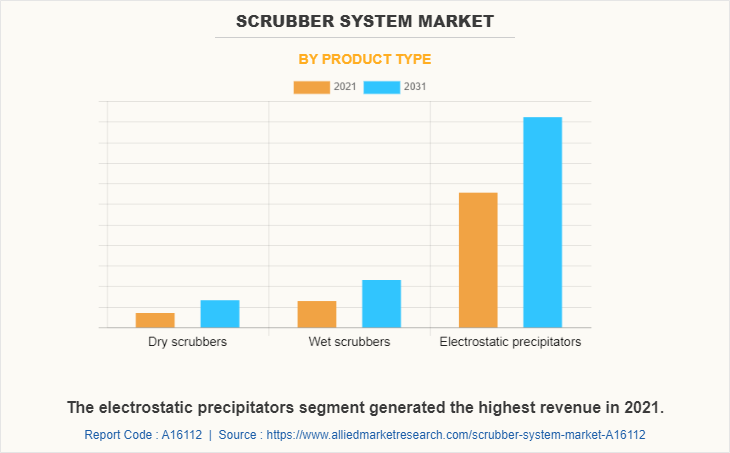 On the basis of product type, the electrostatic precipitators segment generated the highest revenue in 2021, due to increasing awareness for air quality management and rapid industrialization in both developing & developed economies is expected to boost the scrubber system market growth.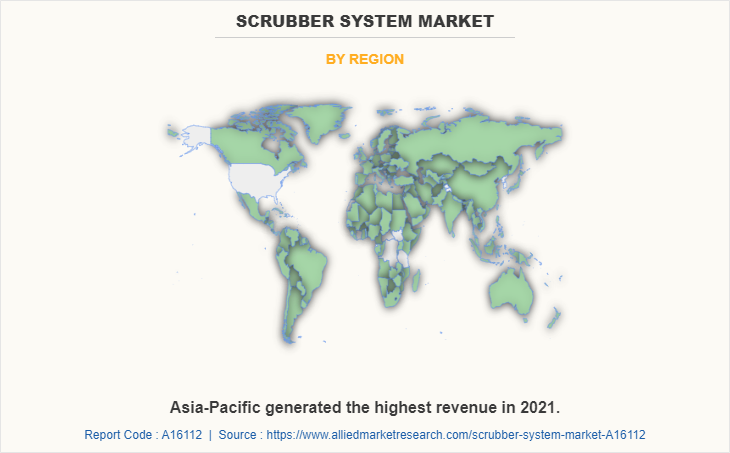 On the basis of region, Asia-Pacific registered highest share global scrubber system market share in terms of revenue in 2021, owing to rise in manufacturing industry and availability of labor and various government initiatives. For instance, "Make in India" initiative launched by the Indian government and "Made in China 2025" launched by the Chinese government fuel the manufacturing sector in both, India and China. Thus, rapid growth of manufacturing industry in Asia-Pacific provides lucrative growth opportunities for the scrubber system market.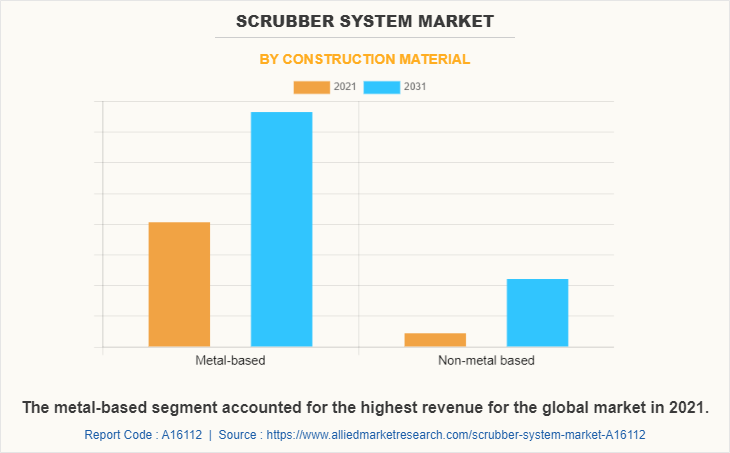 On the basis of construction material, the metal-based segment accounted for the highest revenue in the global market in 2021, owing to reduce the risk of life-threatening diseases and the governments of various countries have mandated the installation of proper scrubber systems and fume extractors in the metal industry. This is expected to boost the growth of the market.
COMPETITION ANALYSIS
The key players that operate in the scrubber system market are Alfa Laval, Anguil, Babcock & Wilcox Enterprises, Inc., CECO ENVIRONMENTAL, DuPont de Nemours, Inc., Evoqua Water Technologies LLC, Fuji Electric Co., Ltd., HAMON, Kono Koggs Inc., Nederman Holding AB, Pollution Systems, Tri-Mer Corporation, The Clean Air Group, LLC, Valmet, Verantis, Wartsila, Yara Marine.
Key Benefits For Stakeholders
 Scrubber System Market Report Highlights
Aspects
Details
By End-user industry

Energy & Power
Metal
Construction
Others

By Construction material

Metal-based
Non-metal based

By Product type

Dry scrubbers
Wet scrubbers
Electrostatic precipitators

By Region

North America (U.S., Canada, Mexico)
Europe (Germany, U.K., France, Spain, Rest of Europe)
Asia-Pacific (China, Japan, South Korea, India, Rest of Asia-Pacific)
LAMEA (Latin America, Middle East, South Africa)

Key Market Players
Nederman Holding AB, Evoqua Water Technologies LLC, Kono Koggs Inc.,, Valmet, Tri-Mer Corporation, Babcock & Wilcox Enterprises, Inc., Alfa Laval Anguil,, The Clean Air Group LLC, Wartsila, Pollution Systems, DuPont de Nemours Inc.,, Fuji Electric Co. Ltd, Verantis, HAMON, Yara Marine, CECO ENVIRONMENTAL