Seed Treatment Market Outlook - 2026
Seed Treatment Market size is expected to reach $9.3 billion by 2026, growing at a CAGR of 8.1% from 2019 to 2026. 
The insecticide segment held a dominant share in this market in 2018 and is expected to maintain its leading position during forecast period. Seed treatment involves the application of biological, physical, and chemical agents during planting to improve the health of crops. It helps to control soil- and seed-borne infections and diseases. In addition, it improves the yield of crops, reduces germination time, and enhances overall productivity. Currently, neonicotinoids are the most popular seed treatment insecticides in the market. Imidacloprid is the most common neonicotinoid used to control aphids, as aphids act as carrier to viral diseases. It is also effective against chinch-bug, flea-beetle, Hessian fly, leafhopper, and others. Seed treatment has emerged as a cost-effective crop protection solution as compared to conventional spraying as it is more efficient and less labor intensive.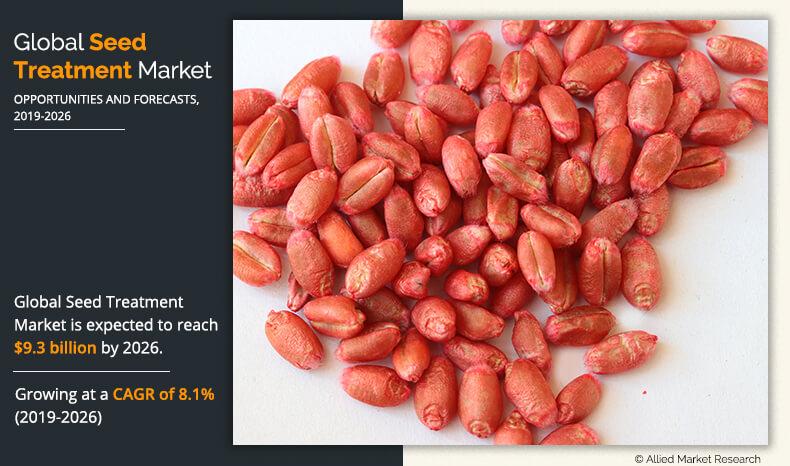 In seed treatment, only planting seeds are coated with treating agent; therefore, low amount of active ingredients is required for protection against a variety of fungal diseases and insect pests. Increasing prices of genetically modified (GM) seeds have fostered the need for crop protection to reduce the risk on investment. Furthermore, increased food requirement because of rapidly increasing global population has fueled the market growth.
Segment Review
The global seed treatment market is segmented based on application, crop type, treatment method, product, and region. Based on application, the global seed treatment market is segmented into Seed Protection and seed enhancement. Based on crop type, the global seed treatment market is segmented into cereals & grains, oilseeds & pulses, other crop types. In 2018, cereals and grains seed treatment accounted for the highest market share of the total market, in terms of volume. Seed treatment is mostly used on high productivity cereals and grains crop like corn and oilseed crops like soybean. Based on treatment method, the global seed treatment market is segmented into seed coating, seed dressing and seed pelleting. Based on product, the global seed treatment market is segmented into insecticide, fungicide, bio-control, and others. Of these, the use of insecticide is the most adopted seed treatment, owing to its ability to be used in combination with other products. In 2018, the insecticides segment accounted for about 60% share of the overall market. Bio-control seed treatment is the fastest growing segment during the forecast period because of rising awareness and stringent government regulations against chemical seed treatment.
Asia-Pacific Review:
Asia-Pacific countries such as China and India are expected to show a strong growth in terms of agricultural output. This is expected to fuel the seed treatment market in Asia-Pacific region. In addition, biological seed treatments are emerging as a growth market in the Asia-Pacific region. Most countries in this region are yet to establish a proper system for registration, manufacture, and sales of biological seed treatment. This provided huge growth potential for companies to expand their presence in the Asia-Pacific biological seed treatment market. Major companies present in the Asia-Pacific seed treatment market are Bayer CropScience and Syngenta along with other local companies such as Tata Rallis and Shenghua Group Agrochemicals.
The use of agrochemicals in Asia-Pacific has increased in recent years due to the decreasing arable land in India, China, and Southeast Asia. This is expected to provide growth opportunity for the Asia-Pacific seed treatment market in order to meet the food demand.
Key Benefits for Seed Treatment Market:
This report provides a detailed analysis of the factors that drive and restrict the growth of the global seed treatment market share.
The projections in the report are based on the current seed treatment market trends and future market potential.
This report presents a quantitative analysis of the current market and estimations for the period of 2018?2026 to identify the prevailing market opportunities.
A comprehensive analysis of geographic regions helps in determining the prevailing opportunities in these regions.
The analysis of the key market players operating in the global seed treatment market along with their strategies help in understanding the competitive outlook of this market.
 Seed Treatment Market Report Highlights
Aspects
Details
By Product

Insecticide
Fungicide
Bio-control
Others

By Treatment Method

Seed Coating
Seed Dressing
Seed Pelleting

By Application

Seed protection
Seed enhancement

By Crop Type

Cereals & Grains
Oilseeds & Pulses
Other Crop Types

By Region

North America (U.S., Canada, Mexico)
Europe (Germany, France, Russia, UK, Rest of Europe)
Asia-Pacific (China, Japan, India, Rest of Asia-Pacific)
LAMEA (Brazil, Argentina, South Africa, Rest of LAMEA)