Self-Guided Torpedo Market Statistics 2021–2030:
The global self-guided torpedo market was valued at $1,256.7 million in 2020, and is projected to reach $2,188.7 million in 2030, registering a CAGR of 6.0%.  
The rapid spread of COVID-19 had a significant impact on the global self-guided torpedo market in 2020, owing to the decline in financial growth across the world. COVID-19 pandemic led to several challenges for the self-guided torpedo industry such as disruption in the supply chain of raw materials, logistics challenges, and others. On the other hand, the self-guided torpedo equipment manufacturers had to reduce expansion and R&D investments to withstand the decline in revenue and operating performance of the defense industry. The delay in purchase orders and slow production rate were some of the challenges observed in the self-guided torpedo market throughout the year, and are expected to continue for a few years.
Torpedo is the most preferred lethal underwater weapons for naval platforms such as submarines, surface vessels, aircraft, and helicopters. A modern torpedo contains intricate devices to control its depth and direction according to a pre-set plan or in response to signals received from an outside source, as well as a device that detonates the explosive-filled warhead when it strikes its target or comes close to it.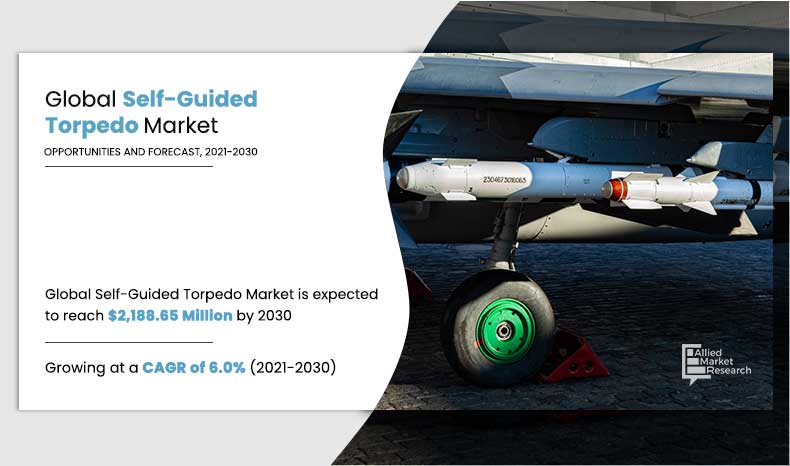 The global self-guided torpedo market is segmented into product, type, application, and region. On the basis of product, the market divided into acoustic homing torpedo and wake homing torpedo. Depending on type, it is bifurcated into heavyweight torpedo and lightweight torpedo. By application, it is segregated into naval vessel-launched torpedo and aerial platform-launched torpedo. Region wise, the market is analyzed across North America, Europe, Asia-Pacific, and LAMEA.
The key players operating in the global self-guided torpedo market include ATLAS ELEKTRONIK GmbH, BAE Systems plc, Honeywell International Inc., Leonardo S.p.A., Lockheed Martin Corporation, Mitsubishi Heavy Industries, Ltd., Naval Group, Northrop Grumman Corporation, Raytheon Technologies Corporation, and Saab AB.
Rise in number of territorial conflicts throughout the world
Six countries lay overlapping rights to the South and East China Seas, which are abundant in natural gas and hydrocarbons, and via which trillions of dollars of international trade flow is carried out annually. As China enlarges its naval dominance and constructs military bases on man-made islands, it has experienced increasing resistance from other regional claimants such as Japan, Vietnam, and the Philippines.
Modern torpedoes are one of the most complex naval technologies to develop, and China is one of the countries that can independently develop and produce torpedoes. The Chinese Navy has a fair quantity of torpedoes to defend and attack enemy vessels. Vietnam is gradually strengthening its military against increasingly aggressive China. In August 2021, in continuance with the ongoing deployment of the Indian Navy ships in the South China Sea, INS Ranvijay and INS Kora undertook bilateral maritime exercise with Vietnam People's Navy frigate VPNS Ly Thai To (HQ-012). The bilateral interaction aims to consolidate the strong bond shared by the two navies and would be another step toward strengthening India–Vietnam defense relations.
Frequent standoffs range from the Senkaku/Diaoyu Islands on China's eastern edge to the long stretch of archipelagos in the South China Sea that encompass hundreds of islands. In addition, U.S. has built up its military activities and maritime presence in the seas, indicating the country's raised role in the clashes, which, if not handled properly, might turn part of Asia's naval regions from flourishing trade channels into grounds of continuous conflicts. Thus, rise in conflicts across different parts of the world to gain dominance in commercial or defense arenas is expected to drive the growth of the global self-guided torpedo market during the forecast timeframe. 
Increase in naval modernization programs
As maritime security is one of the most critical defense units, naval modernization initiatives can be witnessed throughout the world. China's naval modernization program includes a wide range of ships, airplanes, and wire-guided, and wake-homing torpedoes, in addition to enhancements in upkeep & logistics, personnel education, and training. China's navy modernization initiatives are aimed at increasing competencies for handling any unfortunate set of events or for achieving a greater degree of control over China's near-seas region, protecting China's commercial sea lines of communication (SLOCs), principally those connecting China to the Persian Gulf; for challenging the U.S.'s impact in the Western Pacific; and for asserting China's position as a major world power.
In June 2021, the U.S. Navy publicized a long-duration Navy ship-building document that presents the U.S. Government's evolving replacement to the 355-ship force-level objective. The Navy's planned 2022 financial year budget seeks the purchase of eight new vessels, including two Virginia-class attack submarines (SSNs); one Arleigh Burke (DDG-51) class destroyer; one Constellation (FFG-62) class frigate; one John Lewis (TAO-205) class oiler; two TATS towing, salvage, and rescue ships; and one TAGOS(X) ocean surveillance ship. As the Asia-Pacific waters are becoming increasingly unstable geopolitically, Singapore is focusing more on strengthening its naval capabilities to protect its interests in the regional waters. With the aim of withstanding any potential attack by a larger regional navy, Singapore is acquiring new naval assets, including submarines that can carry a significant number of torpedoes. In June 2021, The Indian Ministry of Defense cleared a mega submarine project worth billions of dollars to build six stealth submarines under Project-75 India for the Indian Navy to tackle the increased presence of Chinese vessels in the Indian Ocean.
Thus, rise in modernization programs in one of the largest navies in the world is expected to notably contribute toward the growth of the global self-guided torpedo market.
Rise in incorporation of anti-torpedo defense systems in combat vessels
Naval forces worldwide are pushing the induction of anti-torpedo defense systems to ensure the safety of combat submarines. In February 2021, an Israeli defense technology company, Rafael Advanced Defense Systems and Bharat Dynamics Limited (BDL) announced a partnership for joint induction of an anti-torpedo defense system called SHADE for the Indian Navy. According to the statement by Rafael Advanced Defense Systems, SHADE will be the first system in the world to employ a combination of soft kill and hard kill decoys, thereby providing a robust and effective defense against modern torpedoes. In October 2020, a shipment of acoustic torpedo countermeasure jammers and decoys meant for the Indonesian Navy's (Tentara Nasional Indonesia – Angkatan Laut: TNI-AL's) Nagapasa (Type 209/1400)-class diesel-electric submarines arrived in Indonesia. Other navies such as Australia and the U.S. Navy are soon expected to induct torpedo countermeasures for submarine defense. For instance, in July 2019, Naval Group, Europe's leading naval shipbuilder, submitted a proposal to partner with Australian businesses and industry to locally produce the latest generation torpedo countermeasure technology, CANTO. In January 2019, Leidos was awarded a contract by the U.S. Navy's Naval Sea Systems Command to develop torpedo countermeasure technologies for submarine defense, the U.S. company said on January 10, 2019. Thus, rise in induction of anti-torpedo or torpedo countermeasure systems in submarines is expected to safeguard the defense vessels against torpedo attacks, which is expected to limit the growth of the global self-guided torpedo market.
Surge in demand from aircraft to carry lightweight torpedo in large quantity for warships
Lightweight torpedoes are self-propelled, underwater projectiles that can be launched from ships and aircraft and are designed to detonate on contact or in close proximity to a target. Lightweight torpedo is the most cost- and operationally effective anti-submarine warfare weapon in all situations. Such benefits boost the demand for torpedoes by naval forces globally. For instance, the U.S. Navy (USN) is getting ready for testing for its lightweight torpedo (LWT) and very lightweight torpedo (VLWT) programs. The navy intends to complete the Initial Operational Test and Evaluation (IOT&E) for MK 54 Mod 1LWT and High-altitude Anti-Submarine Warfare (ASW) Weapon Capability (HAAWC) in fiscal year (FY) 2021, the Pentagon Director, Operational Test, and Evaluation (DOT&E) mentioned in its annual report released in January 2021. The DOT&E reported that the MK 54 lightweight torpedo is the most capable ASW weapon used by the U.S. surface ships, fixed-wing aircraft, and helicopters.
The indigenously instrumented Advanced Light Torpedo (TAL), developed by the Naval Science and Technological Laboratory (NSTL), successfully cleared its maiden flight trial with a parachute system from the Indian Navy's Ilyushin Il-38 maritime patrol aircraft in March 2021. The lightweight torpedo was designed, developed, produced, and inducted into services a decade ago, and is used against underwater platforms as part of anti-submarine warfare (ASW).
Such developments are expected to fuel the growth of the global self-guided torpedo market during the forecast timeframe.
COVID-19 impact analysis
The COVID-19 impact on the self-guided torpedo market is unpredictable, and is expected to remain in force till the fourth quarter of 2021.
The COVID-19 outbreak forced governments across the globe to implement strict lockdowns and banned import–export of nonessential items for most of 2020. This led to sudden fall in availability of important raw materials.
Moreover, nationwide lockdowns forced manufacturing facilities to partially or completely shut their operations.
Adverse impacts of the COVID-19 pandemic have resulted in delays in activities and initiatives regarding development of reliable and innovative self-guided torpedoes globally.
Key Benefits For Stakeholders
This study presents analytical depiction of the global self-guided torpedo market analysis along with the current trends and future estimations to depict imminent investment pockets.
The overall self-guided torpedo market opportunity is determined by understanding profitable trends to gain a stronger foothold.
The report presents information related to key drivers, restraints, and opportunities of the global self-guided torpedo market with a detailed impact analysis.
The current self-guided torpedo market is quantitatively analyzed from 2020 to 2030 to benchmark the financial competency.
Porter's five forces analysis illustrates the potency of the buyers and suppliers in the industry.
Key Market Segments
By Product
 
Acoustic Homing Torpedo
Wake Homing Torpedo
By Type
 
Heavyweight Torpedo
Lightweight Torpedo
By Application
 
Naval Vessel-launched Torpedo
Aerial Platform-launched Torpedo 
By Region
 
North America
Europe

Germany
UK
France
Russia
Rest of Europe

Asia-Pacific

China
Japan
India
South Korea
Rest of Asia Pacific

LAMEA

Latin America
Middle East
Africa
KEY PLAYERS
 
ATLAS ELEKTRONIK GmbH
BAE Systems plc
Honeywell International Inc.
Leonardo S.p.A.
Lockheed Martin Corporation
Mitsubishi Heavy Industries, Ltd.
Naval Group
Northrop Grumman Corporation
Raytheon Technologies Corporation
Saab AB