Self Organizing Network (SON) Market Outlook: 2022
Global Self-organizing network (SON) market is expected to garner revenue of $8.3 billion by 2022, registering a CAGR of 11.1% during the forecast period 2016 - 2022. The Global (SON) Self-organizing network market is an intelligent mobile network software solution that deals with complex network operations to ensure smooth running and enhanced network performance.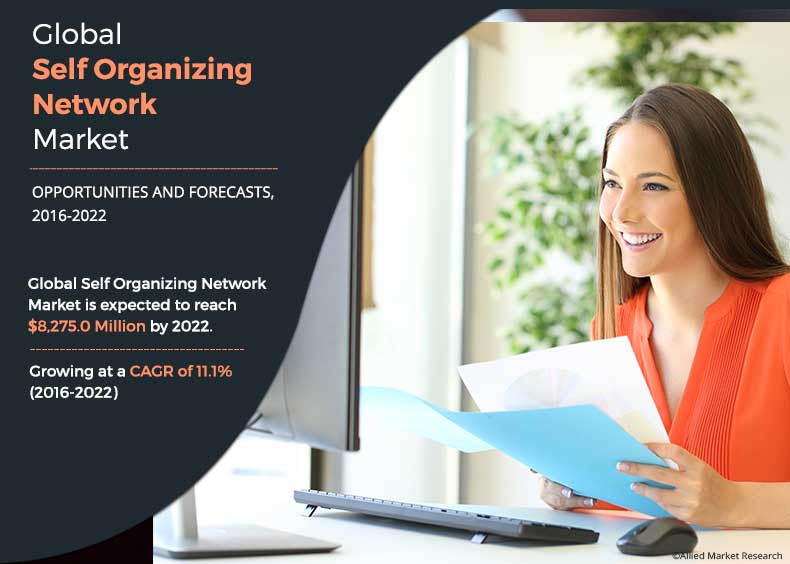 Get more information on this report : Request Sample Pages
Moreover, it also enables constant monitoring of mobile network and related services. SON collect data from various network sources and utilize it to enable self-optimization, self-healing and self-configuration features in network management. SON basically aim to reduce network operator's efforts, by automating network management processes.  
SON offers several benefits, for instance, effective network traffic management, reduced operation cost, improved customer satisfaction and effective load balancing. Moreover, SON facilitate simplified and streamlined management of multi-technology and multi-vendor network that allows service providers to deliver faster services at lower cost. These advanced features have fostered the adoption of SON solution; thereby driving the growth of the market. In addition, rapid uptake in mobile subscriptions mainly in emerging countries is significantly boosting the market growth and providing huge opportunities for global SON market. However, high initial investment involved in SON implementation is restraining the growth of the market.
The market is segmented based on SON architecture into centralized (C-SON distributed (D-SON) and hybrid (H-SON). Among these SON architectures, centralized (C-SON) is a predominant segment due to its widespread adoption by network operators. C-SON has the maximum market share of the total market during the forecast period. However, H-SON segment has lucrative growth potential, as it facilitates optimization as well as real time response in complex network arrangement.
The global SON market is analyzed based on four regions, namely North America, Europe, Asia-Pacific, and LAMEA. North America dominated the global market in 2015 and is expected to maintain this trend throughout the forecast period. Asia-Pacific is expected to be the fastest growing region due to increased adoption of 4G and LTE in cellular networks especially in countries such as China, India, and Japan.
Competitive Intelligence on prominent players involved in development of SON provide key insights in terms of strategies implemented to gain significant share in the SON market. Major companies profiled in the report include, Telefonaktiebolaget L. M. Ericsson, Cellwize Wireless Technologies Pte Ltd., Airhop Communications Inc., Amdocs Inc., Nokia Solutions and Networks, Cisco Systems Inc., NEC Corporation, Huawei Technologies Co., Ltd, Ascom Holding AG and RadiSys Corporation. 
Value chain analysis
The value chain of the global SON market comprises stakeholders such as SON software solution providers, research & development, telecom operators, distribution channels, and consumers. Each of these players contributes a specific value at their point of operation, thereby increasing the competitive value of the product. The value chain analyzes contribution of each participator in the value chain.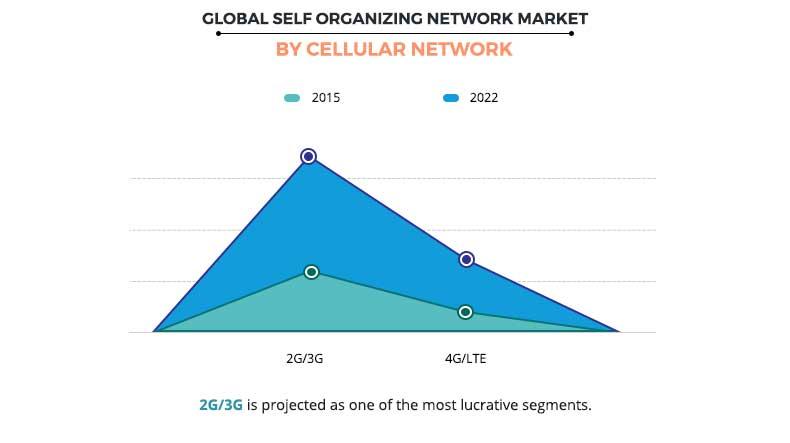 Get more information on this report : Request Sample Pages
Top winning strategies
Product launch is the most prominent strategy adopted by players in the global SON market. Several companies have launched new products to expand their product portfolio, especially related in the SON segment. The other prominent strategies include partnership and acquisition.
Top impacting factor
The global SON market is driven by exponential increase in mobile data traffic, rising complexity of mobile networks, increasing demand for effective network management, rapid uptake of mobile subscriptions in the emerging countries, and high initial implementation cost. Each of these factors has a definite impact on the growth of the market. High initial cost of implementation is a key restraint of the market.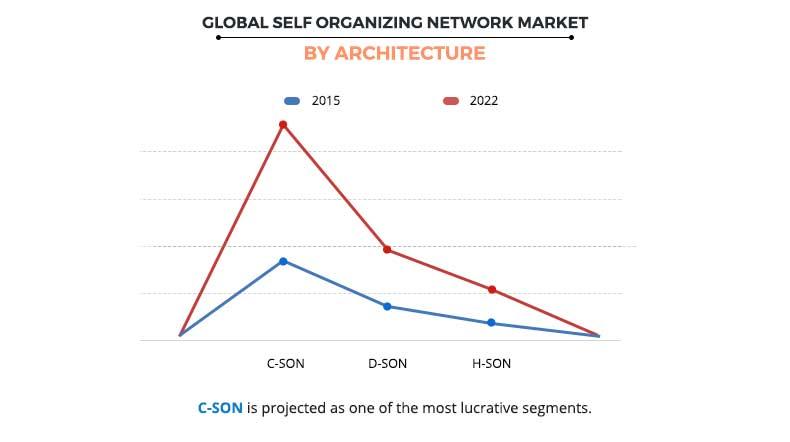 Get more information on this report : Request Sample Pages
Top investment pockets
Presently, 2G/3G cellular network segment has witnessed large-scale adoption of SON. It is supported by increasing number of subscribers across the globe. Increasing use of mobile internet, widespread penetration of smartphones, and upsurge in the number of subscribers have fostered the need for effective network management in the telecom sector. In addition, SON encourages remarkable potential and techniques for enhancing network efficiency, as it offers features such as load balancing, capacity management, self-optimization, and self-troubleshooting.
Segment Overview
Based on architecture, SON market is segmented into centralized (C-SON), distributed (D-SON), and hybrid (H-SON).
C-SON is the most preferred architecture worldwide, which is expected to remain a leading choice owing to high preference by mobile operators. H-SON is expected to exhibit faster growth, thus significantly contributing to the SON market, owing to its increasing benefits in mobile network configuration, integration of planning, and optimization. 
C-SON architecture was the dominated segment, accounting for around most of the market revenue in 2015. It is anticipated to garner maximum revenue by 2022. In terms of growth, hybrid (H-SON) is anticipated to be the most potential architecture segment, expected to grow at the highest CAGR.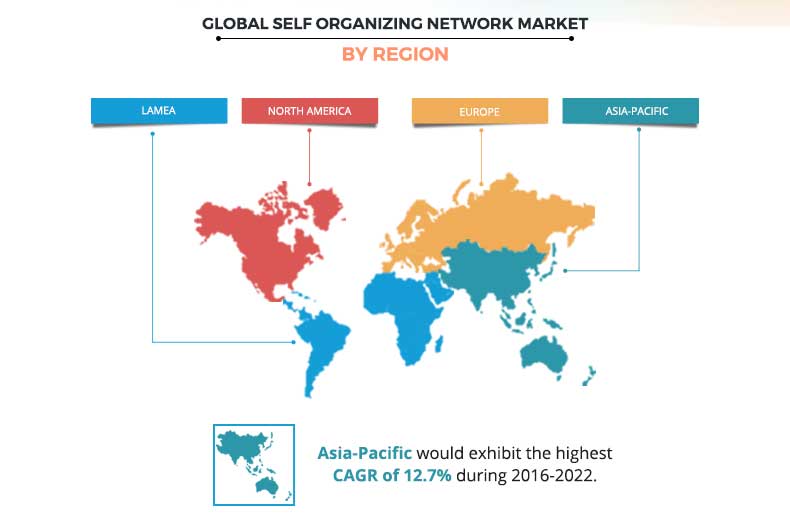 Get more information on this report : Request Sample Pages
Self-Organizing Network Market Key Benefits
The report provides a comprehensive analysis of global SON market with current and future growth opportunities, market trends, challenges and competitive scenario.
The current market trends are quantitatively analyzed and estimated for the period 2015-2022, which have been provided to highlight the financial competency of the market.
Porter's five forces analysis provides inputs on the potential of buyers and suppliers and highlights the competitive structure of the market that would enable market players to devise effective growth strategies and facilitate better decision-making.
Value chain analysis provides key inputs on the role of different stakeholders involved at various stages of the value chain.
SWOT analysis of the key market players highlight essential strengths and potential opportunities in the market.
 Key Market Segments
By Cellular Network

By Architecture

Centralized (C-SON)
Distributed (D-SON)
Hybrid (H-SON)



By Geography

North America
Europe
Asia-Pacific
LAMEA



 Key Market Players
Ericsson
Airhop Communications Inc.
Nokia Solutions and Networks
Amdocs Inc.
Cisco Systems Inc.
NEC Corporation
Huawei Technologies Co., Ltd
Cellwize Wireless Technologies Pte Ltd.
Ascom Holding AG
RadiSys Corporation